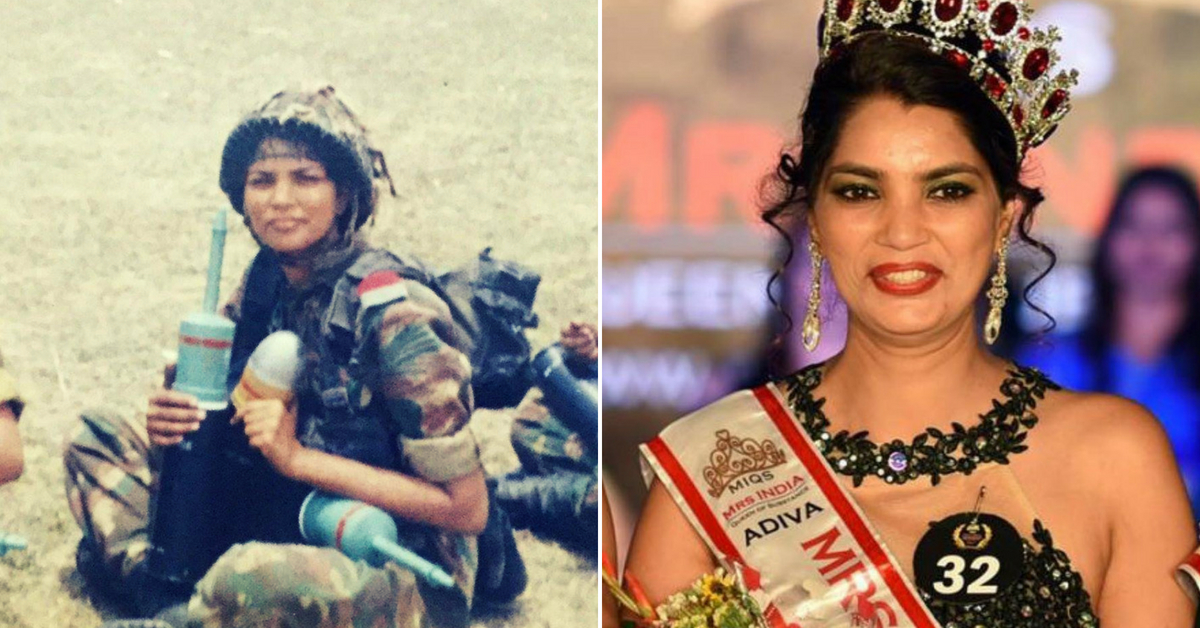 Even in this darkest phase of her life, all hope was not lost. She would have to find a way to live. If not for her, then at least for the two-year-old baby who lay in her lap, giggling, clueless about the catastrophe that had befallen them.
Shalini was 18, pursuing her first year of graduation when she received a proposal for marriage. The young man was an army officer, Major Avinash Singh Bhadauria.
Six-feet tall, he was a class apart from most cadets at the National Defence Academy. An athlete, a champion in shot put and boxing, he carved several records that are yet to be broken. There is a trophy named after him, recalls Shalini Singh in an interview with The Better India.
Strongly built and fearless, he was very different from 18-year-old Shalini who was delicate and timid, raised in an overprotective environment. While it was common for women at the time to trade education for family responsibilities, Shalini's marriage to Major Avinash in 1997, did not deter her from continuing her studies.
She was 19 years old at the time and made it a point to complete her graduation.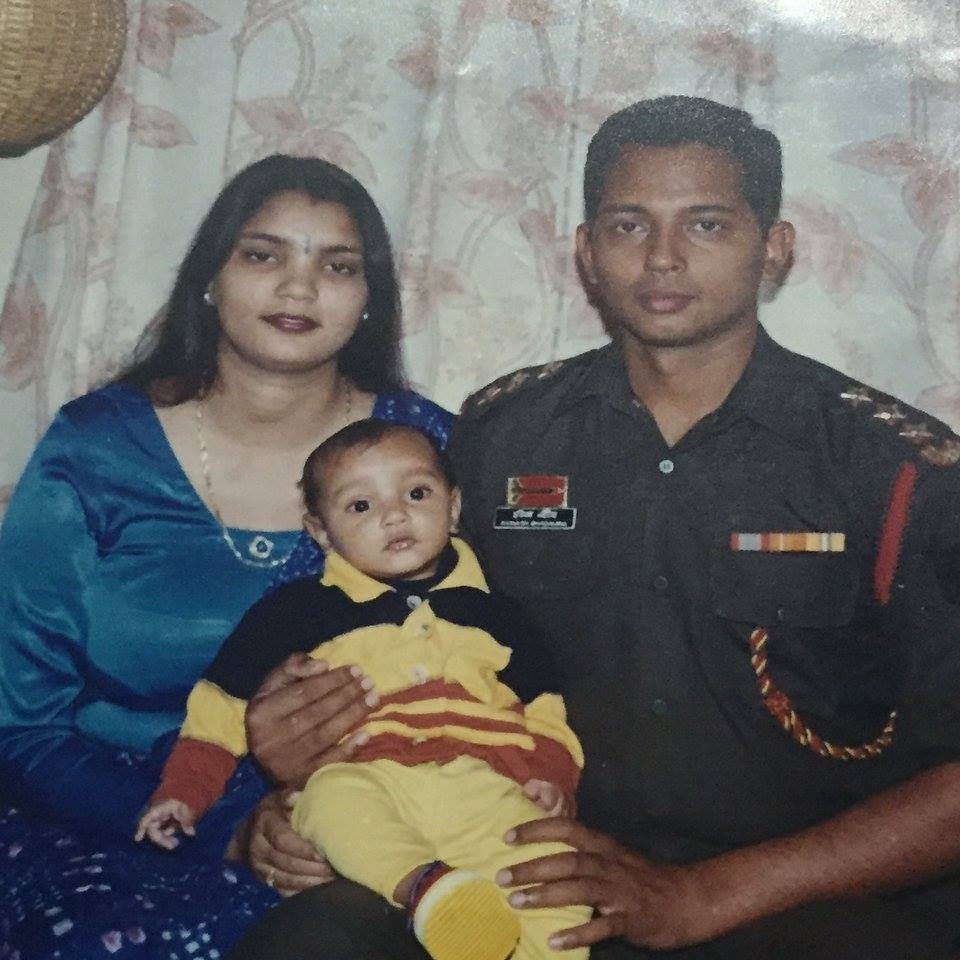 They shifted to Jamnagar for three years where their son, Dhruv, was born in 1999. But her days were often spent waiting for phone calls patched through Army Exchanges which required long waiting durations. Avinash was only one among the hundreds of officers waiting in line at the only STD booth at his posting.
"The calls were short and rare. But the joy they brought us was unmatched. Dhruv would babble on, but Avinash would indulge. He would often tell me how I had to be strong and independent. But I never really understood the full meaning of his words until that fateful call arrived on 28th September 2001."
Major Avinash posted in Doda, Kashmir, with the 8 Rashtriya Rifles unit had single-handedly killed four terrorists. But in the cut-throat fight, had succumbed to his gunshots and attained martyrdom at 29.
At 23, she was an army widow, left to fend on her own with her two-year-old son.
But this wasn't told to Shalini. It was in the newspapers. But her family kept hiding all evidence. There were whispers and many visitors who came for condolences, but she was kept away.
All she knew was that Avinash was injured and recovering at a hospital in Lucknow. Thinking that her presence in his favourite red dress would make him happy, she decked up and even stopped to offer prayers for his safety at a temple, on her way to the airport. Half an hour before reaching the airport, they finally told her.
"My life had come crashing down. I don't remember anything after that; it was as if I was on auto-pilot. Senselessly doing what was told to me. Standing in front of my husband's coffin with a wreath. Looking on as thousands marched with his body wrapped in the tri-colour on the streets of Kanpur. The only thought in my head was that this was the end. The idea that a man is so important in your life that you have no existence without him was so strongly grilled in my head, that all I could think of was ending my life. But my only hope was my son, Dhruv, as he lay in my lap giggling, oblivious to the tragedy that had snatched his father away.
"I still remember telling some of Avinash's friends that I had to be strong for Dhruv and honour my husband's sacrifice for the nation. I decided to join the Army after a few of his colleagues suggested that I try. They however told me it would be gruelling, unsure if my fragile and delicate body would be able to take it. They told me about the frequent and remote postings and how Dhruv was still young and dependent on me. But I had decided that my son was going to be my strength, and I would not let him be a weakness."
She quit her post-graduation course midway to prepare for the Service Selection Board (SSB) interview. In December 2001, three months after she had lost Avinash, she was called for a week-long interview at SSB, Allahabad.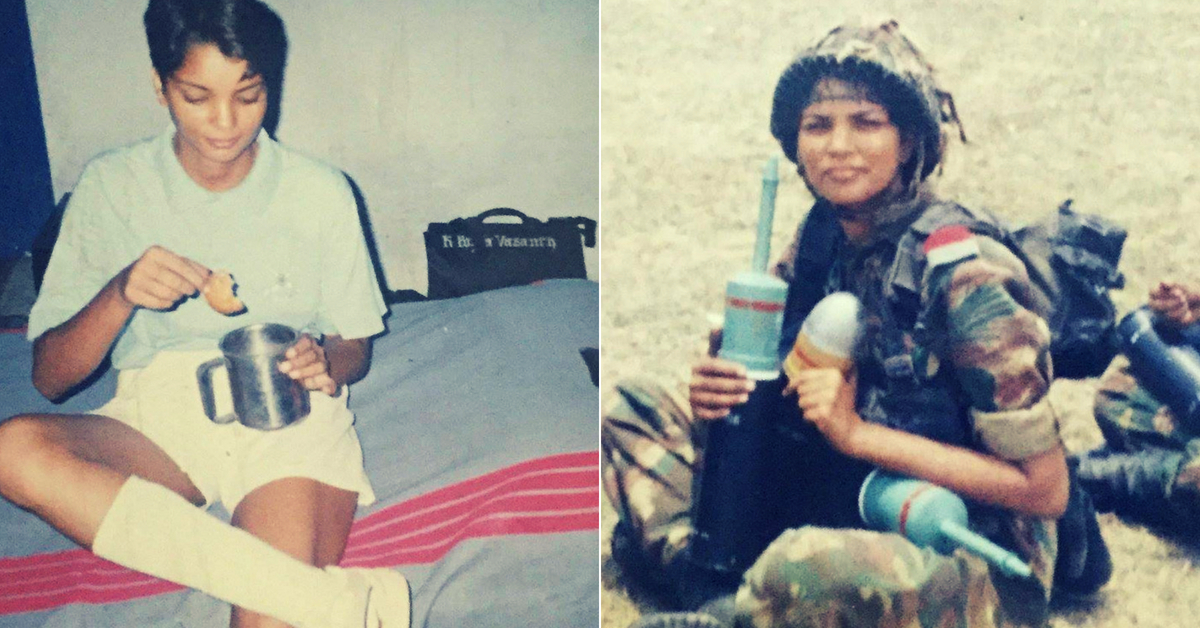 How would she leave Dhruv alone?
She couldn't. So she took him along with her parents. While they were not allowed inside the SSB centre, Shalini would run to the nearby park during every break where her parents waited with Dhruv, so she could feed the little boy who refused to eat from his grandparents.
"I faced every challenge during the selection process head-on, but I would break down at night, missing Dhruv. It was all worth the effort when my results arrived. I had cracked it. I remember rushing to my parents, huddling together with Dhruv and crying, although this time, they were tears of joy, remembering Major Avinash."
This selection was only the beginning of long hauls when his mother would be posted in remote locations for months at a stretch. "We practised it so that he could get accustomed to the separation."
In March 2002, Shalini meticulously trained for six months at the Officers Training Academy (OTA), in Chennai.
"Going from saris and suits to uniform and army boots wasn't easy. To put it bluntly, the training was very tough. But the mental pain I had gone through the last few months overpowered any physical pain. I had to fight back at life, for us, for Avinash."
On September 7, 2002, within a year of her husband's demise, only just three weeks away from Major Avinash's first death anniversary, Shalini was a Commissioned Officer in the Indian Army.
On the day of her graduation parade, while her critics looked up and took notice of the woman clad in the olive green uniform, a three-year-old Dhruv pulled on to the epaulettes on her uniform.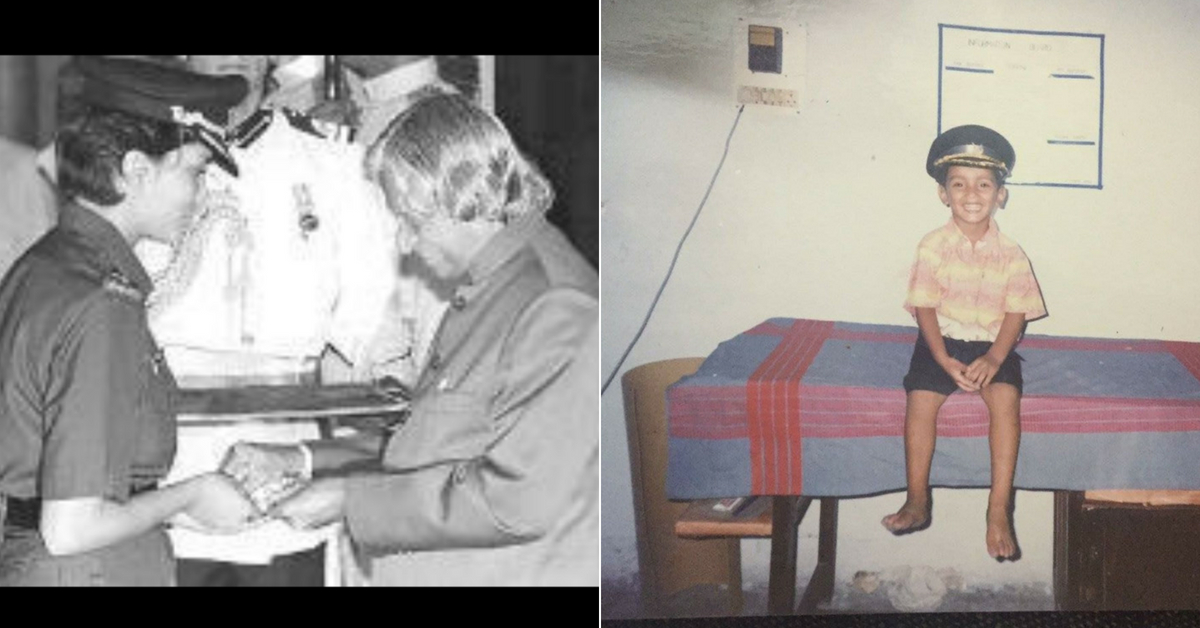 "Walking up to the podium, clad in my uniform to receive my husband's Kirti Chakra (Second Highest Peacetime Gallantry Award) from former Late President APJ Abdul Kalam was the proudest moment of my life."
Capt Shalini dedicatedly served the country for five years and broke the glass ceiling as a single mother working in a male-dominated environment. But if you think her story ends here, it doesn't. The following is a part which she confesses she's never talked about at length to anyone.
After quitting the service to look after her son, Capt Shalini settled in Delhi, completed her MBA and worked in a leadership position in a multinational company.
In 2008, she remarried. He was a divorcee, who promised to keep Shalini happy and give Dhruv a secure future. Alas, it was only a matter of time, until the truth came out.
In 2009, she met with a road accident in Bikaner that left her bedridden for a year. She had suffered 17 fractures, her left leg was broken, and her right one was severely damaged. Doctors had shared their apprehensions of her being able to walk normally again
But Shalini would not give up. It took her a year to stand, and today, she runs marathons and goes out for 10 km runs, every alternate day.
It was at the time that Shalini realised that something was not quite right with her marriage too. The man who had promised to secure her son's future wouldn't let him stay with Shalini. They never allowed her son to stay with her after marriage and he continued to stay with Shalini's parents. Her new in-laws told her that she would have to give her son to Avinash's parents or leave him at an orphanage.
When Shalini's father, who passed in 2010, required money for treatment, her second husband, who handled her finances would make excuses to not shell money.
Constant fights continued. But Shalini didn't want to quit the toxic relationship due to societal pressure. She put up with the sham of marriage until all hell broke loose in June 2011.
She reveals, "He broke a glass on my head, after hitting it thrice in succession. The left side of my head had shards of glass in it, and my face was bloodied. My in-laws just stood there. I sustained 32 stitches on my head and was struggling for my life. Not only this, my brother, who is in the banking sector, realised that my husband had siphoned off over 45 lakhs of my hard-earned money to his mother's account. This pushed me into a traumatic and depressive state. But I had seen far too much to keep quiet then."
Till date, Shalini continues to fight court cases against her second husband and in-laws.
Shalini channelised her energies to do social good to bounce back. From guiding army widows to apply for the armed forces to helping them build other skill sets, she did it all. She would often involve herself in tending to the needs of underprivileged kids too.
"I knew I had to fight. If I, being an educated woman, would let my perpetrators go, how would I look into the eyes of the oppressed women and widows I counselled? How would I look at myself in the mirror? I moved out of their house and rented an apartment. During my court cases, my brother decided to take guardianship of my son, who completed his Class 10 in Bengaluru. Soon after, I shifted there too. In 2014, we started living together."
---
Read more: Indian Army Finds Unique Way to Empower Widows Of Martyrs — Delicious Cookies!
---
Dhruv, now 19, is a second-year B Tech student in Mumbai.
"I do not speak about my second life, because I do not consider my second husband or his family a part of my life. I have dedicated my entire life to Major Avinash Singh Bhadauria. I am proud to bear his surname," she says.
Capt Shalini was also crowned 'Classic Mrs India – Queen of Substance' 2017, a title apt for the woman of steel that she is.
She moved on to become the only Indian to participate in an international pageant in the single parent category in Las Vegas where she was crowned Ms India, Earth Warrior.
Before bidding me adieu, the captain who continues to win the hearts of hundreds of Indians, says, "My son – he saw his father die, he knew what I was going through. He has seen me through the most difficult phase of my life. Crying due to a fight, face swollen and unrecognisable after the domestic violence –everything. And it amazes me how mature he has been through it all. Our bond, regardless of the long periods of separation, has only become stronger. I tell him that it doesn't matter if he doesn't have the best job, but he needs to be respect women, no matter what background they come from. It is beautiful to now watch him grow into a sensitive and mature gentleman. He is making us proud."
(Edited by Shruti Singhal)
Like this story? Or have something to share?
Write to us: contact@thebetterindia.com
Connect with us on Facebook and Twitter.
We bring stories straight from the heart of India, to inspire millions and create a wave of impact. Our positive movement is growing bigger everyday, and we would love for you to join it.
Please contribute whatever you can, every little penny helps our team in bringing you more stories that support dreams and spread hope.