In the foreword written for Dr R Balasubramaniam's recent book, "I, the citizen", Justice MN Venkatachaliah, the former Chief Justice of India, issues a call to action for all Indian citizens.
"In essence, 'We the people…' the words at the beginning of the Preamble to the Constitution of India are no different from 'I, the citizen'. Both call for reflection and action from all of us to make sure that democracy evolves into something better than it already is, and India as a nation can be a testimony to the world about how democracy and development can indeed be compatible."
However, long before he penned these words, 20 retired bureaucrats, judges and police officers came together in Lucknow in 2003 to form Lok Prahari, a non-profit dedicated to holding our elected representatives accountable. The members of this non-profit include former chief election commissioner RK Trivedi, former DGP and chairman UPPSC JN Chaturvedi, retired Allahabad High Court judge SN Sahai, and former IAS officer SN Shukla, among others.
Instead of vying for cushy post-retirement postings, some of these former public servants decided to use their expertise and experience in governance to take on powerful politicians and ensure that they remain accountable to the people.
"All our members thought that we should put our administrative experience and knowledge of the inside working of governance to some good use. We realised that nobody is in a better position than us to put governance on the right track," said SN Shukla, a 75-year-old former IAS officer from the Uttar Pradesh cadre, who operates as lawyer and general secretary for the NGO, to The Print. With a law degree in tow, Shukla also acts as the lawyer for the non-profit.
With a storied career in public administration, serving across different departments of the UP government, Shukla also holds the distinction of playing a significant role in the creation of Uttarakhand. At the time, he was the head of the former Uttaranchal Development Department.
During its 15-year existence, the NGO has filed a slew of petitions in the Supreme Court, which have made a serious dent in the way our polity operates. Its most recent success came on May 7, when the apex court ruled that former Chief Ministers cannot occupy sprawling government bungalows, whose upkeep is sponsored by taxpayer money, for life.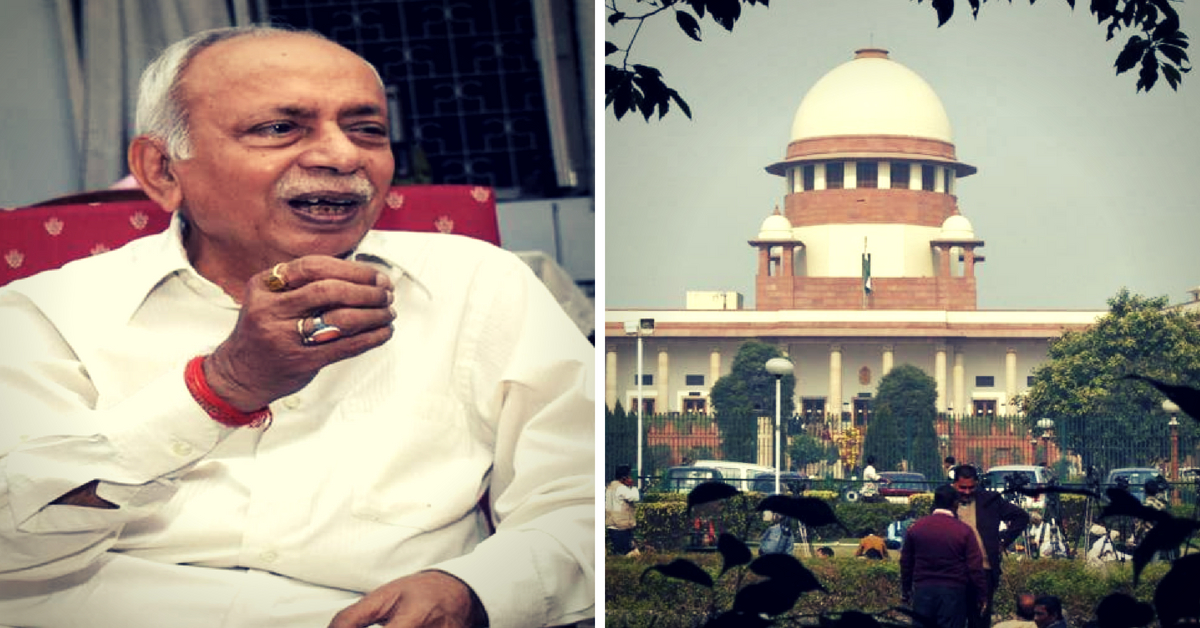 As per a 1981 law passed by the Congress-led VP Singh state government, chief ministers had to vacate their bungalows 15 days after they demit office. However, this law lay dormant in the statute books, and former chief ministers continued to reside in government bungalows.
"I had filed a petition in the Supreme Court back in 2004, soon after my retirement. It was absurd to me why the government must continue to pay for the accommodations of chief ministers after their retirement," SN Shukla told The Print.
Unfortunately for the political class in 2016, the apex court ordered "former chief ministers to hand over the bungalows and also pay rent for the period they stayed on without entitlement," reports NDTV. To avoid implementing the apex court's order, the UP Assembly passed an amendment entitling former CMs to official bungalows.
Section 4(3) of UP Ministers (Salaries, Allowances and Miscellaneous Provisions) Act, an amendment enacted by the UP government, allowed five ex-chief ministers Rajnath Singh, Kalyan Singh, Mulayam Singh Yadav, Mayawati and ND Tiwari to reside in sprawling government bungalows for life.
In its 2018 judgement, the court ruled that "the Chief Minister, once he/she demits the office, is at par with the common citizen, though by virtue of the office held, he/she may be entitled to security and other protocols. But allotment of government bungalow, to be occupied during his/her lifetime, would not be guided by the constitutional principle of equality." It also went on to add that the 2016 amendment was "arbitrary, discriminatory and unsupported by the Constitution."
Ensuring electoral reforms
Lok Prahahri has also been the centre of probably the two most significant Supreme Court judgements passed in recent years pertaining to electoral reforms.
Also Read: NOTA Is Good for Electoral Democracy, but It Needs This One Crucial Change
Earlier in February 2018, the apex court passed an order making it mandatory for candidates contesting elections to reveal not only their source of income when filing for a nomination, but also those of their spouses and dependents.
The judgement was given in response to a writ petition filed by SN Shukla in 2015, representing Lok Prahari. In the petition, he also demanded the inclusion of a column in the nomination form listing details of a candidate's source of income.
"We fought the case on the premise that under Right to Information Act, citizens must know the source of income of those fighting elections, and not just their assets to make informed decisions," Shukla told the publication.
Responding to his demands, the court also directed the Centre to amend Conduct of Election Rules and Form 26 to include the provision on the declaration of the source.
"A candidate's constitutional right to contest an election to the legislature should be subservient to the voter's fundamental right to know the relevant information regarding the candidate," said the apex court bench consisting of Justices J Chelameswar and S Abdul Nazeer.
"The voter is entitled to have all relevant information about the candidates at an election. The information regarding the sources of income of the candidates and their associates (spouse and dependents) would in our opinion, certainly help the voter to make an informed choice of the candidate to represent the constituency in the legislature. It is, therefore, a part of their fundamental right under Article 19(1)(a)," the bench added.
The current law states that a candidate must disclose details of assets and liabilities for themselves, spouse and three dependents while filing nomination papers but not their source of income.
However, the non-profit's first major victory came in 2013 when it filed a petition along with lawyer Lily Thomas seeking the court's direction to bar anyone convicted of a crime from continuing in office either as an MP or MLA. According to the Representation of People Act, 1951, if someone is convicted of a crime, they cannot vote. Going one step further, the non-profit argued if someone is convicted of a crime, they shouldn't be allowed to hold office.
Also Read: How Can India Rid Our Politics of Money, Muscle Power? Here Are Some Answers
As a result of the subsequent Supreme Court judgement upholding the petition, anyone convicted of a crime cannot contest in elections or continue in office either as a legislator or parliamentarian.
Using constitutional methods to take on those in power where it matters
In his speech to the Constituent Assembly in 1949, Dr BR Ambedkar made an important assertion about how to hold those in power accountable.
"The first thing in my judgement we must do is to hold fast to constitutional methods of achieving our social and economic objectives. It means we must abandon the bloody methods of revolution. It means that we must abandon the method of civil disobedience, non-cooperation and satyagraha. When there was no way left for constitutional methods for achieving economic and social objectives, there was a great deal of justification for unconstitutional methods. But where constitutional methods are open, there can be no justification for these unconstitutional methods," he said.
What the likes of SN Shukla and the non-profit he represents, Lok Prahari, have done is used constitutional methods at their disposal to hold those in power accountable. More importantly, however, is the site of these battles—the courts. Despite the innumerable failings of our judicial system, what Shukla's work and success tell us is that consistently working the constitutional provisions available to every citizen can bear fruit. Yes, a free assembly is an integral aspect of any democracy, but the real battles are won in the courts first.
As per reports, the NGO has filed another petition seeking the creation of the All-India Judicial Services akin to the behemoth that is the civil service. There is very little glamour in the work these retired officials do, but they've taken our democracy a few steps forward.
(Edited by Gayatri Mishra)
Like this story? Or have something to share? Write to us: contact@thebetterindia.com, or connect with us on Facebook and Twitter.
NEW: Click here to get positive news on WhatsApp!