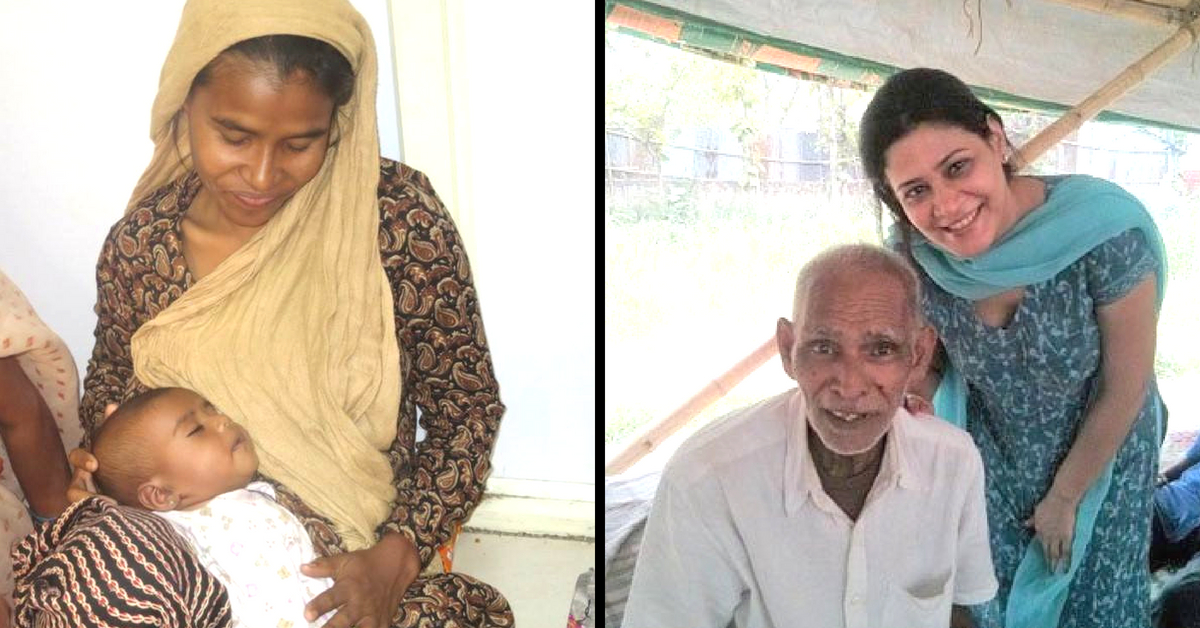 From sponsoring a child's education, to a providing a safe shelter to an elderly woman, this NGO will help you reach out to the needy.
If there was a magic lamp for fulfilling the dreams of the underprivileged, what would you have wished for on their behalf? A sturdy house for the lonely, elderly lady who quietly shelters herself under the flyover, her only shield from the wrath of the rain and sun? Education and a bright future for the child knocking at your car window, trying to sell off a stack of books to survive another day? A meal for the construction worker who washes dirty utensils for meagre wages part-time?
Magic lamps and genies may be fictional, but dreams and wishes are as much a part of reality as anything else. But the bridge between dreaming and turning that dream into reality may not always be impossible to cross, especially if you know the right route to reach it.
Wishes and Blessings is one such organisation in New-Delhi, that is tirelessly working on assisting the privileged to fulfill the dreams of the downtrodden.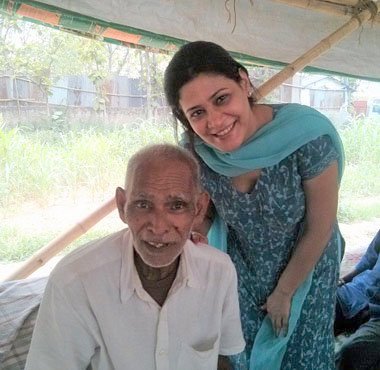 Led by Dr Geetanjali Chopra, it works on diverse social causes across India, from education to sanitation, providing relief in SOS situations, to working with visually-impaired children and orphanages.
Their primary objective is to connect donors with beneficiaries with the aim of spreading happiness and making the unfulfilled wishes of the underprivileged come true.
Shedding light on the core idea underlying Wishes and Blessings, Dr Geetanjali Chopra, Founder, states, "There are two kinds of people–people who need help and people who can help. Many times, one needs help but doesn't know where to go. We are the platform for connecting these two sets of people. For example, if you plan to sponsor a child's education, we will help you identify the child, and then we will monitor that process for you. When unfulfilled wishes are fulfilled by the privileged, they receive blessings from the less privileged. Hence, the name Wishes and Blessings."
They began by working with visually-impaired children and soon their work expanded to include orphanages, old-age-homes and shelters for the homeless. Presently, they work across age, gender, economic and social barriers and address nine pressing issues including education, food, health and happiness.
---
Also Read: Changing How We Give: This Platform Helps NGOs Receive Donations in 5 Minutes
---
For Geetanjali, it was a jump from the glossy and respectable world of academics. "I was an active academic for 15 years, and have written a book on international peacekeeping. I was a journalist for almost two years and worked with TV stations and print media. I also did higher studies in international relations, after which I taught international law for a bit and worked for the Centre of Policy Research, a thinktank in Delhi where I was a fellow for five years."
Then came the leap of faith and humanity that she took towards Wishes and Blessings, and it reaped rewards that were far deeper than monetary gains. She recalls, "We started by playing Holi with visually-impaired people, then we started celebrating their birthdays. The satisfaction and happiness that one got out of doing this, no international conference or paycheck could get."
Incidentally, Geetanjali's dream for setting up Wishes and Blessings had unconsciously started taking shape when she was merely a child. She travels down memory lane, as she traces the roots of her passionate mission. "There was an old school for the visually impaired where I used to go with my grandfather. During one of the visits on my birthday, one child asked me, 'Didi, mera birthday kab hota hai?' That haunted me for many years."
What started as a modest effort to positively influence the lives of the visually impaired, orphaned and aged, has today, spread its wings across diverse social causes and multiplied its impact across the Delhi-NCR region. Here's a short list of their work:
Their Street-to-School Programme successfully enrolled over 150 street children into Municipal Council Delhi/New Delhi Municipal Council schools since 2015.
They have built public toilets for 300 people and six well-equipped toilet units for Gurukul, an old-age-home in Gurgaon.
They have served over 4,50,000 freshly cooked, nutritious meals to the homeless in Delhi NCR since December 2015
They facilitated the weddings of 14 underprivileged girls belonging to different communities in a mass wedding function in November 2016
They sponsored the education of over 250 underprivileged, orphaned, visually-impaired children with special needs, in private and semi-private schools.
To ensure easy access to affordable healthcare facilities, they have also facilitated health camps, organised medical drives and provided nutritional supplements, impacting more than 2,500 people, including HIV+ children.
They have a Disaster-and-SOS-Relief Programme wherein they have supported and rehabilitated more than 40,000 people adversely affected by natural disasters.
Although they have impacted thousands of people in Delhi-NCR, they too have been moved by donors. Geetanjali talks about her 'favourite' donation, "There was an envelope with 21 rupees from an anonymous source. That was my best donation. I realised that people just wanted to help, regardless of their pocket size."
The organisation inaugurated an old-age-home for underprivileged women in New Delhi called Mann Ka Tilak on April 25, 2018. Geetanjali elaborates, "After a lot of research, we realised that senior citizens were not given adequate attention. There are a lot of NGOs working on education, children and now sanitation, but the statistics are shocking in the segment of old age people. We have just about 700 old-age-homes in the entire country. But the need is over 10,000. If you go by reports, these (700) will cover only about 13,000 people which is less than 0.02 percent of the entire elderly population. This showed us that there is a serious dearth of old-age-homes."
It is the home-like environment and the company of like-minded individuals in a pleasant household setting that would set apart Mann Ka Tilak from regular night shelters.

A few months before inaugurating the home, an online campaign was launched by the team. And it was one with a twist. It was called the #SheNeedsLoveToo challenge.
Says Geetanjali, "It was done because come February-March, there is a lot of talk about International Women's Day, and all these fancy magazines will feature women who have made it big, like business women, fashionistas, actresses. But we noticed that the women who are often neglected are the elderly and the underprivileged. She could be the ayah, the street sweeper, a helper, or a cook. And often these people who serve us are neglected by their families. We have been using social media sites and reaching out to new people for helping us. It is important to give them a place in society, to give them a voice, a platform to talk. And basically for people to sit back and notice them, to do something for them."
The idea was to make people aware of the plight of the underprivileged elderly women by posting selfies or videos highlighting their stories.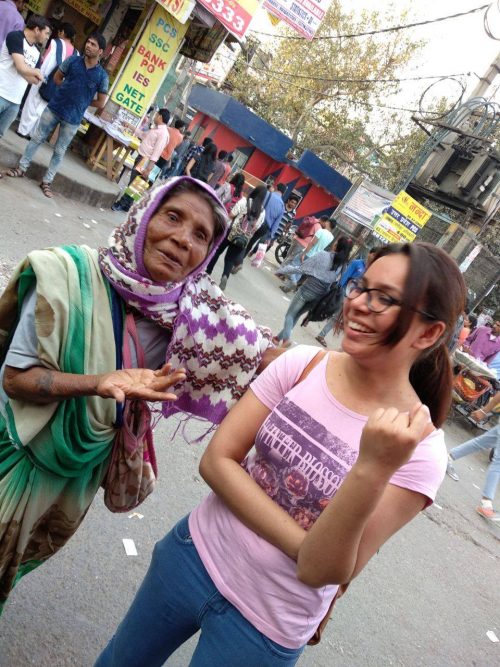 In the process, Geetanjali and her team focused on the women living in their shelter homes and night shelters. Be it Alarakhi Amma, who crawls to beg for money at the Jangpura Metro Station or Hajra Amma, who took care of women during labour and birthing, even after her son snatched away her land. They all got a platform to vent their feelings through this campaign. The idea was to share stories and facilitate the process of people reaching out to help.
"Listening to their stories sometimes gives us goosebumps. Usually, nobody talks to them, so the very fact that somebody has taken time out to talk to them is valuable to them. The first exercise to sensitise people to the needs of others," says Geetanjali.
She adds, "When you notice the underprivileged, take the time to talk to them and you will find that they need help. You could refer them to us and will we take care of the rest. It's a step-by-step process where you see that with one campaign, you can get results."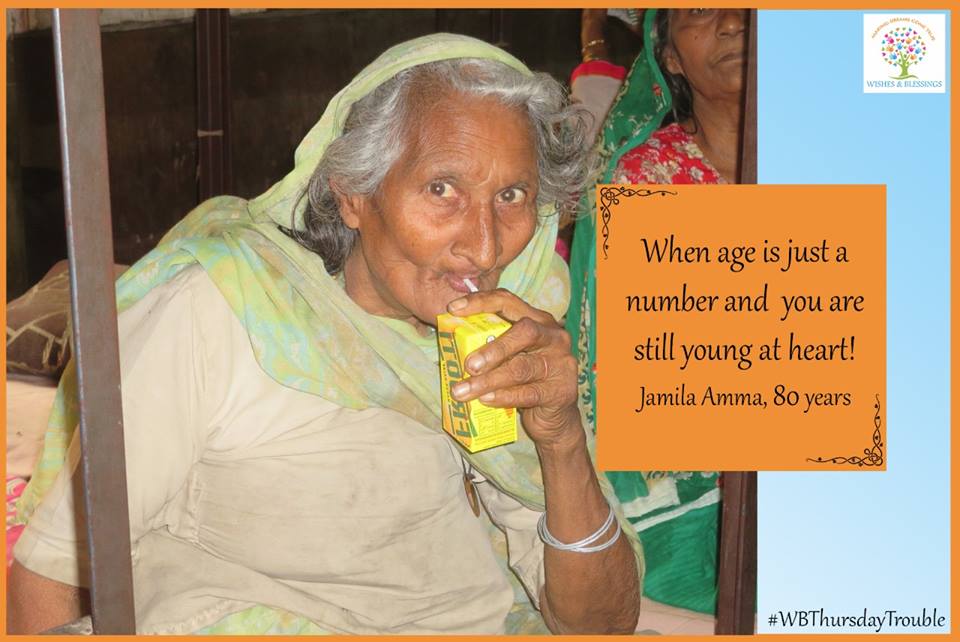 The hashtag challenge, however, was not as easy as clicking a selfie. Initially, people were not very forthcoming in posting pictures with their domestic help. That sense of complete apathy was unsettling for the team. However, through persistence and patience, they feel that they have been able to make a small little dent, especially for people meaning to reach out but didn't know how.
---
Also Read: 10 NGOs You Can Visit to Give Children a Very Special Mother's Day!
---
We wish Geetanjali and her entire team of Wishes and Blessings all the very best for their noble venture. You too can reach out and make a positive impact on society. To know how to contribute, check out their website or write to them at office@wishesandblessings.net. You can also call them at 09873422455.
(Edited by Shruti Singhal)
Like this story? Or have something to share? Write to us: contact@thebetterindia.com
Connect with us on Facebook and Twitter.
NEW: Click here to get positive news on WhatsApp!