"The gentleman was in his 80s and when I saw him, his eyes had rolled back, and he looked pale," says Amandeep, who confesses he did panic for about three to five seconds, before his training kicked in. He knew he had to respond now, and there was no time to lose.
On March 22, 2018 a passenger onboard the Jet Airways flight 9W 973, travelling from Bengaluru to New Delhi, suffered a heart attack. Soon after the flight landed into New Delhi, social media was abuzz with fellow passengers showering praises on cabin crew members who handled the situation with great presence of mind.
In the very many stories that we bring to you each day, we have established time and again that real heroes come in different forms, and they need not be wearing capes to rescue people and do good.
If things can go wrong on the ground, imagine how it would be if things go wrong mid-air?
This is the story of the four cabin-crew members who responded admirably to a mid-air emergency and actually achieved something that superheroes do – saving one's life.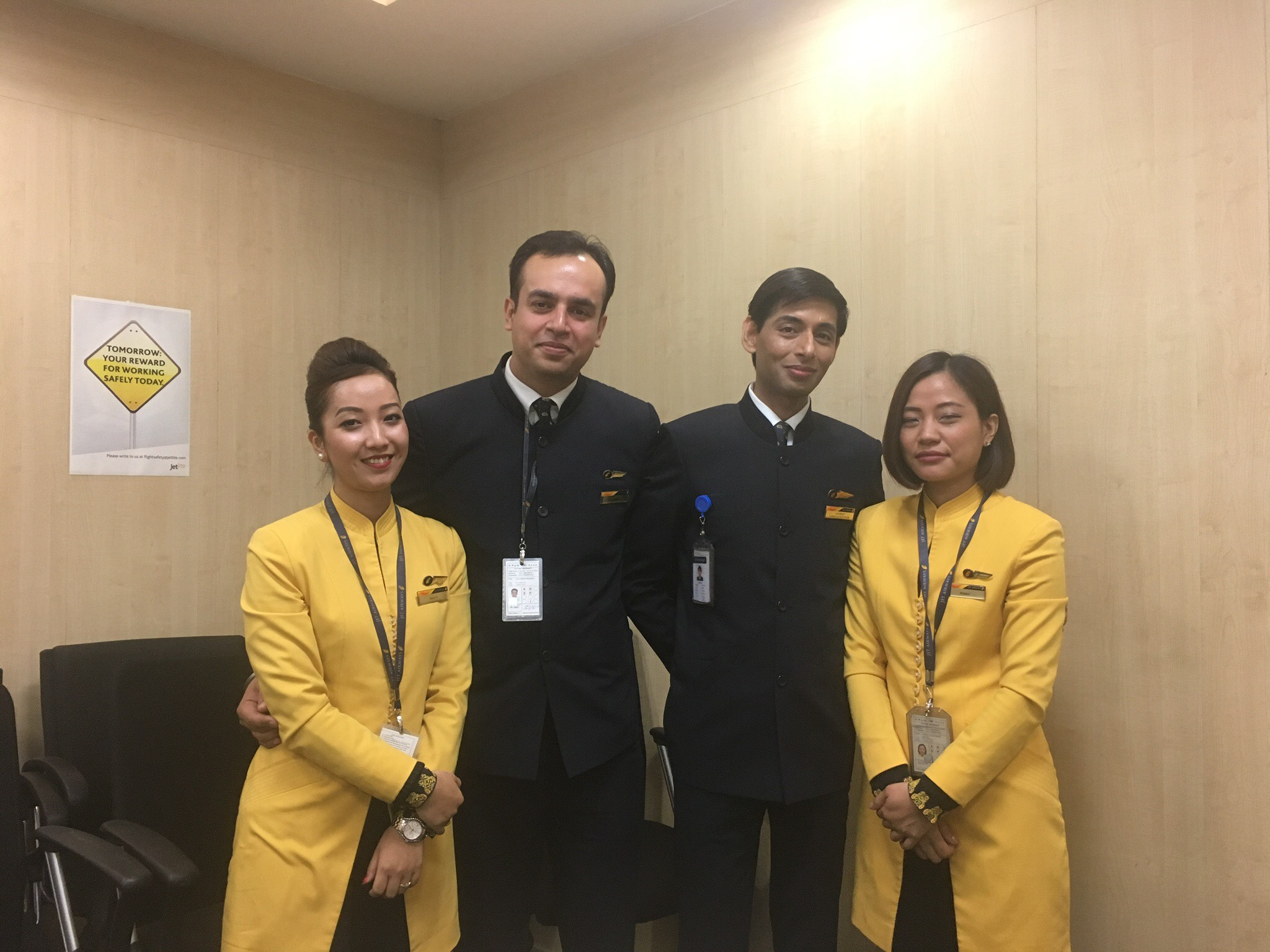 In an exclusive conversation with The Better India, cabin supervisor Ashraf Rais, and his crew of Amandeep Sharma, Preeti Alley, and Pinky Pautu, spoke about the incident that happened on their flight on March 22, 2018, and how their rigorous training helped them save a life.
It was business as usual for the crew as the flight took off from Bengaluru, till they were clearing up the cabin after the meal service.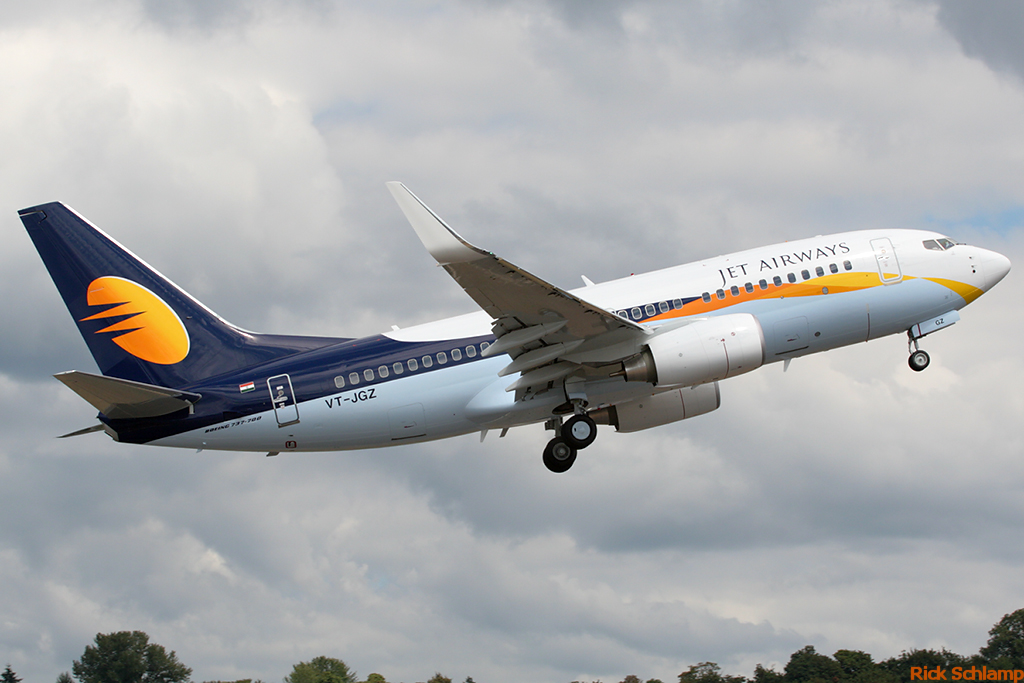 "We were clearing up the trays after the meal service when the incident occurred. I saw a lady frantically waving towards me trying to get my attention. As I went towards her she pointed to her husband seated beside her and said that he was feeling unwell," says Amandeep, and then goes on to describe what transpired over the next few minutes, which made all the difference between life and death.
"The gentleman was in his 80s and when I saw him, his eyes had rolled back, and he looked pale," says Amandeep, who confesses he did panic for about three to five seconds before his training kicked in. He knew he had to respond now, and there was no time to lose.
"After the initial shock, the intensive medical and safety training that we undergo came rushing back to me. The first thing we are taught to do in our medical training is to establish consciousness. While the gentleman was responding by gestures – his body was getting cold."
"I tried to find his pulse rate by placing my finger over his carotid artery, on the neck, but couldn't find a pulse. So I tried to find the pulse rate by holding on to the radial artery on his wrist. His pulse was irregular and erratic, to say the least. That's when the gentleman's wife told me about the previous two heart attacks he had suffered," he says.
Amandeep first gave the passenger some sugar water, and when that did not improve the passenger's condition, he gave him a Sorbitrate tablet, which works by relaxing and widening blood vessels so blood can flow more easily to the heart.
"Within a few minutes after that I saw the gentleman gaining some colour to his face and he seemed to be in better control of his reflexes too," says Amandeep.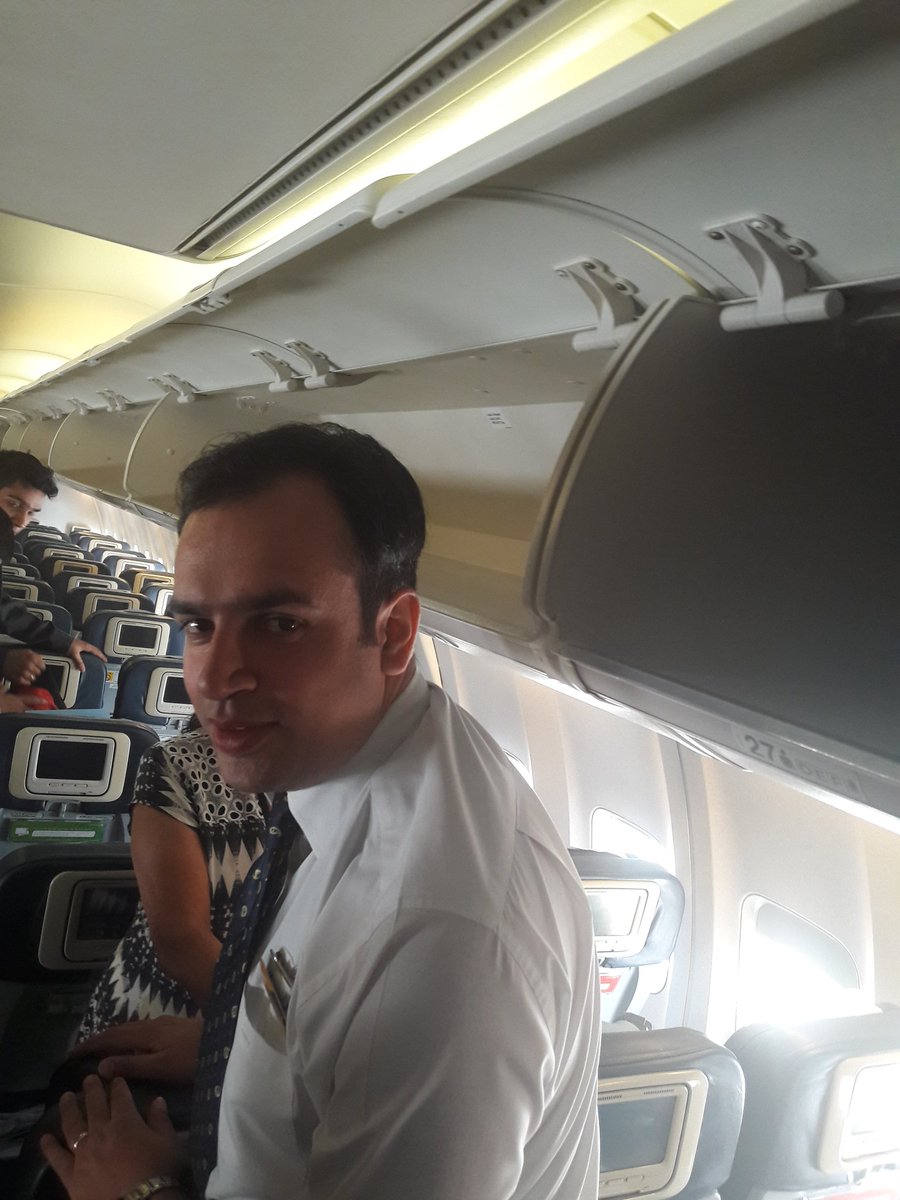 Having a well-equipped first aid box is not only mandatory but also crucial, says Ashraf. We were able to act quickly because of that. "In fact, in all our briefings before a flight we discuss potential situations like these and coincidentally, on that particular day, we had discussed heart attacks," said Ashraf.
"Before every flight the first aid box is checked by us. The expiry dates of medicines it has, the equipment it stores – all of that. Even if the flight makes multiple trips, we check it on every trip it makes," says Amandeep.
Training process
"We go through a very rigorous training process. I have been flying with Jet for over a decade now and have seen how every year they add more value to the course we go through."
"It is not just bookish knowledge they empower us with. We have multiple practical sessions with doctors and experts," says Ashraf.
To which Amandeep adds, "There have been times when the training process got tiring and exhaustive. But I am so glad for that. I was able to save the gentleman's life only because of that."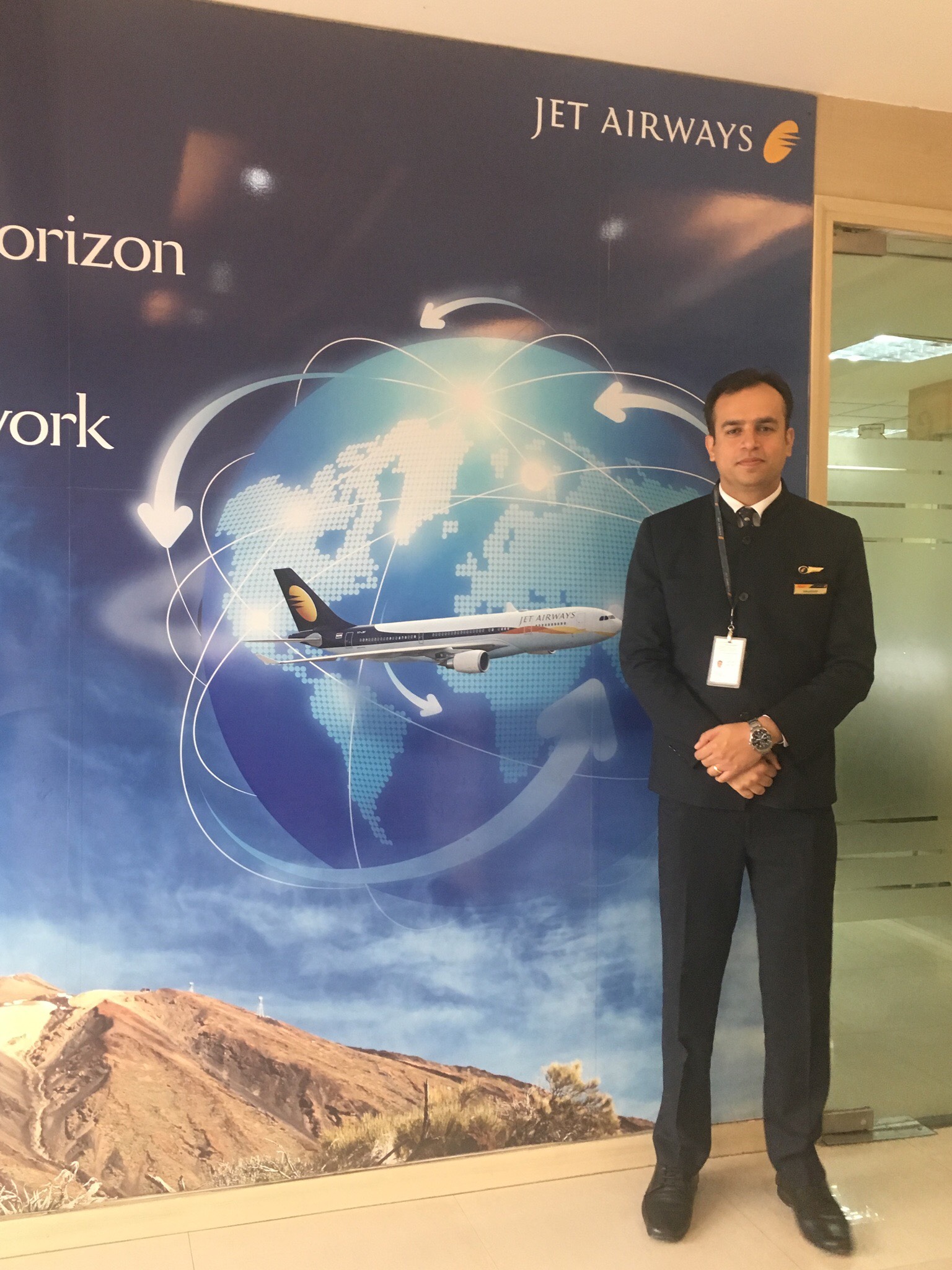 Each crew-member is required to go through two types of trainings programmes – safety, which includes emergency landings and handling such situations, and first aid training. There is a seven-day training schedule, which includes both theory and practicals.
The certificate awarded on the successful completion of this course is valid only for a year, post which the crew is required to re-take for the examination.
"Since we are not doctors we need to work doubly hard to ensure that we not only grasp the basics but master them. A lot of what we learn has to be attributed to the doctors who spend time teaching us," says Ashraf.
Dr Havovee Mistry, who has been with the company for 16 years says, "We have structured our course in such a way that we cater to both the groups that come to us. The freshers who have just graduated and the seasoned crew who come for their regular annual refresher course."
"While there is a lot of theory, we also show them various videos with extensive hands-on training, and rigorous practise on all the equipment we have onboard are conducted periodically. It is imperative that the crew knows how to operate these things even if woken up in the middle of the night," she says.
How can fellow passengers help in such situations?
Such situations due lead to panic amongst other passengers. Pinky who has been flying for a few years, says, "We did have many passengers come up to us and ask what was going on. We kept assuring them that we are handling the situation and just urged them all to remain seated."
Preeti says, "Initially the other passengers were critical and doubtful of what we could do for the gentleman in distress."
"However the same passengers while disembarking shook our hands and thanked us profusely for what we did."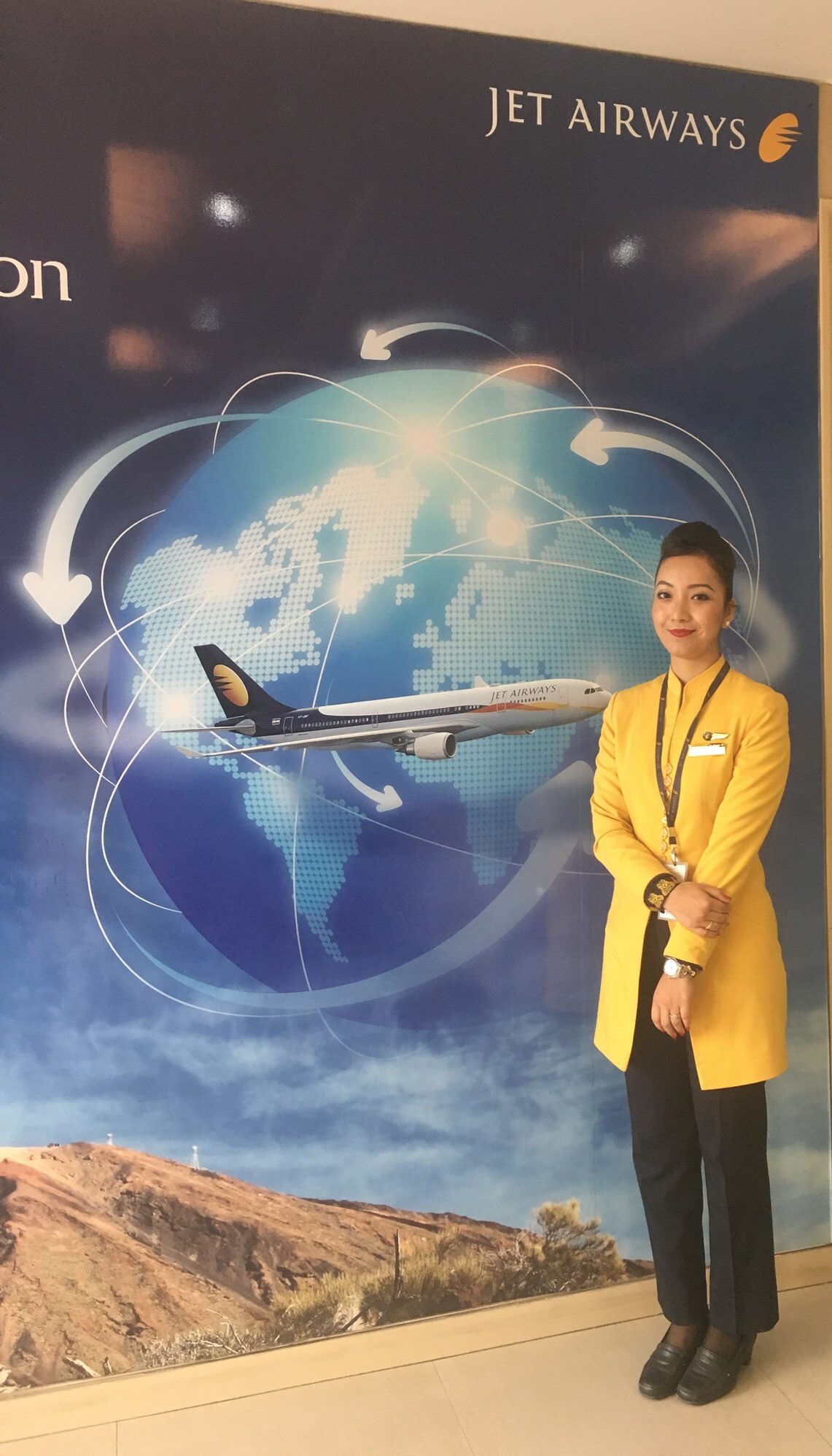 "Our request during such times will always be for the passengers to trust their crew and follow the instructions. That is the only way we can perform our duty," she says.
With each of the cabin crew having a few years of experience flying, they all had stories to share of various other flights they had handled.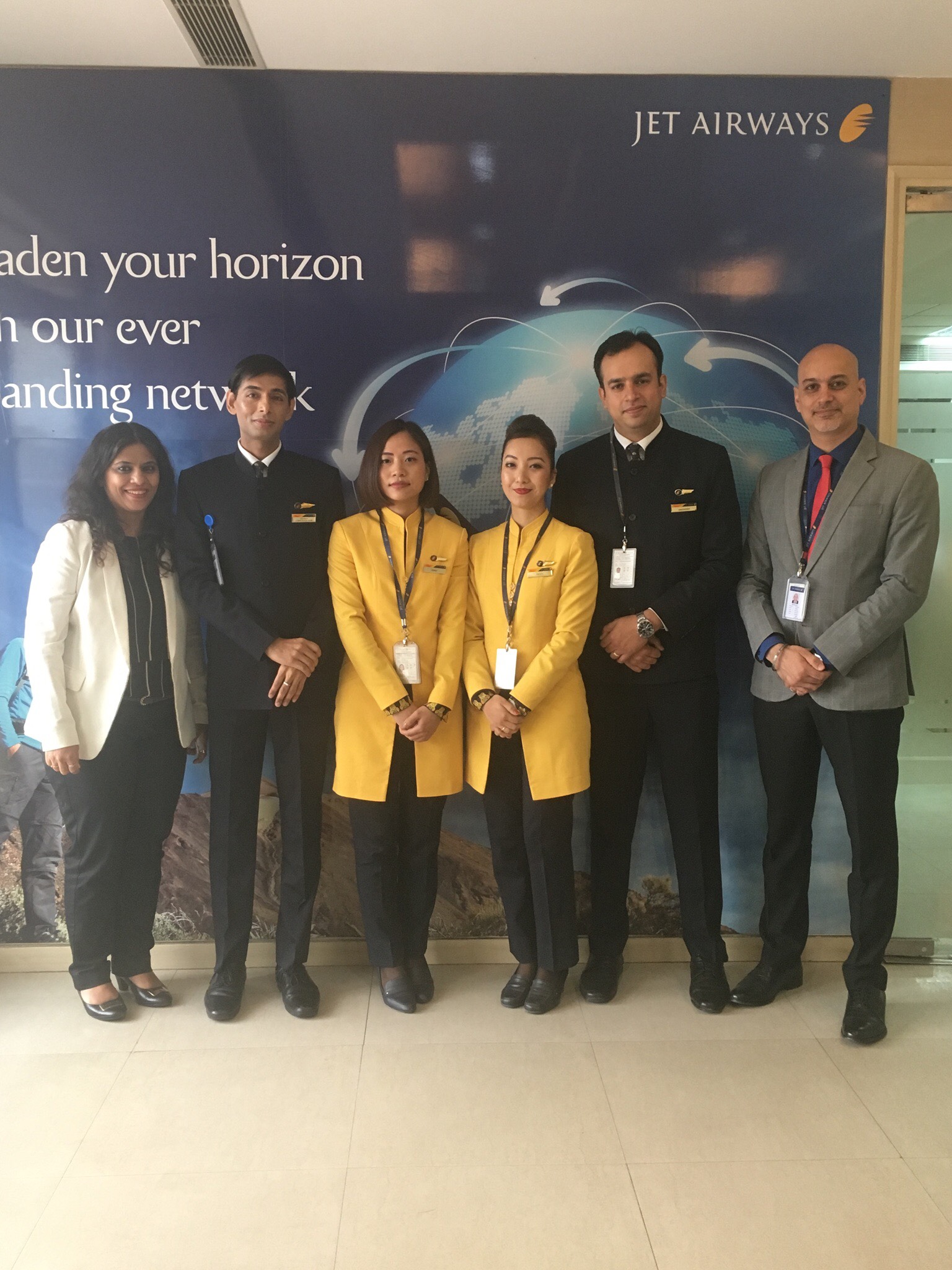 One needs to see beyond the visible service that the cabin crew provides to travellers to understand that they are multi-skilled individuals with high IQ and are trained to respond to unstructured, potentially dangerous situations.
At 40,000 feet above ground, they are the first line of defence, protecting and caring for the passengers against all kinds of hazards – all with a smile on their face. From handling bawling kids to the demanding frequent flier, from the unaccompanied minor to a pregnant lady traveling alone – they have seen it all.
While bad news travels fast on its own, good news needs conscious effort to be shared. Let's see the human being behind the job, and respect them for their service.
(Edited By Vinayak Hegde)
Like this story? Or have something to share?
Write to us: contact@thebetterindia.com
Connect with us on Facebook and Twitter.
NEW: Click here to get positive news on WhatsApp!