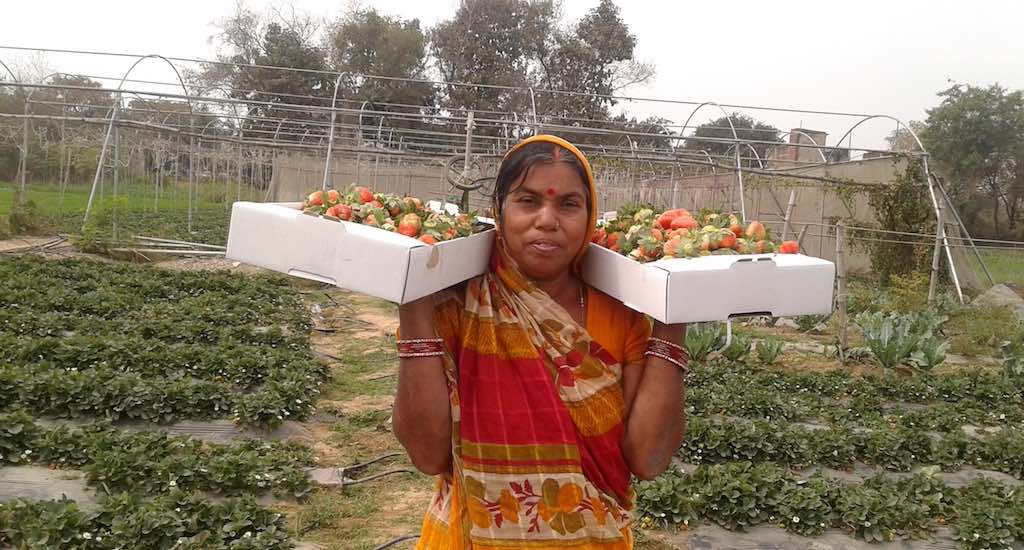 Farmers in an Aurangabad village prone to drought and Maoist insurgency have defied scientific opinion, and cultivated strawberries successfully, boosting the local economy. Mohd Imran Khan takes a closer look.
Sweet, juicy red strawberries spring a surprise on visitors to a farm in a Bihar village. In place traditionally of Rabi or winter crops like wheat, pulses, mustard and vegetables, one sees strawberries in the fields of Chilhaki Bigha village in Aurangabad district.
Farmers, traders, agriculture experts and government officials throng Chilhaki Bigha, in a remote and underdeveloped pocket of Bihar, to learn more about its successful strawberry cultivation. Everyone is impressed that a fruit confined to hill stations is grown in the plains.
Strawberry cultivation in Chilhaki Bigha has not only increased the profits of the farmers manifold, it has generated jobs for the villagers, who no longer migrate in search of livelihood.
Agrarian community
Chilhaki Bigha is neither a hill station nor a fertile place. Situated on the highway connecting Bihar with Jharkhand, the village under Kutumba administrative block has been prone to drought and Maoist insurgency.
The village has nearly 60 households, most belonging to the Koeri, also known as Kushwaha, designated as 'other backward castes' (OBC). The Koeris are traditional agriculturists.
Strawberry cultivation has thrown the nondescript village and its farmers into the limelight now. The village attracts people who wish to know more about the farmers' success, and those who wish to buy the fruits.
Seeds of change
Brijkishore Mehta sowed the seeds of change in Chilhaki Bigha when he planted seven strawberry saplings. The idea came about when he asked his son Guddu Kumar what work he did as a migrant worker in Haryana. He learnt that his son worked on a strawberry farm in Hisar, where the land and climate were similar to that of their village.
"Though I didn't know what a strawberry looked like, I decided to grow them, so that my son could make a living in our village itself," Brijkishore told VillageSquare.in. He approached Krishi Vigyan Kendra, Aurangabad (KVK) to learn about strawberry cultivation.
KVK officials directed him to Dr Rajendra Prasad Central Agricultural University in Pusa of Samastipur district, where Brijkishore sought the advice of agricultural scientists. "When they said strawberry cultivation was not possible in Bihar, I was upset and disappointed," he said.
Undeterred, Brijkishore and his son met farmers in Hisar. The seven plants that they brought back in 2013 eventually became 500. Mehta, in his 50s, is happy that his experiment proved successful.
Strawberry movement
What was strange for villagers initially became a model to be emulated when Brijkishore tasted success. Jaswant Kumar, in his late 20s, growing traditional crops, switched to strawberries in one bigha (0.4 acre) of land; he plans to increase the acreage.
Aurangabad district agriculture officer Rajesh Kumar Singh admitted that a group of farmers has been growing strawberries successfully in Chilhaki Bigha on their own initiative.
"We plan to help farmers cultivating strawberries by providing subsidies on drip irrigation equipment and plants," he told VillageSquare.in.
Singh said they trained more than 50 farmers from Aurangabad, Gaya, Jehanabad, Arwal, and Nawada districts in February, based on the Chilhaki Bigha model.
More farmers of Chilhaki Bigha and neighbouring villages plan to grow strawberries from the next season beginning October. Some in the neighbouring state of Jharkhand have also started growing them.
Local livelihood
"The income from our ancestral farmland was low and so I migrated for work," Guddu Kumar told VillageSquare.in. The change in the family's socio-economic condition was obvious in his attire of woollen jacket and sports shoes while supervising the harvest on their farm.
Migrant labourers from the village are returning to work in local farms. Giriraj Ram, a labourer busy packing strawberries said that he used to work outside Bihar. "I am happy to earn Rs 7000 per month locally," Premanand Kumar, a local youth told VillageSquare.in.
On a sunny winter day in mid-February, dozens of labourers, mainly women, from nearby villages, were busy plucking strawberries in Chilhaki Bigha and collecting them in cartons. "I earn Rs 200 and get lunch for picking the strawberry," Sushila Devi of Tilowa Parsawa village told VillageSquare.in. "It provides seasonal jobs for women like me."
Farmers start cultivation in October and harvest till March or mid-April if the weather is moderate. From April to September, farmers use the elevated bed to cultivate vegetables like pumpkin, bitter gourd and sponge gourd without investing a penny. "We earn a good profit by cultivating vegetables during summer and monsoon when there are no strawberry plants," said Guddu.
A boost in the local economy
"It's a cash crop that helps farmers earn Rs 2.5 to Rs 3 lakh per bigha in less time," Jaswant told VillageSquare.in. "It's not possible in our lifetime to make such profit by cultivating paddy, wheat, pulses, mustard or vegetables."
Brijkishore and his three sons grow the fruit in six bighas of leased land, besides their own two bighas, employing 15 permanent workers and nearly 30 temporary workers, during planting and harvesting. Raghupat Mehta and Ramprasad Mehta said that they earn more than what they used to.
Jitender Verma, 30, used to grow saag-sabzi. "Over the past two years I've been growing strawberry on my farm of one bigha and making a good profit," Verma told VillageSquare.in.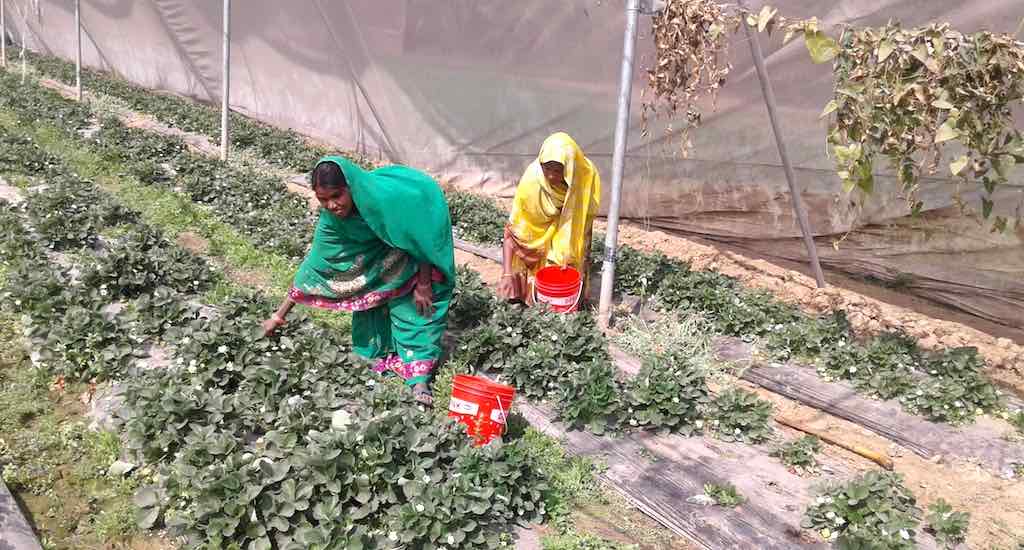 Chilhaki Bigha strawberries are in high demand in many places. Farmers send the fruits mainly to the Kolkata wholesale mandi. They send the rest of the yield to Patna, Ranchi, and Bokaro, and sell in the local market as well. "Every day, farmers send 20 quintals packed in 1,000 cartons to Kolkata and other places outside Bihar," said Guddu.
"More than 10 traders from Kolkata's wholesale fruit market stay in thatched sheds in the field in Chilhaki Bigha, to send fresh strawberries daily without interruption," Manawwar Irfan, one of the traders camping in the village for over a month told VillageSquare.in.
Way ahead
Strawberry farmers find marketing their produce difficult and opine that the government should help. Initially, Brijkishore sold to traders in Patna, who did not believe that the fruits grew in Bihar. Though they took the fruits initially, they expressed their inability to buy more when production increased, forcing the farmers to look for markets elsewhere. They sell at Rs 200 per kg locally and at Rs 300 per kg to wholesale traders.
Brijkishore pointed that there was no airport nearby, to ship fresh strawberries to other states and abroad.
There are risks though. For example, an intense cold wave this January damaged the strawberries. Farmers cultivating them do not get subsidies or insurance cover in case of heavy loss.
Cost of cultivation of strawberries is high due to land preparation, equipment and manual labour. "It demands high investment, but the return is also high," said Guddu.
Given the high investment and lack of financial support from the government, not all farmers can start strawberry cultivation. "I was keen to grow them in my 1.5 bigha land, but couldn't because of high investment," Ram Raj Mehta told VillageSquare.in.
With the present initiative to train farmers, they may expect more from the government. Nityanand Singh, a KVK official, said that the farmers of Chilhaki Bigha have inspired many farmers to grow strawberries to earn more.
Mohd Imran Khan is a journalist based in Patna.
Adapted from an article originally published on VillageSquare.in. Subscribe to VillageSquare's weekly update on the website for more stories from rural India.
We bring stories straight from the heart of India, to inspire millions and create a wave of impact. Our positive movement is growing bigger everyday, and we would love for you to join it.
Please contribute whatever you can, every little penny helps our team in bringing you more stories that support dreams and spread hope.