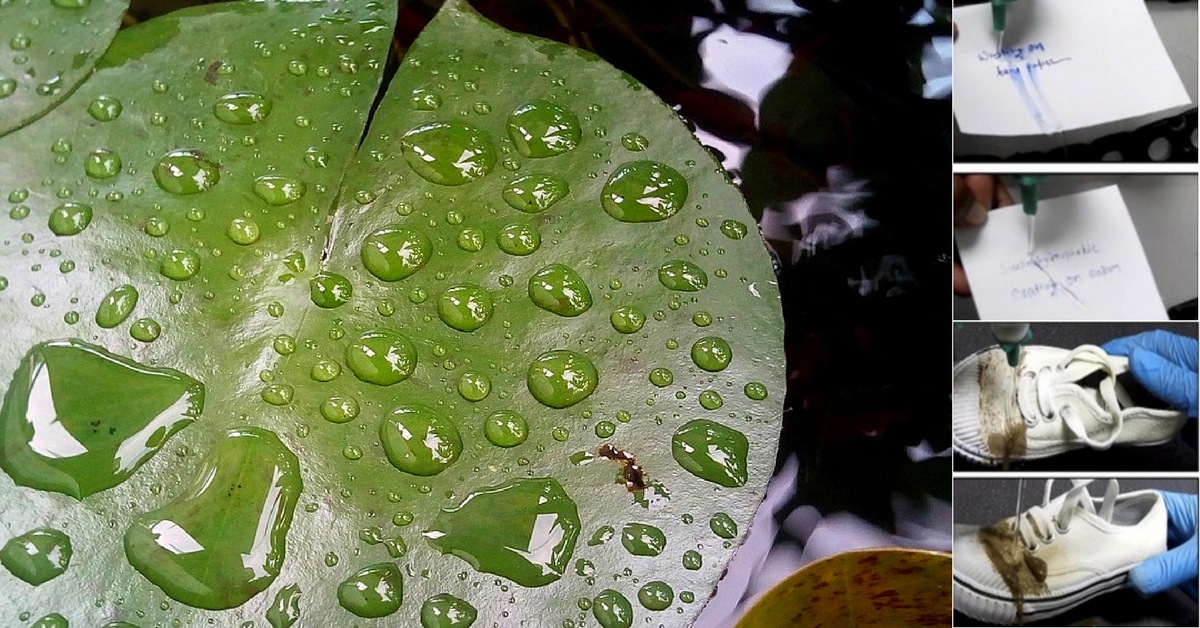 Researcher, Dr Uttam Manna gives us an insight about their new discovery of superhydrophobic material that "repels" water!
Nature, as mesmerising it is, has its own problems but has also come up with solutions to combat them. Lotus leaves are amongst the many solutions that have been engineered by nature to solve a particular problem.
Lotus plants are primarily aquatic plants and are exposed to both water and air. This exposure leads to contamination from pathogens like germs or algae, but its leaves have developed a mechanism to fight it—hydrophobicity.
Hydrophobicity is the property of repelling water. When pathogens stick to the leaves of lotus, this "dirt" can be easily washed off by water. So, when water falls on the surface, the droplets roll off, taking the pathogens with them. You can see the phenomenon in this video.
This property of "repelling" water is called the Lotus Effect, and it is not just seen in lotus leaves but across nature, from rose petals to even grass.
Researchers have been studying this property for a long time as it could help solve many problems that we humans face in everyday life.
A team of scientists at Indian Institute of Technology (IIT) Guwahati have not only managed to recreate a type of super-hydrophobic coating but also ensured that the coating is easy to develop and water resistant.
The lotus-leaf—which is widely recognised for repelling liquid water in air—is composed of specific topography (having both micro/nano features) topped with low surface energy coating (made of wax). So, the general strategy is to build the essential topography using hydrophilic building blocks, and at the end, low surface energy molecules are deposited on the top of this featured topographs.
---
Hey, you may also like: Indian Scientists Develop Bacterial Wrap That Keeps Veggies Fresh For 30 Days!
---
Researcher, Dr Uttam Manna, told The Better India, "While, this approach is widely accepted for synthesising artificial superhydrophobic interface, this (type of) thin conventional biomimicked coating is incapable of sustaining severe physical and chemical challenges and eventually became inappropriate for several prospective applications in real-world scenarios."
This superhydrophobic coating was prepared by mixing a polymer (branched polyethyleneimine) and a small reactive molecule (dipentaerythritol penta-acrylate) in different alcoholic solvents—including ethanol and pentanol.
The polymer and the small molecule reacted rapidly in the presence of pentanol, and with the rate of evaporation of pentanol being way less compared with other alcoholic solvents, pentanol was finally incorporated.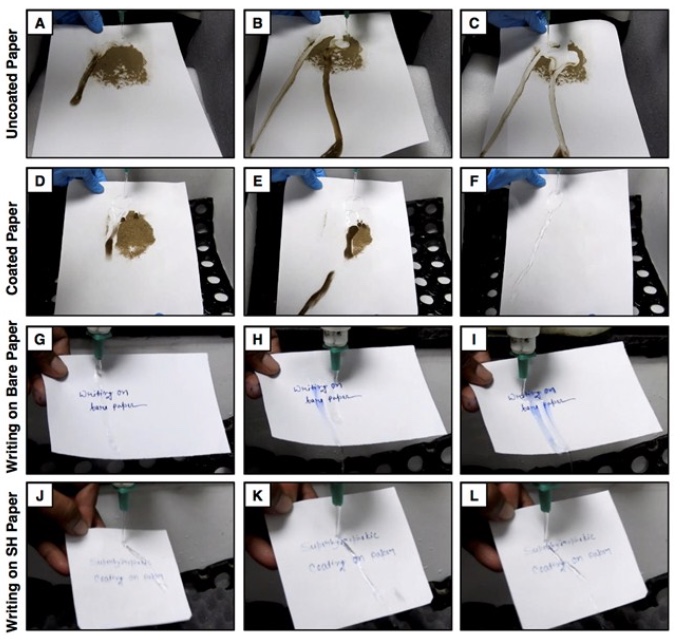 Interestingly, this super-hydrophobic coating can also be modified to be adhesive. This means, though the coating does not absorb any of the fluid, the droplet will stick to the coating, even at a 20-degree tilt. This is useful if you want to move even extremely tiny amounts of liquid without having any of it being absorbed by the surface— for example in a petrol pump or LPG valve.
"Our current approach is capable of providing both adhesive and non-adhesive superhydrophobic coating, and both of these properties are important for several different specialised and smart applications—including high throughput diagnosis, water harvesting, remediation of oil-spills, self-cleaning, prevention of microbial infections, and so on," said Dr Uttam Manna.
To test under real world environment, the physical durability of the coating was tested by rubbing the surface ten times with sandpaper, dropping 200 grams of sand on the coated surface from a height of 20 cms, and manually scratching the coated surface with a sharp knife.
A small portion of the coating was lost when the researchers used an adhesive tape to peel it off, but its superhydrophobicity remained intact.
Dr Uttam Manna added, "In our current work we have introduced a facile synthetic approach that provides highly durable and scalable superhydrophobic coating, which is capable of sustain all possible physical and chemical challenges that are relevant at practical outdoor settings."
Biomimicry is an approach that seeks sustainable solutions to human challenges by emulating nature's time-tested patterns and strategies. Sometimes, it is truly the best idea to stop looking at complex solutions to problems, and take cues from nature to create better life support systems for ourselves.
---
See what IITan's are upto: 10 Brilliant Innovations by IITians That Can Create a Better Future For India!
---
Like this story? Or have something to share?
Write to us: contact@thebetterindia.com
Connect with us on Facebook and Twitter.
NEW: Click here to get positive news on WhatsApp!