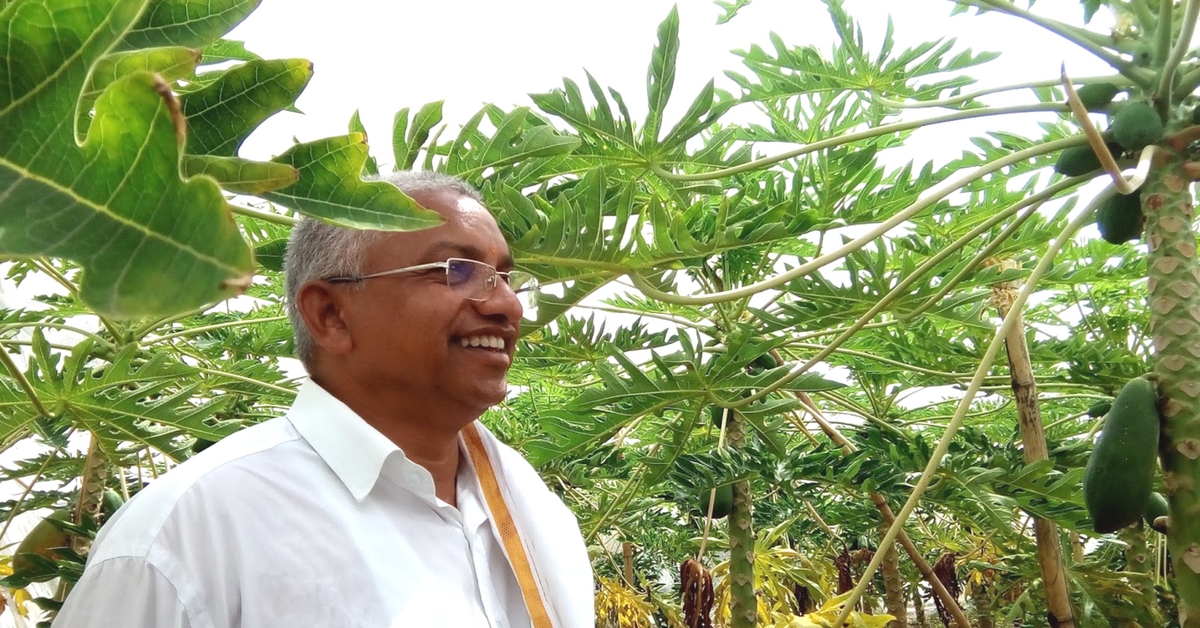 KK Subramani has developed a hybrid variety of papaya seeds, which are native to India, and will be saving valuable foreign exchange.
Every year, India imports papaya seeds of the Red Lady Dwarf (RLD) variety worth Rs 100 crores from a Taiwan-based company.
However, veteran plant breeder KK Subramani, who has developed an F1 hybrid variety of the same in India, believes that things are soon going to change, and the country will soon be saving valuable foreign exchange.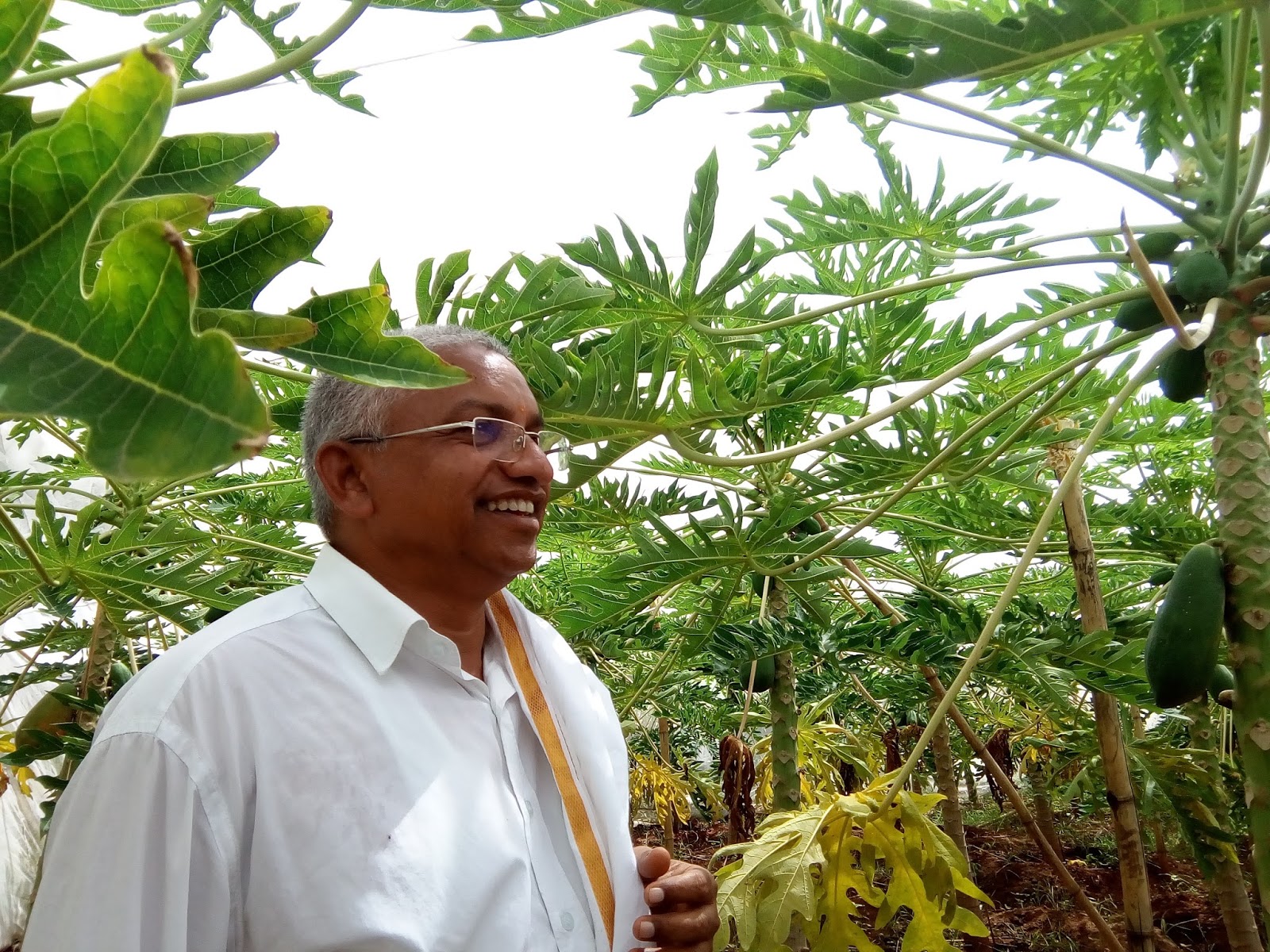 Subramani is the founder and backbone of the Mandya-based Agrimaa Bioscience, a firm that has a rich and varied experience of breeding papaya and marigold. He had founded Ceekay Seeds and Seedlings which was acquired by France-based Limagrain, the fourth largest seed company in the world.
A majority of Indian farmers grow the Red Lady Dwarf variety, which is also known as the 'Taiwan 786' papaya, due to its exceptional quality and long shelf life.
The plant takes only eight months to fruit, with the total yield reaching 60 kg per plant. The pear-shaped, yellow coloured fruit remains in excellent condition, 15 days from harvest. Interestingly, Indian farmers pay Rs 3,00,000 for a kilo of seeds, numbering around 48,000 pieces.
The annual world production of the fruit that originated in southern Mexico and Costa Rica is estimated at 6 million tonnes, of which India's share is 3 million tonnes.
The area under papaya cultivation in India increased by 63% from 45.2 thousand hectares in 1991-92 to 73.7 thousand hectares in 2001-02.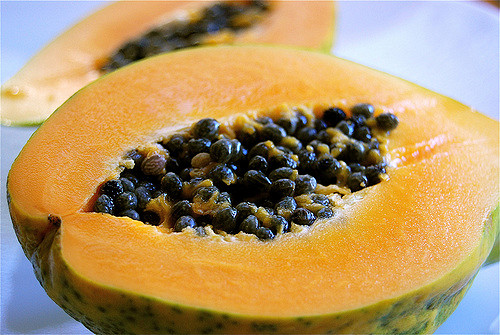 Of the 12 varieties grown in India, RLD has the largest area under cultivation. Cultivated in the States of Andhra Pradesh, Karnataka, Gujarat, Orissa, West Bengal, Assam, Kerala, Madhya Pradesh and Maharashtra, India exports papaya mainly to the Gulf Nations. According to this report (http://www.infodriveindia.com/) in 2016, India imported papaya seeds worth around Rs 5.6 crores.
A unique crop, Papaya bears both male and female flowers, and the sex of the plants is revealed only when it flowers, i.e. 4.5 months after planting. Papaya seeds have very low germination and lose viability very fast. Further, the crop is highly prone to viral diseases, and there exists no naturally occurring virus-resistant papaya genotype.
"2,000 kg of seeds worth several crores have been imported in the last 30 years," says Subramani (57), a plant breeder of repute who has worked with national and international seed companies.
"Imagine how much foreign exchange the country is losing!" he exclaims.
Papaya is available throughout the year, and besides being eaten as a vegetable and a fruit, papain, an enzyme prepared from the dried latex of its raw fruits, is used in meat tendering, manufacturing chewing gum, cosmetics, degumming silk and to give shrink resistance to wool.
---
You may also like: Blue Corn? Cinnamon-Flavoured Tulsi? This Farmer Has a Collection of 560 Varieties of Rare Seeds!
---
It is also used in pharmaceutical industries, textiles, garment, cleaning paper and adhesive manufacturing, sewage disposal and so on.
Over the last seven years, Subramani has visited countries like Hawaii, Japan, South Africa, Australia and Brazil, and collected the native papaya seeds of these regions. In doing so, he has not only been able to develop papaya plants free of diseases but has also enhanced the sweetness, colour and hardness of the fruit.
In the initial years of research, Subramani distributed seed samples to farmers in different parts of the country.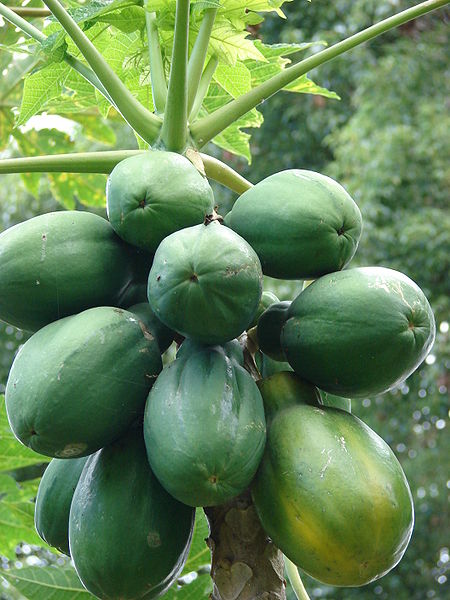 "We carried out extensive multi-location trials in different climatic areas to ensure yield, uniformity, and suitability of fruit to meet the quality parameters and only when we were satisfied, did we introduce it in the market," says Subramani.
Being an expert on plant genetics he is credited with changing the plant's character and making it resistant to the diseases like ringspot and mosaic viruses—a problem that that has been plaguing Papaya growers since ages.
Growers can now look forward to AgriMaa's F1 RLD variety and save costs spent in combating the diseases and usher in better yields.
Social entrepreneur Rajesh Singh (42) who has been supplying AgriMaa's papaya seeds to the Jharkhand Tribal Development Authority, a State government institution, for the past two years, is all praise for its fruit quality and the plant's disease-resistant capacity.
"In 2016 we supplied 15,000 seed packets, but in 2017 we changed our strategy instead supplying 30,000 saplings to prospective growers in 20 villages as we found that the tribals were not adept in growing them from seeds," says Singh, an alumnus of XLRI.
Presently around 100 kilos of seeds are produced by AgriMaa Bioscience and are either sold to seed selling companies or exported.
Affirming the excellent quality of AgriMaa's seeds, Sanjay Sanap of Nasik's Om Gayatri Nursery, says "I have using AgriMaa's papaya seeds to grow saplings since the last two years and received outstanding feedback from growers who have bought them."
(Written by Hiren Bose)
Like this story? Or have something to share?
Write to us: contact@thebetterindia.com
Connect with us on Facebook and Twitter.
NEW: Click here to get positive news on WhatsApp!