It all started in 2011, when BCP decided to do something out of the box for their social media presence.
My impression of the police force was always clouded with a certain amount of mystery and a tinge of intimidation. It started early, when one of my uncles "scared" me repeatedly, saying that the police would catch me if I didn't brush my teeth and eat my veggies, or if I played outside after dark. Although my parents never encouraged this, my uncle somehow succeeded in instilling this fear in me.
Even as a grown-up, this fear did not go away completely, thanks to a number of films which portrayed police officers in a way which was not very flattering. Certain stigmas gathered around the idea of these law enforcers, till I stumbled upon them…on Twitter!
How can the men and women in Khaki, who patrol cities in a vehicle with a siren and are primarily supposed to be strict and enforce the law, be so casual, and updated on memes?
No wonder the dark lord has got his eyes on him. #WearHelmet #BeSafe pic.twitter.com/HAoV0Uuv9w

— BengaluruCityPolice (@BlrCityPolice) March 2, 2018

While millions of people are going gaga over the Mumbai Police Twitter account, we explored the people behind the Bengaluru City Police (BCP) Twitter handle, who started this revolution (and an open secret competition) of sorts.
It all started in 2011, when BCP decided to do something out of the box for their social media presence. Initially, their YouTube channel posted videos about police initiatives and functions. However, the Social Media team soon realised that most people thought that this content was bland, and it was not what they wanted.
So they began to make changes, slowly. First, the team changed the name of the YouTube channel to BCP TV which became a rage in the media. "The Bengaluru Police is launching its TV channel!" was the rumour going on. The team had to explain to their seniors that this was merely a change in their YouTube account, and would not cost the department any money!
But this was just the beginning of what would eventually become a phenomenal social media presence of a law enforcing body. The BCP social media was established and completely proactive in the year 2014.
Today, the Twitter handle of BCP has over a million followers while their Facebook account has over 6,20,000 followers. The team of 12 social media handlers not only post memes and funny pictures but also lend an ear to the public so that they can air their grievances as well.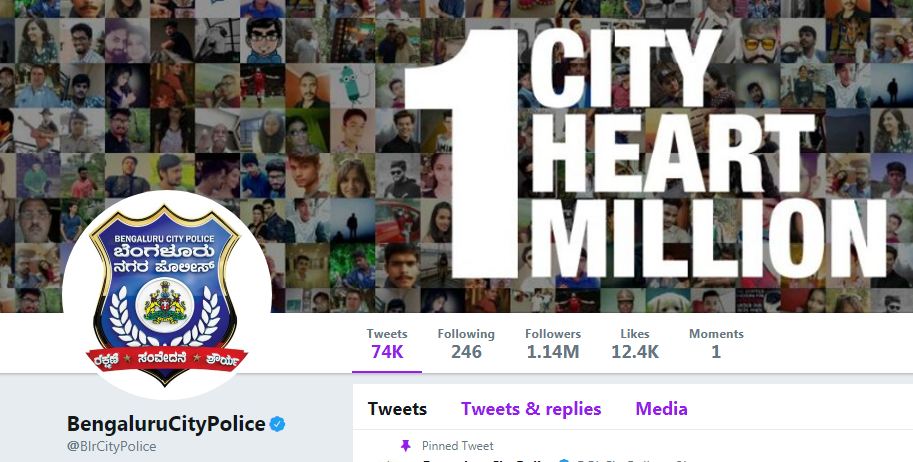 The Social Media team- co-ordinated by Constable Lokesh according to senior officials' guidance- is working 24 hours in three shifts to ensure that no complaint goes unattended. At a time, four people work a shift, sitting at their computers, scanning through tweets and posts with the registered keywords. All of them hold the positions of constables or sub-inspectors.
"We have listed around 400 keywords," Lokesh told The Better India. "These include words such as emergency, 100, accident etc. In this way, even if people don't tag our official account, we scout Twitter for any mishap that might need our attention."
Not just Twitter, the Police force is active on Instagram, Facebook and even Snapchat!
Basically, the young at heart department is available to help you no matter where you post your grievance. Which means to say, that a person is who eagerly looking for the help of the police, but does not know their official account, has a chance of getting in touch with them with a simple tweet!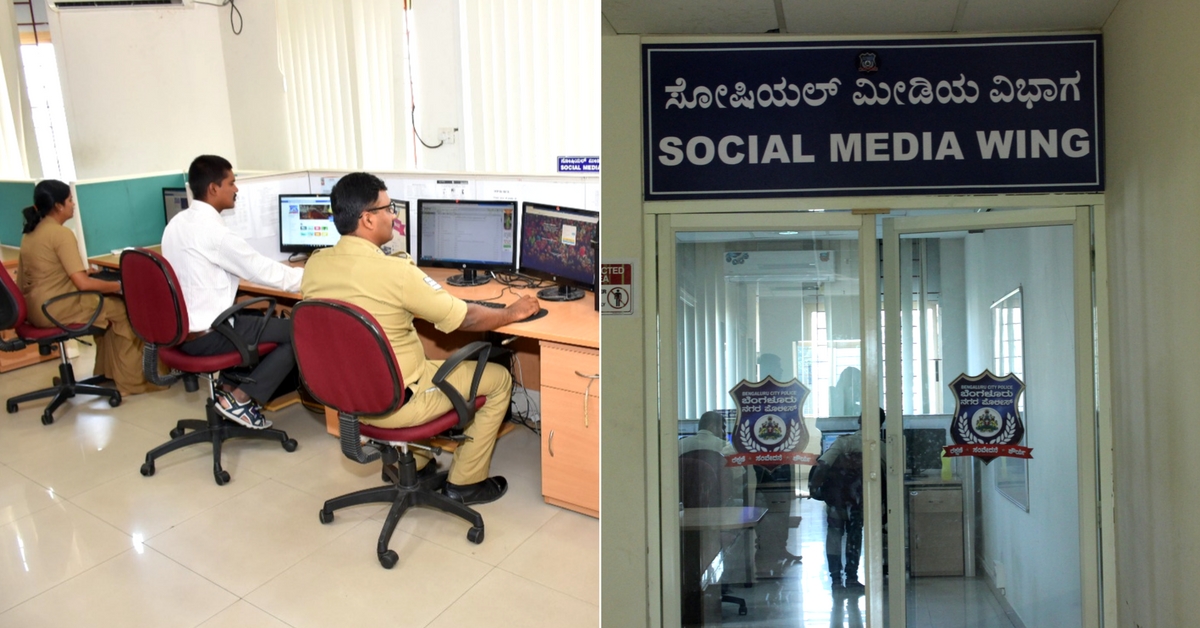 DCP Ram Nivas Sepat spoke to The Better India about the way social media is helping the department. "We have an easy way to interact with over 10 lakh people in one click. At the same time, over 10 lakh people can share their grievances, views and ideas with us. It's the fastest way that the police and public can interact."
The way this system works is that the police receive, analyse and filter your social media posts that suggest you or someone around you is in distress. They then dispatch the complaint to the concerned police stations where the police act on and follow-up on your ATR (Action Taken Report).
Little wonder, then, that the officers have to go through thousands of tweets and posts while they filter out those that actually need their attention. All of this data comes on a dashboard, where the officers scan the number of tickets (a kind of a digital ticket issued to complainers, for the reference of the police) issued, cases attended to etc.
People behind the social media handles are trained, fit police officers who have basic computer and English knowledge. They volunteer to work on social media although not everyone is a master of pop culture.
The team told TBI that they perform extensive research on what's in and what's out. If they are not familiar with a pop culture reference, they ask around. Lokesh is the one who brings the creativity by using popular memes and famous characters to bring awareness among the youth, finally takes the approval to post them.
"Memes are out now," the team told us, much to our dismay. "Videos are in. So we are turning our stream to videos instead. You can have a look at our cover video; we keep up with trends."
Sometimes, the pop culture and social media trends backfire, and the police have to be very patient about it. "One letter here and there, and we bear the brunt. Social media seems like a very casual format, but we are responsible to the millions of citizens. We cannot be wrong," Lokesh told TBI.
---
You may also like: Mumbai Police Are on Twitter. And Their Witty Tweets Are Winning Hearts.
---
Another issue they struggle with is the expectations of the public. They are so drawn to memes, that that's all they ask for. "We post stories of people we arrested, law violators and instructions to the public. Social media is the perfect way to reach millions of people in a short time. But people have started expecting the only humour from us. That's not what we are here for. We are not entertainers, we just want to reach out to you in a way you like so we can send our message across," adds another source.
DCP Sepat told us that their challenge is reaching out to people who are not on social media. "But all in good time," he adds. "We started with hardly a thousand followers. And today, we have over a million. Similarly, we will eventually try to get through to other citizens."
Featured image sources: TBI/ Facebook.
Like this story? Or have something to share?
Write to us: contact@thebetterindia.com
Connect with us on Facebook and Twitter.
NEW: Click here to get positive news on WhatsApp!