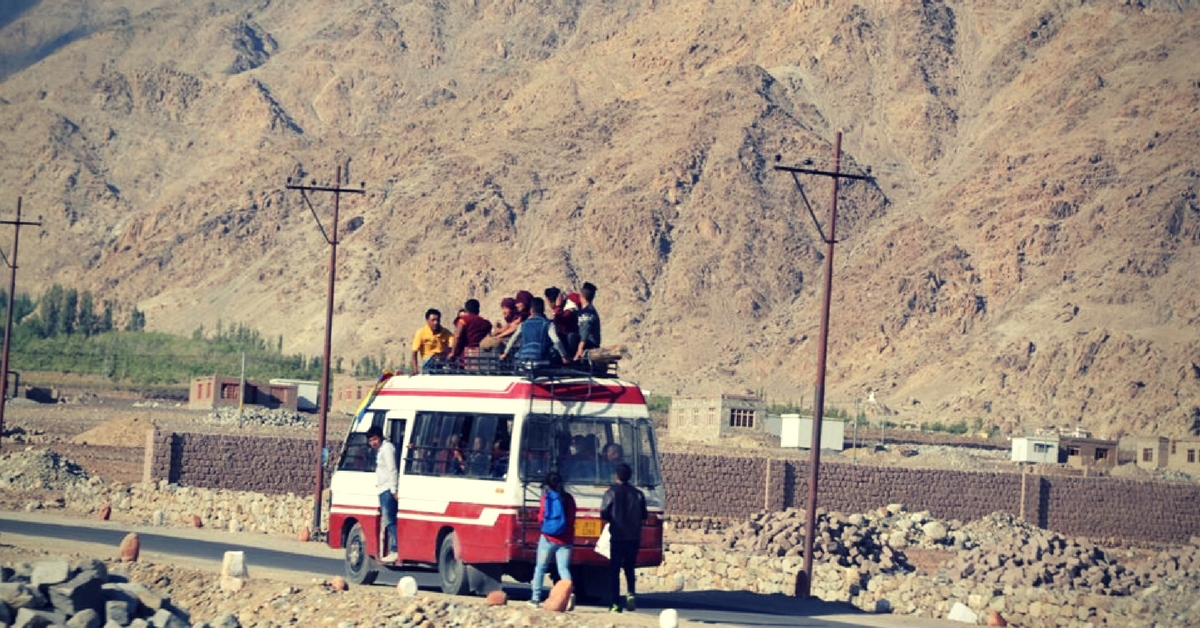 Speaking to The Better India, the Leh District Administration explains what lies at the heart of this initiative.
Regular visitors to Leh would have noticed an exponential surge in the volume of vehicles in recent years, leading to chaos and endless traffic jams.
With the remarkable growth of the tourism industry (more than 2 lakh tourists over the course of the previous summer season) and the resultant revenue, this once picturesque mountain town is now suffering the harsh growing pangs associated with rapid urbanisation.
With a delicate ecosystem in place, this is simply unsustainable. The resultant pollution and congestion is contributing to an unhealthy microclimate. Allied with the vast volume of particle dust generated naturally (Leh is in a cold desert), a public health emergency is just around the corner.
Responding to these concerns, the local district administration in January 2018 announced a ban on the issuance of fresh permits for contract carriages and fresh licences for bike rentals. However, earlier this month, the district administration under Deputy Commissioner Avny Lavasa took the long-term step of reviving the public transport system by plying buses along busy routes in and around the main Leh town area.
On March 7, the district administration made the announcement on their Facebook page, eliciting a positive response from locals.
"As of now, approximately 30 buses are plying. We need to observe the demand for a few days and adjust the numbers accordingly. The routes are available on our Facebook page," said a senior official at the Leh District Administration to The Better India. Other reports indicate that 60 buses are scheduled to operate in and around Leh.
Unlike other major cities in India, the public transport system in these parts are outsourced. "The road transport authority gives permits to private parties to ply on specified routes. The costs incurred will be to create bus stops," he added.
Why does Leh need a functional public bus system?
From April 1, 1994, to March 31, 2007, the total number of vehicles (commercial and non-commercial) registered with the local regional transport authority in Leh district was 4,007. From April 1, 2007, to February 28, 2018, however, the number of vehicles registered in the Leh district shot up to 14,948.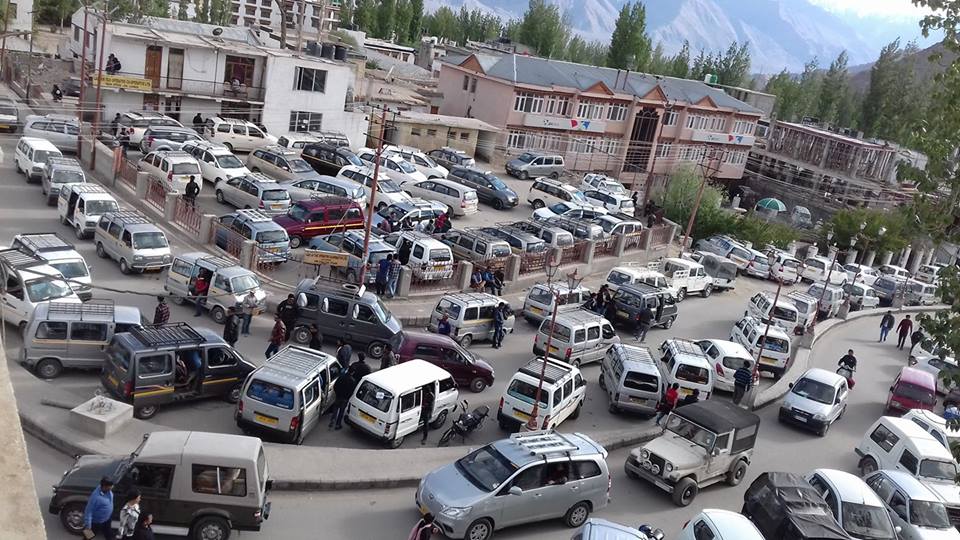 Today, there are nearly 19,000 vehicles registered in Leh district. For the average city dweller this may not seem much, but considering the low population density of the region, these are significant figures. With a population of approximately 140,000, it amounts to a little more than seven persons for every vehicle registered. Mumbai has a similar ratio.
With the maximum number of vehicles in Leh district comprising of fossil-fuel guzzling light motor vehicles (LMVs) and taxis, especially diesel-run SUVs, the impact on air quality is evident. It is well documented that emissions from these vehicles are dangerous, especially for young children, affecting their nervous and respiratory system. Despite the District Administration's steps earlier this year, there are few regulatory checks on polluting vehicles. Drive past any oil tanker and goods truck on the road, and one sees dark black smoke gushing out of their exhaust pipes.
"In some states, diesel vehicles are heavily taxed. In many cities, it is not that a person cannot own a vehicle, but taxes and service charges that are imposed on them are so heavy that they cannot afford to use a vehicle. Parking charges and other charges are extremely costly. Thus, people do not buy cars. So, we need to have strict regulations for vehicles that come to Ladakh by taxing them for parking, plying on the road and the like. We should have stricter pollution control norms. Only vehicles with Euro 5 and Euro 6 emission standards should be allowed to enter," said Jigmet Takpa, Project Director of Ladakh Renewable Energy Development Agency, to a local publication.
Besides imposing higher taxes and other regulatory measures at a local level, the District Administration will also have to take into account goods vehicles coming into Leh with vegetables, fuel and other essential commodities, from Jammu and Srinagar. Leh depends a lot on goods trucks coming in from outside for the supply of essential commodities. How do you regulate them? This will require a multi-pronged institutional approach in coordination with the State government.
For the moment, the revival of the public bus system is just a small initial step towards improving Leh and the quality of life for its residents. With the tourist season coming up in a few months, and the footfall increasing every year, the district administration has a tough task on its hands to streamline services.
"The success of any public transport system hinges on its reliability. We are working out fixed timetables and stops. This will streamline the service and help people schedule their travels. We are also planning airport shuttle service and a tourist circuit route," said the Leh District Administration office, when contacted by The Better India.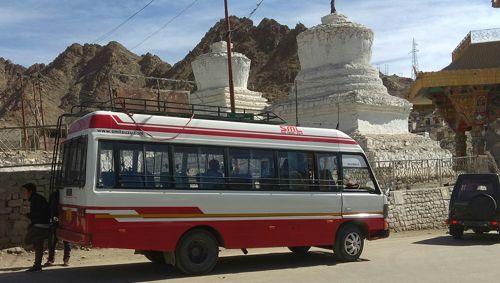 Since most of these buses run on diesel, pollution is a real concern. Considering the explosion in tourist inflow, the district administration will need more than 30 buses. When asked whether solar-powered buses are on the horizon, the district administration responded by saying, "This is a plan for the future, but there is nothing on the horizon for the next month." Ticket prices, meanwhile, range from Rs 10-25, say officials.
Besides operating a functional public bus system, which is critical considering the relatively long distances between the main town and surrounding areas, there is an urgent need to regulate the number of private vehicles in a strict manner. In London, for example, authorities introduced a congestion tax, which seeks to discourage private vehicles from entering popular routes.
Read also: As Delhi Chokes on Its Traffic, the Solutions May Come From London
Not only has it discouraged private vehicles, a tax of GBP 11.50 (Rs 997) per drive raised revenue amounting GBP 250 million last year. As per British law, this revenue is reinvested into public transport. In 2008, London authorities also introduced low emission zones in the city. If vehicles do not comply with emission standards, they are charged a fee, and in certain cases fines.
Local authorities in Leh could implement some of these ideas, provided they set up the necessary infrastructure to monitor both air quality and the volume of vehicles. Before resolving any problem, it's imperative to measure the scope of the problem in some detail. Without any tangible metrics, there is little authorities can do resolve these growing concerns.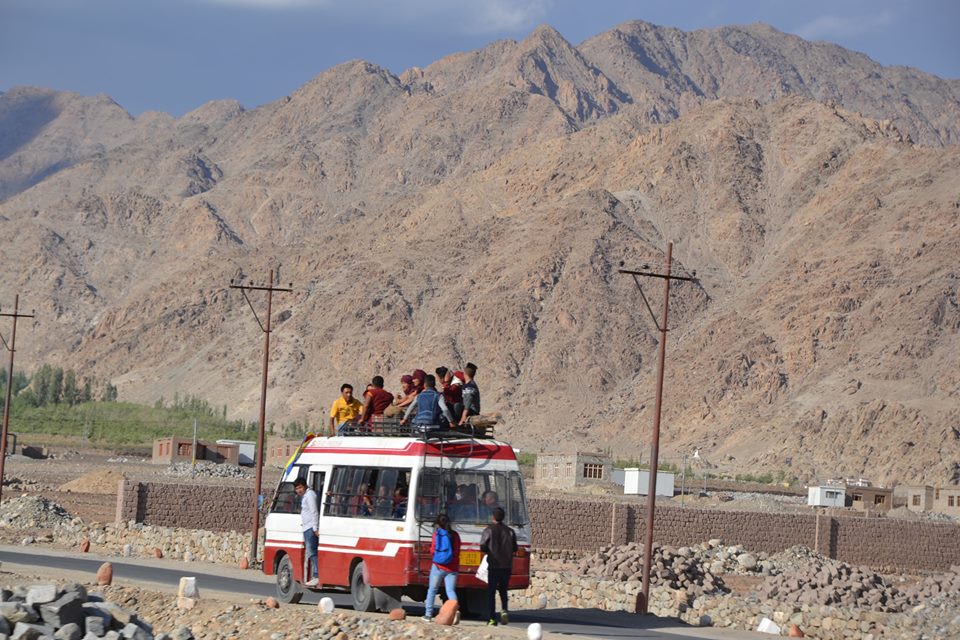 With the advent of GPS and the smartphone, authorities in Leh could also establish an app or a system, whereby commuters receive second-by-second updates about the time of arrival, disruptions, accidents and delays. For this system to work, however, the region needs regular access to the internet. Connectivity in the region today is patchy at best.
"There are two aspects to regulation. One is prohibiting, i.e. not giving new permits and registrations, wherein new taxi permits have been stopped. The second aspect is creating a strong public transport network so that people aren't compelled to rely on private transport. We are now working on this aspect," said the Leh District Administration office. With a solid public transport network, what is the fate of independent taxi drivers who operate in and around Leh? Does the administration have a plan to rehabilitate them?
"The business of taxis is totally different from buses. Taxis get a permit to operate as contract carriages and buses are stage carriages. They hardly will compete for the same passengers. Taxis also have abundant business for long-distance travel," said a senior official. Some local taxi drivers, however, disagree.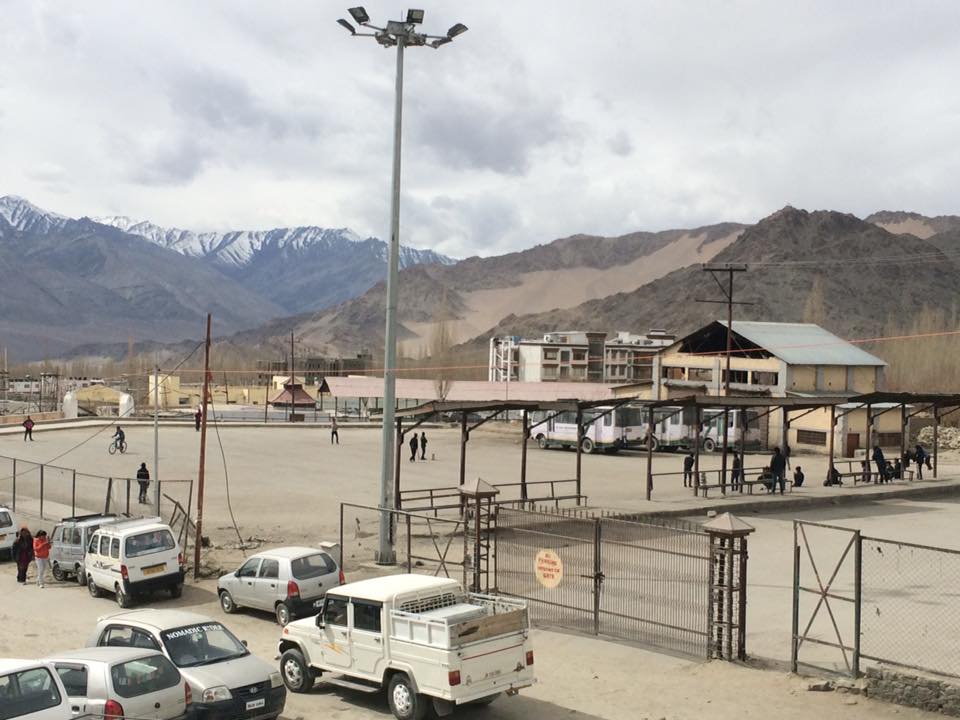 Besides the sheer volume of vehicles, the problem of congestion is also down to a lack of parking space, especially in the main town area. With vehicles parked all over the place, and inadequate regulation to back it up, congestion and long traffic jams are a natural outcome. Late last year, the Deputy Commissioner had initiated a one-way traffic system for a period of 15 days from Old Road to Fort Road on a trial basis.
"Keeping in view the success of the 15-day trial of the one-way traffic system, the same will be implemented from next year during the entire tourist season starting from March 2018 on four roads including Old Road, Fort Road, Upper Tukcha and Chanspa (important commercial centres)," says this report in Reach Ladakh, a local news publication. Authorities are also constructing a multi-tier parking structure in the main town.
Read also: How Ladakh Holds The Key For Safer Pilgrimage to Kailash-Mansarovar
Another potential solution is to make Leh more pedestrian and cycle-friendly. "This year we will embark on our 'mission footpaths'. Depending on the availability of resources, we aim to widen footpaths, remove encroachment, and make them of suitable height, among other measures," said the district administration office.
However, these are seemingly short-term solutions, and strengthening regulation on the sale of private vehicles and improving the public transport system with better last mile connectivity is seemingly the answer to Leh's problem with congestion and vehicular pollution.
Like this story? Or have something to share? Write to us: contact@thebetterindia.com, or connect with us on Facebook and Twitter.
NEW: Click here to get positive news on WhatsApp!
We bring stories straight from the heart of India, to inspire millions and create a wave of impact. Our positive movement is growing bigger everyday, and we would love for you to join it.
Please contribute whatever you can, every little penny helps our team in bringing you more stories that support dreams and spread hope.