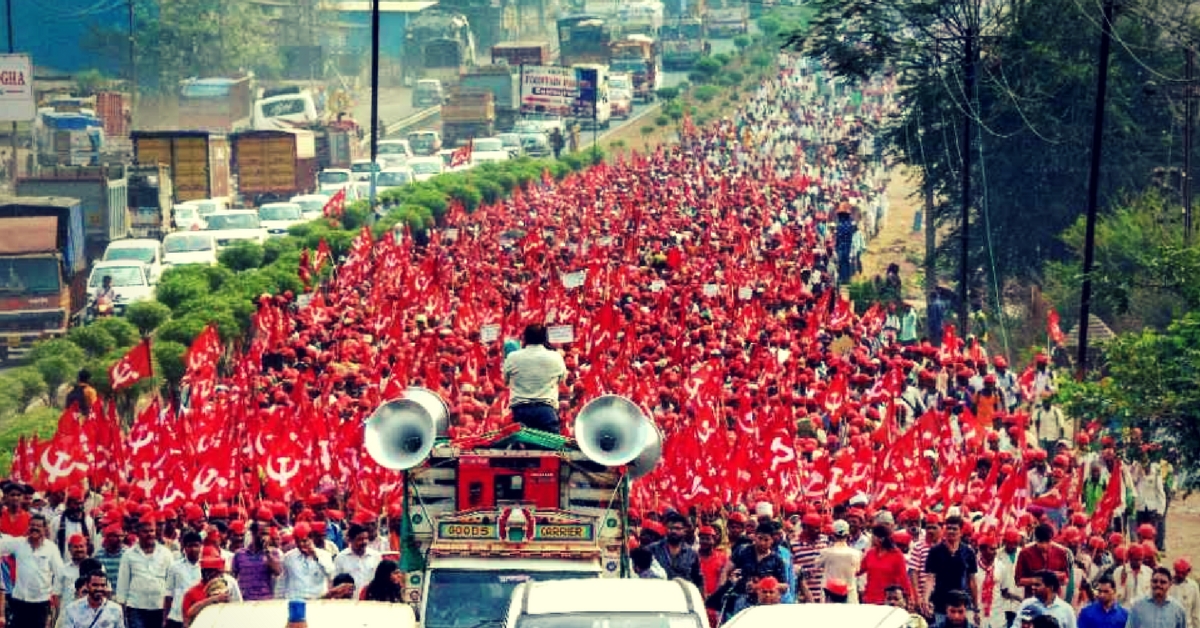 These farmers have marched 180 km from Nashik to Mumbai, bringing greater attention to the acute agrarian distress in Maharashtra.
Nearly 35,000 farmers and farm labourers from across Maharashtra converged in Mumbai to protest against what they perceive as the failure of the State government to respond to the raging agrarian distress.
Travelling 180 km from Nashik to Mumbai, this "long march" by farmers under the banner of the Left-affiliated Akhil Bharatiya Kisan Sabha (ABKS) outfit has grabbed the attention of media outlets, political parties, Mumbai residents and most importantly, the State government.
Their demands are manifold. For starters, they want the government to institute a complete loan waiver bereft of any conditions, even though just last year the State government had announced a massive farm loan waiver of over Rs 34,000 crore following acute agrarian distress in Maharashtra. This scheme was supposed to benefit 89 lakh farmers.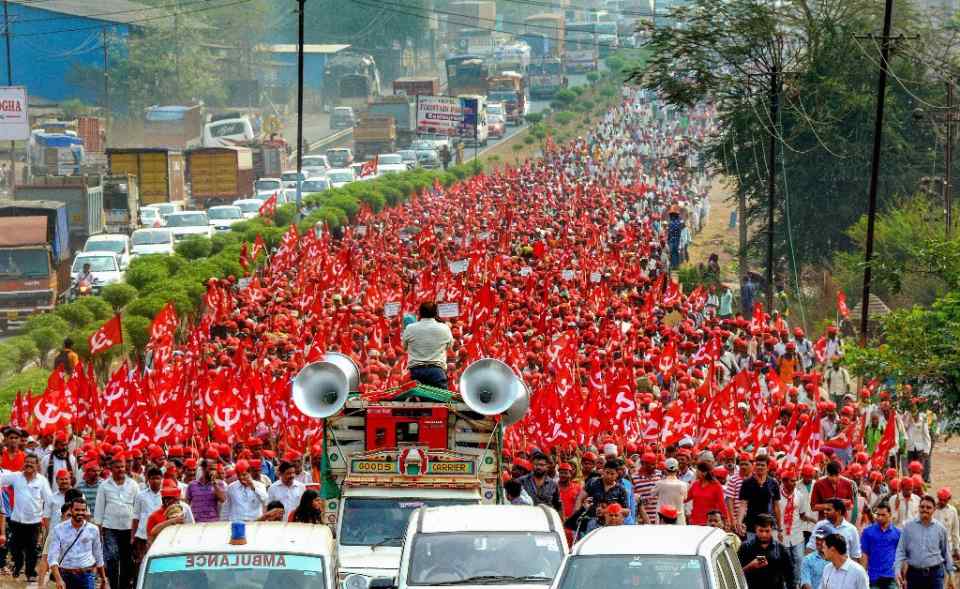 Despite the announcement last year, there were reports earlier this year of how national and cooperative banks bungled up the process of disbursals. Last week, Firstpost had reported, "how banks turned in such corrupted list of beneficiaries and their Aadhaar numbers that the entire disbursal mechanism collapsed."
The State government eventually dropped the idea of linking disbursals to Aadhaar numbers. In fact, by December 2017 (six months after the loan waiver scheme was announced), the government had failed to identify all legitimate recipients of the loan waiver, reported India Today.
With the State government's finances in the toilet, and the Centre not willing to sponsor any farm loan waiver schemes, there is a seemingly an impasse on the issue. Political considerations, however, may have a significant bearing on any sort of resolution.
Another demand is better remuneration for crops and not mere minimum support prices (MSPs) that exist on paper. Despite the government's e-NAM system, prices of farm produce are mostly fixed by middlemen who buy and sell the commodities in mandis.
The actual price of commodities has no relationship with the cost of production and their utility, leaving the farmer shorthanded. Export/import policy of agricultural commodities at the national level, international commodity prices and the current MSP rates are evidently not helping their cause either.
Farmers are also seeking compensation of Rs 40,000 per acre to farmers hit by hailstorm and pink bollworm. More than 80% of the area under cotton cultivation was struck by a pink bollworm attack last year, reported Scroll.in.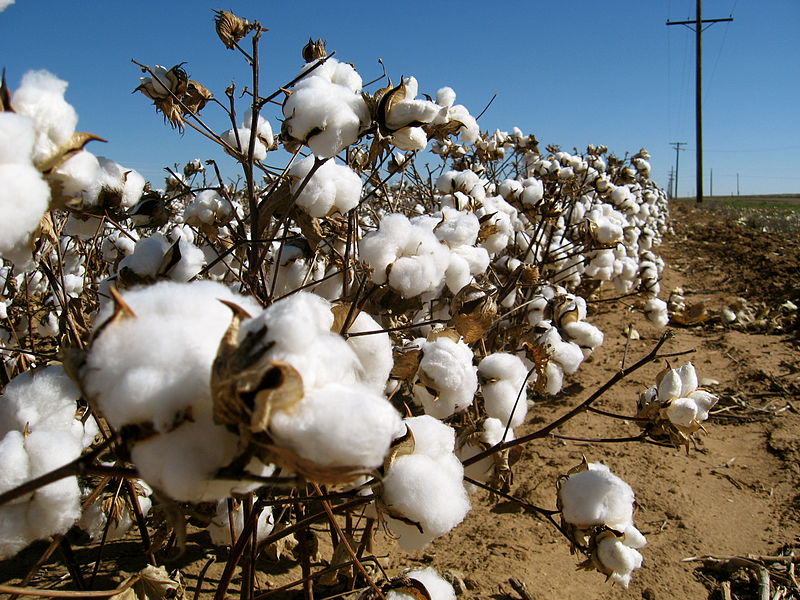 Last month, more than 300,000 hectares of farmland were affected by hailstorms and thunderstorms, leaving farmers in the Amravati and Marathwada region devastated. Although the State government released more than Rs 300 crores from its Disaster Relief Fund, farmers in the state evidently need greater compensation.
With a significant section of the protesting farmers belonging to the tribal-dominated talukas of Nashik, Thane and Palghar, there is also a demand for the implementation of the Forest Rights Act. Tribal farmers want lands rights, which they are entitled to under the Forest Rights Act of 2006.
"Though the Act came in 2006 and the rules were made in 2008, the government is not implementing it effectively. While I have been tilling eight acres of land, they are offering us only a few acres in our names," said a tribal farmer from Thane district to the Indian Express.
Read also: Ever Wondered How Much a Fair Price for an Indian Farmer's Produce Should Be?
Along with several others, this farmer has reportedly shot off letters to the local district collector for the same with no response. This is a question of land rights-ownership, a critical concern, especially among low-income farm tillers.
Finally, the protesters seek the implementation of the Swaminathan Commission recommendations. In 2004, the Centre had constituted the National Commission of Farmers (NCF) under the chairmanship of Dr MS Swaminathan. The commission filed a series of reports, whose recommendations lay unimplemented.
"Substantial increase in public investment in agriculture-related infrastructure particularly in irrigation, drainage, land development, water conservation, research development and road connectivity, among others," recommends the Commission.
Others include distribution of surplus and wastelands to landless farmers, preventing the use of prime farmland and forest for non-agricultural/corporate purposes, access to forest produce for tribal folk, and other reforms, pertaining to irrigation, credit and food security.
Read also: 5 Farmers Who Prove Smart Agriculture Can Make You Rich
There are other demands as well, but these are some of the key ones. The bottom line remains that farmers, not just in Maharashtra, but across the country are suffering under challenging circumstances.
According to a recent report published by the Economic and Political Weekly, growth in real wages has fallen, credit for farmers has slowed down, and overall growth in the farm sector has barely moved. Despite this year's Budget's attempt at addressing these concerns, a closer look seems to indicate that the sums involved won't be enough and won't take effect for a while.
Like this story? Or have something to share? Write to us: contact@thebetterindia.com, or connect with us on Facebook and Twitter.
NEW: Click here to get positive news on WhatsApp!