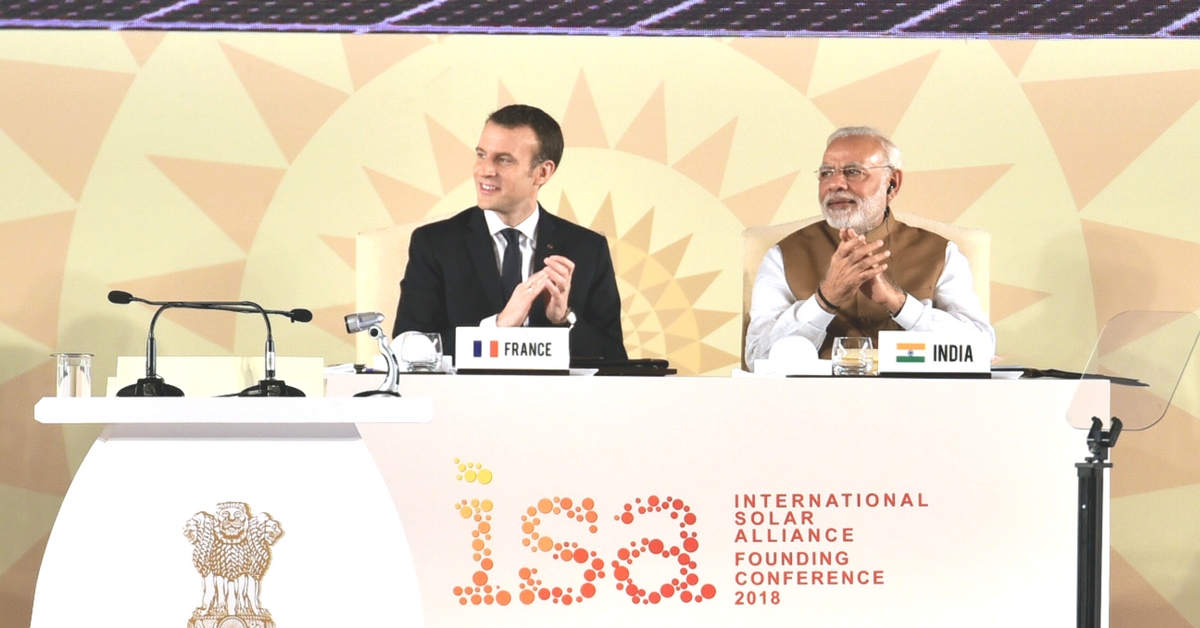 Despite the right moves globally, there is a lot India needs to do at home to mitigate the effects of climate change.
India and France were standing ahead of the line when 195 nations signed the landmark Paris [Climate] Agreement, in which there was global consensus to work towards limiting global warming to two degrees Celsius by 2100. With the United States under its President Donald Trump foolishly pulling out of the agreement, other nations have decided to step up their efforts.
"The fight for the environment is above all a political one. Just as in the previous century there were those who chose to ignore the growing gulf between social classes, we too we still have climate change sceptics who, whether by conviction or by design, deny the very existence of global warming," wrote French President Emmanuel Macron in his book Revolution, which was published days after Donald Trump won.
On Sunday, both India and France took additional steps to further their ambitions of mitigating the effects of global warming at the Founding Conference of the International Solar Alliance, reported The Hindu. New Delhi committed a line of credit worth $1.4 billion for 27 projects in 15 countries to beef up financial resources for solar energy in other developing nations between the Tropics of Cancer and Capricorn (the region with the highest surplus of bright sunshine throughout the year).
The International Solar Alliance came into existence on November 30, 2015, at the UN conference on climate change in Paris under the watchful eyes of Prime Minister Narendra Modi and the French President Francois Hollande.
"The idea was to form a coalition of solar resource-rich countries to collaborate on addressing the identified gaps in their energy requirements through a common approach. Towards this, the ISA has set a target of 1 TW of solar energy by 2030, which current French President Emmanuel Macron said would require $1 trillion to achieve," says this explainer in The Hindu.
Until now, 56 countries out of a potential 121 have committed to the ISA Framework Agreement.
Co-chaired by Modi and current French President Emmanuel Macron, New Delhi presented a 10-point action plan to enhance the influence of solar energy in the power sector and make it more affordable at the Founding Conference of the ISA. "First and foremost, we have to ensure that better and affordable solar technology is available to all and accessible to everyone. We need to increase the proportion of solar power in our energy mix," Modi said.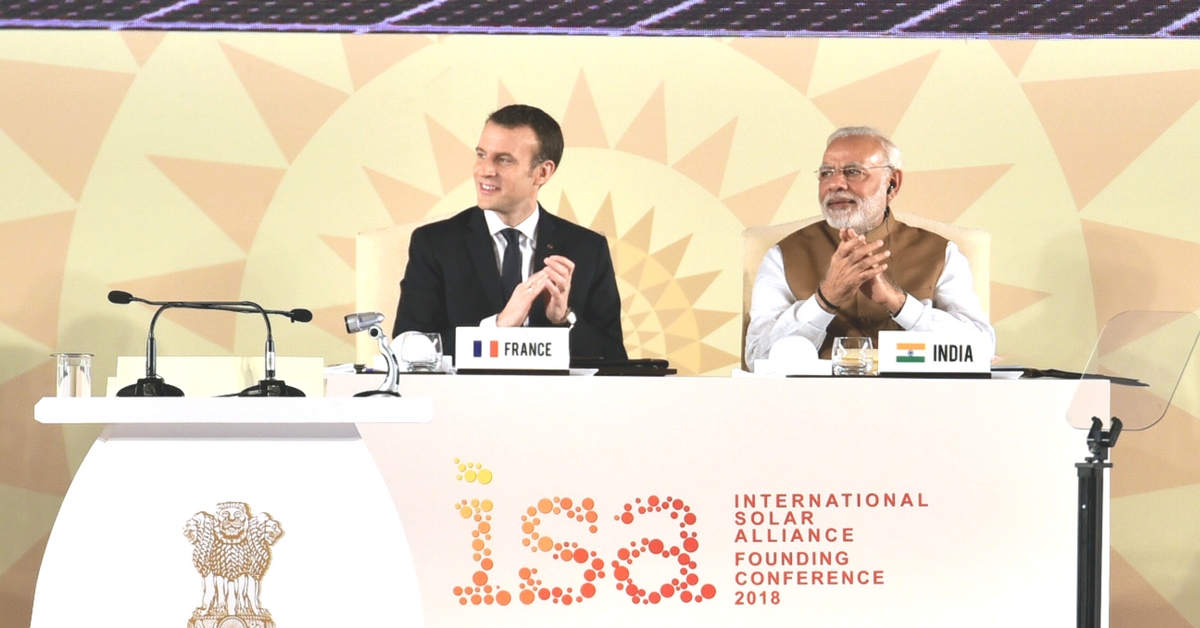 Among other pledges, the prime minister said that India would generate 175 GW of energy from renewable sources by 2022, of which 100 GW will come from solar energy. To strengthen its hand in the renewable energy game, he said that India would require investments of over $1 trillion by 2030, for which New Delhi will need to find ways of acquiring concessional financing.
Macron, meanwhile, announced that France would commit €700 million in loans and financial assistance for solar energy projects in developing nations by 2022. He also took pot shots at US President Donald Trump for withdrawing from the Paris Agreement, and praised India for not wavering in its commitment to tackle climate change. Reports indicate that 23 heads of states and governments took part in the Founding Conference of the ISA.
Read also: This Startup Can Reduce Your Vehicle's Fuel Consumption by 25%!
"We know the hurdles. There are financial hurdles, regulations, capacity hurdles as well. We shall, therefore, lift every single one of them," the French President said. "It is not enough to look at what governments are doing. We need a new international deal with the private sector, the international public sector and civil society as well."
Despite the right noises coming out of New Delhi, there is a lot more the Indian government needs to do. Last year, there were reports of how the government diverted Rs 56,700 under the National Clean Energy and Environment Fund to compensate states suffering revenue losses from the implementation of the goods and services tax (GST).
Read also: A Pioneer in Climate Change Action, Odisha Will Now Help Others Prepare for Natural Disasters!
Both the Centre and respective State governments also need to do a lot more in regulating vehicular emissions and fossil-fuel-driven energy plants. Our current regulatory framework seems woefully inadequate to deal with rising emissions.
Like this story? Or have something to share? Write to us: contact@thebetterindia.com, or connect with us on Facebook and Twitter.
NEW: Click here to get positive news on WhatsApp!