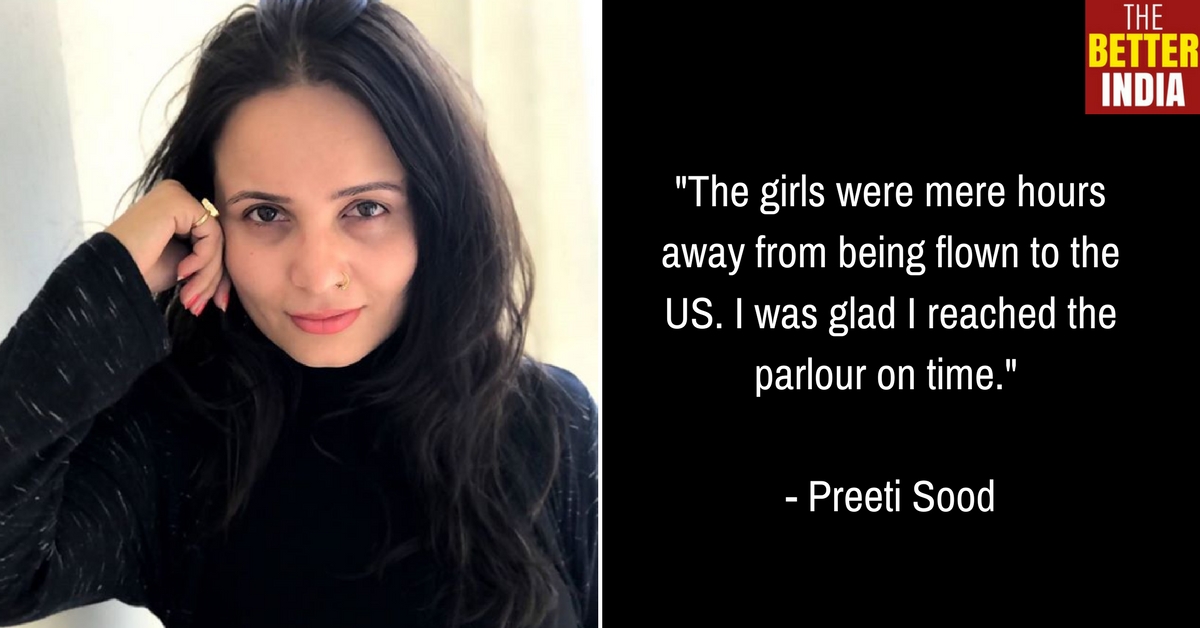 "I did not allow them to leave. I said first talk to me and tell me how are these girls related to you. These girls had travelled all the way from Gujarat, they told me."
March 4 was a usual Sunday in the life of 27-year-old actor Preeti Sood, a resident of Versova Mumbai until a series of events turned it into perhaps one of the most dramatic days of her life.
It all began with a phone call. It was from a friend who had just had an appointment at the beauty parlour in the vicinity of Preeti's house. She told her that there were two minor girls at a salon, who were accompanied by some men. The men were 'barking orders at the salon staff' to do their makeup. Even though the salon ladies kept reiterating that such minor girls (aged 7 and 11) did not need that kind of loud makeup, the men kept pushing for it.
It seemed suspicious.
Without wasting any time, Preeti rushed to the salon.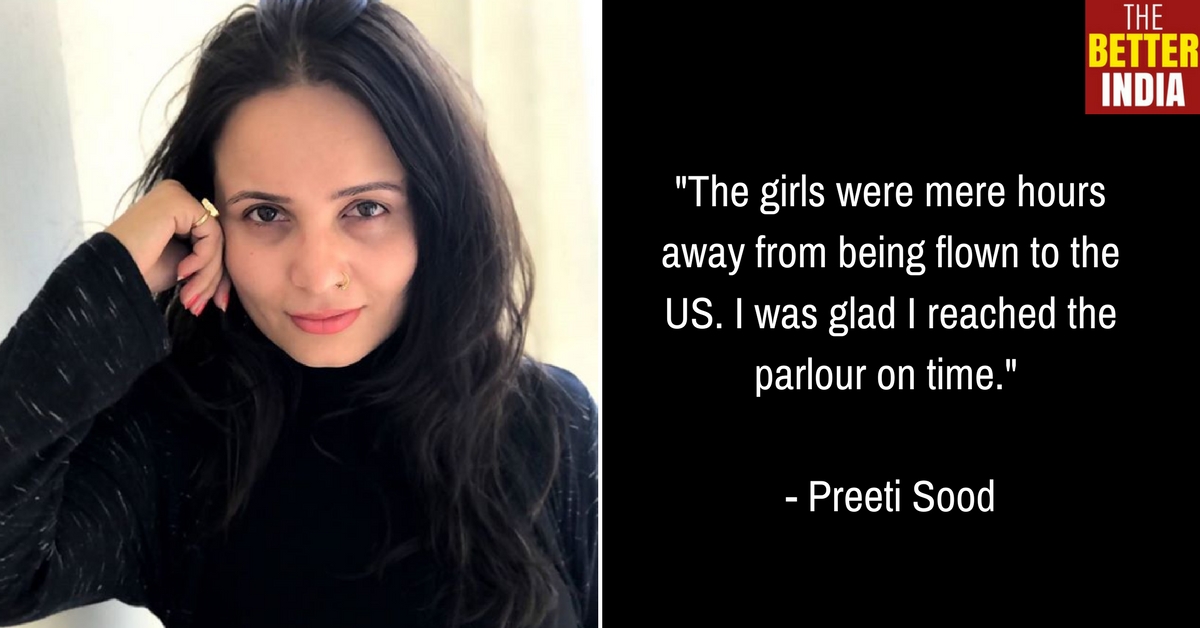 "I pretended to be a customer at first and started engaging in random conversations with the girls. I asked them where they were from and what they were doing at the salon, where were they preparing to go. They were very timid and docile. They were answering, but I could sense the hesitation and fear in their voice. It strengthened my doubt that something was definitely fishy," recounted Preeti, speaking to The Better India.
Preeti mentioned that the girls kept changing their answers all the time. One of them said they were going to a wedding, another said they were going to the United States. The men who watched Preeti interact with the girls began to suspect that she was not a customer – and got agitated.
Preeti had already asked her friend to contact the Mumbai women's cell. But there was no proper response from them. They said they are sending a team, but Preeti knew she couldn't have stopped the men for too long.
"We had no proof, no warrant, so on what basis could we interfere or ask them to stop?" asks Preeti. But she stood undeterred in her resolve to know more.
The men started arguing with Preeti, and one of them asked her "What do you think are we doing with the girls?"
Faced with no other option, Preeti came out clean and said politely, "I think you are going to sell these girls. Please cooperate since it's a matter involving minor girls."
"They were furious and asked how I could accuse them of something so terrible." Preeti said, but she firmly replied, "I can be wrong too. But if you think I am at fault for thinking that, please clarify it. If you are not doing anything wrong, you shouldn't have a problem accompanying me to the police station and clarifying the situation."
The men moved to leave. But Preeti kicked up a ruckus. "I did not allow them to leave. I said first talk to me and tell me how are these girls related to you. These girls had travelled all the way from Gujarat, they told me."
When the men said they were relatives and were going to attend a wedding to attend in Bandra, she asked them to show her a card that mentions the venue, so that she could call and confirm the event.
The men were taken aback and said they were locals and asked her to tag along with them – but in their vehicle.
"I refused to sit in their car and offered my vehicle instead. All I said was 'give me five minutes we'll meet the police once.' I even told them if it was a misunderstanding I would ask for forgiveness a 100 times," said Preeti.
The conversation had already escalated a great deal. So Preeti quietly asked her friend to not wait till the women's cell intervene and to go to an isolated place and call the police. Her friend called the police emergency helpline at 100 and shared the location.
By the time Preeti had already started asking locals if the guys were regular or if they had seen them in the neighbourhood, to which nobody said anything.
As the argument continued to get heated, the traffickers managed to get the girls out of the salon via a third person and drive them away from the scene. The police were at the location within 15 minutes.
---
Read more: A Woman Engineer Suggests How India Can Enable Women to Pursue Careers in Science & Technology
---
"When the police came, and we realised they had sent the kids, I was convinced this was some racket. I told them I didn't know the kids or the men, but it seemed suspicious to me since the girls seemed unaware and were being dolled up and unsure of where they were being taken."
The police took the men, Preeti and her friend to the Versova police station.
"When they enquired about the girls, I told them, they had snuck them out in a car despite me telling them not to let the girls move. But I had a strong intuition they hadn't gone all that far. They may have been 15 minutes away."
The police quickly called the man who took the girls away from the number of one of the men that was taken to the police station. They sent their team out, and the girls were rescued two hours later!
Four agents have already been taken into custody. And the case is being thoroughly investigated by the police.
When Preeti inquired about the girls the following day, the police told her how it is suspected to be the work of an organised gang involved in international child trafficking.
Preeti was lauded for acting in quick time and playing an instrumental role in saving the young girls.
The girls, originally from Gujarat, were sold by their own parents for one lakh each. They were brought to Mumbai from Gujarat on March 3 and were to be sent to the US.
When asked if the turn of events scared her, Preeti admits, "There were 10-12 men involved. I don't even live with my family. So, most of my friends told me, I shouldn't get involved in this police case. They dissuaded me saying my life would be in danger. But it was my responsibility. How could I watch such a grave violation of human rights happening consciously and not do anything for those minor girls?"
The traffickers had booked a flight with five tickets, the same night. Each of these agents, responsible for moving the girls from one location to the other, was also paid Rs 1 lakh each.
"I am so happy that I rushed to the parlour, it was only a matter of hours. Was I an hour late or so, the men would have taken the girls away as the flight was the same night!" says Preeti.
We salute Preeti for being alert and acting on her intuition. We hope her story inspires many women to not lose courage in the face of danger but fight for their rights.
In a message to young girls and women, Preeti says, "I really want other girls and women not to watch sit back as people violate them or other women and girls around them. If you think something is suspicious, don't restrain yourself. Speak up."
Like this story? Or have something to share?
Write to us: contact@thebetterindia.com
Connect with us on Facebook and Twitter.
NEW: Click here to get positive news on WhatsApp!
We bring stories straight from the heart of India, to inspire millions and create a wave of impact. Our positive movement is growing bigger everyday, and we would love for you to join it.
Please contribute whatever you can, every little penny helps our team in bringing you more stories that support dreams and spread hope.