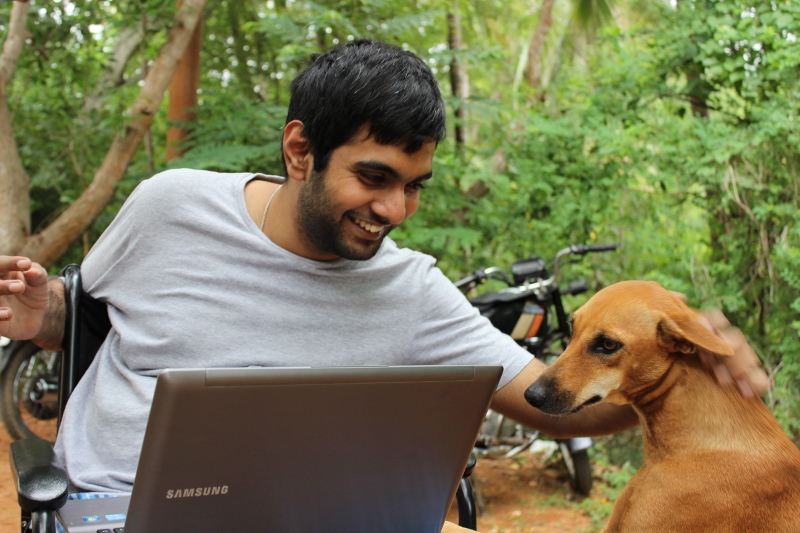 A major spinal cord injury had left him immobilised and completely dependent. Now, just a few years later, this young man is ready to pursue his MS at Purdue and later work in assistive technology. If this ongoing journey of Sashank isn't inspiring, nothing is!
Sashank's career and academic progression are no mean achievements for a person of his age. The fact that he has overcome unimaginable levels of physical, mental, emotional and life-changing trauma, and deals with considerable physical challenges on an everyday basis to only shine brighter, has a message for all of us. If this ongoing journey of Sashank isn't inspiring, nothing is!
If you follow superhero movies, remind yourself of Professor X from the X Men series. He's a wheelchair-bound hero, having powers that you cannot comprehend. 'More than what meets the eye' is something that could define him. Keep Professor X in mind and read on!
Meet Sashank Vaibhav Allu, 24, an IIT Madras alumnus. He also became an entrepreneur while he was there. Along with a couple of his friends, he started a robotics company called Lema Labs, a successful start-up that is giving a thrust to robotics and mechanics for students and institutions in India.
That's when his life changed, forever. Sashank went home to Vizag for a holiday before leaving for his Masters degree. He had an accident, a fall from the balcony on the first floor of his house, and in due course, it was confirmed as a severe spinal-cord injury.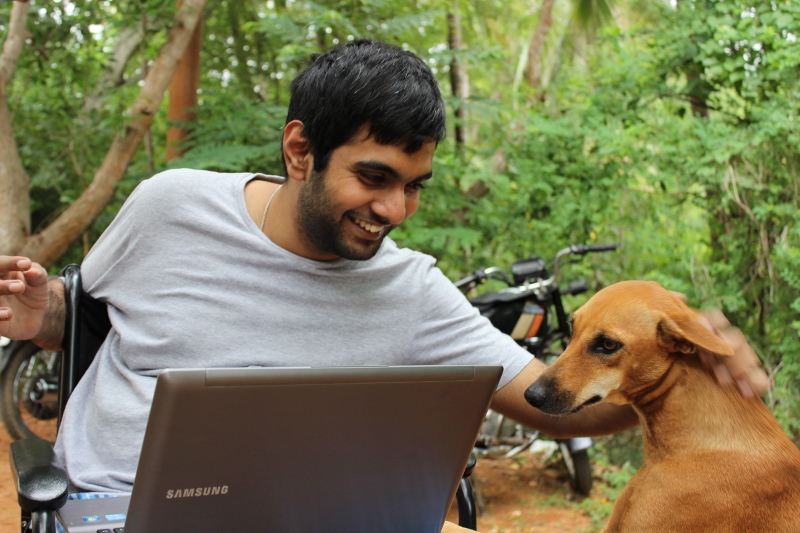 A neck or cervical level spinal-cord injury such as Sashank's more often than not makes the body paralysed neck down. Fully or partially affected limbs, loss of sense of touch and pain, breathing difficulty, loss of control over bladder, bowel and ambient temperature and loss of sexual ability make a cocktail of potent challenges at one stroke. Sashank was barely able to move his arms, leave alone flex them or his fingers. He also suffered an unusual effect with hearing impairment in one of his ears.
"The aftermath of my fall was unbelievable. My life was rerouted to depths I had never expected to see. For the millionth time in life, I wished for an undo button and nothing happened as usual. My neck still hurt, my right ear still played static, breathing was still hard as if concrete slabs had been placed on my chest, and I still had no clue what was happening with my body below my armpits. Then I tried gathering what little I knew about spinal cord injuries. Sometimes you break a vertebra. It puts pressure on your spinal cord. So, that vertebra is removed and the vertebrae above and below are fused. All is well again. That's how I thought a spinal cord injury is dealt with. Boy, was I wrong! It is so much more than a broken bone. And I didn't have to Google it to know it."
Sashank slowly started to stabilize, aided immensely by the fact that his parents were doctors. Yet he was referred to several places. Doctors of repute kept the pot of hope burning, coming up with answers such as "all will be well and he'll surely walk". His parents were trying their best to keep things simple. The normal state of mind in such situations is to be positive and hope for a miracle. Sashank's parents were no exception.
Fortunately guidance from a family friend provided a turning point. Sashank was taken to the Mary Verghese Institute of Rehabilitation, a part of the Christian Medical College (CMC), Vellore. A pioneer in the field of spinal and head injury rehabilitation in India, the 51-year old Rehab (as it is fondly referred to by those who have been there or work there ) bearing the name of its founder, Dr. Mary Verghese, a paraplegic herself, actually became the wind beneath Sashank's bruised but not broken cognitive wings.
Within his few months at Rehab, he learnt to use and adapt his skill sets in such a way that he could be as independent as possible. The Sashank who went into Rehab and the one who came out were two different individuals. He went in with barely any ability to use his hands, or even fingers, and was totally dependent on others. In the early days, when he had not yet started to count on his blessings, he was moody and downcast.
By the time he was about to leave, Sashank had learnt to harness the limited movement in his hands and was able to propel his wheelchair, showing remarkable progress that was much more than what the doctors had expected. His grandparents, with whom he had spent much of his childhood, were his pillars of strength in the early months.
Once back from Rehab, Sashank continued to train, especially to make his arms stronger, as he saw light in the fact that strength there will make him more mobile and free. With activity, his fingers started to become useful though with severe limitations. He could now use the phone with relative ease. He could use the laptop and iPad, he could type on the keyboard; he could eat with a spoon (though not gracefully held). He managed to do more of his daily activities that would usually take much more time to adapt and learn.
By a combination of timely arrival at Rehab, rigorous training and rising levels of motivation, he moved from a dependent to an independent world. "He has been one of the fastest recoveries, though still dealing with immense physical challenges, having progressed far in less than 24 months after his accident," says a doctor who treated him.
Sashank was back in the game, and how! He qualified for the MS program at Purdue University, one of the top colleges in the US. He studied for the GRE exams and travelled to Chennai for writing them. He wrote his GRE on his own despite limited flexibility in his fingers. In an exemplary step, the examiners too were fair to give him extra time to finish the test. He attended seminars abroad and visited the US Consulate in Chennai for the visa. He is putting in more physical and mental efforts consistently to make sure he accomplishes his career aspirations.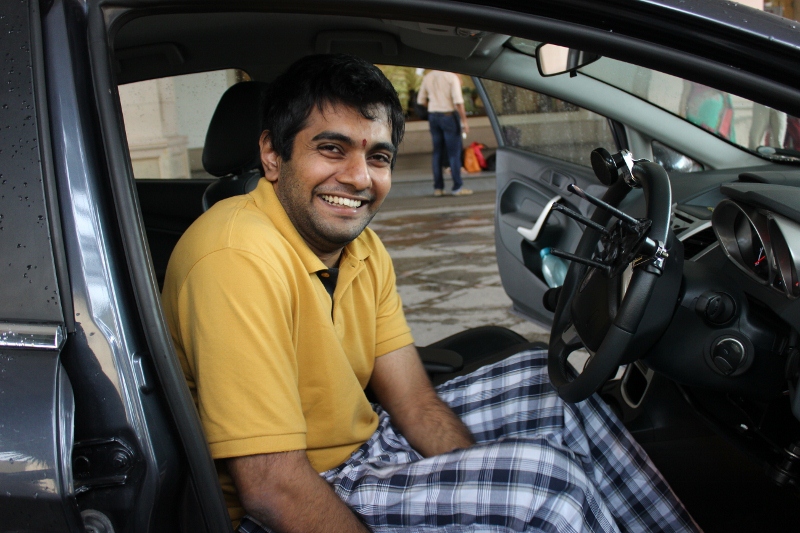 His sense of touch and speed in typing on the computer is at the most only 25% of what we have. So it is harder to type/text, yet in less than 10 days from his initial idea, he designed the website for The Spinal Foundation (India SCI Self-Help Group). His friend, Kriti Godey, chipped in with a bit of help. Check out his work at www.thespinalfoundation.in. Sashank says it's little he could do for giving back to the society, but that's not where he stopped.
Within a short span of time, Sashank has become a quality peer counsellor for persons with spinal cord injury. Visiting Rehab a couple of times, he has helped bring hope and energy through counselling. He has been an invaluable facilitator for people with new spinal cord injuries in and around Vizag and already enabled quality Rehab for a few, just like he had.
Sashank has plans beyond Purdue. He wants to finish his Masters and enrol for a Ph.D. program on robotics at the reputed MIT (Massachusetts Institute of Technology). The driving force is his intent to give back to the society; to help make advancements in today's robotics so that he can, in his own way, help people with disabilities such as his, mainly in the developing countries where there is too little in the field of assistive devices.
He says we should bring affordability and easy availability in mobility aids and assistive devices to the table, and it is possible through technology. As he is somebody who can actually understand the real needs of people with such challenges, I feel he will be our beacon of hope. Watch out for this kid!
Like this story? Or have something to share? Write to us: contact@thebetterindia.com, or connect with us on Facebook and Twitter (@thebetterindia).
About the author: Tejaswi Bhagavatula is a Hyderabad-based writer, poet, painter, biker, photographer, corporate profile-writer, on-the-way-CA, part-time tax consultant – all to fund his passion for travelling! He wishes to work for change through bringing out stories and his dream is to ride to Ladakh on his dear old Bullet, while learning and writing about people he meets all along the way and someday, maybe make it a storybook.
We bring stories straight from the heart of India, to inspire millions and create a wave of impact. Our positive movement is growing bigger everyday, and we would love for you to join it.
Please contribute whatever you can, every little penny helps our team in bringing you more stories that support dreams and spread hope.