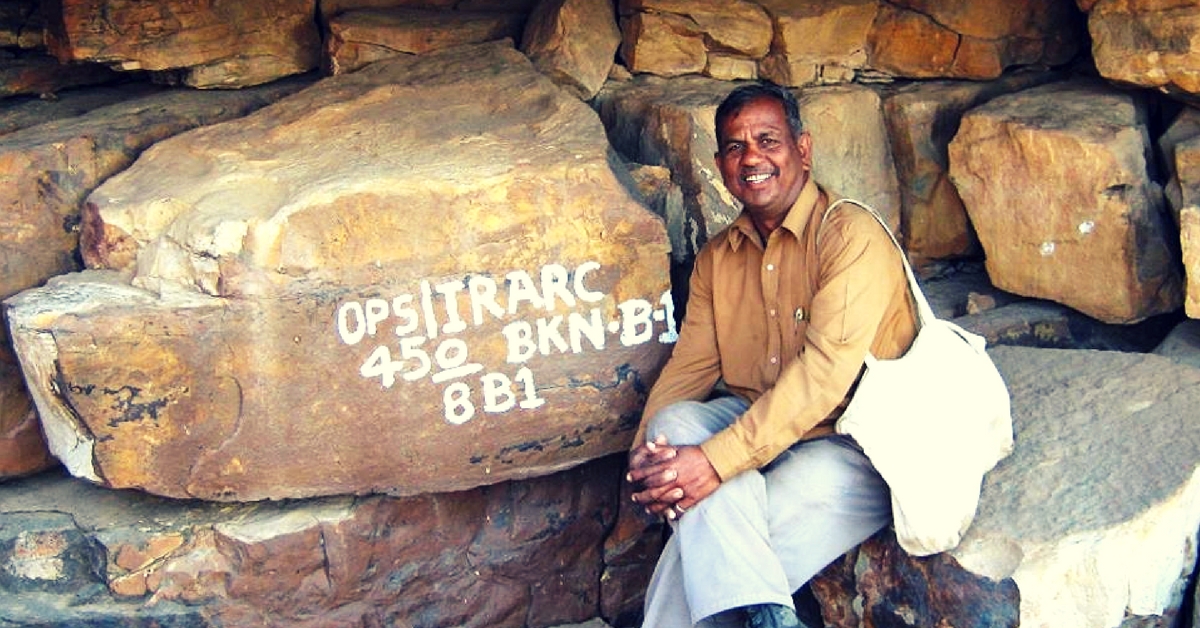 Without any kind of formal support and funds, he has uncovered more than 102 rock painting sites, coins spanning various dynasties, ancient dice, stone tools and weapons, shards of black and red pottery, utensils made out of terracotta and ostrich eggshells estimated to be 40,000 - 60,000 years old - all of which serve as evidence of a lesser known civilisation.
63-year-old Om Prakash Sharma, is a known face in all of Bundi, Rajasthan. Fondly named 'Kukki' by all those who know him, the man is an archaeologist without any formal degree.
Yes, you heard that right!
Kukki spent more than 30 years of his life scouring the hills, rivers, forts and temples, in three districts of Rajasthan, namely Bundi, Bhilwara and Tonk districts.
Without any kind of formal support and funds, he has uncovered more than 102 rock painting sites, coins spanning various dynasties, ancient dice, stone tools and weapons, shards of black and red pottery, utensils made out of terracotta and ostrich eggshells estimated to be 40,000 – 60,000 years old – all of which serve as evidence of a lesser known civilisation.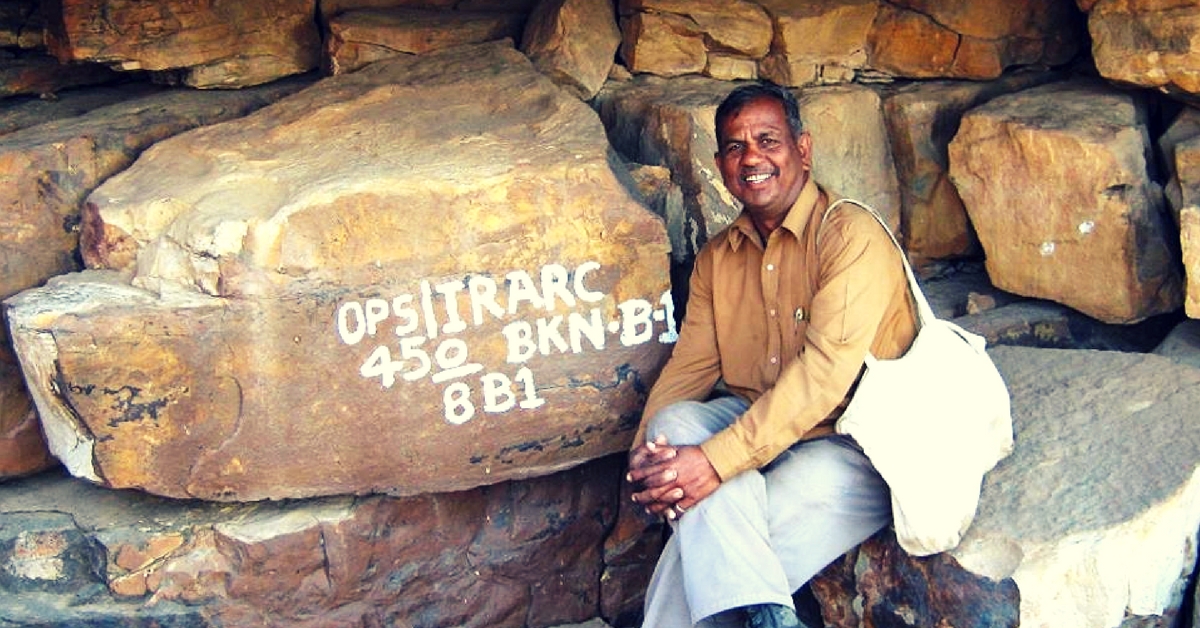 A class eight dropout, Kukki was born to daily wage labourers, original inhabitants of undivided Punjab. When the Partition happened, they decided to stay back in Lahore. But with communal tensions on the rise and Hindu Pandits being asked to convert to Islam, the couple was forced to return to India.
They lost everything but decided to start a life from scratch in Independent India.
"Growing up in a home full of siblings, I remember my parents barely had the resources to feed us. I was upset when my name was cut off the school muster because they couldn't afford to pay my fees, buy me uniform or books. I was a bright student. All I wanted was a chance to prove how academically inclined I was," says Kukkie speaking to The Better India.
But fate had other plans for a young Kukki.
First discovery
Lack of formal education never came in the way of Om Prakash Sharma's thirst for knowledge about archaeology. Kukki's first archaeological discovery was at the age of nine when he found some ancient coins at Mordi ki Chatri on the hills of Bundi.
He had lost a three-legged race in school. But decided to go to the Bundi hills with a friend to get over their defeat.
"I found two copper coins. The only thought in my head was, if I sold them, I would fend annas and perhaps be able to buy a good meal. I was so excited at the prospectus of finding the two coins that I ran back home and showed them to my father.
"I remember the astonishment on my father's face when he told me those were ancient coins. He was more curious as to where I found them though. When I told him I ventured into the Bundi hills, he slapped me and took away the coins," recalls Kukki as he laughs.
But that slap, instead of stopping Kukki from scouring the hills, only increased his curiosity and ignited a love for archaeology instead. Often, as his other friends were camping on smaller school trips, you'd see a young and quiet Kukki, in his own world, sifting through the ground with a stick, going to the top of the hill into mysterious looking cavities, swimming in the river, etc in the hope of finding these coins.
In addition to the coins, he would also find bullets from old rifles left behind during the reign of several Indian Maharajas.
"I would collect the coins and hide them. I even dug a corner of my kuccha house and buried then safely so no one would find them. When no one was home, I would lay them on the cot, count and recount them," he laughs.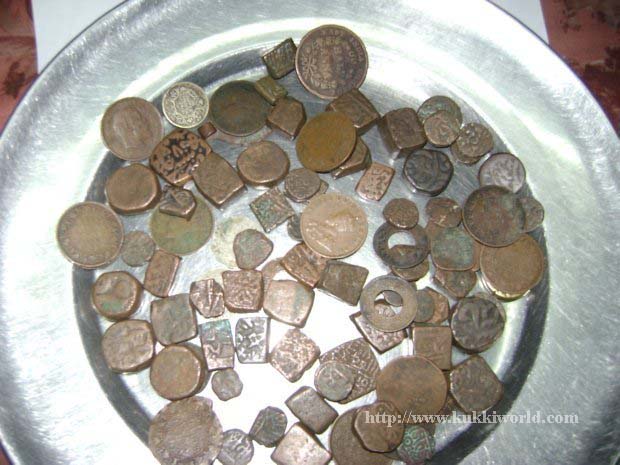 But as years went by, Kukki's father, who by then had started a small sweet shop, starting falling sick. The financial debts were mounting, medicines were expensive, and school fees became unaffordable. It wasn't long until Kukki had to drop out to take responsibility for the home in Grade 8.
"I would work all night to make sweets. I pulled my family out of financial debt with hours of hard work. But by that time, I had a huge collection of these coins – amounting to nearly a thousand of them. When I wasn't running the sweet shop, I was searching for coins. And every time I found a new one I would show it off to my neighbours, friends and customers at the shop," he says.
When he found these coins, Kukki failed to understand what the inscriptions meant. It was at the time one of his neighbours encouraged him to take the coins to the National Museum Institute in Delhi to find more about the period they were belonged to.
Kukki met Dr Rita Devi Sharma there. When he told he came a long way from Rajasthan, the lady asked him to unveil the contents of the cloth potli he had. On the table lay archaic coins that the lady had studied about. She picked her magnifying glass and started examining them.
"She started uttering names of various historic eras and dynasties, some of which I hadn't even heard before. But one look at a particular coin, she looked me in the eye and said was rare belonged to the 6th century. I was overjoyed. She made me sign a document saying that I wouldn't sell any of these coins and when I had to donate them I would give those to the national museum in Delhi," he says.
Kukkis calls the National museum his guru. He remembers how overjoyed he was when he was allowed to venture into the museum without a ticket that day. When he looked at the various coins on display there, he was astonished at how things that he encountered every day in Bundi were considered rare artefacts in the museum. He looked around to find pottery, earthenware, beads, shells bangles, terracotta, stone tools, things he too had encountered but never picked since he was more fascinated by only the coins. He made a mental note to pick those the next time.
On 4th December 1993, he gathered everything he could find at a river of Namana, near Bundi, including arrowheads, stone weapons, toys, grinders, bowls etc. and visited Delhi yet again.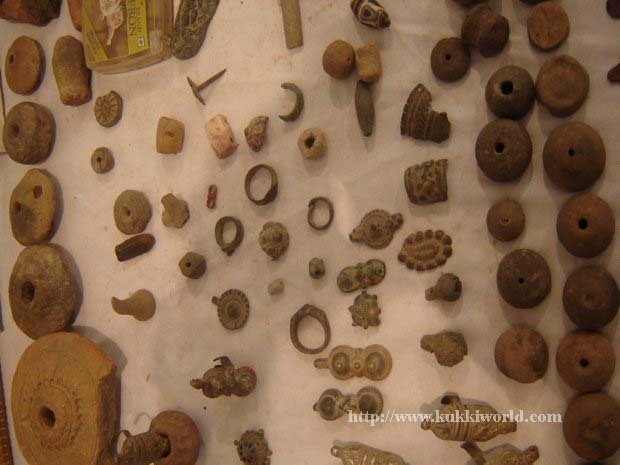 The humble-looking man was asked to get out by a few authorities. But he was persistent. He begged to be given a chance to show his collection. Once he emptied his bag, the room full of learned archaeologists stood up stunned.
"The same people who threatened to kick me out, got me tea, enquiring where I had found them," he says.
---
Read more: A Dropout With Polio, This Man Raised Funds for 200 Prosthetic Legs & More!
---
In 1995, a known historian friend and archaeology professor approached Kukki and asked him to explore rock paintings. For two years, Kukki extensively searched and yet didn't find any.
Relief came on 9th October 1997, when he found his first rock painting site at Rameshwar, 16 kms from Bundi. Deep into the woods was a cavity, in which he saw 40 to 50 women figures painted onto its rocky surface. Many of these rock painting belong to the Mesolithic, Chalcolithic, historical and Neolithic periods says Kukki.
When surveyed by the Indira Gandhi Open University the rock painting sites were said to belong to Mesoproterozoic period, almost dating back tens of thousands of years ago.
There was no looking back after that. Today, Kukki has over 102 rock painting sites to his credit.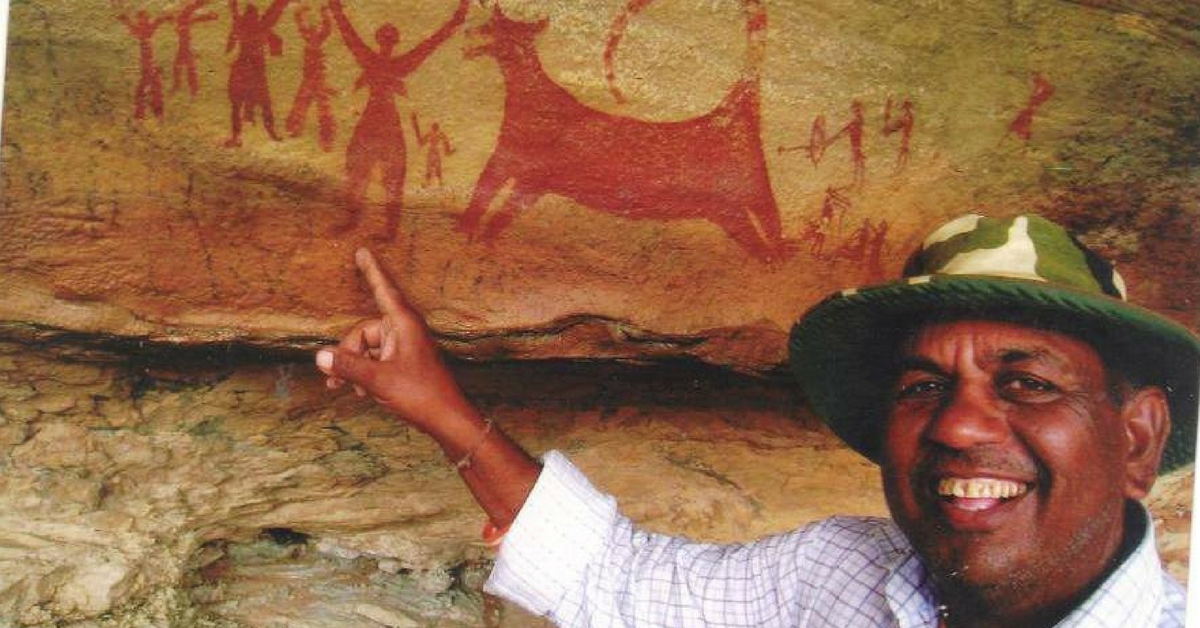 Kukki also claims to have found the world's longest rock painting spanning 30 kms to 40 kms, on the left bank of the Rewa river. It is in bits and pieces, he says.
In 2012, he was also one of the first archaeologists to interpret the meaning of these rock painting sites as education centres for early human children.
"Our forefathers had no formal system of education, so they would illustrate to teach their kids about their community, danger, scavenging for food, hunting etc. and various aspects of life," he says.
Kukki dreams of creating his own museum with his extensive collection. But he lacks the resources to do so. "I don't have the money nor land. And sometimes, I just think despite my volume of work; my efforts haven't been recognised because I lack a formal degree and I am a dropout."
The man has donated his discoveries over 19 times to museums across Delhi, Kota, Nashik, Bundi etc. Kukki's discoveries have placed Bundi as an international hub of history and culture on the map of Rajasthan and India.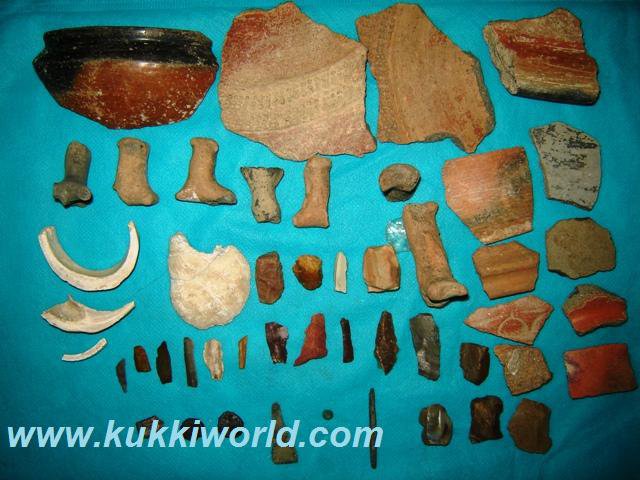 "If the nation starts appreciating individuals solely by merit and volume of their work it can create many more Kukkis," he says.
A few of the honours and awards Kukki has won include one for his 1993 discovery of the Stone and Copper Age, another by the then Governor of Rajasthan, Pratibha Devi Singh Patil in 2007 and a certificate in 2008 by the Department of archaeology and museums, Rajasthan (India) for his knowledge of cave paintings and archaeological sites located in Rajasthan.
"I was mocked. I lost land. I couldn't give my family the life they deserve. But I did not leave archaeology. I have given heritage to the nation don't I deserve a bigger award?" asks an emotional Kukki.
Despite formal education, his son still works as a guide. Kukki too, runs a grocery shop for a livelihood and continues working as an archaeological guide side by side.
The discoveries of this barely literate grocer have prompted the Archaeological Survey of India (ASI) to give him the status of an 'honorary archaeologist.'
"I dream of winning a Padma Shri, or perhaps an award bigger than that if there is," he smiles.
Did Kukki's story inspire you? Get in touch with him at bundirockpaintings@gmail.com  or
kukkiworld@gmail.com or call him on +91 9828404527.
Visit him here.
Like this story? Or have something to share?
Write to us: contact@thebetterindia.com
Connect with us on Facebook and Twitter.
NEW: Click here to get positive news on WhatsApp!
We bring stories straight from the heart of India, to inspire millions and create a wave of impact. Our positive movement is growing bigger everyday, and we would love for you to join it.
Please contribute whatever you can, every little penny helps our team in bringing you more stories that support dreams and spread hope.