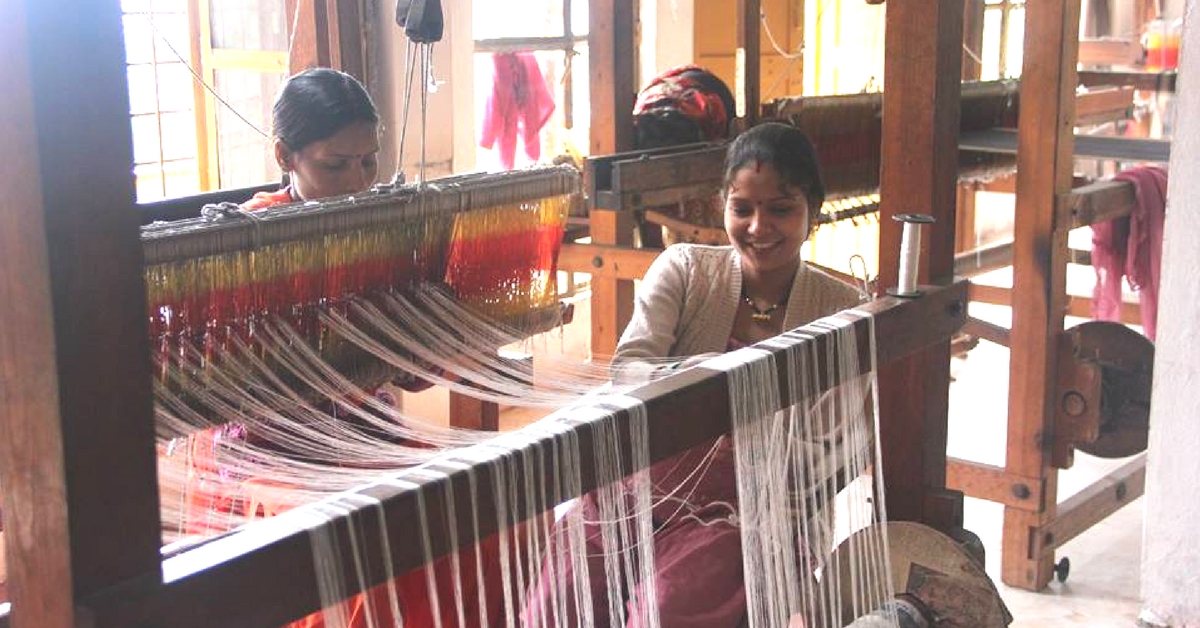 Among travellers and handicraft enthusiasts, "authenticity" has become something of a buzzword.
When I first arrived at Avani, I was enchanted by the scarves and textiles on display, with their delicate patterns and deep, rich colours that shimmered and shifted in the light. I snapped several scarves up almost immediately, eager to display my enthusiasm for handicrafts.
Yet as I began settling into my new living space on the Avani campus, I noticed something odd: the aesthetics of traditional local dress seemed entirely at odds with the look and feel of the scarves. In sharp contrast to the muted tones and simple designs of Avani scarves, local women seemed to prefer neon shades and dense, busy floral patterns.
If these scarves are a "traditional" handicraft, I wondered, then why do they look so different from what the locals wear?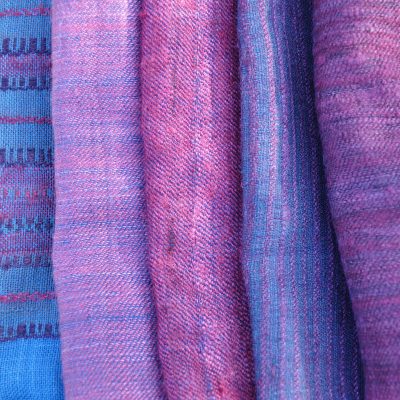 Scarves produced by Avani. (Photo Credit: Camille Parker)
The answer, I found, is that the scarves Avani produces aren't exactly "traditional". The designs are mostly by our founder Rashmi, while the muted colour palette is determined by both the limitations of natural dyes and the preferences of contemporary consumers. Even the process by which the scarves were produced is far from traditional: rather than use the traditional waist-looms, which fasten around a weaver's waist, Avani uses larger, more efficient handlooms.
---
Also read: Teaching Kids the Right Lessons: Why There Is No Such Thing as 'Can't' at Lokshala
---
Spinning, although occasionally done by hand, is mostly done on solar-powered wheels. While some of Avani's natural dyes, such as eupatorium, are produced using local methods, others, such as indigo, are entirely foreign to the region.
Among travellers and handicraft enthusiasts, "authenticity" has become something of a buzzword. When shopping at local bazaars or visiting artisans' studios, tourists are eager to obtain a piece of "authentic" local culture. Insofar as this search for authenticity encourages communities to preserve and celebrate their traditional practices, it can be viewed as a good thing. Yet my time at Avani has shown that this quest for the "authentic" contains inherent contradictions: To preserve traditional weaving practices in the Central Himalayas, we have to commodify them. In doing so, production processes and designs have to be adapted to satisfy the demands of modern consumers.
Once these practices have been modified and modernized, are they still "authentic"?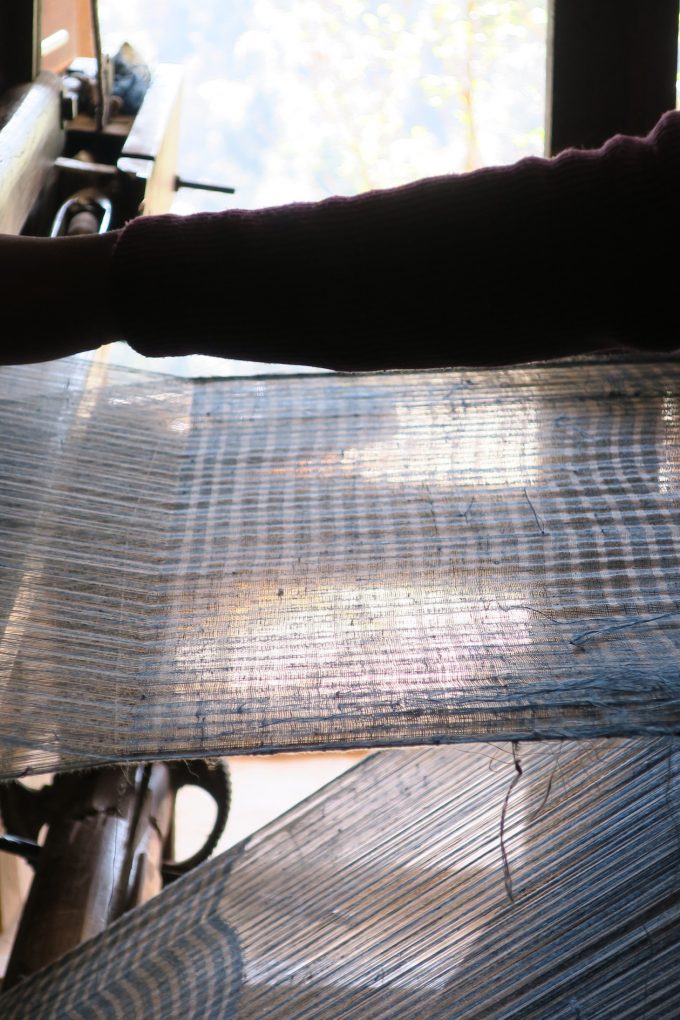 Weaving at Avani. (Photo Credit: Camille Parker)
The answer, I believe, comes down to how we define "authenticity" in handicrafts. If we view authenticity as a static concept, then Avani's scarves are not authentic. But what would happen if Avani did seek to create "authentic" Kumaoni textiles?
In preserving "traditional" methods of production, Avani would be calcifying Kumaoni culture, forcing it to remain in the past to satisfy outsiders' romanticized perceptions of the exotic "Other".
As Stroma Cole writes in 'Cultural tourism, community participation and empowerment': "Cultural tourism can create a straightjacket for communities. Their culture becomes cast in stone." Authenticity is a largely Western notion, defining "traditional culture" as a static, unchanging thing lying in opposition to modernity.
To the people in the community, however, their culture is just their culture. There is nothing "inauthentic" about a daily, lived practice, regardless of how quickly it is changing.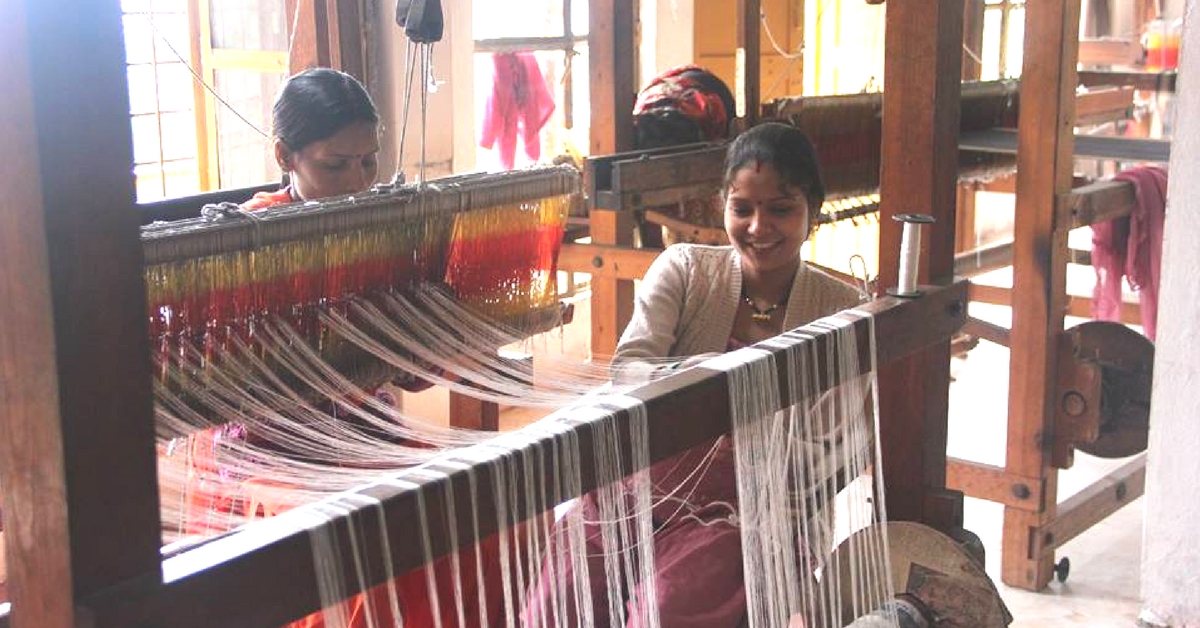 Across India, handicraft organisations face the challenge of finding ways to celebrate traditional crafts without essentializing them and to preserve cultures without holding them hostage to westernised notions of authenticity.
Culture is a living, breathing organism that must, by definition, shift and change over time. Thus, as an expression of a particular culture, the authenticity of its handicrafts, must be defined and directed by communities: A handicraft is "authentic" if its development and modernisation have been directed by the community from which it came. The technologies and processes associated with its production are secondary.
My favourite piece by Avani is simple: a rich, indigo shawl with a delicate gold border. The indigo, while farmed in Kumaon, was only introduced to the region a couple of years ago. The minimalist design is considered dull by most of the artisans here.
---
Also read: How Indians Are Using Community Media to Create Their Own Change and Do Good
---
Yet the pride these same artisans take in the product, all the same, is apparent, as they proudly show me the tight, precise stitching and the clean, even edges (a mark of high-quality weaving). This scarf may not be "traditional", but it is, without question, a source of joy and empowerment for these artisans.
For those searching for "authentic" handicrafts, that pride should be more than enough.
(Written by Camille Parker)
About the author: Camille Parker is currently a 2017-18 AIF Clinton Fellow serving at Avani in Uttarakhand. She in 2015 from Vanderbilt University with a double major in Public Policy Studies and History. After graduation, Camille spent time working with a children's education nonprofit in Nepal, where she taught English and assisted in their funding and reconstruction efforts in the wake of the April 2015 earthquake. She then began a role at Deloitte Consulting in Washington, D.C., where she worked on research-based program evaluation and capacity building projects in the International Development and Public Health sectors with clients such as USAID and the Defense Health Agency.
Camille Parker's Fellowship is made possible by Rural India Supporting Trust/The Hans Foundation.
Like this story? Or have something to share? Write to us: contact@thebetterindia.com, or connect with us on Facebook and Twitter.
NEW: Click here to get positive news on WhatsApp!