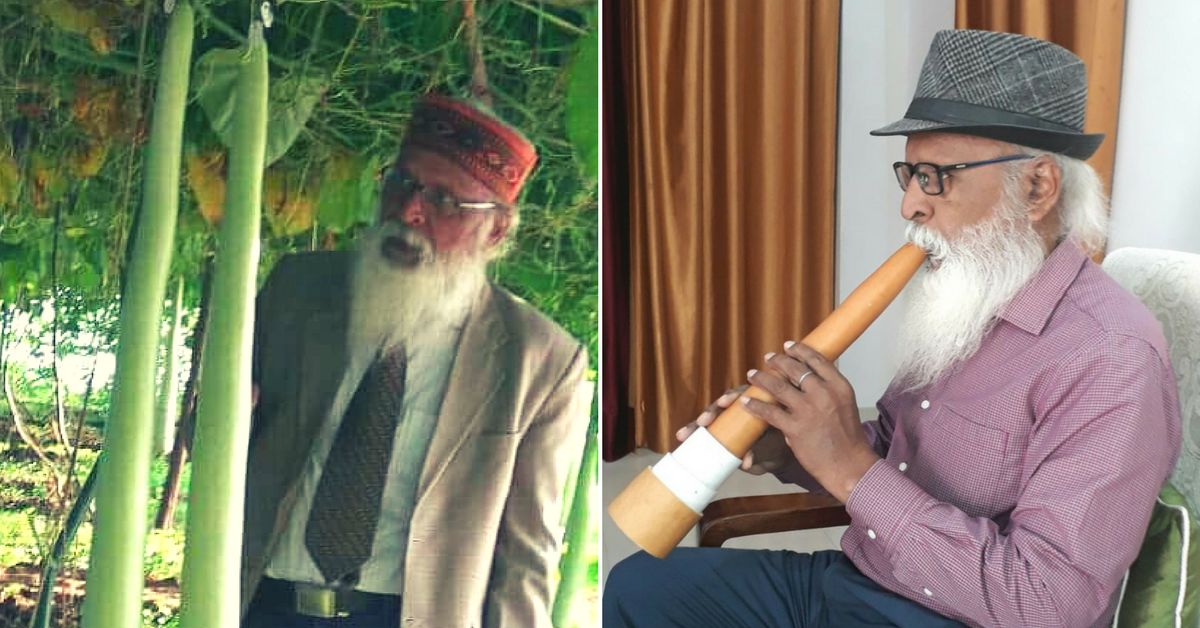 If you are wondering about the farmer who has grown this vegetable, then this story is for you!
A photograph of Uttar Pradesh Chief Minister, Yogi Adiyanath measuring his height against a giant bottle gourd (Lauki), is going viral.
If you are wondering about the farmer who has grown this bottle gourd, then this story is for you!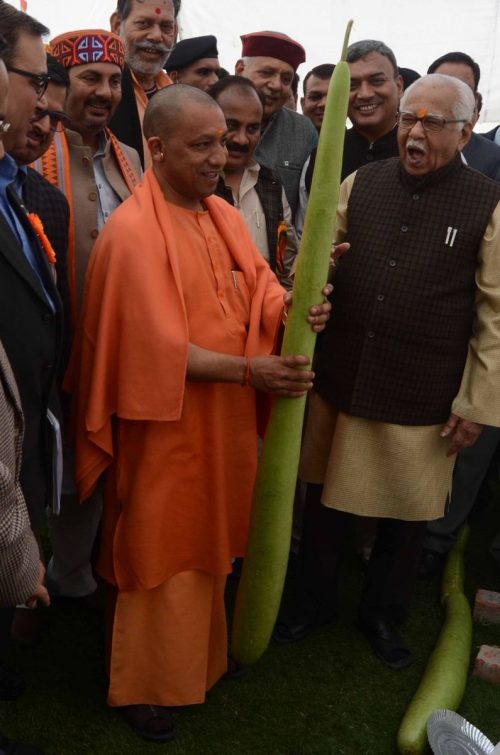 photo source – Reddit
This variety of bottle gourd which is making news because of its unusual fruit length is called 'Narendra Shivani.' It was developed in 2007 by Professor Sheo Pujan Singh, a faculty member of the Narendra Dev University of Agriculture and Technology (NDUAT), Kumarganj in the Faizabad district of Uttar Pradesh.
Prof SP Singh who is popularly known as 'Lauki Purush' (Bottle gourd man) among farmers and fellow scientists was born in a small village called Gaura Beni in Azamgarh district of Uttar Pradesh on 5th June 1953.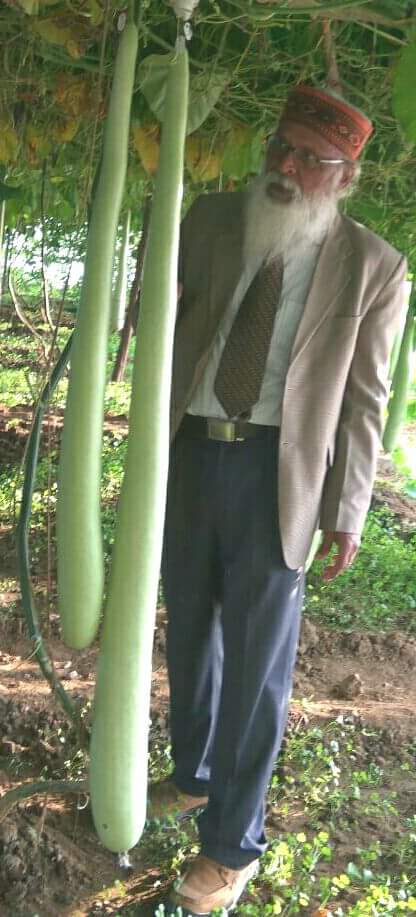 "My father was a primary school teacher, but a majority of the members of my family were farmers, so I was inclined towards it since childhood," says Prof Singh while speaking to The Better India from Lucknow.
After finishing his schooling from the village, Prof Singh was sent to Azamgarh for his further education.
Plants science always fascinated him hence he pursued an undergraduate degree in agriculture, and then went on to acquire a masters degree in Genetics, and a PhD in Plant Breeding, from the GB Pant University of Agriculture Technology in Uttarakhand.
In 1982 Prof Singh joined NDUAT as a professor of Vegetable Science. After working here for about three years, he was invited to the University of Nairobi in Kenya as a visiting lecturer.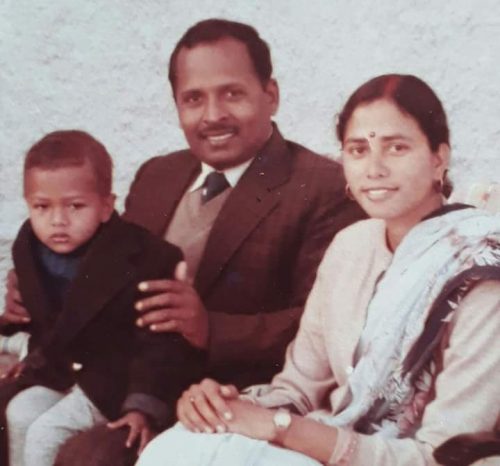 "My research focussed on the grain amaranth crop in Kenya and taught plant breeding to U.G. and P.G. students. After a good experience of about two years, most of my colleagues were shifting to Australia and advised me to do the same. However, I wanted to continue my research in India. I wanted my countrymen and farmers to benefit from my research," he explains.
In 1987 when Prof. Singh rejoined NDUAT, Faizabad, he was interested in some other important vegetable crops. However, he was asked to research on a group of lesser important cucurbit crops which included bottle gourd, pumpkin, pointed gourd etc..
Cucurbits constitute nearly 1/3rd of the total vegetables grown in India. This vegetable family is the largest among vegetables and includes several valuable crops like watermelon, muskmelon, cucumber etc.
---
You may also like – How Pearl Farming Helped This Farmer Grow Rich!
---
Many cucurbits have medicinal value too.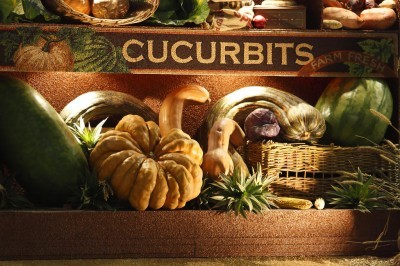 "Bottle Gourd was considered less valuable 30 to 40 years back because of its lesser liked cooked vegetable taste and the research on this crop was literally forced on me. But I took it up as a challenge. I wanted to develop something unique in this crop which would make it popular and important," he says.
Prof. Singh started to work with full enthusiasm and determination with the crops assigned to him. After years of hard work and research, he developed an almost seedless bottle gourd genotype,'Andromon-6'in the year 1995, which was registered with National Bureau of Plant Genetic Resources at New Delhi.
According to Prof Singh, a new variety of any vegetable must have the following attributes:
  It should be a high-yielding variety, in order to increase food security.
  The time taken for fruiting should be less.
  The developed variety should be resistant to diseases, insects and environmental stresses
The quality and taste should be better (this is an essential property).
Usually, bottle gourd is cultivated in the summer and rainy seasons and farmers have to wait until next summer to grow it again. This is particularly true in areas like Uttar Pradesh where winter temperatures are too low.
Thus Prof. Singh developed a variety of bottle gourd called 'Narendra Shishir', which was cold tolerant and farmers could now grow bottle gourd all year round.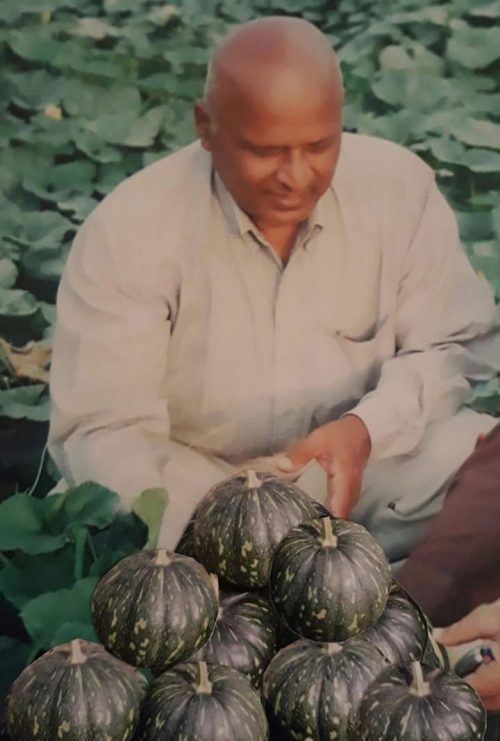 He also developed another winter type bottle gourd variety which according to him produced the tastiest cooked vegetable among all bottle gourd varieties and hence he named it as 'Narendra Madhuri'.
---
You may also like – Sikkim Farmers Are Earning 8 Times More by Growing These Exotic Foods. Thanks to Two Brothers
---
In the course of his research, Prof Singh realised that vegetables in the cucurbit family, are amongst the most nutritious on the planet. The bottle gourd, in particular, has many benefits. Its leaves are highly nutritious; the fruit has a high water content, which makes it very good to prevent heart disease and bring down bad cholesterol levels. Shells of mature bottle gourd fruits are variously used to make containers, utensils, floats, decorative items, and different kinds of musical instruments!
In 2001, Prof Singh came to know about a farmer who was growing a variety of bottle gourd which had extraordinary long fruits Unfortunately, the farmer was unaware of the benefits of this variety, due to which the plant did not grow well. Prof Singh procured the seed of this variety and started researching it in 2004 to get desirable fruit shape and size as well as yield and earliness.
However, the best was yet to come. Prof Singh grew this variety in the polyhouse of the university, and the plants yielded bottle gourds which measured up to 7.4 feet.
Prof Singh named the variety 'Narendra Shivani,' and this is the same kind which is seen with CM Yogi Adityanath in his viral picture.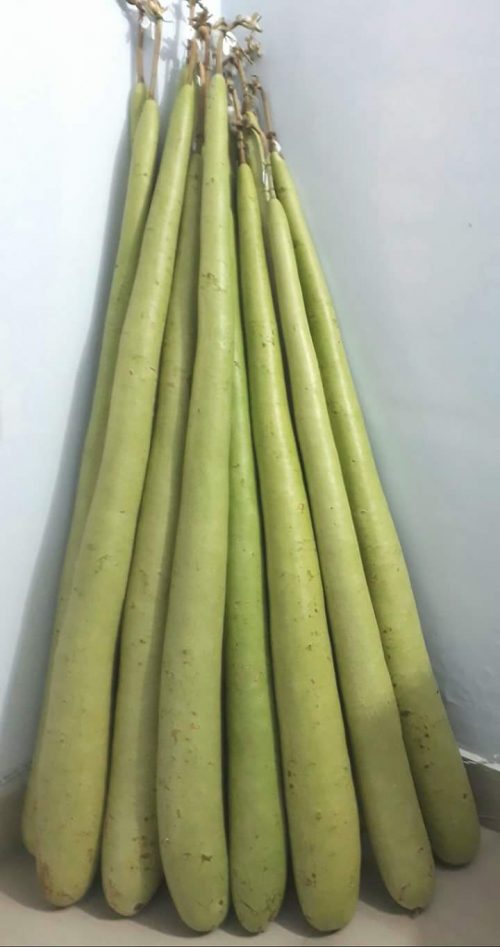 What is more impressive is that a farmer in Sirsa (Haryana) has grown a plant that yielded a bottle gourd measuring 8.2 feet!
According to Prof. Singh this variety can be used for food preparations when it is up to 3 ft long and weighs up to two kg. The variety is developed through pure line selection and can be safely used for consumption.
The average production of this variety is around 700-800 quintal per hectare, but Prof. Singh claims that through proper care, farmers can produce up to 1000 quintal of this variety in just one hectare. Also, the mature full grown dried fruits can be painted into drawing room decorative items and made into a musical instrument.
After playing one of the dried Narendra Shivani for us which sounds almost like the sound which emanates from a conch (shankh), Prof Singh informed us that most farmers are unaware of its use.
"People ask me that what is the use of Narendra Shivani as no one is going to buy such a huge bottle gourd, but I believe that this can be an entirely separate market, and farmers can make extra money in this way. Playing an instrument made of this vegetable is good for your lungs as well," he says.
Prof Singh was retired in 2015 but before that, he has developed ten varieties of bottle gourd, four varieties of pumpkin, three varieties of pointed gourd and one variety of bitter gourd. He has also written a book, 'Cucurbits Biodiversity, Breeding and Production in Uttar Pradesh,' based on his work on the cucurbit group of vegetables.
If you wish to get the seeds of any variety developed by Prof Sheo Pujan Singh or wish to know more about his work, you can call him on 7985244878.
Like this story? Or have something to share? Write to us: contact@thebetterindia.com, or connect with us on Facebook and Twitter.
NEW: Click here to get positive news on WhatsApp!