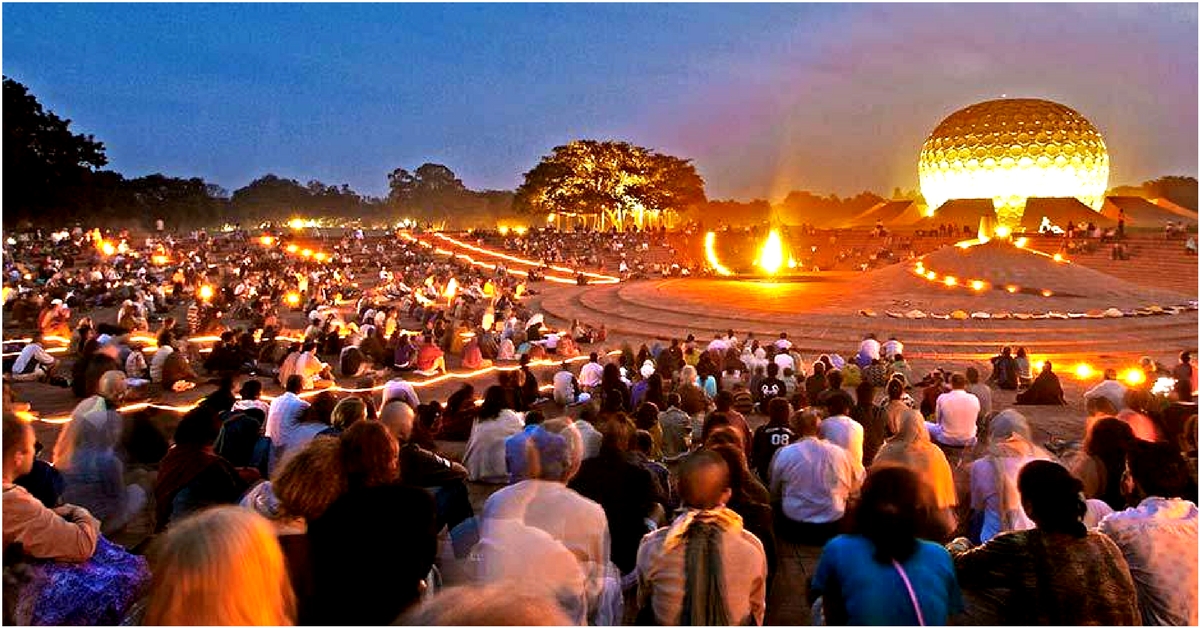 Here's the fascinating story of how many experiments, many challenges and one powerful vision forged Auroville, the 'City of Dawn'.
"Auroville will be the place of an unending education, of constant progress, a youth that never ages." – Auroville Charter, 1968
About 50 years ago, on a sprawling sun-baked plateau north of Pondicherry, an advertisement was hammered onto the trunk of solitary banyan tree stood guard. Local folklore has it that the young tree sent out a call for help that was received by Mirra Alfassa in Sri Aurobindo Ashram.
Known to her followers as the Mother, the woman responded to the tree's call and in doing so, she found the place she was looking for — the foundation for a universal township "where men and women of all countries are able to live in peace and progressive harmony, above all creeds, all politics and all nationalities."
This unique city would go on to become famous as Auroville, the tangible culmination of the spiritual collaboration between the Mother and Sri Aurobindo (an influential leader of the Indian movement for Independence).
Here's the fascinating story of how many experiments, many challenges and one powerful vision forged the 'City of Dawn' — in French, 'aurore' means dawn and 'ville' means city.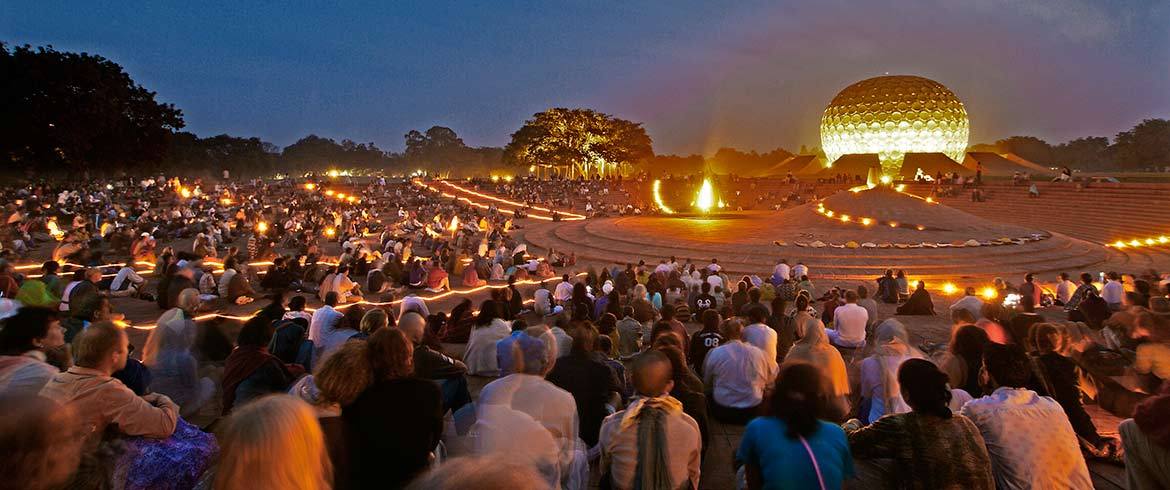 Auroville had its genesis in a meeting between the two great minds in March 1914 — a time when Sri Aurobindo had sought refuge in the then-French dominion of Pondicherry to escape arrest by the British.
After he passed away in 1950, it was the Mother who took on the task of bringing his idea of a "universal town" to fruition. Her guiding principles were Sri Aurobindo's ideal of human unity, his emphasis on cultural collaboration and his vision of India as a spiritual leader of the world.
Interestingly, she was over 90 when she started work with architect Roger Anger to chalk out a blueprint for a city of 50,000 people!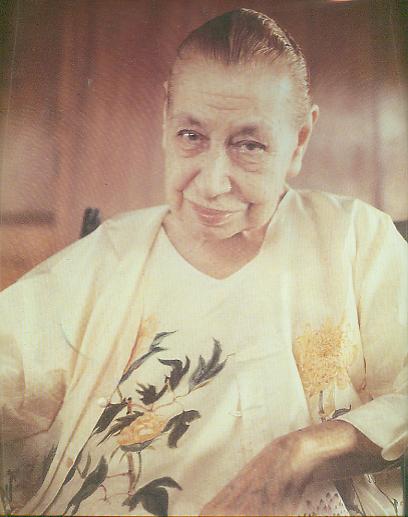 For the next few years, work on Auroville progressed rapidly under the Mother's able guidance. And finally, on February 28, 1968, the township was formally inaugrated. Over 5,000 people from 124 countries (including India) gathered in the open amphitheatre next to the banyan tree to listen to the Mother read from The Auroville Charter and witness the city of the future being born.
To signify that the township belonged to none in particular but to humanity as a whole, these delegated also deposited a handful of their native soil into a marble-clad urn at the amphitheatre. An exhibition on Auroville and its city plan was displayed below an blue canopy erected among the trees.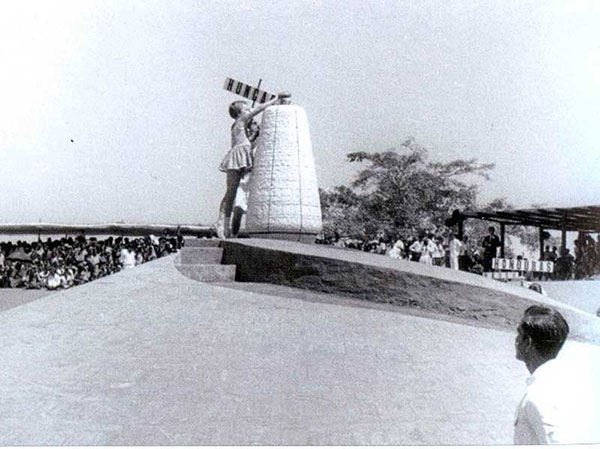 In the years that followed, regardless of which government was in power, Auroville continued to flourish. The pioneering residents of the township joined hands with the local villagers and got to work. Accommodations were built, wells were dug, gardens were planted and schools set up.
However, Auroville's journey to its present state was not without its hurdles. In 1973, after the Mother's death in 1973, bitter conflict developed between the residents and the township's 'parent' organisation, the Sri Aurobindo Society.
Finally, the Government of India had to step in to end the conflict. In 1988, the Indian Parliament passed the Auroville Foundation Act to make the township a legal entity and safeguard its autonomy.
Today, Auroville is home to over 2,000 people — writers, artists, doctors, engineers, chefs, teachers, farmers, students etc — from over 40 countries, not to mention all regions of India. Closely resembling a lushly-forested university campus, the still-evolving township has few paved roads (most have deliberately been left so) or urban buildings of its own (like police stations or railway stations).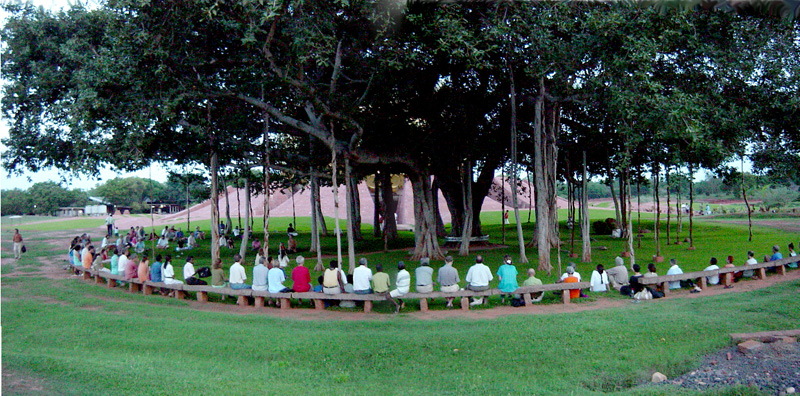 Nonetheless, it does have a pretty town hall, unconventional-looking school buildings, alternative farms, plenty of garden restaurants, and a clutch of single-storey houses. However, the defining feature of Auroville has to be its absolutely surreal meditation hall, Matri Mandir.
Considered the "soul of Auroville", Matri Mandir is an elaborate gold-plated sphere that took 37 years to see the light of day. The structure comprises 1,415 large gold discs and is suspended above 12 "petals" or themed meditation rooms, each of which is flanked by a themed garden.
Thus, to some onlookers, it looks like a lotus in full bloom while to others, it appears like giant golden golf-ball.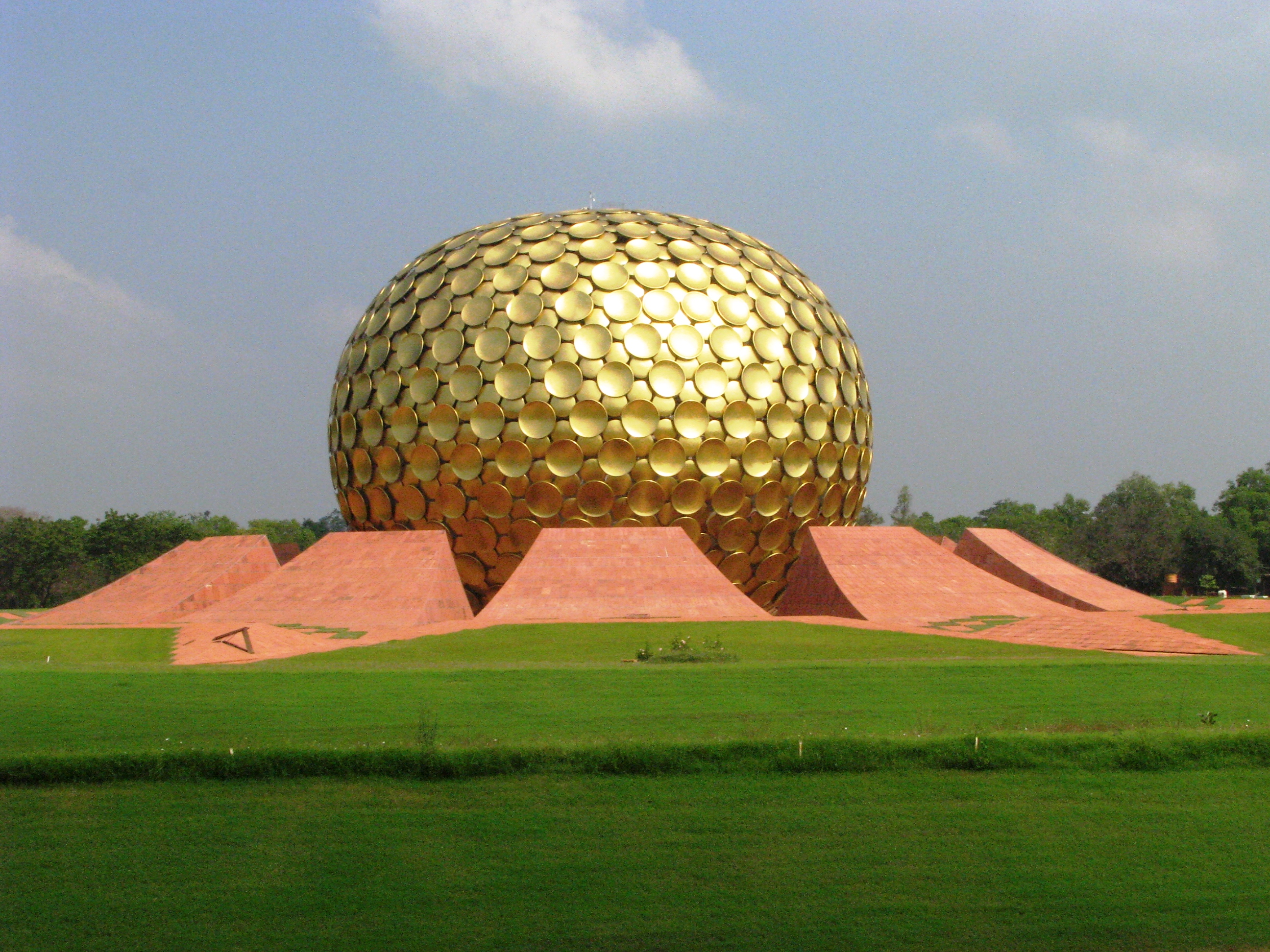 Inside the Matri Mandir lies a huge chamber with gentle streams of water cascading down its white marble walls. Spiral ramps on all sides leading to an utterly silent meditation hall — a cocoon of peace and quietude that is believed to have first appeared in several visions to the Mother.
At its heart is a specially-designed crystal sphere from Germany (the largest optically-perfect glass globe in the world) that catches the sunbeams entering from the top of the dome. Below the sphere, lies a Lotus Pond of marble, with a small crystal sphere mirroring the giant one in the inner chamber above.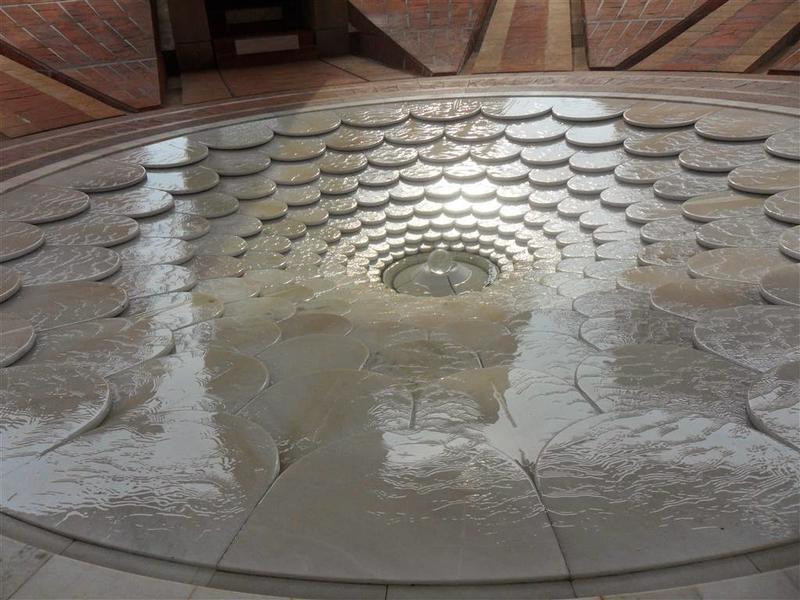 Interestingly, nothing in Auroville is owned by any person there. Every single asset in the township is owned by the Auroville Foundation, which, in turn, is owned by the Government of India's Ministry of Human Resource Development!
Furthermore, the residents of this unique township do not use currency inside Auroville. Instead, they are given account numbers (connected to their main account) and transactions are done via an 'aurocard' (that works like a debit card).
Basic healthcare facilities and electricity is free in Auroville. Schooling is also free and there are no exams — kids are encouraged to learn the subjects of their choice and at their own pace. As for the maintenance, the residents provide manpower and make contributions to the foundation on a monthly basis.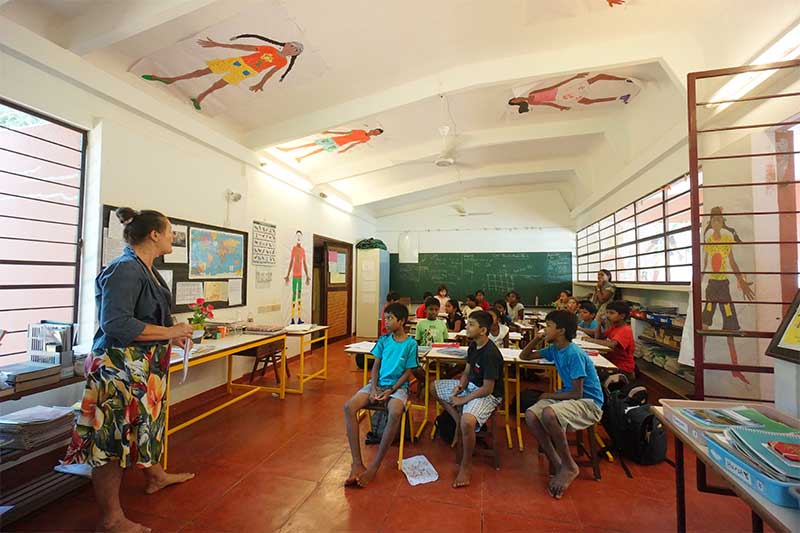 Money earned from the daily visitors and guests are also used for the township's upkeep. Small-scale industries (like hand-made paper, incense sticks etc) have also be set up to raise funds for various projects.
Auroville also the home of many futuristic experiments, from energy and ecology to economics and education. These include a one-of-its-kind collective provisioning operation, Pour Tous, in which members contribute a certain amount monthly and then take whatever they feel they need, without paying for the individual items provided.
Farmlands owned by Auroville produce crops consumed by the township in addition to working as research centres for sustainable agriculture and water conservation. For instance, Buddha Garden is a farm that experiments with sensor-based precision irrigation system — the first crop cycle saw an almost 80% drop in water consumption!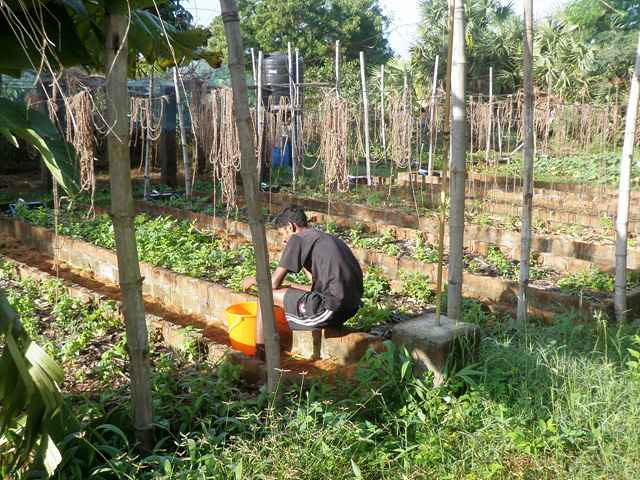 With years of expertise in sustainable development (especially in wind and solar energy generation), Auroville Consulting provides advice and training to organisations such as such as Tamil Nadu Energy Development Agency (TNEDA) and Tamil Nadu Urban Finance and Infrastructure Development Corporation (TNUFIDC).
Moreover, thanks to years of meticulous silviculture, Auroville's sprawling forests are counted among India's most successful afforestation project. In fact, its experts have been using this experience in afforestation projects such as the one being implemented with Irula tribesmen near Chinglepet in Tamil Nadu and the National Wastelands Commission in the Palani Hills.
Thus, in many ways, Auroville is slowly but steadily living up to the vision that led to its birth. On February 28, 2018 (the township's 50th anniversary), as waters from over a 100 countries is poured into an urn at the amphitheatre, the ancient banyan tree will probably be looking on with an immense feeling of satisfaction — a living testament to Auroville's incredible journey!
---
Also Read: This Low-Cost Technology Is Helping a Puducherry Village Treat Its Wastewater, and It Uses Plants!
---
Like this story? Or have something to share? Write to us: contact@thebetterindia.com, or connect with us on Facebook and Twitter.
NEW: Click here to get positive news on WhatsApp!
We bring stories straight from the heart of India, to inspire millions and create a wave of impact. Our positive movement is growing bigger everyday, and we would love for you to join it.
Please contribute whatever you can, every little penny helps our team in bringing you more stories that support dreams and spread hope.