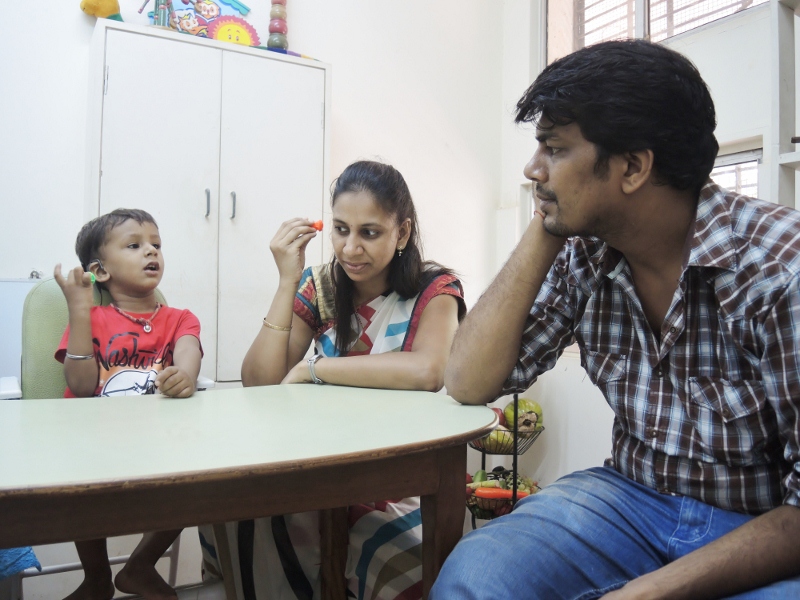 Hearing impaired persons generally have a problem learning new languages. But Sunny chose French as his second language in school and speaks it with panache. He plays the tabla and is also learning to play the saxophone. This was made possible with regular efforts from AURED. Know more about the programme and how it is helping hearing impaired children to communicate without sign language like kids with normal hearing.
This unique programme started as an experiment with the introduction of an unknown therapy and a method that promised no definite results. Today, after almost two decades, AURED stands out for the kind of aid and self-sufficiency they have been providing to scores of young lives.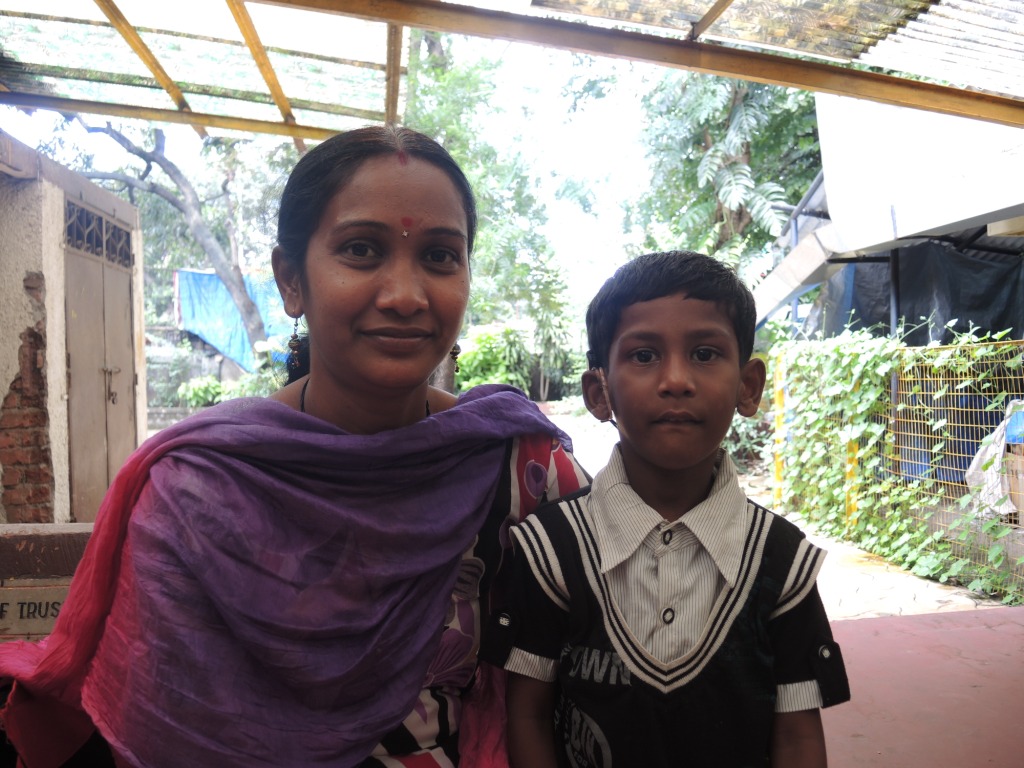 Sunny was born with a hearing impairment and came to AURED at the age of 16 months, where he received a never-heard-before treatment called the Auditory Verbal Therapy, which enabled him to listen and speak. But, his speech was not clear due to profound hearing loss.
He was given cochlear implants at the age of seven and continued formal therapy until age 10. Today he is a self-assured, confident 18-year-old young man who has enrolled in an engineering college in America. Hearing impaired children are said to have a problem learning new languages, but Sunny chose French as his second language in school and speaks it with panache. He plays the tabla and is also learning to play the saxophone.
Sunny is just one of the many hearing impaired children who came to Aural Education for Children with Hearing Impairment (AURED) supported by Concern India Foundation, with little hope and have gone back renewed and transformed, eager to start their lives afresh.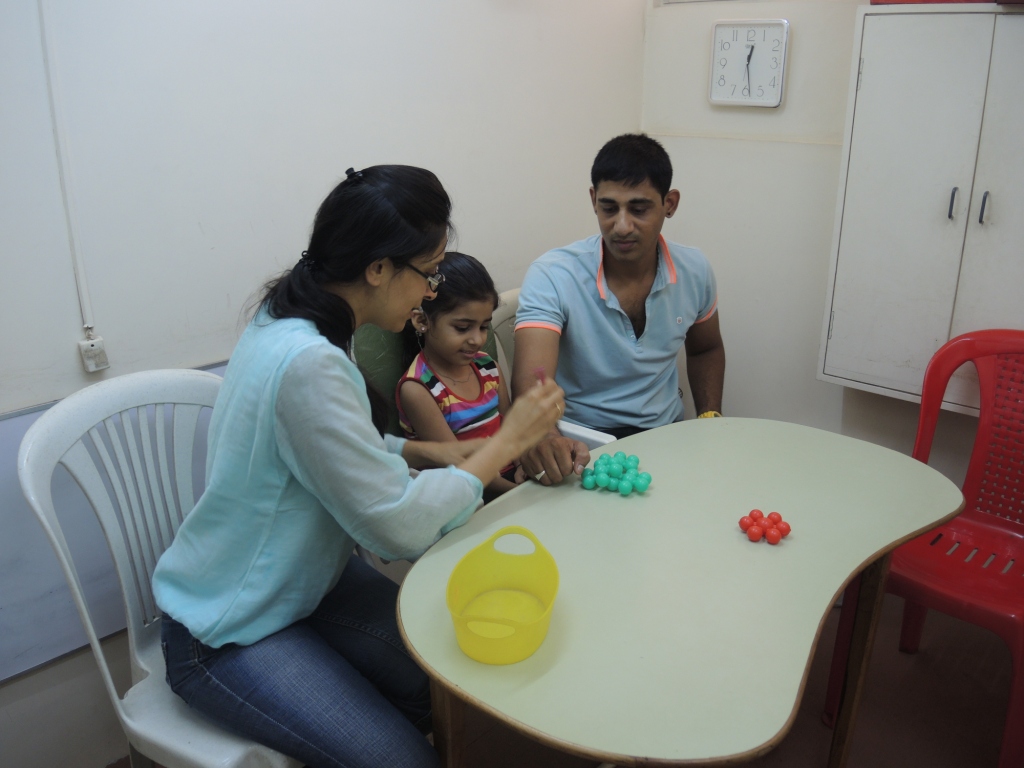 Started in 1986 with six profoundly deaf children, AURED was a 'mission with a struggle'. Their experiment with a revolutionary new concept called the Auditory Verbal Therapy (AVT) was not very well known then and had not been practiced ever in India before. The method, introduced by Australian therapist Alan Kelly, enabled deaf children to develop their auditory pathway that resulted in children listening and speaking.
Among many skeptics, the parents of these six children put trust in this innovative treatment and decided to give this fresh idea a try.
"When we first switched to AVT, we knew so little about the final result. We knew it in theory but not in practice. We started with six children and I explained to the parents that it was an experiment, a very serious one, but it could not guarantee the outcome. We told them that technically, at the end of 3-4 years, their children should be able to 'listen and talk' but we could not predict the extent of success," says Aziza Tyabji, co-founder and director of the organisation.
And fortunately for her, they agreed! In the last two decades, AURED has provided support to more than a thousand children with hearing impairment. The centre that started in a modified kitchen currently has 700 beneficiaries enrolled at their present premises. More than 350 of these children are between the ages of 3 months – 3 years.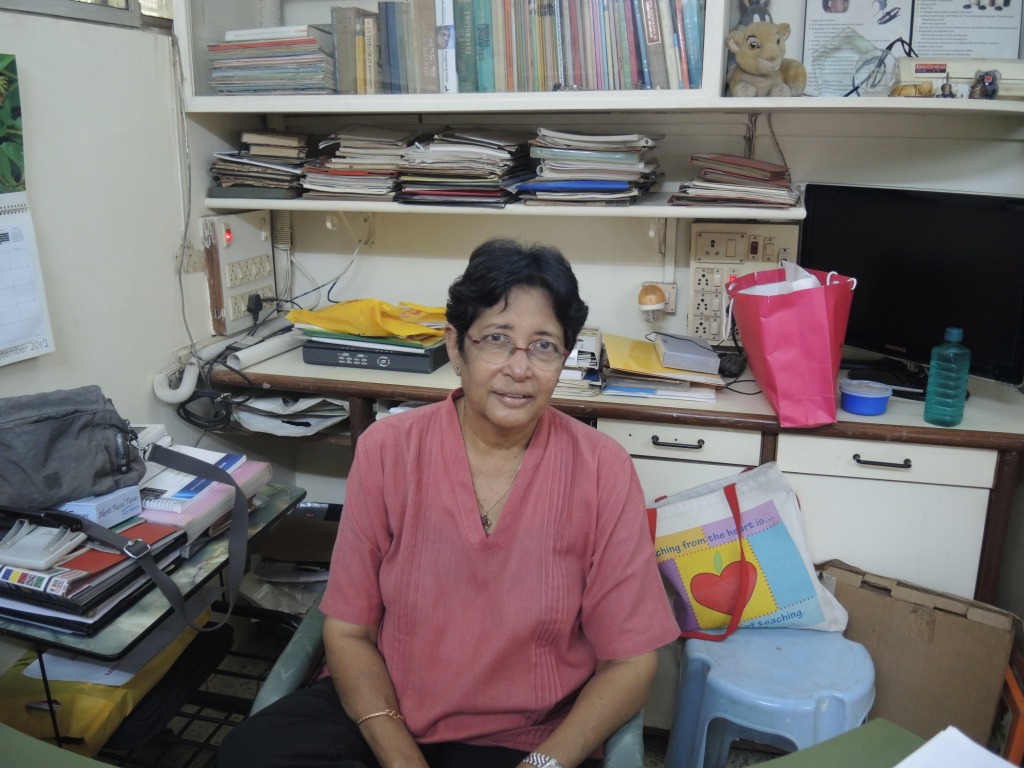 AURED works on the philosophy that 95 per cent of the hearing impaired have some residual hearing, and if identified young, with the help of a pair of good hearing aids or a cochlear implant, a child can develop sufficient auditory skills to enable him or her to 'hear' and communicate through spoken language.
Recent research indicates that the critical period of 'learning' starts from the sixth month of pregnancy up to 2 years and therefore early diagnosis and intervention is essential.
Children with significant hearing loss who receive hearing aids before the age of 6 months, and a cochlear implant between the ages of 7 months  to 1 year can develop language skills similar to those children with normal hearing.
Those who receive implants between 18 to 24 months of age, acquire only two thirds of language skills in comparison. However, once the child is diagnosed with hearing loss, immediate audiological management and fitting of appropriate amplification devices i.e. hearing aids or a cochlear implant, along with skilled and effective aural habilitation is required. This is where AURED comes in to fill the gap.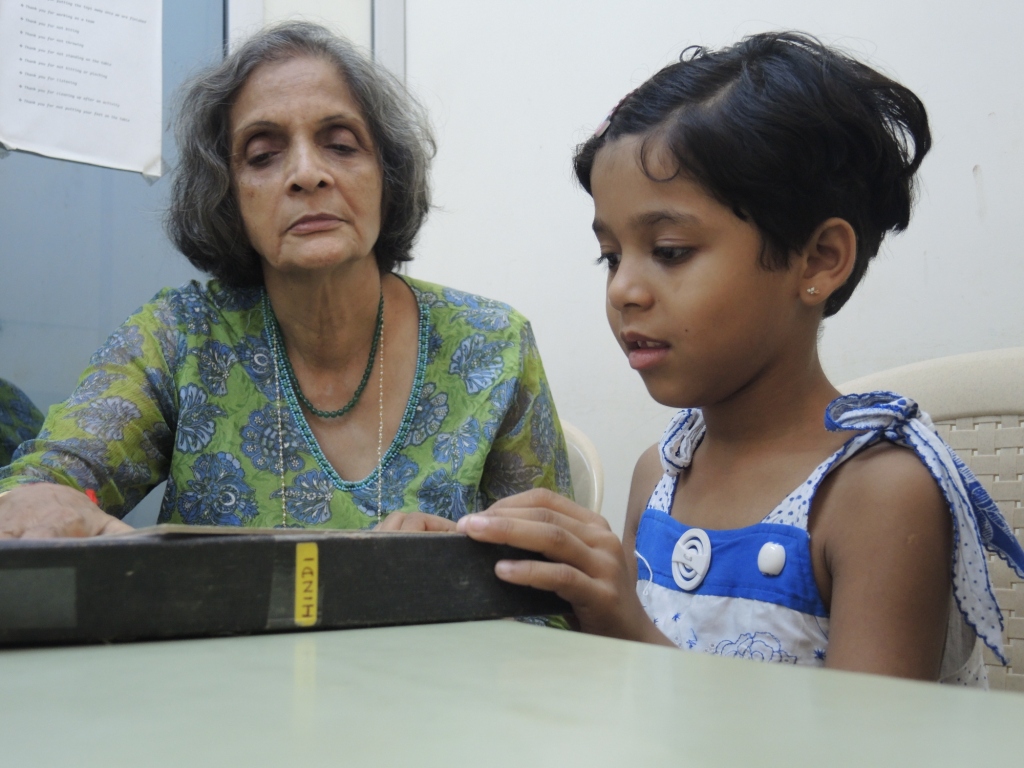 Here children take part in one-on-one teaching sessions. Therapy is conducted in four major languages – English, Hindi, Marathi, and Gujarati. Parents are the primary caregivers, and are required to participate in teaching sessions to enable them to learn how to use the Auditory Approach in their homes.
No sign language or lip reading is ever used here. This approach enables a child to 'LISTEN AND SPEAK' by making use of every bit of residual hearing. The organisation aims to integrate children with hearing impairment to become independent and contributing citizens in mainstream society.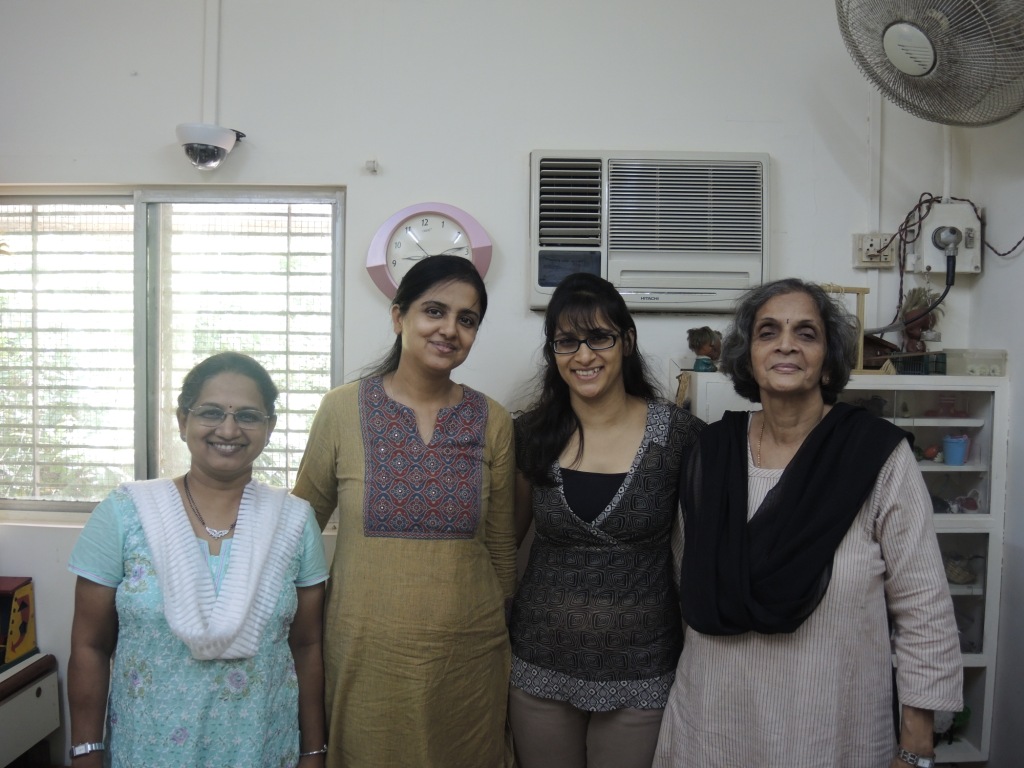 The seemingly straightforward task requires explicit patience and perseverance. Aziza tells us a story of a child who was two-and-a-half years old when she joined AURED and after almost 2 years, could imitate whatever one said, but could not talk spontaneously.
"Around this time, a friend of mine visited and I was talking to her while this child kept interrupting our conversation. A little irritated I just told her to shut up, and to my surprise I heard a little voice saying 'You shut up'. My friend was aghast saying how rude the children were, but I was ecstatic as this was a big breakthrough for me. It meant that she was processing conversation and was reacting accordingly. This was really the beginning of us believing in the method," she says animatedly.
Clearly this process requires a huge input for long durations before there can be any visible response. Once children have sufficient receptive language, they start expressing themselves, like 'normal' children who absorb everything around them before they start talking.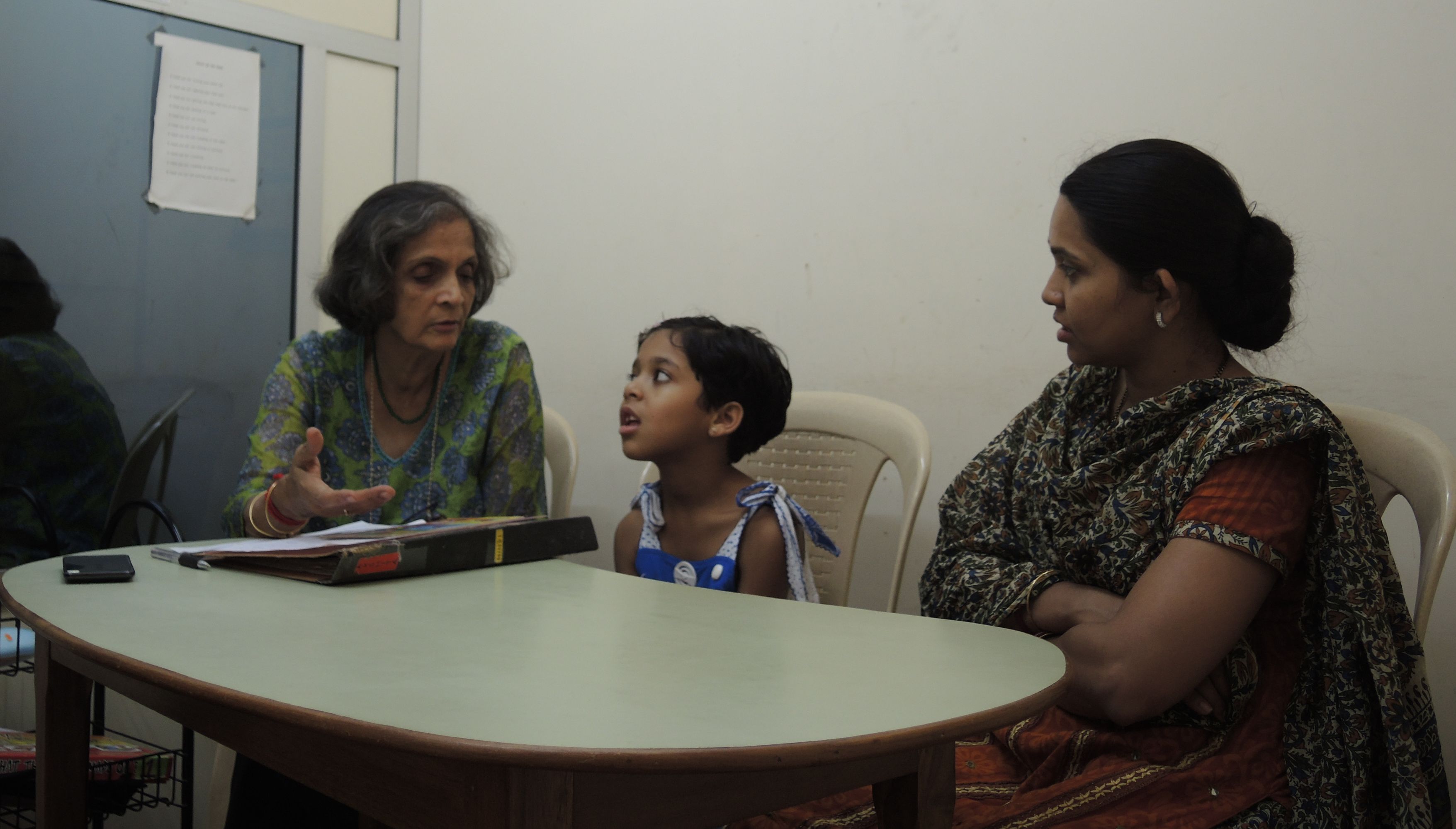 A very important and omnipresent component of the entire process is the parents who Aziza terms as the "primary caregivers."  They need a lot of counseling from the time of diagnosis, which they are often reluctant to accept, through the years the child spends in therapy.
At AURED, counseling every parent is a crucial procedure. They need to understand that even with cochlear implants, deafness cannot be cured. Once the implant is taken off at night the children are deaf again. Their struggle is undoubtedly the hardest.
Deepali, mother of five-year-old Om who has been coming to this centre every month for the last two years, says, "I take an overnight train to Mumbai every month just for a day. My son who currently attends the balwadi (pre-school) in our village was suffering from profound hearing loss and has shown a lot of improvement after coming here."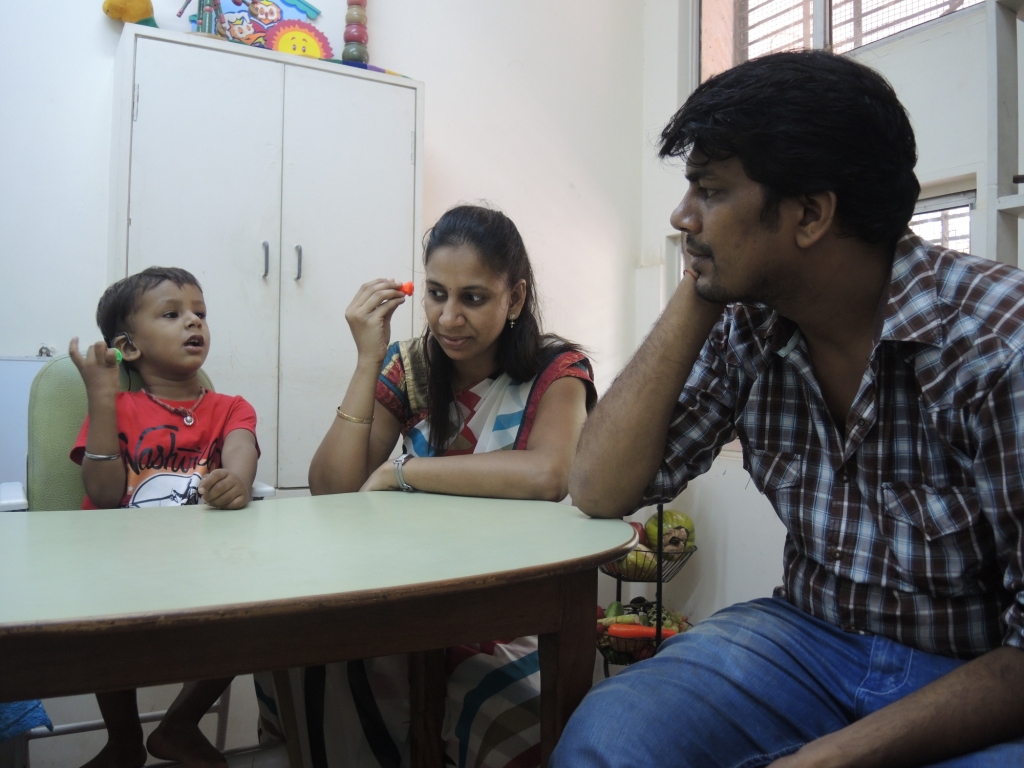 For now, AURED continues to work at its unsaid policy of trying to help all who come to them with or without the adequate finances. With awareness about their new methods amongst those who matter, their task may have become a little easier, but for the indomitable Aziza Tyabji, this is but just the start!
For further information on AURED, contact- info@aured.org
Like this story? Or have something to share? Write to us: contact@thebetterindia.com, or connect with us on Facebook and Twitter (@thebetterindia).
We bring stories straight from the heart of India, to inspire millions and create a wave of impact. Our positive movement is growing bigger everyday, and we would love for you to join it.
Please contribute whatever you can, every little penny helps our team in bringing you more stories that support dreams and spread hope.