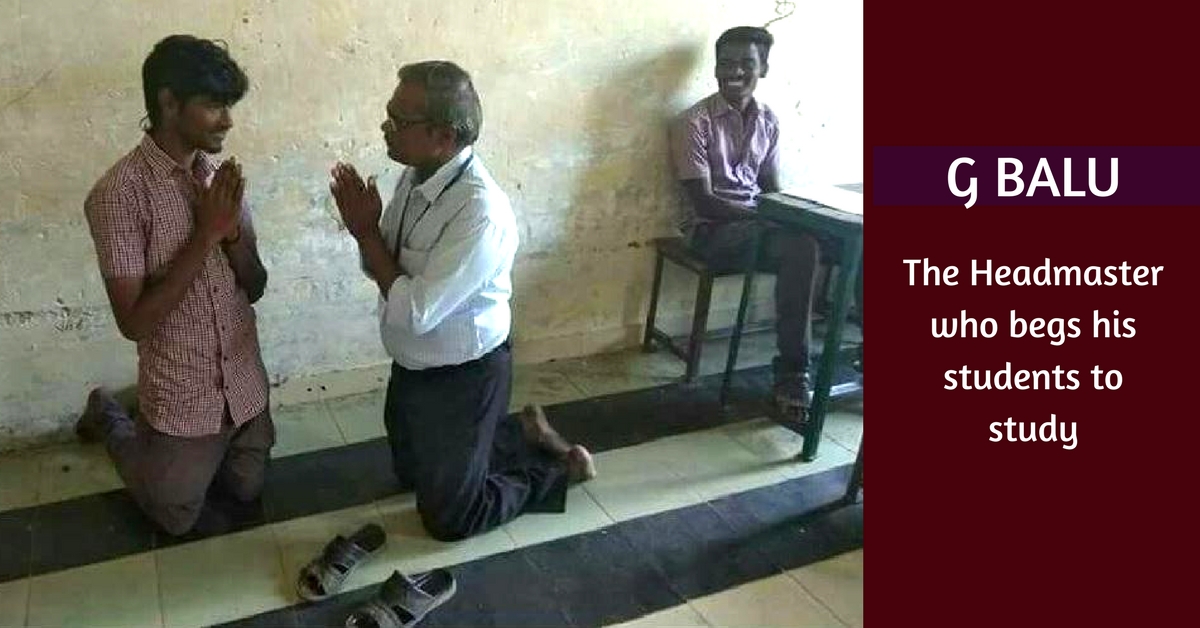 This unconventional mode of convincing students came to fore when someone recorded the 56-year old headmaster in the act and posted it online.
When we go down memory lane, most of us can remember that one teacher from our school or college days, who has left behind a lifelong impression in our lives, sometimes even to the extent of moulding it.
Some strict, some visionary—different teachers employ different means to ignite the spark of learning amidst children and sometimes, some of them even go the extra mile to make sure that spark remains for a lifetime.
Talking about the extra mile, you won't be able to guess what a headmaster from Villupuram in Tamil Nadu does to convince his students to study and perform better in exams.
He goes on his knees and begs them to study!
G Balu had been rather upset when he found that only 25 percent of class 12 students had passed in the half-yearly exams, despite the school's pass percentage being 65 percent.
"I was distraught when the results came out and decided to go to the students' house and meet the parents. When I saw the students, I held their hands and pleaded with them to study well for the coming exam," he told EdexLive.
This unconventional mode of convincing students came to fore when someone recorded the 56-year old headmaster in the act and posted it online. But apparently, the documented incident wasn't the first time that Balu had implored his students.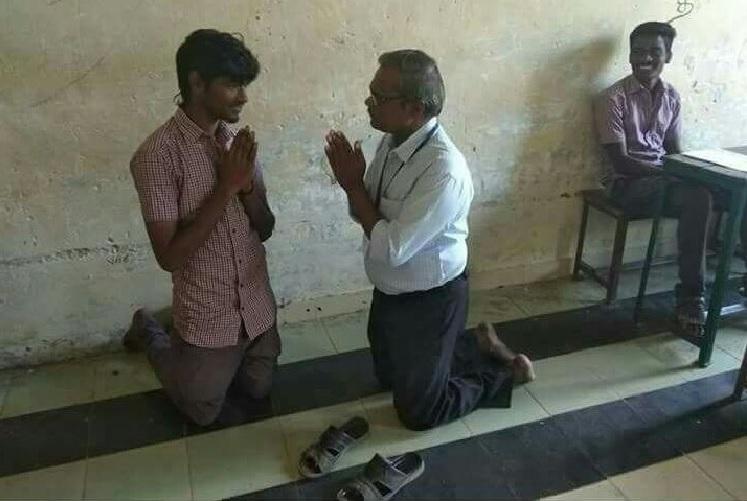 The man had been teaching students for the past 30 years before he donned the responsibility of a headmaster—a position that he assumed three years ago. Taking inspiration from eminent personalities like Periyar and Mother Teresa, Balu believes that even the most stubborn student can be won over if approached with kindness and patience.
"The students, who come to our school, come from extremely underprivileged backgrounds, economically and caste-wise. They are not ambitious and find it very difficult to find the will to study. You can't deal with such students with anger or punishment, what they need is for someone to show them some compassion," he explained.
Balu does not have any qualms about falling at the students' feet. On the contrary, he feels that the kids are motivated enough to resume studies by his action, given the pain that their headmaster is taking in their interest.
---
You may also like: This TN Teacher Sold Her Jewellery So Her Students Could Have a Better Classroom
---
In fact, there had been an instance during Balu's teaching days in Selaiyur, when some of the students would come to class drunk, owing to a tumultuous phase in their lives. Employing the same method, not only did he manage to convince them to give up alcohol entirely, the students even passed the exams with flying colours. Even to this date, they have remained in touch with Balu.
A strict educationist, Balu sadly mentions that some teachers in the fraternity lack the patience when it comes to dealing with stubborn or difficult students and dismiss them without giving them a chance.
While he doesn't expect other heads and teachers to follow his method, he advocates for a friendlier approach that all educators must cultivate.
Balu also believes that his method will leave an impact on the students in a definitive manner. "More than excelling academically, it is important that they also grow up to be good human beings and only if they are treated with kindness and compassion can they show that same kindness to other people," he added.
If only there were more teachers like headmaster Balu, a greater number of students across the country would be genuinely driven to learn and thus transform our entire education system.
Like this story? Or have something to share?
Write to us: contact@thebetterindia.com
Connect with us on Facebook and Twitter.
NEW: Click here to get positive news on WhatsApp!