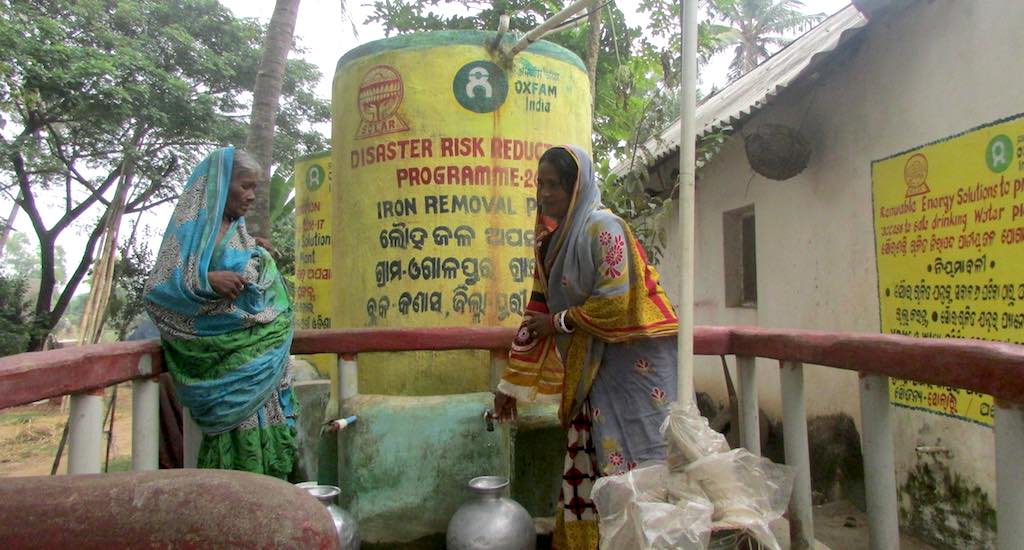 The girls who used to skip school to help their mothers during rainy seasons are now attending classes regularly
Soudamini Palai of Ogalpur village in Kanas administrative block of Puri district is happy that her 5-member family now gets sufficient safe water for drinking, with no effort. But, a few years ago things were quite different. It was a strenuous work for the women of the village to provide clean drinking water to their families.
The groundwater of the village that is less than 15 km away from Chilika Lake, a brackish water lagoon, is saline and contains iron. Makhara, a tributary of Daya River flowing near Ogalpur, is polluted. Still, the villagers, especially the women, who are responsible for collecting water, were dependent on these two sources to meet the family's needs of drinking, cooking and other household purposes.
In Suhagpur village, 35-year-old Kuni Pradhan narrated a similar story. Women and young girls of the village endured the same arduous labour every day to draw water from the village pond, the only source of potable water. Villagers used the pond for washing utensils and clothes, and also for bathing. Open defecation near the pond added to the biological contamination, especially during rains.
Disasters and water-borne diseases
Puri district, with almost 150 km of coastline, is prone to cyclones, floods and water logging; hence epidemics are common. Kanas block is more prone to floods as the block is near the Chilika coast and is surrounded by six tributaries, including Daya River.
During floods, the river water turns muddy and gets contaminated. Lack of access to safe drinking water during and after disasters leaves the entire population vulnerable to water-borne diseases like cholera, typhoid, jaundice, dysentery and diarrhoea. Urban waste and sewage drained into rivers added problems for villagers as it carries loads of harmful bacteria.
In October 2013, Cyclone Phailin hit the entire coastal belt of Odisha. Almost all the villages in Kanas block were severely affected by water from Chilika and floodwater from the rivers.
The villagers shifted to a nearby cyclone shelter as the villages lay inundated in floodwater for nearly a month. "When the flood water receded, we came back to our villages to restore our houses and salvage our belongings," Soudamini told VillageSquare.in. "But the most challenging work was getting clean water for drinking, cooking and other purposes."
Read More: Clean Water out of Wastewater? This Bengaluru Scientist's Innovation Can Actually Do That!
The water tankers could not reach remote villages and the villagers did not get sufficient drinking water sachets. So they brought water from the river, left it undisturbed for a few hours for solid impurities to settle. "We transferred the clear water in the top to another container, boiled it and put chlorine tablets to make it suitable for drinking," recounted Soudamini. Every day the women spent hours to make polluted river water potable.
Ogalpur villagers did not use water from the tube well because of its bad taste and smell. Since they were dependent on river water for drinking, almost all the villagers frequently fell ill from water-borne diseases and stomach ailments. "Every alternate week a few children would be down with diarrhoea and most women would complain of stomach pain, skin ailments and allergies," Amari Samantray of Ogalpur told VillageSquare.in. Lack of safe drinking water not only affected the health but also the education of children.
Treating tube well water
Though iron is not as toxic as lead or arsenic, it has an unpleasant taste and odour and turns red after a few hours. "The salinity and iron content was so high that containers used to store groundwater turned red," Dhani Parida told VillageSquare.in. "So we used to draw water from the river that was again unsafe for drinking."
Seeing vulnerable conditions of villagers in getting safe drinking water during and after disasters, SOLAR, a non-governmental organization (NGO) with support from Oxfam India installed iron removal plants (IRPs) for the existing tube wells in Ogalpur. "As the tube wells also get easily contaminated during floods, we raised the height of hand pump above the highest flood level of the area," Harish Chandra Das, secretary of SOLAR, told VillageSquare.in.
The IRP has a capacity of 2,000 litres and is filled four times during the day to cater to the 800-odd population of Ogalpur. The motor pump lifts the water into the top chamber of the IRP and the filtered water is collected in lower chambers. The tube well water that gets filtered through the IRP is free of bad smell and taste.
Pond to potability
In Suhagpur, the villagers were dependent on the pond water for drinking and cooking. "The pond water caters to the 1000-odd population of the entire village," Pradhan told VillageSquare.in.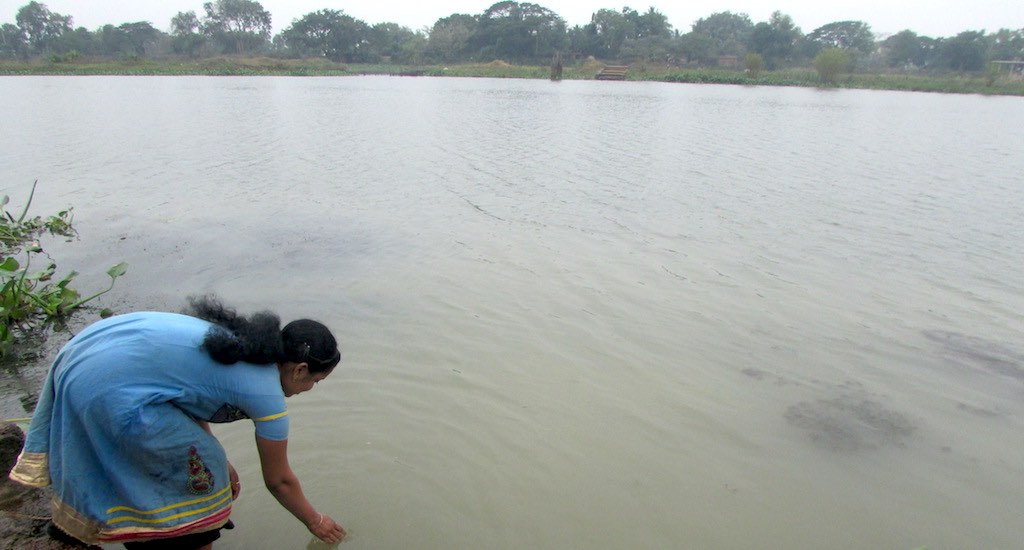 After the cyclone, SOLAR and Oxfam India set up a flood-proof pond sand filtration (PSF) unit in Suhagpur to provide the villagers with safe drinking water. The tank is divided into six chambers containing stone chips, sand and charcoal. Villagers draw the filtered water from the last chamber.
Read More: Clean Water Going Down the Drain? Not Anymore in Maharashtra!
There are five IRPs and two PSFs set up in different villages in Kanas block. "Initially, we ran the units with electric motors, but due to erratic supply of electricity we have attached solar pumps now," said Das.
Positive impacts
The community recalled how the incidence of diarrhoea, typhoid and jaundice has reduced drastically after they started drinking filtered water. In Suhagpur, before setting up of PSF, 11 cases of diarrhoea were reported; after installing the filters, there was only one case reported in the village. In Ogalpur too, there has been a drastic drop in the incidence of water-borne diseases. This was corroborated by data collected by the auxiliary nurse midwives (ANM) of two panchayats.
With setting up of IRPs and the PSFs the women of these villages are relieved from the strenuous labour of purifying the water to make it fit for drinking. "Now we collect water from the taps in the morning and evening and use it for drinking, without any further purification process," Sarita Parida told VillageSquare.in.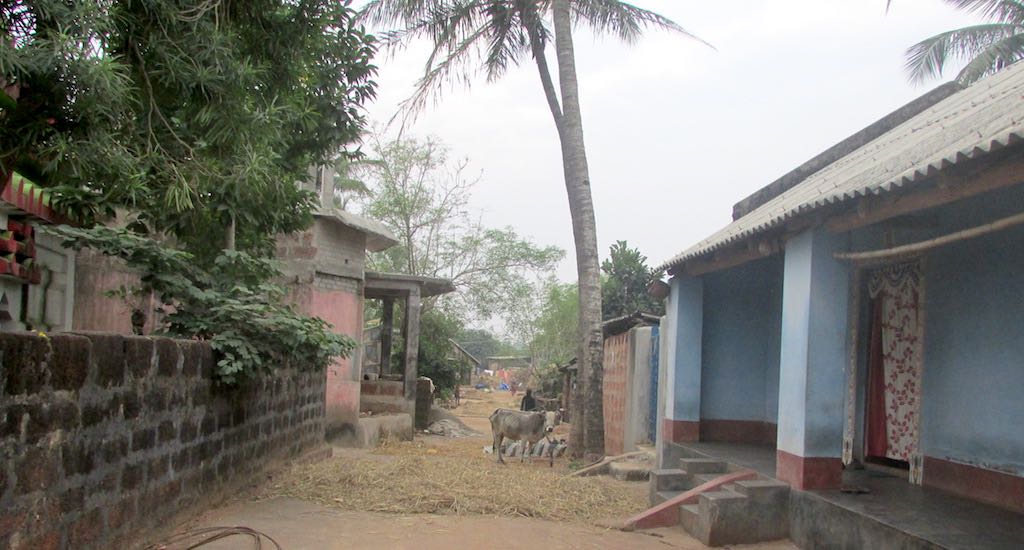 The women said that they get more time for other household work and also get time to rest. "The girls who used to skip school to help their mothers during rainy seasons are now attending classes regularly," said Sarita Parida, a mother of two.
Earlier, women were drinking less, as there was insufficient water for the entire family and men got priority. "Now the water intake by the women and girls of these villages has also increased," Ritima Parida, a young woman, told VillageSquare.in.
As the easy availability of clean water has reduced the drudgery of the village women, they have taken up the task of maintaining the units. They have formed a Water, Sanitation and Hygiene (WASH) committee. Every Sunday they clean the tanks and the filters. "Though village funds are used for the upkeep of the tank, a nominal fee of Rs 5 is collected from each household towards these costs."
The water is currently being used for drinking purpose only. The women seek more such units to meet cooking requirements, as they still rely on water from the ponds and rivers. Women from neighbouring villages also come to draw water from these units as the water is safer than other sources. "With IRPs and PSFs in our villages, now we have access to safe drinking water all the time", said Soudamini, and the other women agreed in unison.
Rakhi Ghosh is a Bhubaneswar-based journalist.
Adapted from an article originally published on VillageSquare.in. Subscribe to VillageSquare's weekly update on the website for more stories from rural India.
We bring stories straight from the heart of India, to inspire millions and create a wave of impact. Our positive movement is growing bigger everyday, and we would love for you to join it.
Please contribute whatever you can, every little penny helps our team in bringing you more stories that support dreams and spread hope.