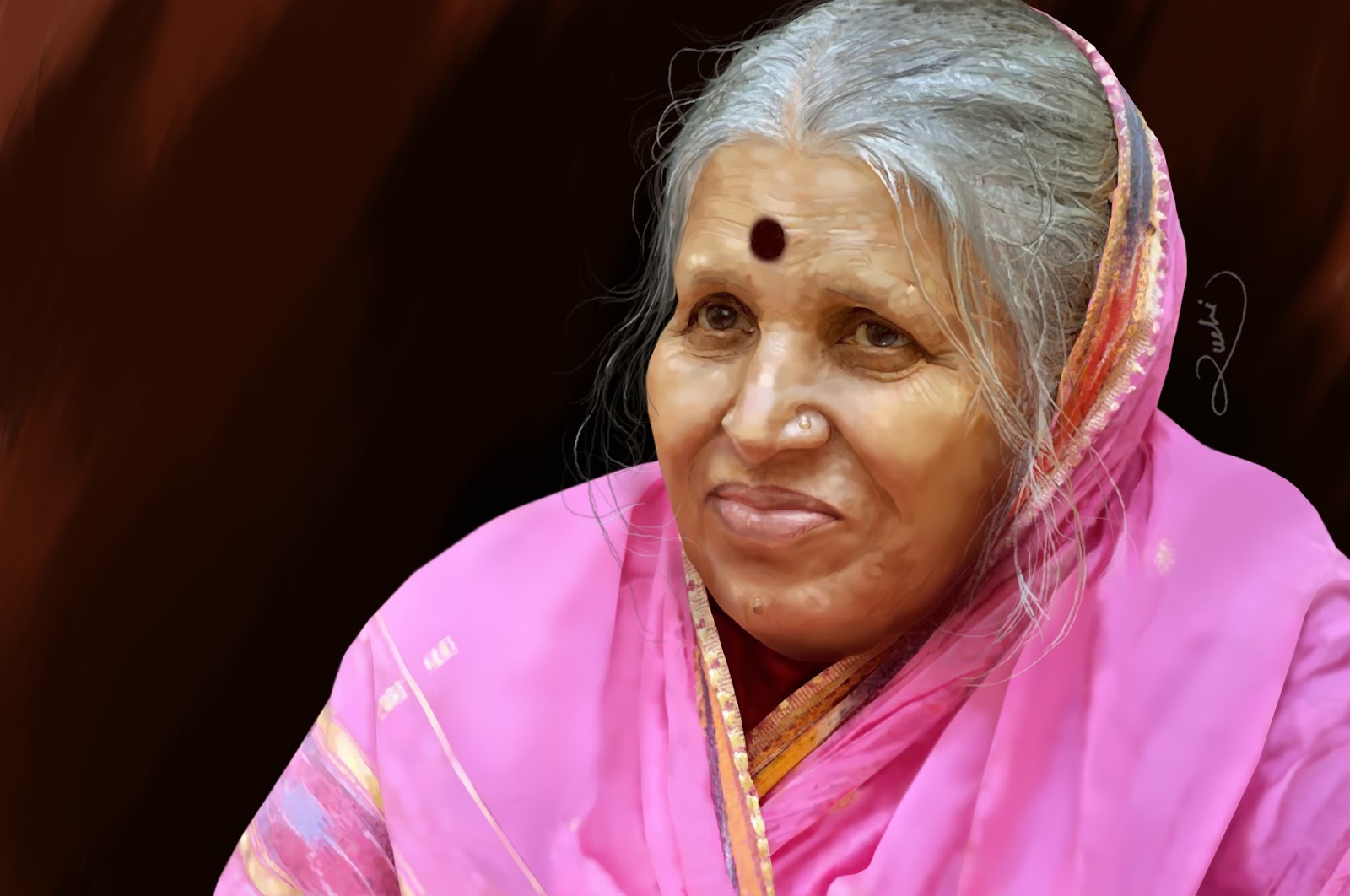 Sindhutai Sapkal's life started as being an unwanted child, followed by an abusive husband who abandoned her when she was nine months pregnant. She gave birth to a baby girl in a cow shed and started begging to feed her child. Since then she has adopted every orphan child that she came across. Now, she is fondly called "Mother of Orphans" and runs six organizations for them. Read her amazing and inspiring story of courage and how she emerged as the "mother" of over 1400 orphans.
Sindhutai Sapkal's life started as being an unwanted child, followed by an abusive husband who abandoned her when she was nine months pregnant. The circumstances she has faced could force anyone to lose courage and succumb to the adverse situations. But Sindhutai emerged stronger with every difficulty she faced and became a 'mother' to over 1400 homeless children when she herself was in a hand-to-mouth situation! Read more to know about this unique persona. 
Sindhutai Sapkal is much more than just a name. The 68-year-old lady hides many stories behind her strong personality. Full of energy and passion, Sindhutai is commonly referred to as "Mother of Orphans" and as she talks about her life and her children you can see the pain, the troubles and the miseries she has faced and overcome with her hard work during her life time. But, from all the emotions you see on her face, an unusual sense of confidence, which she has derived over the years through her experience, is something you get inspired from.
"I am there for all those who have no one," she says with a lot of affection. You can see flashes of her life as she talks about her journey and how she became the "mother". Being an unwanted child, she was nicknamed "Chindhi" which means a torn piece of cloth.
Though her father supported her and was keen on educating her, she could not continue her studies after fourth grade due to family responsibilities and early marriage.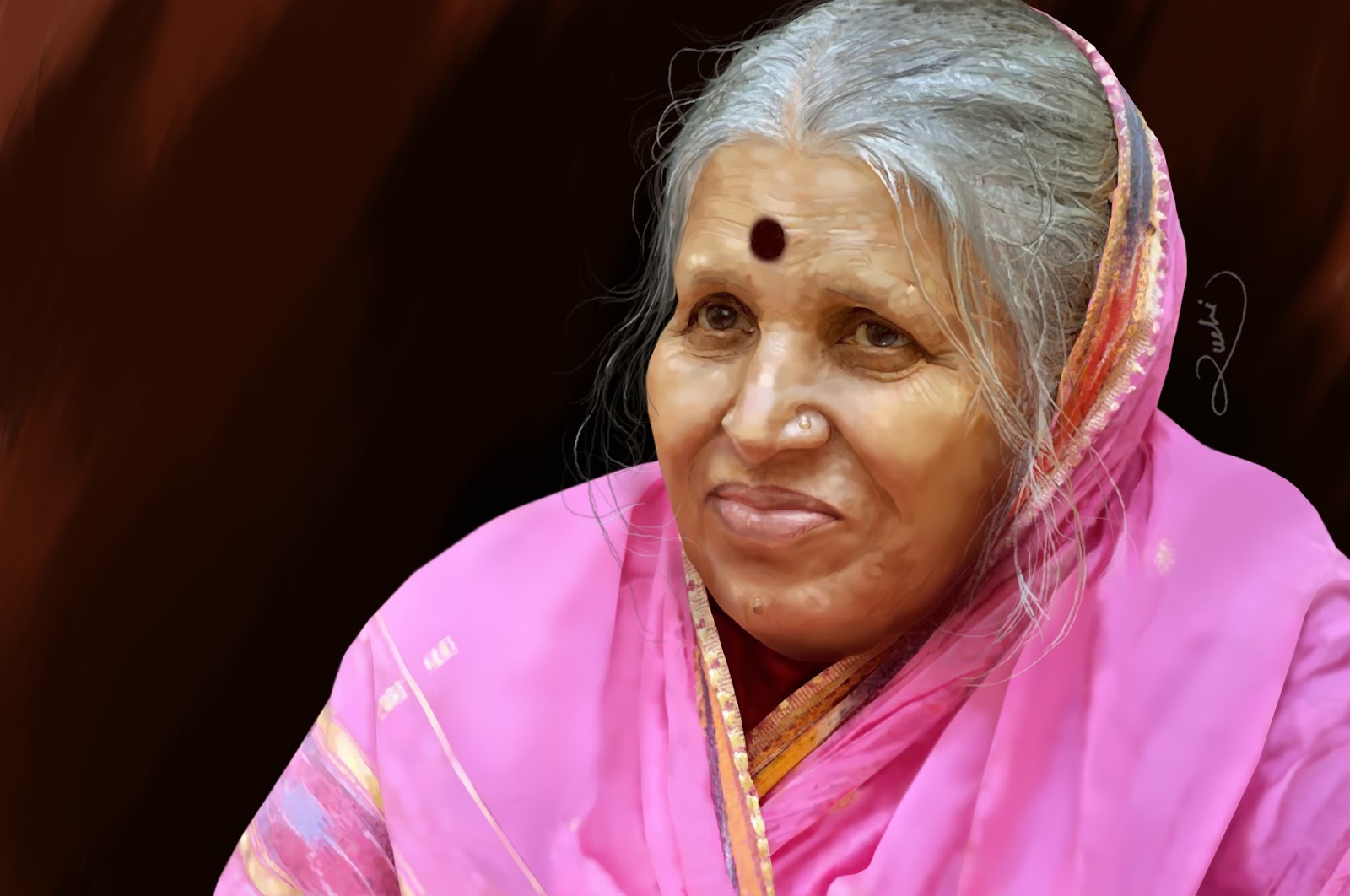 Born on born on 14 November, 1948 at Pimpri Meghe village in Wardha district of Maharashtra, she was keen on completing her education and used Bharadi tree leaves to write as the family could not afford a slate. Her early marriage put an end to her desire to study.
"I was told there are only two processions in a woman's life; once when she gets married and the other when she dies. Imagine my state of mind when they took me in a procession to my husband's home in Navargaon forest in Wardha," she says.
She got married at a tender age of 10 to a 30-year old man. Her abusive husband beat her up and threw her out of the house when she was 20 and nine-months pregnant. She gave birth to a baby girl in a cow shelter outside their house the same day and walked a few kilometres in that condition to her mother's place, who refused to give shelter to her.
"I cut the umbilical cord with a sharp-edged stone lying nearby," she recalls. The incident deeply affected her and she thought of committing suicide, but gave up that thought and started begging at railway platforms for food to look after her daughter.
As she spent more time begging, she realized that there are many orphans and children abandoned by their parents. Having faced the difficulties herself, she could feel their pain and she decided to adopt them. She started begging more earnestly in order to feed the many children that she had adopted. Gradually she decided to adopt every child who came across as an orphan and, over a period of time, she emerged as the "mother of orphans".
Till date she has adopted and nurtured over 1,400 orphans, helped them get an education, got them married and supported them to settle down in life. She is fondly referred to as "mai" (mother). The children are not given up for adoption. She treats them as her own and some of them are now lawyers, doctors and engineers.
"When I was out myself on the streets begging for food and fighting for survival each day, I realized that there are so many orphans who have nobody to go to. I decided to take care of them and raise them as my own," Sindhutai says.
To eliminate the feeling of partiality among children she gave away her biological daughter to Shrimant Dagdu Sheth Halwai, Pune. Her daughter herself runs an orphanage today.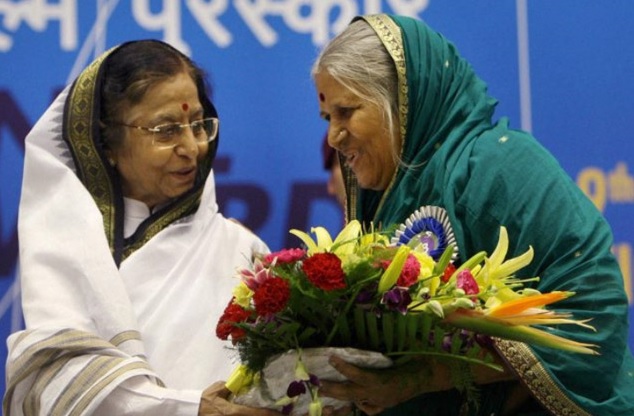 Sindhutai with her love and compassion has gathered a huge family of 207 sons-in-law, 36 daughters-in-law and over 1000 grandchildren. Till date she continues to fight for the next meal. She does not take support from anyone but still gives speeches to earn her daily bread and butter. 
"By God's grace I had good communication skills. I could go and talk to people and influence them. Hunger made me speak and this became my source of income. I give many speeches at various places and this gets me some money which I use to take care of my children," she says.
Many years after being abandoned by her husband, he came back to her and apologized for his harsh deeds. Having devoted all her life to the orphans, she forgave him and accepted him as her child, as she could only harbour motherly love for all. She affectionately introduces her 80-year old husband as the eldest child.
For her immense courage and compassion she has received over 500 awards. Whatever amount she received as awards, she used it to construct homes for her children. The construction is still going on and she is constantly looking for more help across the globe to give shape to her dreams.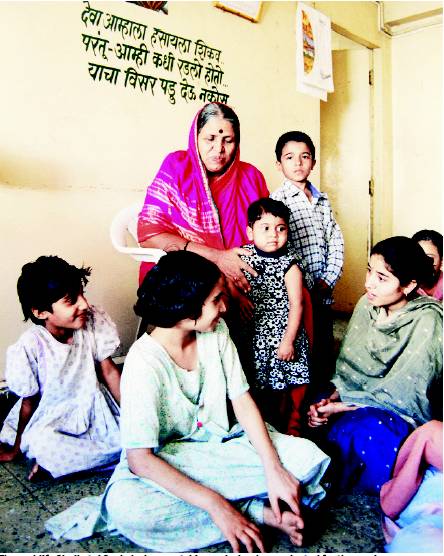 She has six organizations operating under her name which work for various needs of orphans. "I had no one with me, everyone abandoned me. I knew the pain of being alone and unwanted. I didn't want anyone to go through the same. And I feel immense pride and pleasure to see some of my children doing so well in their lives. One of my children made a documentary on my life," she says.
Her life's story inspired many and a Marathi film called "Mee Sindhutai Sapkal" was made on her which won a national award. "I approached the Maharashtra government several times for help but I never received it. I used to beg earlier to fulfill the needs of my children and I will continue to do so," she says.
The unusual life of Sindhutai is an inspiration for all of us. Even after facing so many hardships, she stood tall and made her way into everyone's heart. She proved that if you are dedicated, nothing can stop you from changing the lives of thousands of people around you. We salute this brave lady and hope that the country gives birth to many such strong daughters and mothers.
Know more about Sindhutai and her work through her website.
Watch her story in her own words-
Like this story? Or have something to share? Write to us: contact@thebetterindia.com, or connect with us on Facebook and Twitter (@thebetterindia)
We bring stories straight from the heart of India, to inspire millions and create a wave of impact. Our positive movement is growing bigger everyday, and we would love for you to join it.
Please contribute whatever you can, every little penny helps our team in bringing you more stories that support dreams and spread hope.