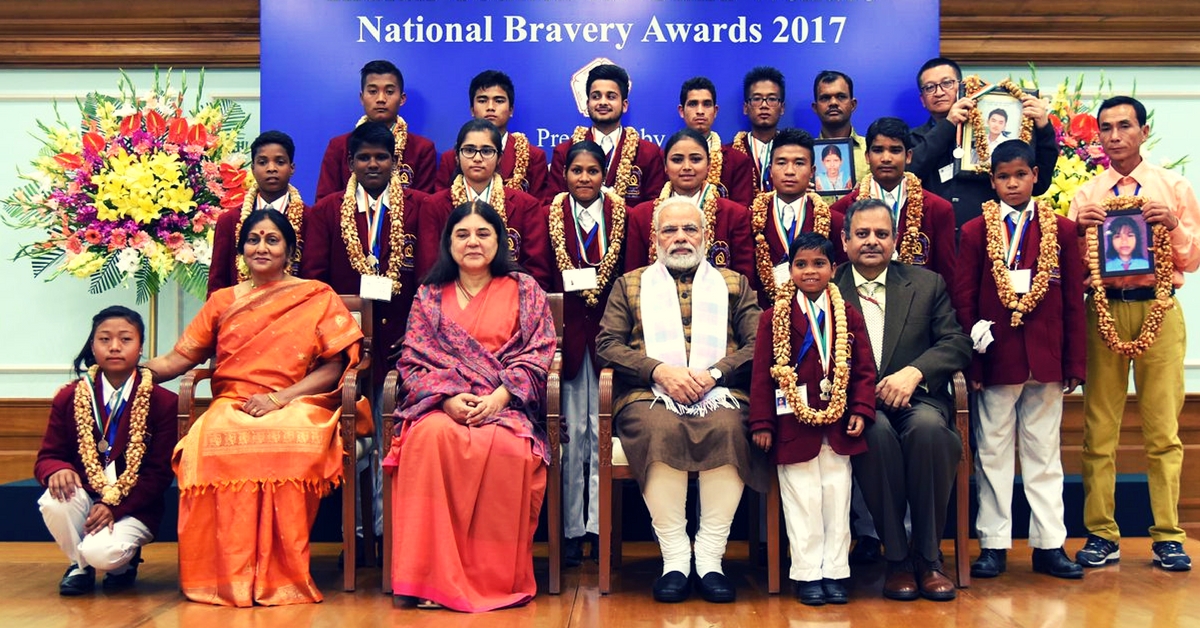 These 18 children, including seven girls and 11 boys aged between 6 to 18, have been honoured for their display of courage with the National Bravery Award by Prime Minister Narendra Modi on January 24, 2018.
From three kids who foiled a father's attempt at killing his children to a six-year-old from Odisha who grappled with a five-foot crocodile to save her older sister, India witnessed exemplary stories of brave kids the past year.
And now these bravehearts are getting the credit that was due to them.
These 18 children, including seven girls and 11 boys aged between 6 to 18, have been honoured for their display of courage with the National Bravery Award by Prime Minister Narendra Modi on January 24, 2018.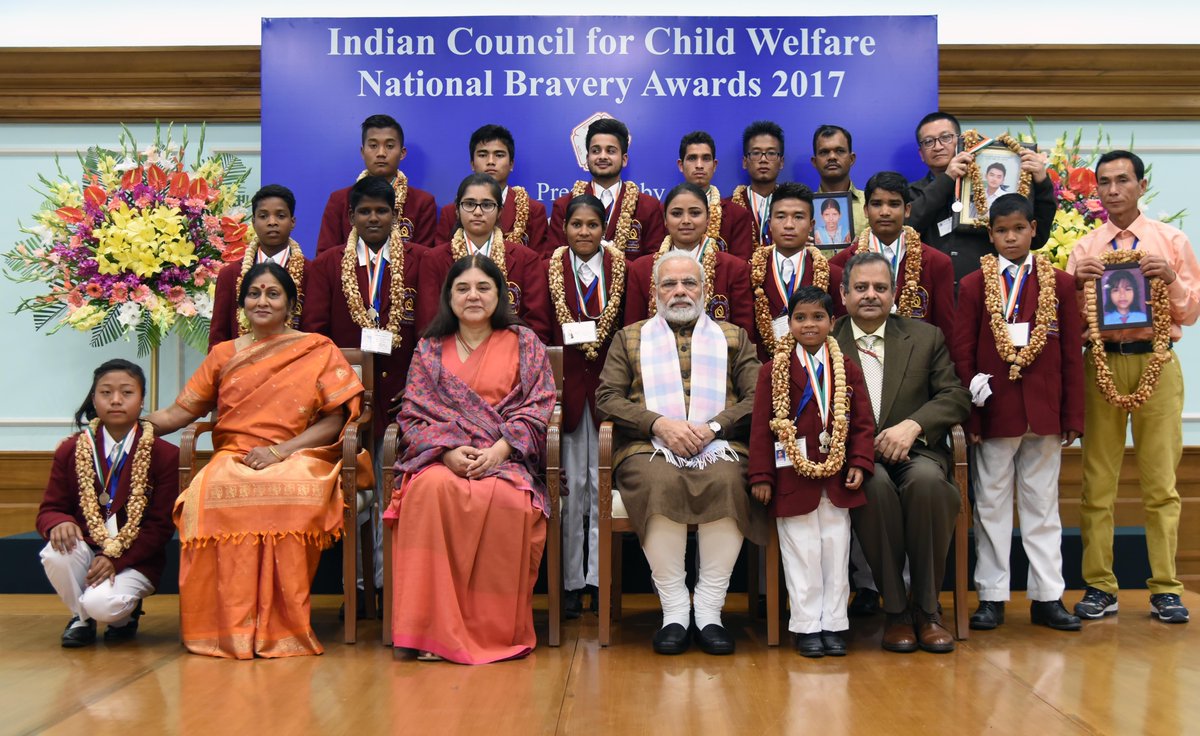 President Ramnath Kovind will host a reception for the awardees who will also participate in the Republic Day parade on January 26.
Here are the stories of these bravehearts:
Karanbeer Singh: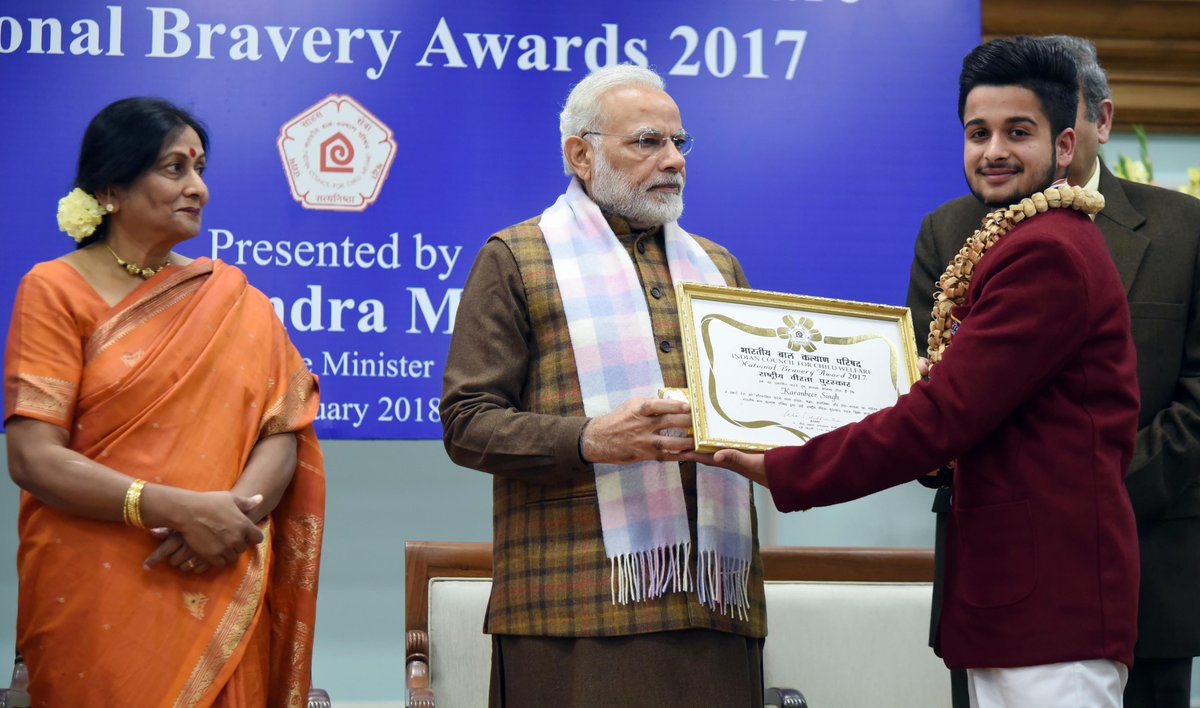 16-year-old Karanbeer Singh was one among the 18 children in a Neshta's DAV Public School van that fell into a drain from a bridge at Muhawa village. The accident killed seven children on September 20, 2016.
Despite warning the driver to not over speed on the narrow bridge since it had no railings, Karanbeer's request was not paid any heed. Sadly the van toppled over into the drain. The doors were jammed, and there was no escape. Water started filling inside the bus and most children in a state of terror were finding it difficult to breathe. Acting in the nick of time, Karnabeer smashed the glass window, and despite being neck-deep in the water himself managed to rescue 15 students. He sustained a deep cut on his forehead and under his eye. But his bravery helped rush injured children to hospital in time, saving lives. The Amritsar boy has been conferred the Sanjay Chopra award. Now a commerce student, he aspires to become a police commissioner.
Netravati Chavan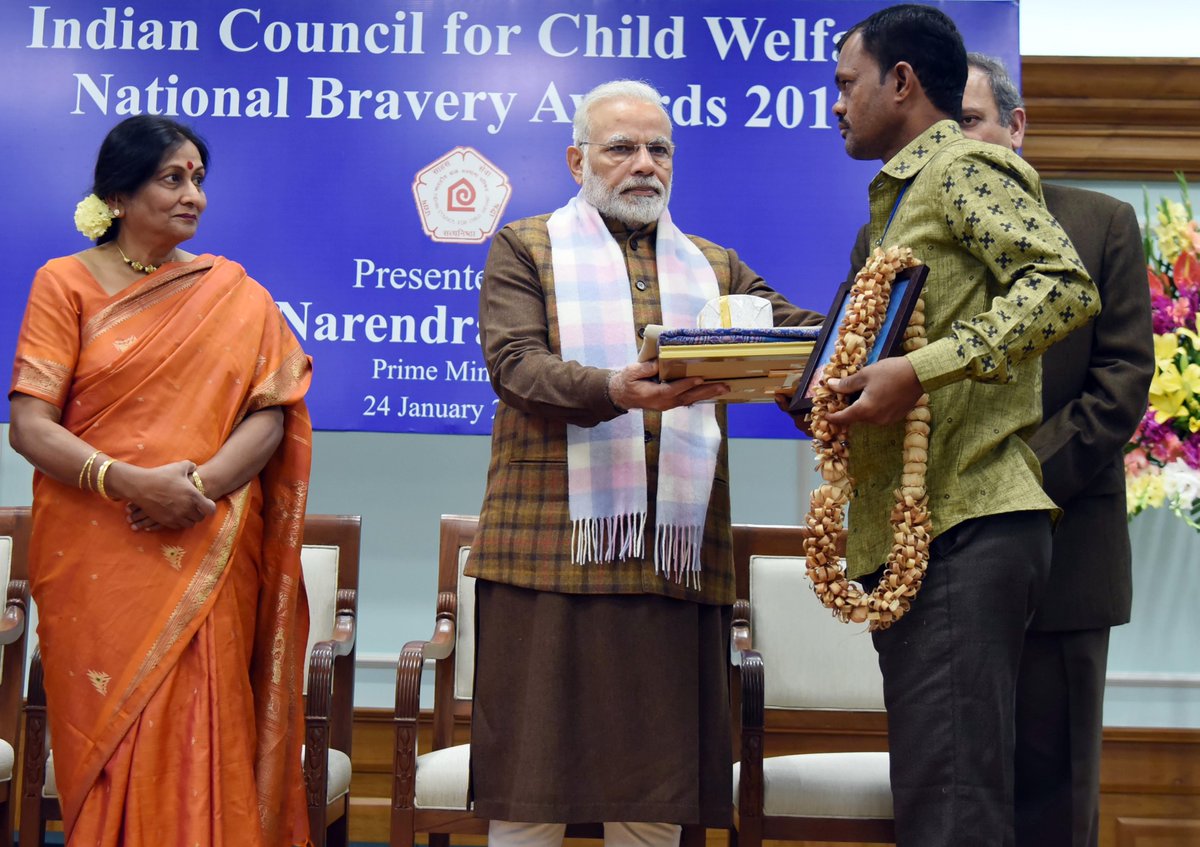 It was a usual day when 14-year-old Netravati sat by a stone quarry washing clothes in a pond in Karnataka. She also noticed two boys enter the 30-foot-deep pond which was full due to the monsoons. When she looked closer, she realised neither of them could swim and were drowning. Netravati dived straight into the pond to save the boys without thinking about her own life. While she managed to rescue 16-year-old Muthu (16) and returned to save the younger 10-year-old Ganesh, the boy in fear held onto her neck too tight, choking her in the process. Sadly, neither Netravati or Ganesh could make it. The braveheart has been posthumously awarded the Geeta Chopra National Bravery Award.
Nazia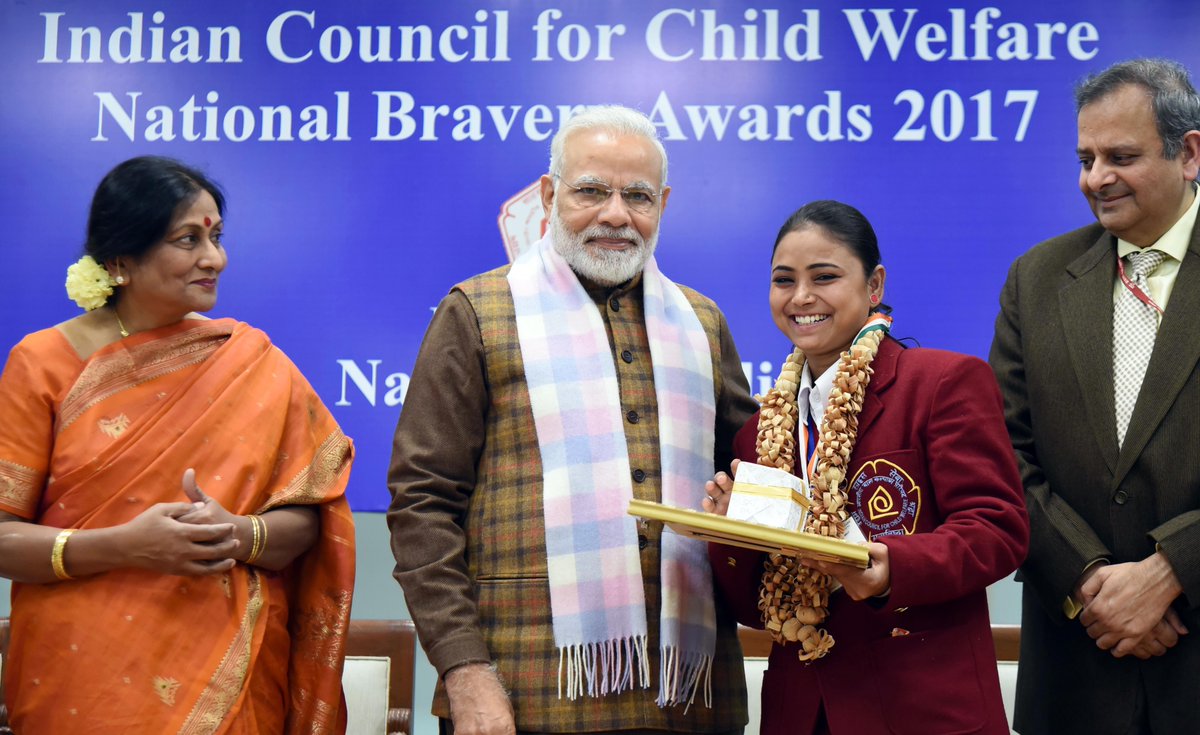 Nazia might only be 18, but her determination and courage are well beyond her years. The 18-year-old hailing from Uttar Pradesh helped local police crackdown on an illegal business of gambling and betting, by collecting evidence and put the miscreants behind bars. Despite, multiple threats to her life and attempts of kidnapping, Nazia has stood firm and continues to fight against her perpetrators. She and her family were even physically assaulted. She found it difficult even to leave home or go to school. Nazia tweeted to the Chief Minister for help after which action was initiated against the miscreants to ensure Nazia'/s safety. Nazia was conferred the coveted Bharat Award.
Mamata Dalai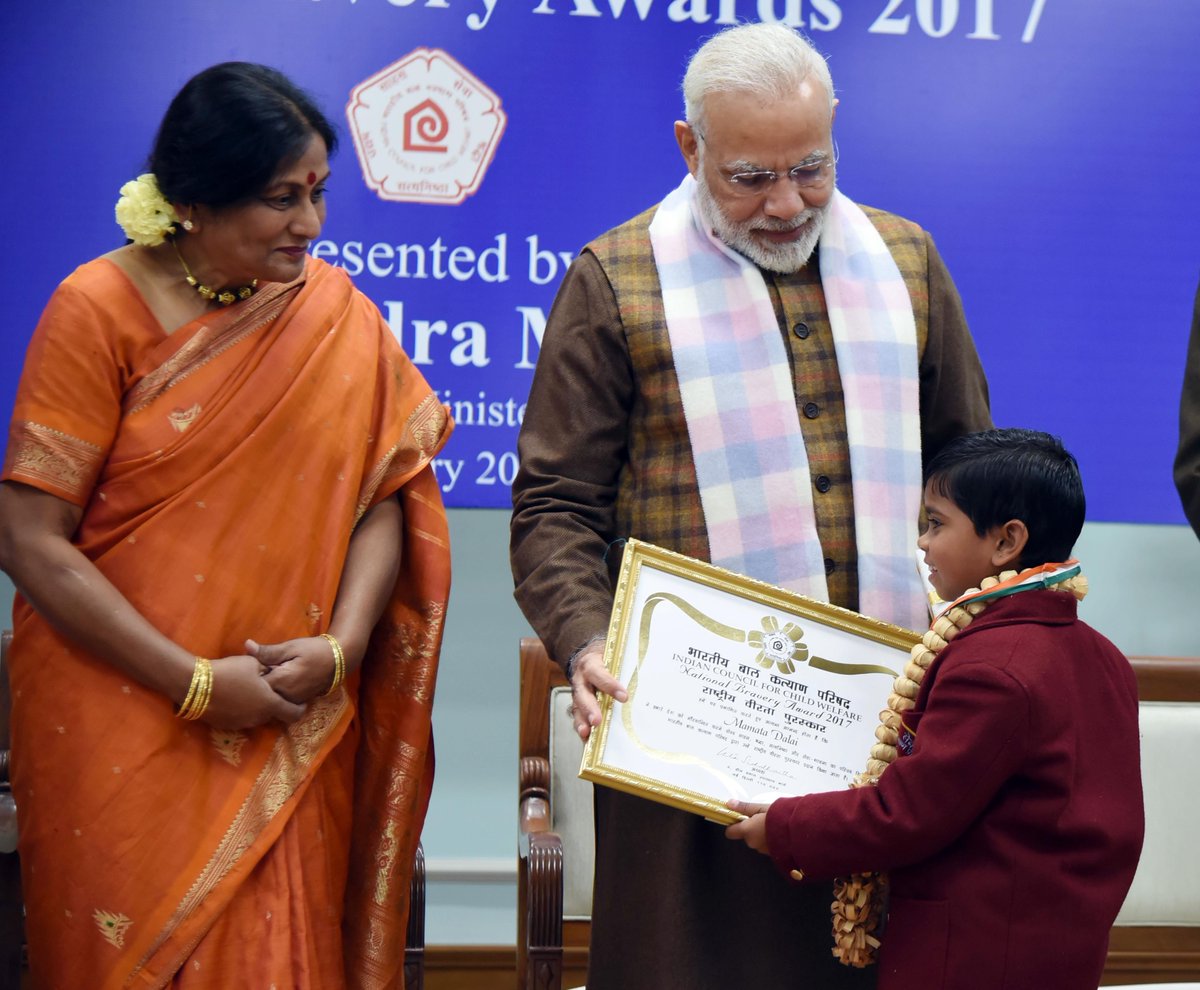 On 6th April 2017, 6-year-old Mamta Dalai from the Kendara district of Odisha had gone with her older sister, 7-year-old Asanti, to bathe in a pond. It was at the time, a 5-foot crocodile emerged out of the pond suddenly and attacked Asanti. The crocodile clamped on Asanti's hand with a vice grip and tried to drag her into the pond. Mamata Dalai fearlessly grabbed her sister's left hand and pulled her out fighting the crocodile. She struggled at first, but her loud scream and strength, made the reptile lose its grip on Asanti and slip back into the water. Asanti sustained a few injuries, but her life was spared. The Bhitarkarnika National park officials caught hold of the strayed crocodile and released it into the river.
The 6-year-old is the youngest awardee of the lot and has been conferred the Bapu Gaidhani award.
Lalchhandama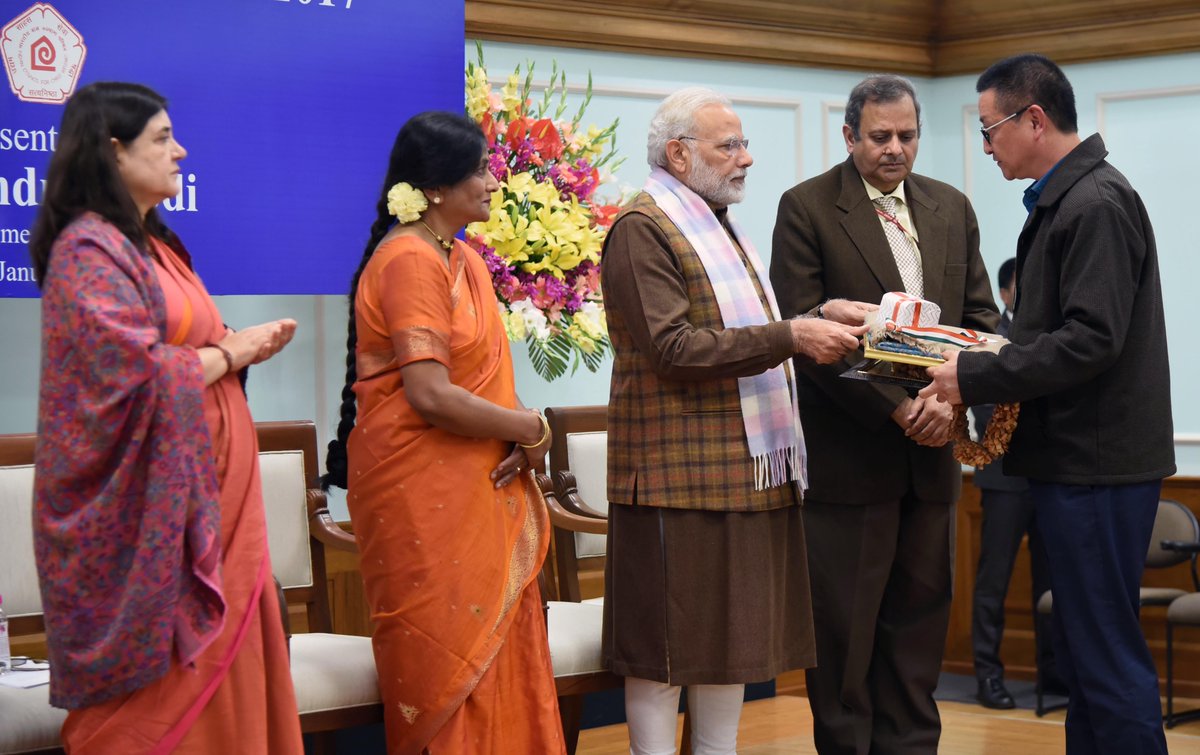 On 7th May 2017, 17-year-old Lalchhandama alongwith his friends went to river Tlawng, the longest river in Mizoram to swim. After enjoying their swim, when they were returning, one of his friends C Lalremkima, slipped on a rock, lost his balance and fell into the river. In a state of panic, he failed to stay afloat and started drowning. It was at the time, Lalchhandama and his other friend Lamuansanga jumped to Lalremkima's rescue. But the drowning boy in a state of panic gripped Lamuansanga's neck almost choking him, but Lalchhandama rescued Lamuansanga, getting him to the shore. He decided to swim back and rescue Lalremkima, but the drowning boy held onto his neck too tight and unfortunately both of them lost their lives.
He was awaiting his board results when the unfortunate tragedy struck.
"But in his short lifespan, my son did what the family had taught him. My message to other children is this: try to do your best, don't worry about the consequences," his father, F Lalmasawma, told the Times of India.
Loukrakpam Rajeshwori Chanu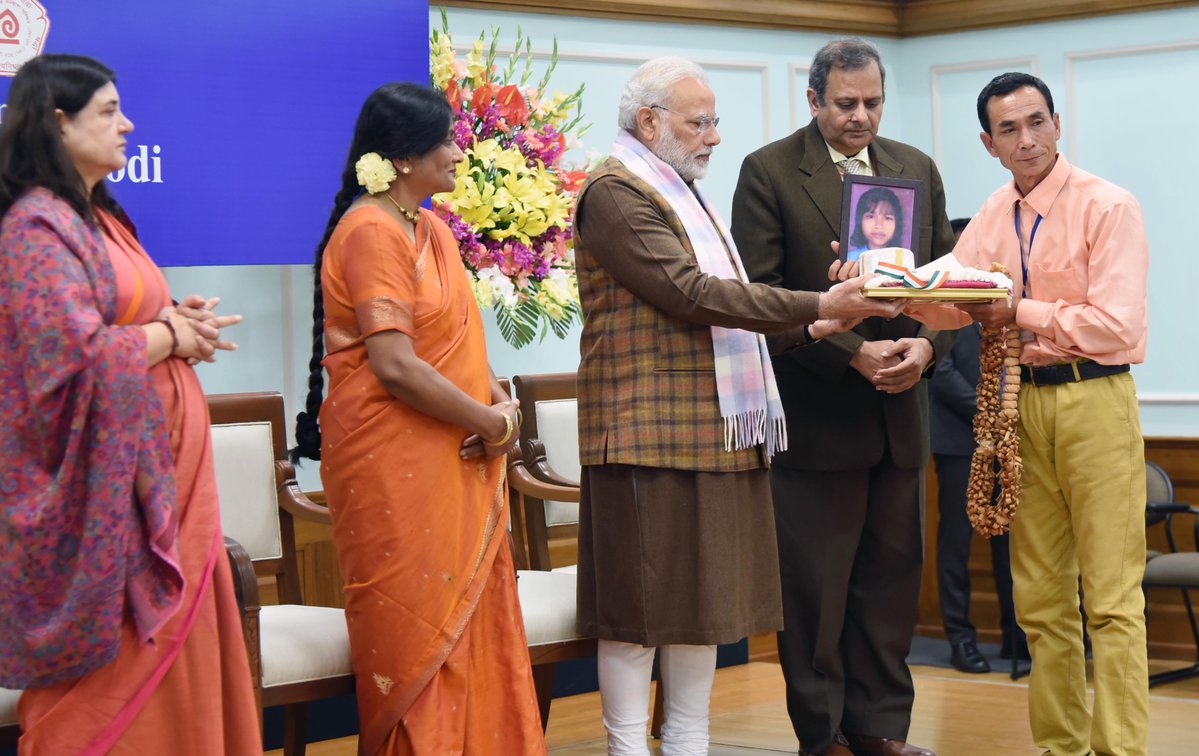 This girl from Mizoram was killed while saving a woman and her child who fell from a dilapidated bridge into the Imphal river. Ongbi Kebisana was crossing the river with her 3-year-old Inunganbi when the little girl stumbled and fell through a hole in the bridge into the river. Ongbi in an attempt to save her daughter jumped into the river without knowing swimming. The duo started drowning when Rajeshwori heard their cries for help and jumped into the 30-feet deep river. Though she managed to push the mother and child to the shore, she herself couldn't fight the strong current and was washed away. Her death rattled her villagers enough to burn the Arung bridge down. Till date, the government hasn't built another one.
Rajeshwori Chanu's father Laukrokpamraj received her posthumous award.
Betshwajohn Peinlang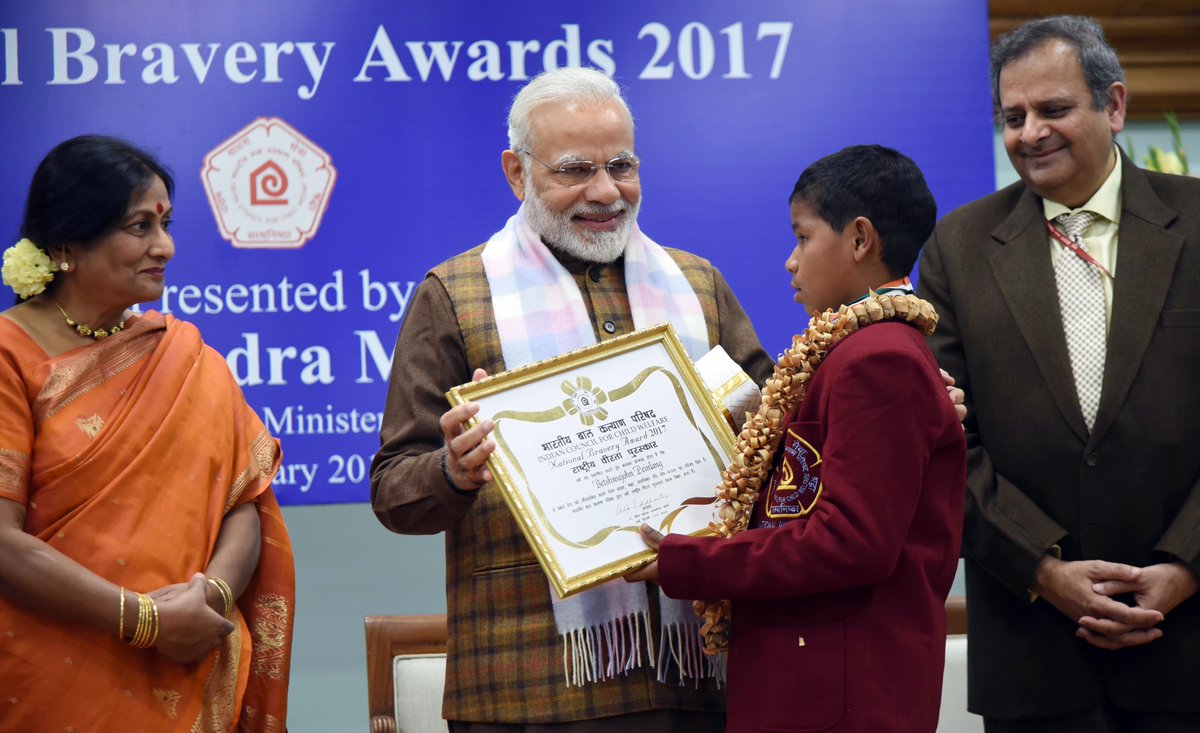 This 14-year-old boy from a remote village in West Khasi Hills of Meghalaya showed exemplary courage when he saved the life of his three-year-old sibling from a house fire. As their mother was away washing clothes in a nearby stream, both brothers started cooking.
A fire broke out. Even though the boys escaped from the house, Peinlang's three-year-old brother went back in. The whole of their house was already aflame. Fearing for his sibling's life, Betshwajohn wasted no time and plunged into the burning house and saved his brother. He took the 3-year-old to a nearby cattle shed till the neighbours arrived for help.
Though his sibling was lucky to have gotten away with a few burns, Betshwajohn was majorly wounded on his right hand and face, and his fingers were disfigured.
---
Read more: Acts of Valour: Stories of the 25 Young Lionhearts Who Won the National Bravery Awards
---
Sebastian Vincent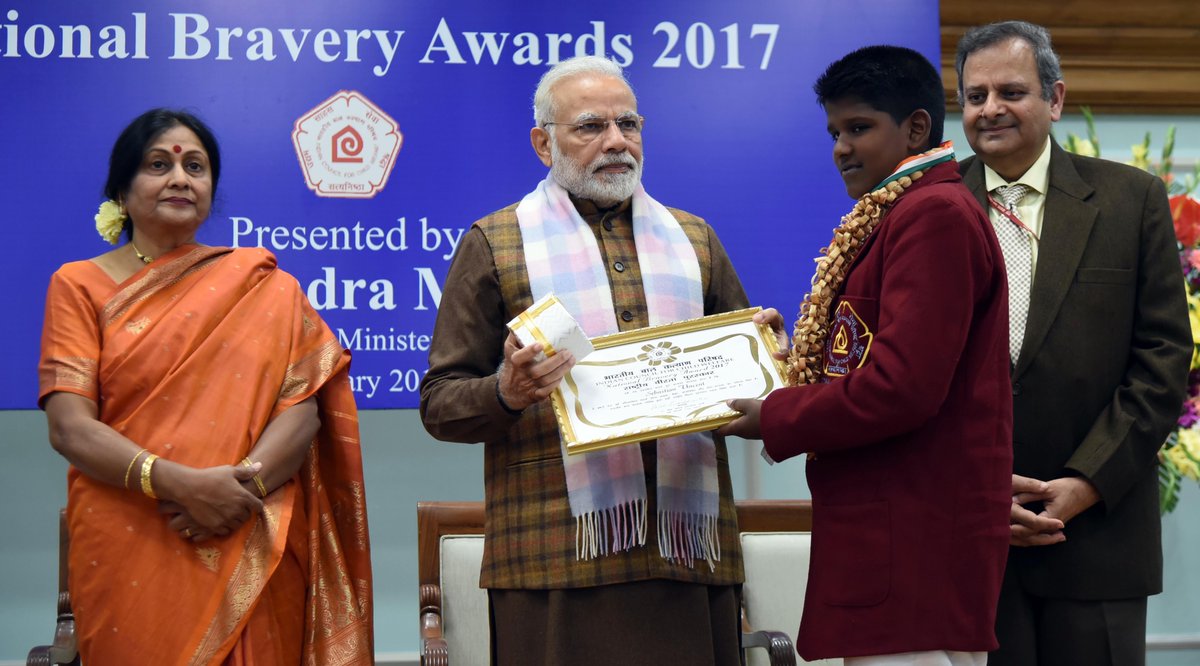 On 19th July 2016, Sebastian was travelling with his friend Abhijith to school, each on their bicycles. While they were crossing the railway track, Abhijeet fell with his bag and cycle on him on the track. He struggled to get up, as a train roared closer. Sebastian yelled at Abhishek to move, but the weight of the bicycle bogged him down.
The Kerala boy kicked the bicycle off Abhijith and tried pulling him up. Even though he stood, he fell right back. In a quick action, Sebastian kicked Abhijith as hard as he could and moved him off the track. After that the 13-year-old somersaulted off the track, escaping the tragedy with only a fractured right hand. He was conferred the Bapu Gaidhani Award.
Samridhi Sharma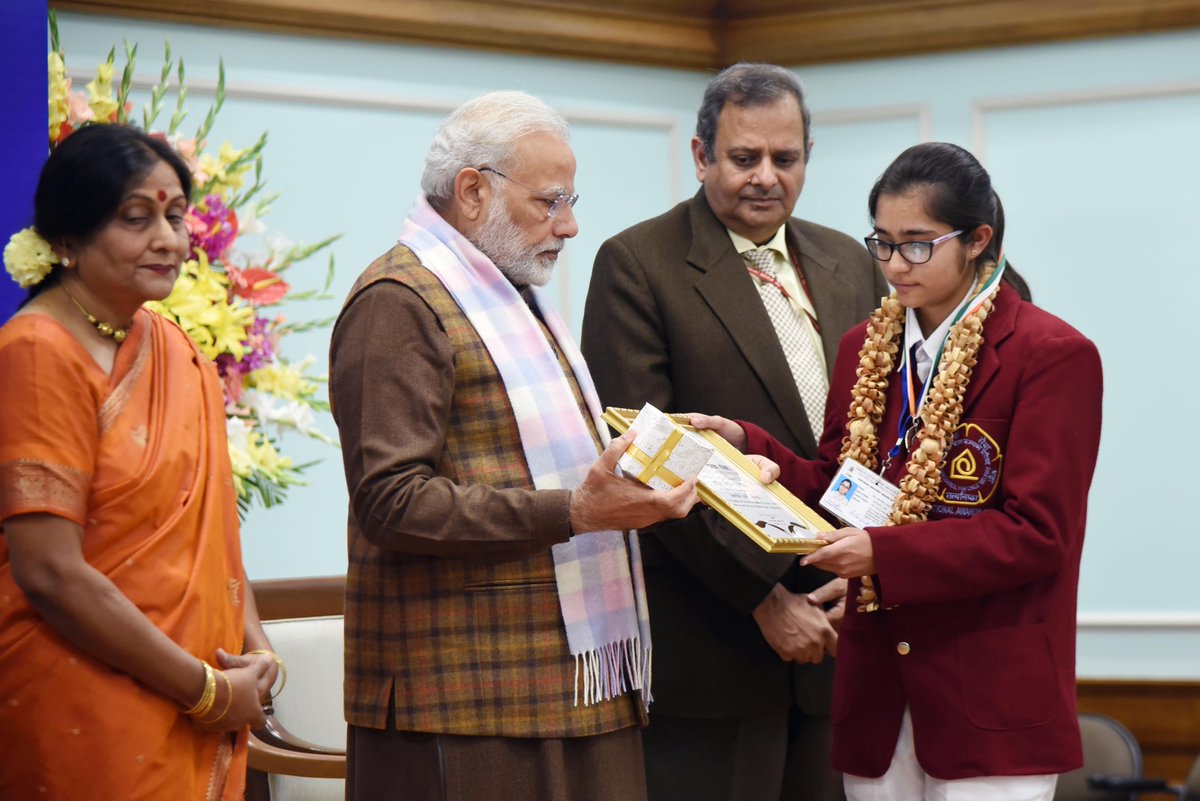 On 1st July 2016, 16-year-old Samridhi Sharma from Gujarat showed exemplary courage when a miscreant entered her house and attacked her. She successfully managed to not only chase the attacker, but despite sustaining knife injuries, (a cut on the vein of her hand), and bleeding profusely, she caught hold of the knife and handed it over to the police. She has had two surgeries until now and aspires to become a doctor when she grows up.
Laxmi Yadav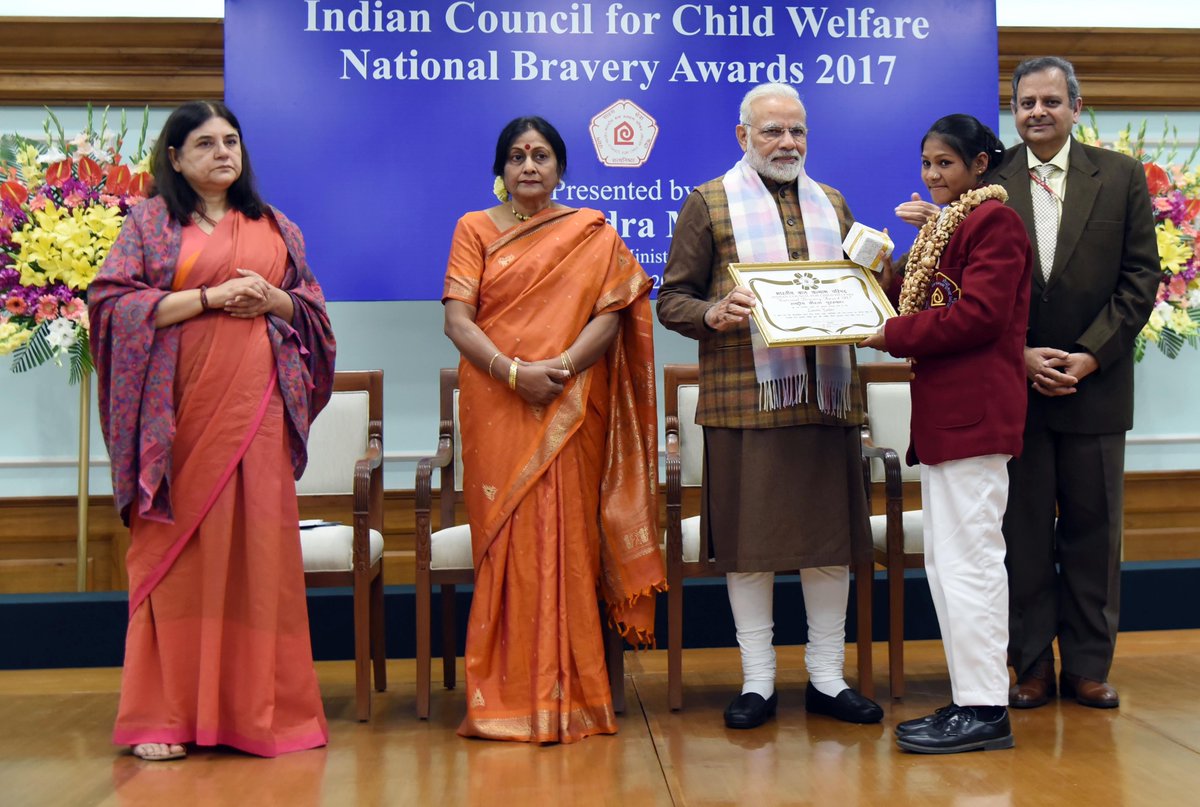 The 16-year-old from Raipur in Chattisgarh was in the middle of a conversation with her friend on 2nd August 2016, with their bike parked near Ganesh Nagar Marg. Suddenly three bikers ambushed them. They dragged Laxmi with them forcefully to an isolated location with the intention of raping her. But the brave girl managed to catch hold of their bike key and threw it away. When the miscreants got distracted, she pushed them and ran. She went to the nearest police station and filed an FIR. The cops arrested the trio and found one of them to be a repeat offender.
Laxmi aspires to become a police officer to ensure women can be out and about safely in her country.
Chingai Wangsa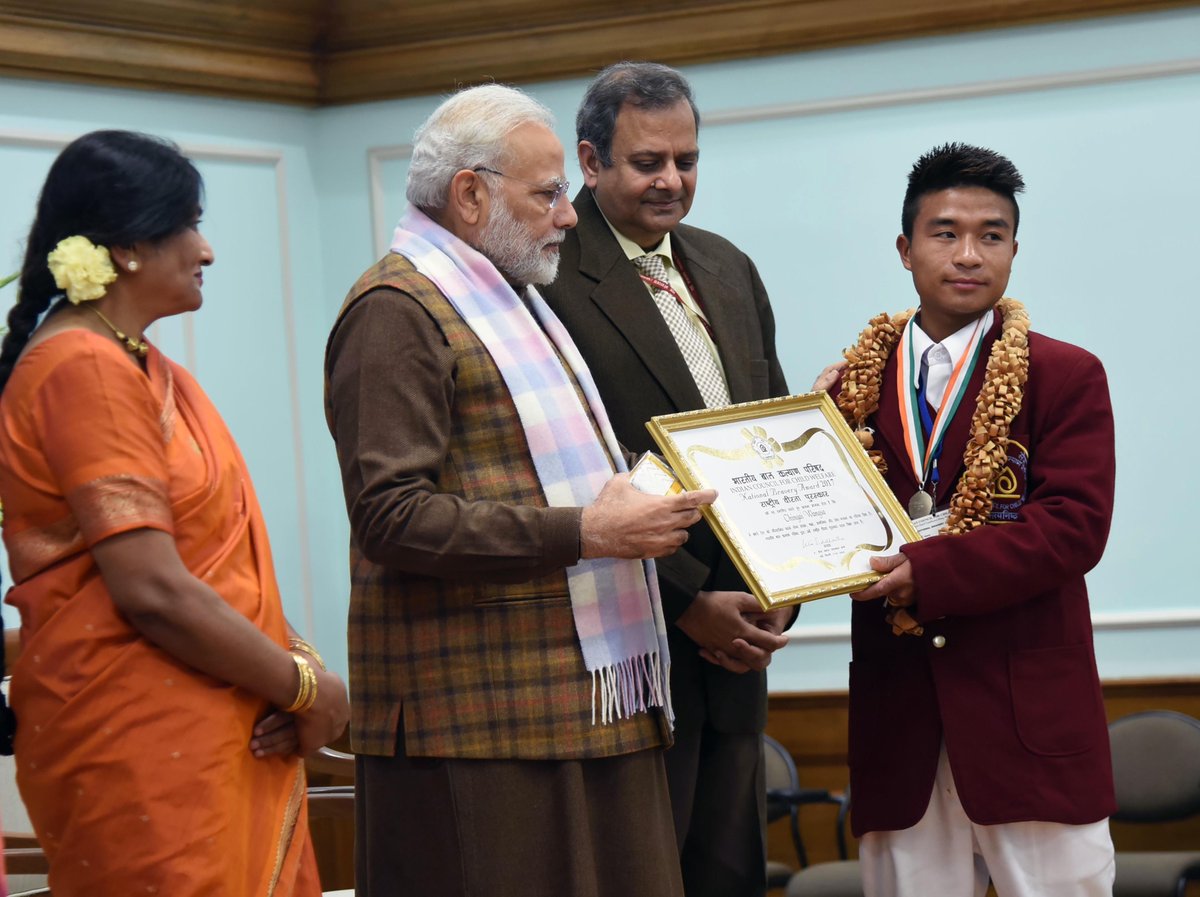 On 4th September 2016, when most of the villagers were in church, a house caught fire in Mokokchung district. A 74-year-old man was sleeping inside the house unaware that the kitchen was up in flames due to two LPG cylinders bursting. It was at the time 17-year-old Chingai Wangsa noticed it and from Nagaland saved a senior man from a fire.
Despite repeatedly banging the door, the man did not wake up as he was hard of hearing. Chingai rushed into the burning house, went through the kitchen which had now transformed into a furnace and rescued the man. He even dared to go back and rescue the man's livestock tied in the backyard. The entire house was charred and destroyed.
Zonuntluanga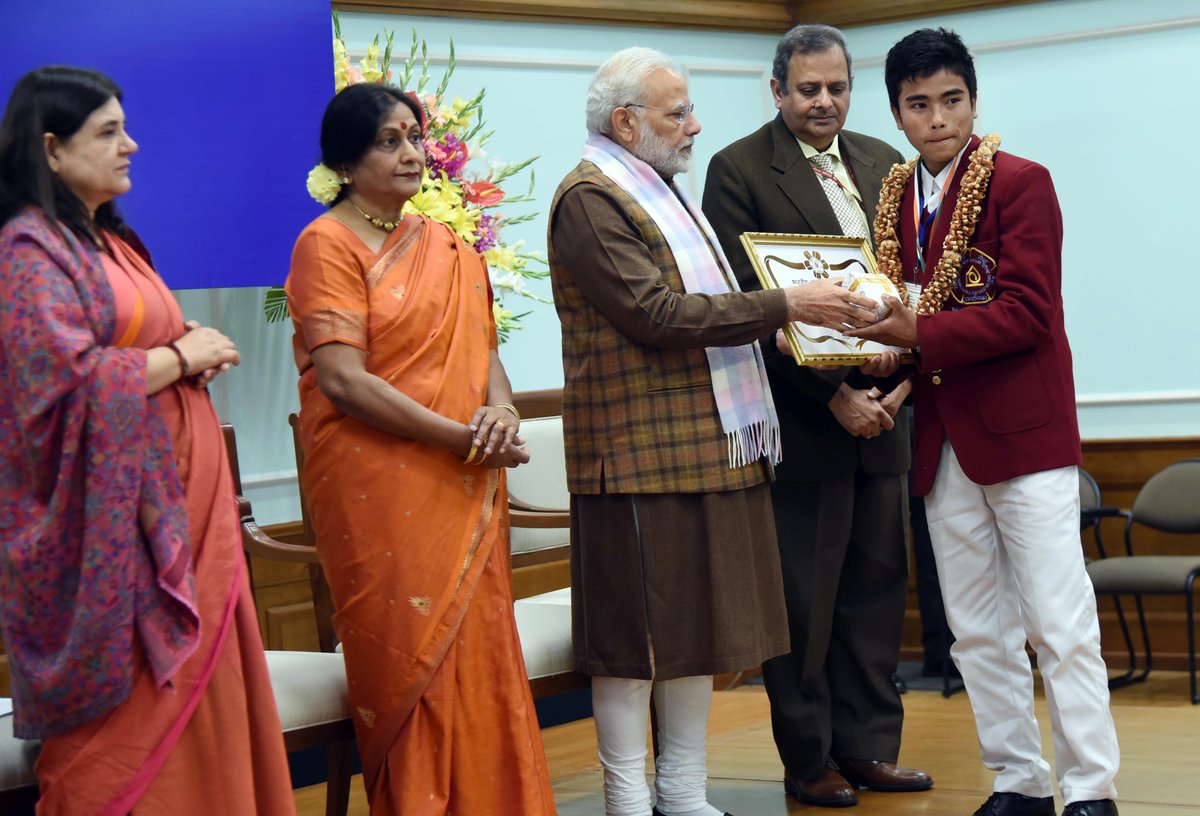 The 16-year-old is a resident of Sialhau Village in central Mizoram's Serchhip district. He saved his own father from a wild bear attack. The father-son duo ventured into the forest to collect vegetables when a wild bear attacked his father and severely wounded his face. Zonuntluanga, disturbed as he was by his father's painful screams, still rushed to his rescue and bravely fought with the wild bear. Despite any big weapons, the youngster successfully chased the bear away with his rudimentary weapons. He then took his father to his village where he was treated.
Pankaj Semwal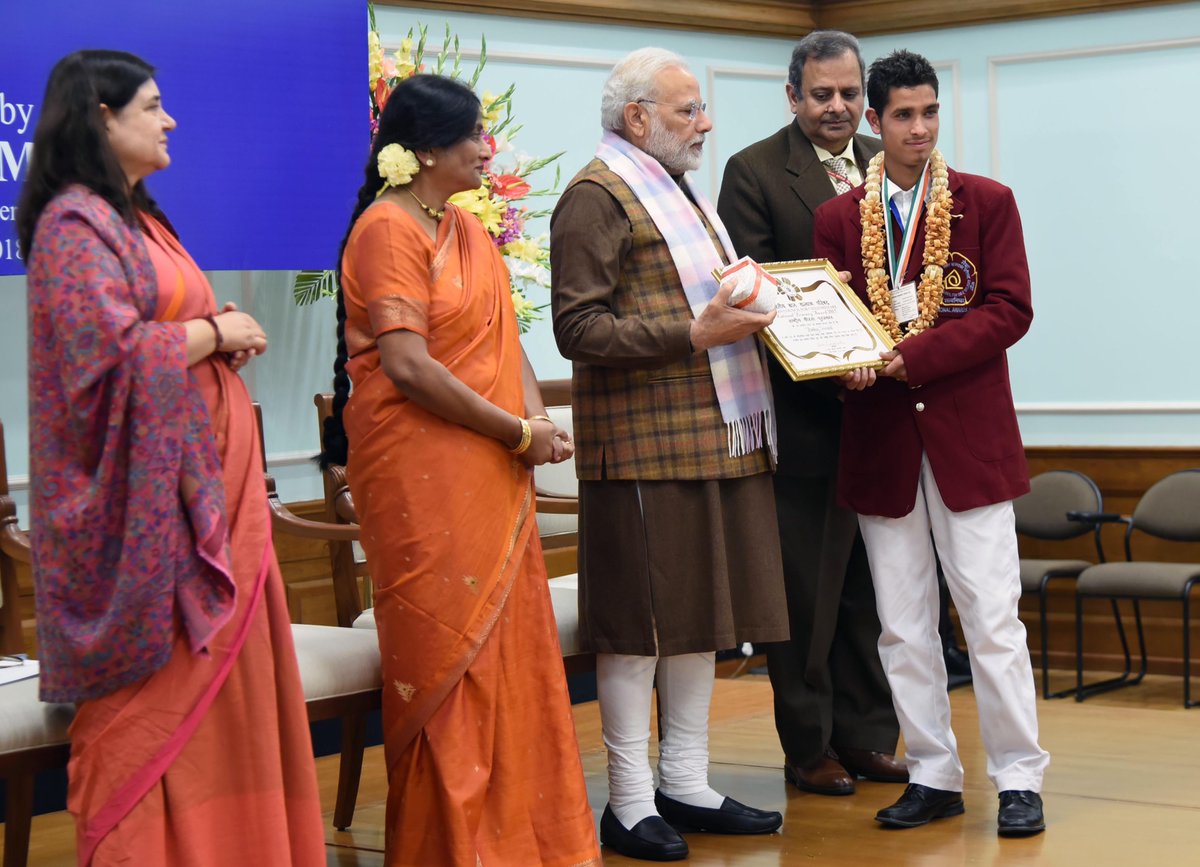 On 10th July 2016, 15-year-old, Pankaj Semwal from Nargaad village in the Dharmandal area of Tehri Garhwal district, along with his mother and siblings was sleeping on the verandah of the second floor of their house. Suddenly a leopard entered the verandah, climbing the staircase and attacking his mother. It tried to drag her through the staircase, but her screams woke Pankaj.
Fearlessly he caught hold of a stick and chased the leopard away. His mother, Vimla Devi was bleeding profusely and had to be rushed to the hospital. But she survived the attack.
Nadaf Ejaj Abdul Rauf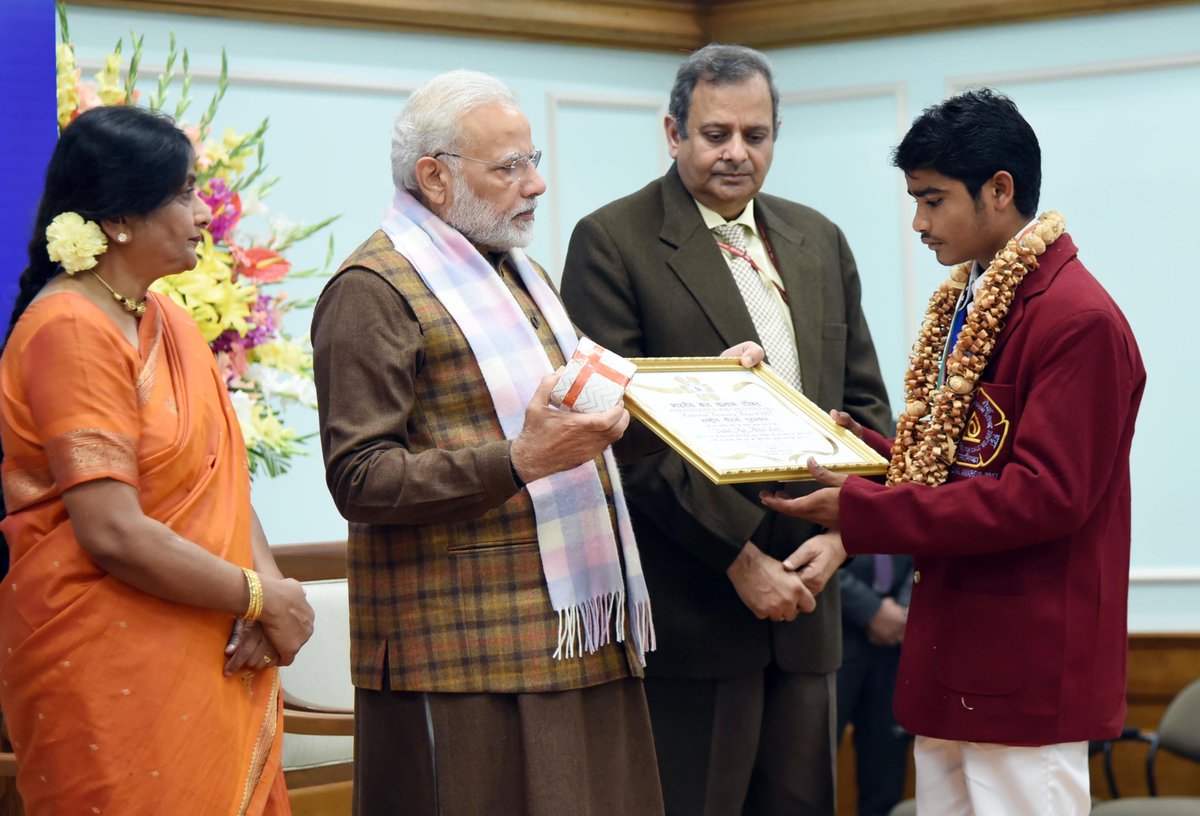 On 30th April 2017, 17-year-old Nadaf from Pardi village of Nanded district of Maharashtra saved two women from drowning, while risking his own life. When one of the girls from a group of four went to the reservoir and accidentally slipped into it, another friend went to rescue her, none of them knew swimming and started drowning, so the other two girls also jumped in to save them.
Unfortunately, they were unable to stay afloat. Nadaf alongside two other men jumped into the river to save them. But realising the girls were already in deep waters the other men backed out. But Nadef swam and rescued two of them. Unfortunately, he couldn't save the other two.
Pankaj Kumar Mahanta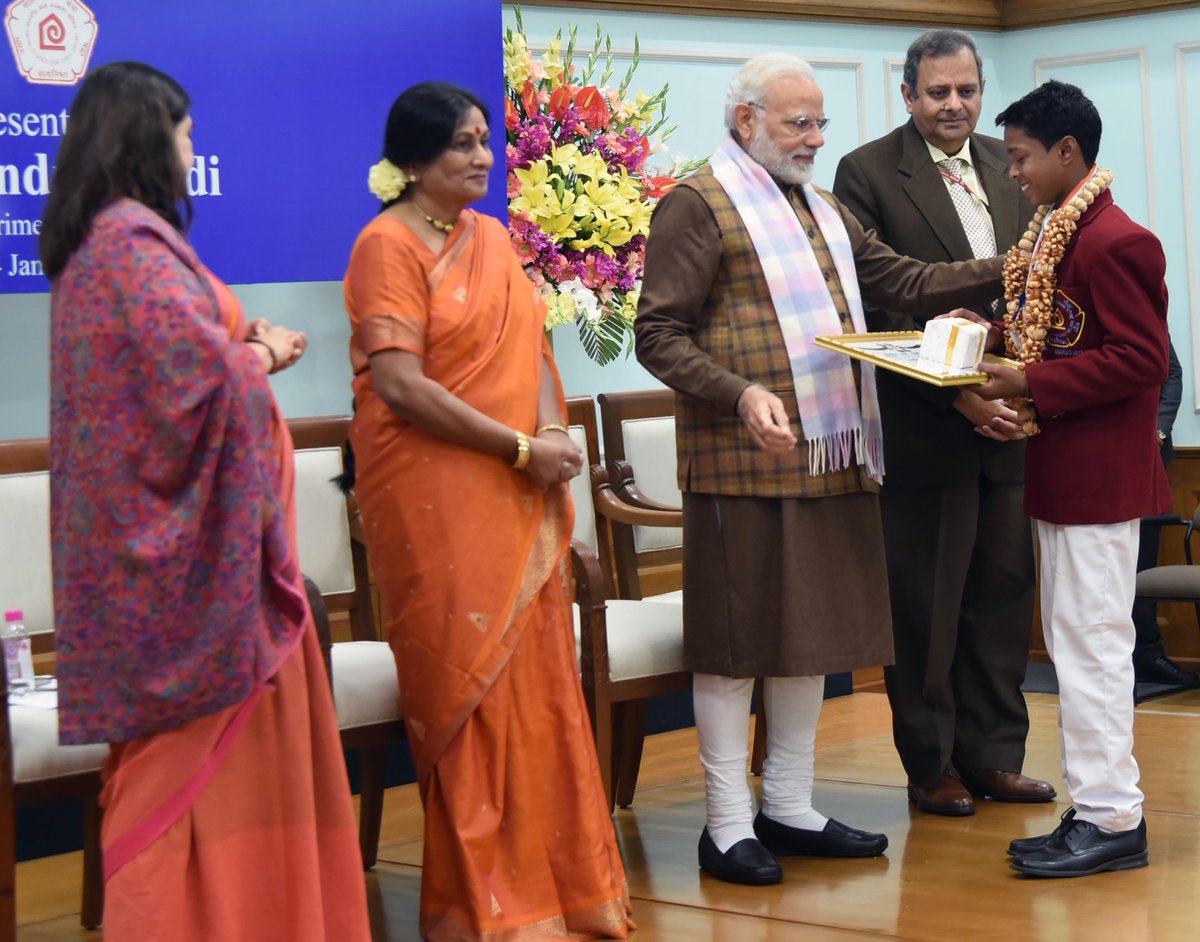 On May 22, 2017, 15-year-old Pankaj Kumar Mahanta from Keonjhar in Odisha displayed a strong presence of mind and dived in to save three women drowning in the Baitarani river.
The women had gone to bathe in the river like most other villagers, but one of them slipped. The other two tried to save her, but instead found themselves overwhelmed. Pankaj managed to save each of them, one-by-one, despite the large bodyweight difference.
Mansha N (13), N Shangpon Konyak (18) and Yoaknei (18).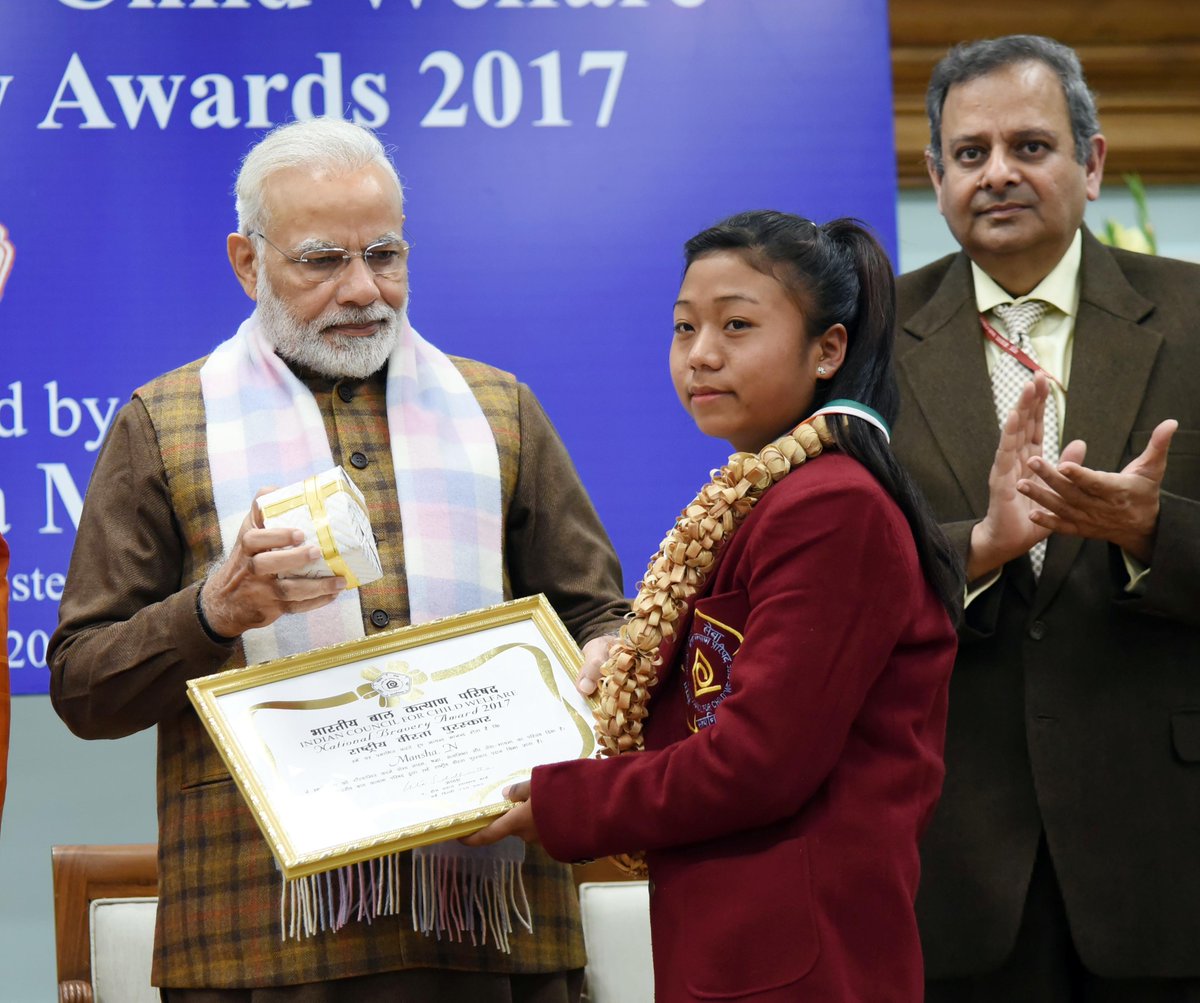 The three youngsters foiled Mansha's father's attempt at a cold-blood murder of her siblings. After her mother passed away, 13-year-old Mansha raised her siblings, including 3-year-old Meribeni and 6-year-old Chumben. On 7th August 2016, Mansha heard muffled cries of her sister and saw her father trying to strangle her to death. She pushed her father away and ran with her toddler.
It wasn't long until she heard the cries of her brother and saw her father trying to strangle him with a waist-belt. Mansha pushed him away, took hold of her brother and screamed for help.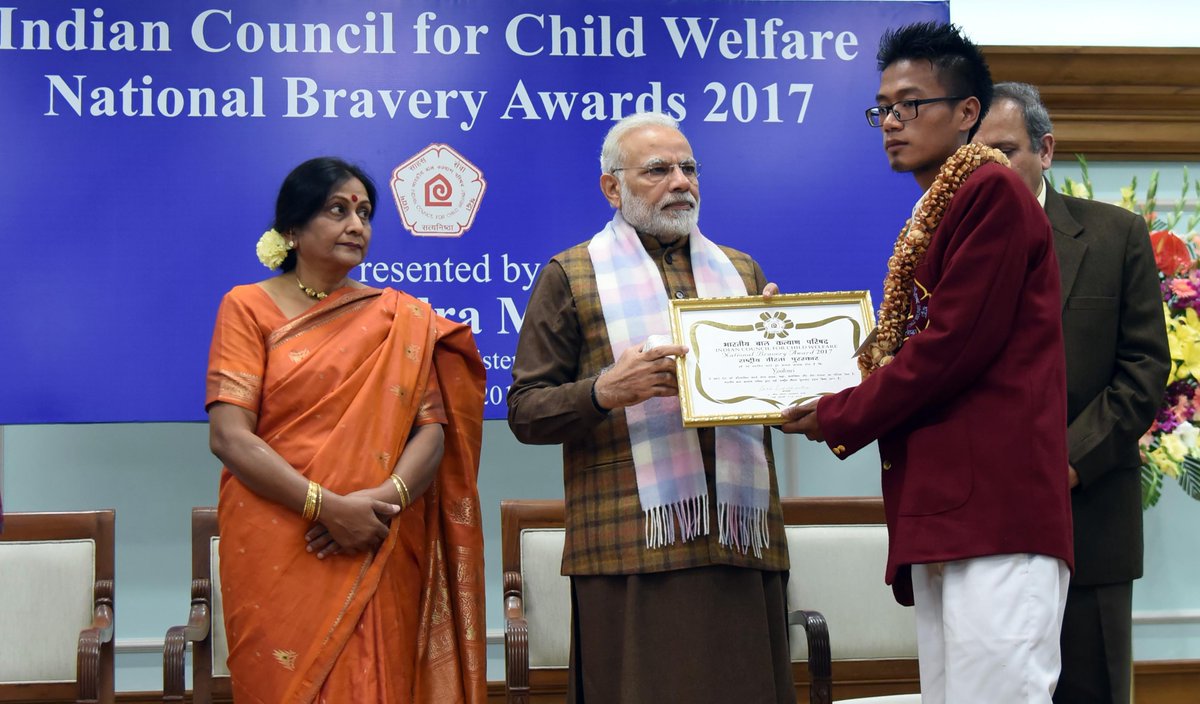 But by the time, her father had already grabbed an axe to kill her siblings and attacked Chumben on his neck. Yoaknei managed to pull the boy, though he suffered some injuries. The boys then got together and attacked Mansha's father – overpowering him until help came.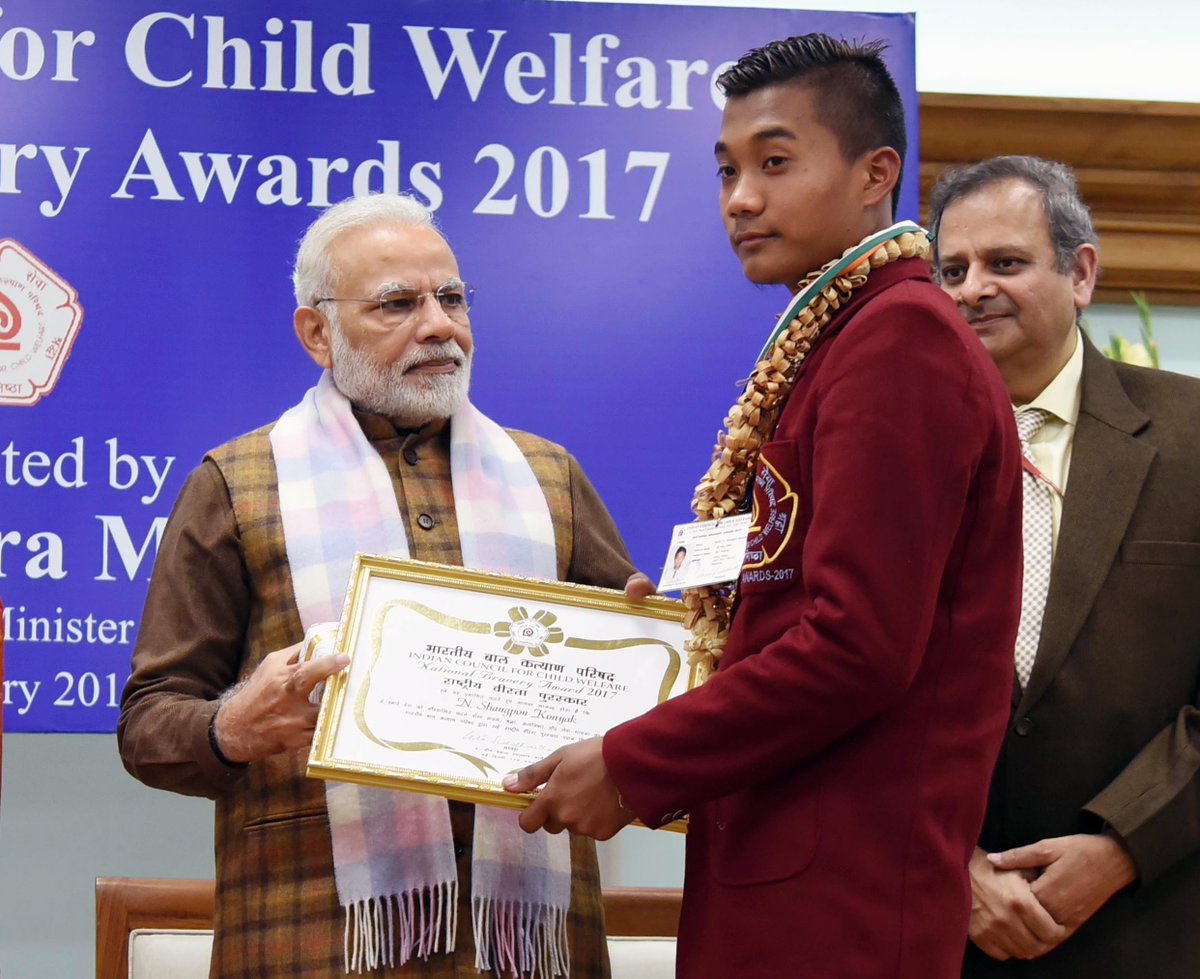 Mansha's father was handed over to the Police, and Chembun was rushed to the hospital.
The National Bravery awards are conferred by the India Council for Child Welfare every year to children from remote areas and underprivileged backgrounds.
The awards are divided into five categories including Bharat Award, Geeta Chopra Award, Sanjay Chopra Award, Bapu Gaidhani Award, and General National Bravery Awards, and carry a medal, certificate and cash prize.
Speaking to the Times of India, Gita Siddhartha, the president of ICCW, said, "We will take care of their educational needs and finance high-quality private education for them. Since their inception in 1957, the awards have been conferred on 963 children (680 boys and 283 girls), and most of them have grown up to become top lawyers, chartered accountants, and professionals."
Like this story? Or have something to share?
Write to us: contact@thebetterindia.com
Connect with us on Facebook and Twitter.
NEW: Click here to get positive news on WhatsApp!