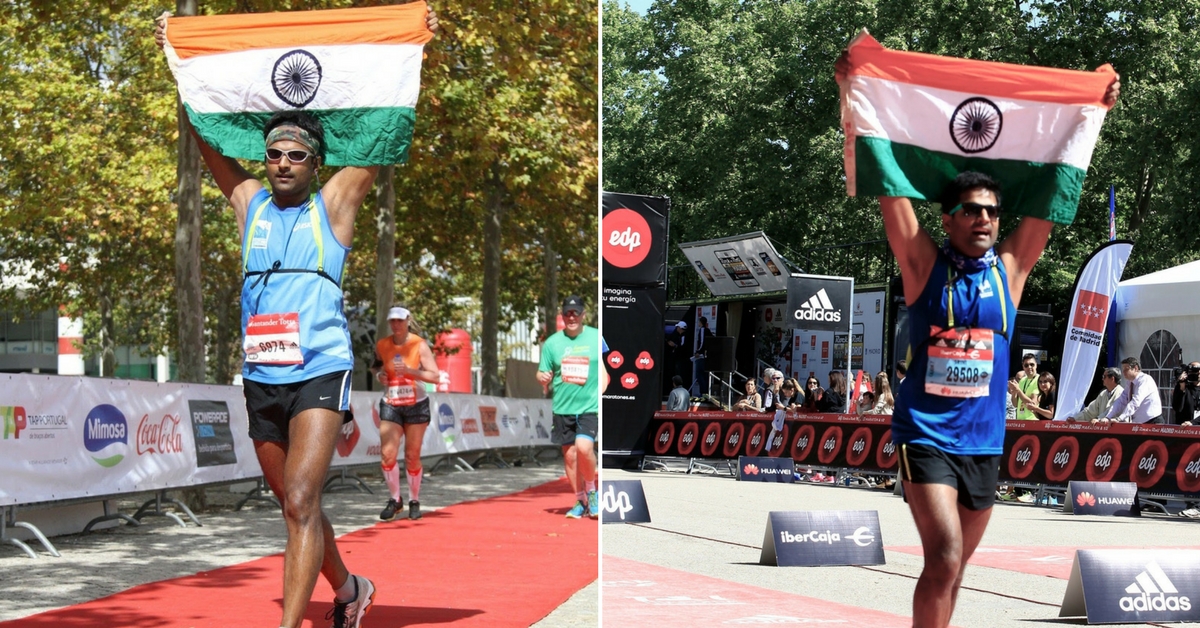 A BITS Pilani graduate, Srini Swaminathan's efforts are for underprivileged kids in rural Rajasthan.
Srini Swaminathan, a 37-year-old freelance teacher who has worked in the social sector for the past eight years, will run five full marathons, five half-marathons and cycle a distance of 2000 km, to raise funds for six night schools in rural Rajasthan which are supported by the Barefoot College, a volunteer-driven international non-profit organisation. He hopes to complete this endeavour by February 2018.
These schools are spread across three districts—Ajmer, Nagaur, and Barmer.
Listening to his story, it isn't hard to understand why Srini has decided to undertake this mammoth task. Born to a low-income family in rural Coimbatore, Tamil Nadu, he understands what access to quality education can do for the lives of underprivileged children.
"After the death of my father when I was eight, my mother (a nurse in a rural hospital) raised two children (my brother and I) under very difficult circumstances. Despite her troubles, she always stressed on the importance of education and ensured that we finish college," Srini says.
He topped his high school exams, enabling him to go to the prestigious BITS Pilani university in Rajasthan on a Tamil Nadu government scholarship which took care of 70% of his tuition fee.
Soon after college, Srini focused on pulling his family out of poverty by working in the private sector till 2009, while also donating to educational organisations and volunteering.
Driven by the wish to do something for children who do not get the education they deserve, he joined Teach for India (a non-profit dedicated to training teachers who go on to teach underserved and underprivileged communities across India) and became a full-time teacher at the municipal school in Dharavi, Mumbai, from 2010 to 2012.
Speaking to The Better India, Srini talks about his experience at the municipal school in Dharavi and mentions that there are two aspects of this experience which stand out.
Read also: For 11 Years, This School Has Shown Muslim Girls the 'Rasta' to Education
"Children in such classrooms lack the basic resources needed to learn well and stay on grade level. Every child deserves a shot at quality education. Given the right sort of guidance, they can achieve anything. Secondly, even if governments spend a lot of money on education for children from low-income communities, without robust leadership at the individual school level, adequate classroom teaching and learning facilities, all that expenditure will come to nought," he says.
Srini ran his first full marathon to raise funds for children in the municipal school, during his tenure in Dharavi (in 2011). After his stint in Dharavi, he went back to Tamil Nadu and founded the Chennai Chapter of Teach For India as the City Director. "In Chennai, we collaborated with the Corporation of Chennai and private low-income community schools," he says.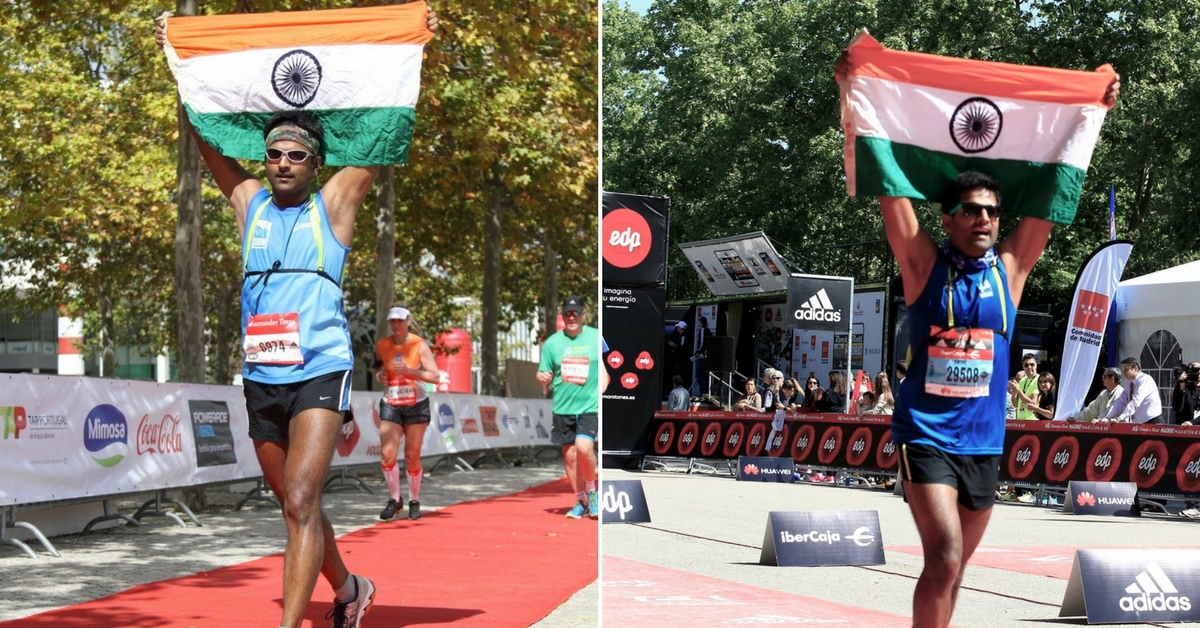 "Since 2010, I have set up many fund-raising campaigns, raising close to ₹10 lakhs in total for various causes. So far, I have completed 25 full marathons, one 200 km self-supported ultra-marathon, and several 100/200 km cycling events," Srini says.
During his tenure in Chennai, for example, he ran 250 km and cycled 2,000 km over a period of 150 days to raise awareness and funds for 20 low-income classrooms in Chennai and Hyderabad, reported The Hindu in 2014. Within the span of three weeks, he collected approximately Rs 1,67,650.
Besides a spirit of social service, running and cycling offer an opportunity for Srini to overcome his asthma. "I run marathons in a bid to challenge my physical condition and raise funds for causes I am passionate about because I do not know any other way to express my commitment," he adds.
Thus, this recent endeavour for Barefoot College isn't his first rodeo, and Srini tells The Better India that not a single rupee from these initiatives is used for personal expenses.
Solar bridge schools are amongst the many initiatives started by the Barefoot College, which is a non-profit with over 40 years of experience in the social sector.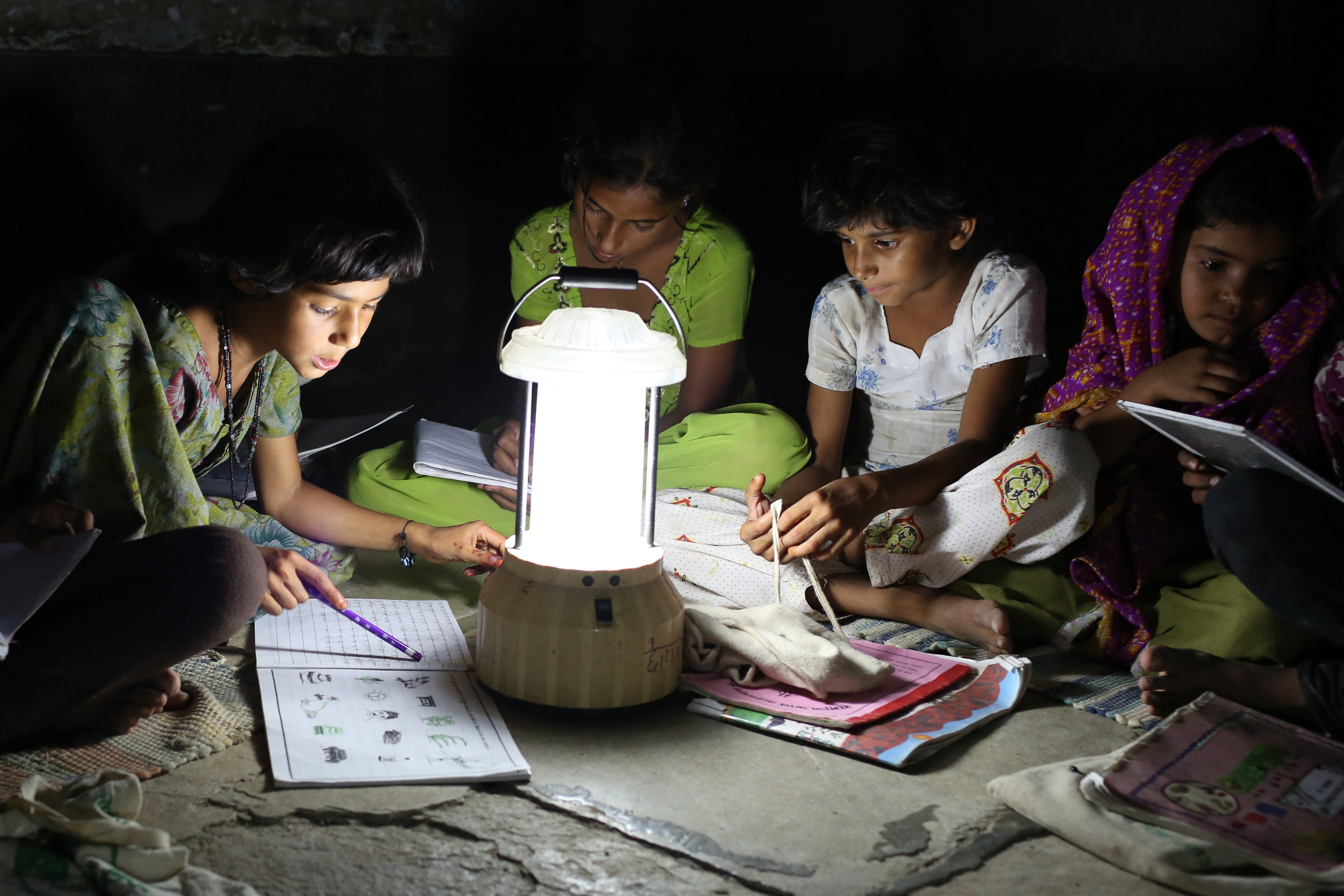 The Barefoot College claims that since 1974, these solar-powered night schools in remote off-grid rural communities have educated over 75,000 children, 65% of which are girls.
Srini works as a volunteer at the college with the solar energy, education and technology teams. Within the education department, he works on teacher training, technology integration and fundraising.
"The operations of the various night schools in Rajasthan is managed by local ground partner NGOs of the Barefoot College, and I am merely supporting their work," he says.
The children who attend the night schools are taught a curriculum which is a mix of what has been developed in-house by the Barefoot education team and also the State curriculum.
Children from tribal communities left at the periphery of the development push across Rajasthan—which include the nomadic Bagariyas, the landless Kalbelia daily wage labourers, the Mal scrap resellers, and the primitively agricultural Bhils—study in these night schools. The students study alongside children from other diverse poverty-stricken communities.
Why does Barefoot College operate these night schools?
"Since these children do not go to any formal school during the day—when they assist or work with their parents in the fields or take care of cattle, among other chores—the only time they get to learn a formal curriculum is after sunset when they come to the solar-powered night schools. The Barefoot College sets up the solar infrastructure of these night schools and pays the salary to the teacher (hired from the local community)," says Srini.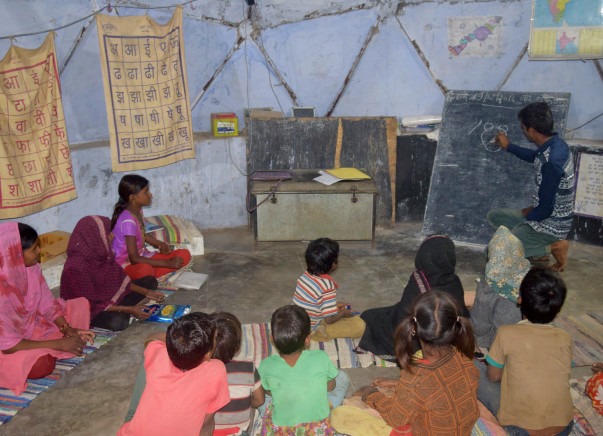 The teacher training team of Barefoot College imparts rigorous teaching training programmes as well. Srini claims that it has helped over 40% of their students integrate into state schools. How does it manage to achieve this goal?
Working with other NGOs on the ground, the Barefoot college education team track the growth of the children attending the night schools and tries to help them move on to state-run schools wherever possible. If the child needs financial assistance to make that transition, it is supported through scholarships funded by donors or the government, which Barefoot College and their partner NGOs seek.
Despite their efforts, there are some real barriers to learning that these children face. For example, after an entire day of work in the field with their parents, these children have a difficult time concentrating at night.
Read also: Teaching Both Mud Bricks & Microchips, Unique School Is Now a Model for 65 Others
Another difficulty is convincing parents and the local community of the benefits of this non-formal mode of education in the long run. "In most places, however, the communities have responded well when they see that these efforts are sincere," says Srini.
There is little to no state-backing for these night schools, but the community is heavily involved in supporting these initiatives. The paucity of funds, however, is a serious constraint and through these marathons and cycling initiatives, Srini hopes to raise enough money.
"Every night school needs approximately Rs 1,44,000 per year to support the education of 40 children, teacher salaries, study resources, construct a pukka building, solar panel and lights, water and basic furniture and mats. For these six schools, the figure comes up to Rs 8.6 lakhs per annum," says his pitch on Milaap, India's largest crowdfunding site.
It is well documented that the Indian state is unable to reach vast sections of its populace. Left on the margins, this massive community of underprivileged Indians survive on nothing but their incredible will and labour.
These gaps left behind by the state are filled by initiatives led by organisations like Barefoot College and other NGOs working with these communities.
If you wish to wish to help these six solar bridge schools in rural Rajasthan on the crowdfunding site Milaap, you can click here.
Like this story? Or have something to share? Write to us: contact@thebetterindia.com, or connect with us on Facebook and Twitter.
NEW: Click here to get positive news on WhatsApp!