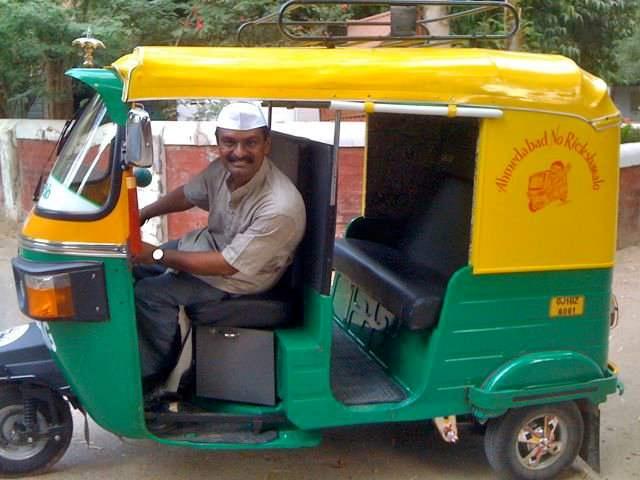 Imagine getting into an autorickshaw and at the end of the ride being told that someone has already paid for it. Or after a fabulous meal at a restaurant, instead of being presented with a bill you get a handwritten note that says it was a gift from a guest! Sounds implausible, doesn't it? Well, you might find yourself more at the receiving end of such "random acts of kindness" as the concept of gift economy takes shape in India.
Here's your chance to learn about and be a part of the various experiments in the gift economy and pay-it-forward model in India, and experience first-hand what effect the generosity and kindness of complete strangers can have on your thoughts and actions.
Imagine getting into an autorickshaw and at the end of the ride being told that someone has already paid for it. Or after a fabulous meal at a restaurant, instead of being presented with a bill you get a handwritten note that says it was a gift from a guest! Sounds implausible, doesn't it? Well, don't be surprised if you are at the receiving end of such "random acts of kindness". It's a trend being fuelled by a growing group of volunteers, who want to make generosity so commonplace that one day "love, more than money" would enable people to sustain each other in a community.
According to Siddharth Sthalekar, who calls himself "only a volunteer" of a loosely-tied group called 'Moved by Love' – that orchestrates "acts of generosity" through various "experiments" – the idea of a gift economy is to flip over the whole concept of economics, where money is the chief mode of transaction and instead encourage peer-to-peer generosity. Says the IIM-Ahmedabad graduate,
"The laws of economics are valid as long as there is scarcity of resources and human beings are consumption-oriented. But what if we flip it over? What if we say that we will work with what we have and move from scarcity to abundance; from transaction to trust; from consumption to contribution; from isolation to community? These various experiments are a shift along these lines."
These "acts of kindness", Sthalekar explains, work on a pay-it-forward model. When customers come to avail of products or services associated with the Moved by Love network – anything from CDs to a restaurant meal – their bill has already been taken care of by someone before them. They can pay whatever they deem fit and that takes care of the next customer's tab. Incidentally, none of the products or services carry a price tag.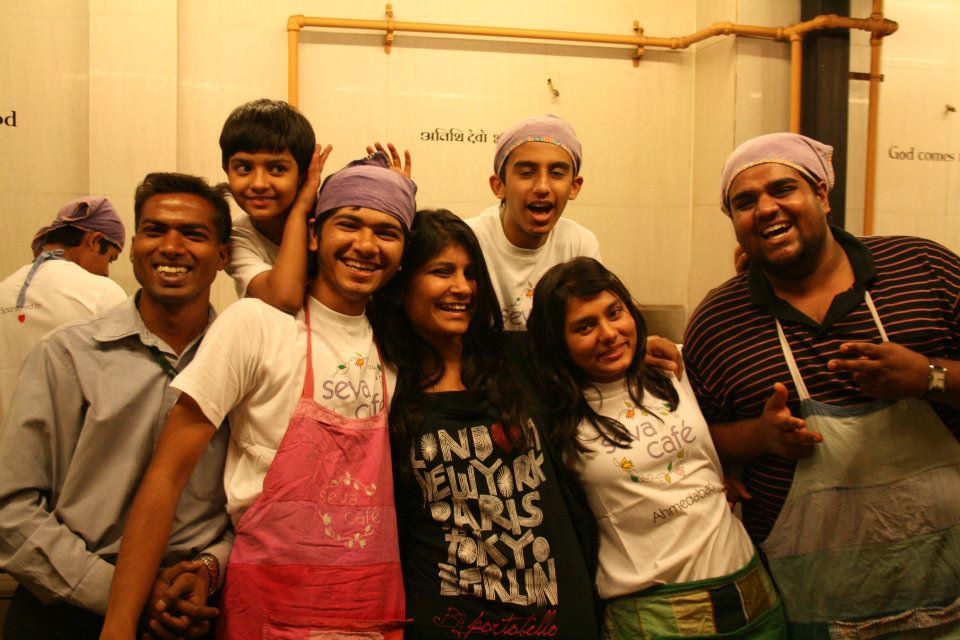 The Moved by Love journey started seven years ago in Ahmedabad, Gujarat, with a single experiment called the Seva Café. A group of enthusiastic volunteers decided to open a restaurant that had a no-price menu, where customers didn't have to pay for their own meal. They did this with the help of ServiceSpace, a completely volunteer-run organisation based in the US that was already conducting such experiments with great success.
"When you finish your meal at Seva Café you get a note saying that the food was a gift from someone who had come before you and if you wish you can continue the cycle by paying whatever you wish for the next guest. More often than not, people are moved by the experience and respond positively," elaborates Sthalekar.
Although the café has three employees who work as anchors, it is chiefly run by volunteers, who cook, serve and even clean afterwards. Much against all doubts of sustainability, the Seva Café has been a roaring success. And encouraged by the impact it has had, Moved By Love volunteers have been spreading the magic of Seva Café to other cities such as Pune, Mumbai and Bangalore for over a year now. In addition, newer "experiments" of generosity are being tried out as well.
In these cities, restaurants "convert" themselves into a Seva Café at regular intervals on a pre-announced date. Moved by Love volunteers take over the place for a day and pool in their resources to make it happen.
In Bangalore, Anupreet Dhody and Susheel Nair, owner of Vriksh restaurant, which took on the avatar of a Seva Café one Sunday afternoon in January 2013, say the event was a major crowd puller. While the 30 volunteers working that day were expecting to serve around 70 guests, they ended up catering to 135!
Uday bhai's Love-All-Serve-All autorickshaw is another thriving gift economy experiment. The Ahmedabad-based rickshaw driver earns a modest living by ferrying passengers six days a week. But here's the twist – since 2010, he has not demanded any set fare – passengers are free to pay what they want. He too follows the pay-it-forward model, which leaves commuters awestruck.
It was a chance encounter with a volunteer of the Moved by Love group that changed his outlook. The volunteer offered to pay Uday bhai his entire day's earnings of Rs 300 in place of the metre fare of Rs 23. Then he told the hardworking rickshaw driver about the generosity experiment and motivated him to give it a try.
These days, a ride on Uday bhai's auto is truly a unique experience. As passengers step inside, they are offered water along with a snack. During the journey, they can enjoy reading the inspirational quotes that are slashed all over the interiors of the autorickshaw.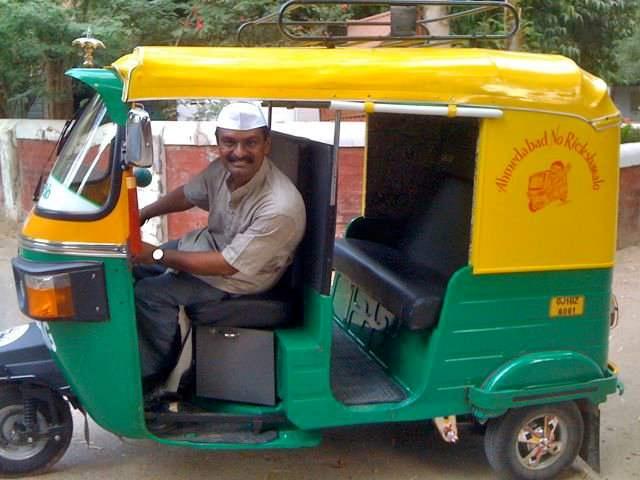 In the last couple of years Uday bhai has had some interesting encounters. Among his first customers was a man who got on to the rickshaw saying he would pay Rs 10 but when he heard about the pay-it-forward model he paid Rs 13 instead – the actual fare.
Another time, a woman was so moved by the concept that she insisted on paying for his family's groceries as she bought her own. Yet, another woman commuter paid him Rs 50 as fare and another Rs 100 for his children. "I think a ride on my auto transforms my passengers," he insists, adding that at the end of the month he still makes the same amount of money as other rickshaw drivers.
Not just services, such experiments are happening with products, too. In July 2010, select Moved by Love volunteers launched a product line, Wisdom Crafts – products without a price. Retailed at the Gramshree store in Ahmedabad on a pilot basis, these value-based products – offered on a gift-economy basis – have been a hit with customers. Once again, it is up to the buyers to reflect the value of each product and pay what they wish. The product manufacturers, however, are paid the cost price.
In February 2011, Pune got its very own Wisdom Crafts shop located at the Urban Ashram. "At Wisdom Crafts, people often contribute their works for sale. For instance, an artist can offer a poster but it's entirely up to the buyer to decide its price," reveals Sthalekar. The products generally come with a message. For instance, there are key chains with the peace sign or a deck of Smile cards. There are handicrafts, books, CDs, photo frames and even apparel on offer.
One of the most touching stories related to the acts of generosity that this ever-growing group of volunteers encourages is that of Ahmedabad-based Raghu Makwana, who runs a tiffin service for the poor. Struck by polio when he was young, Makwana has seen bad times and has lived on the streets himself. "But God has been kind to me in my struggle to survive and now it is my turn to repay the kindness by helping others in need. I have received help from several people, who came to know about my tiffin service," says the man who delivers food on his tricycle.
Supported by two NGOs, Makwana, along with four others (one of them visually challenged), put together the 'Tyaag Nu Tiffin' (Food of Sacrifice) service under which they provide home-cooked meals that they eat at the end of the day.
Nowadays, professionals, social workers and students are all joining the generosity experiment – and Sthalekar has seen many people transform. "No one abuses the system and consistent acts of generosity only have a ripple effect," he concludes.
Liked this story? Have something to say? Write to us: contact@thebetterindia.com or join us on Facebook and Twitter (@thebetterindia).
We bring stories straight from the heart of India, to inspire millions and create a wave of impact. Our positive movement is growing bigger everyday, and we would love for you to join it.
Please contribute whatever you can, every little penny helps our team in bringing you more stories that support dreams and spread hope.