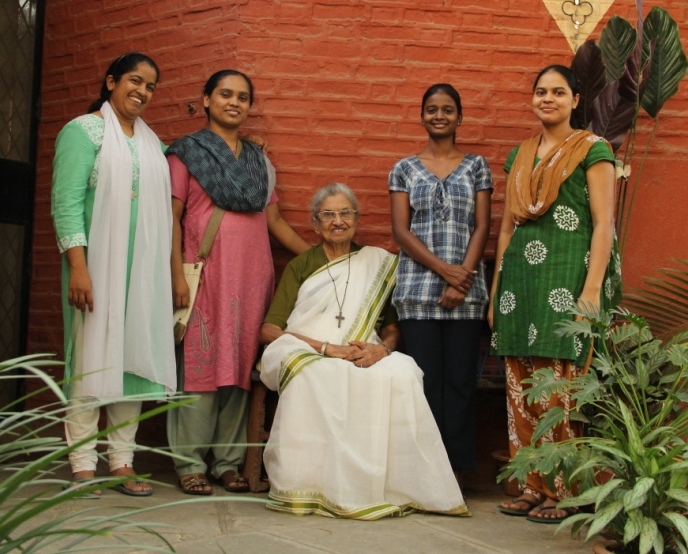 The idea that was born under a tree in 1974 has so far helped 5000 women become employed and self-reliant, cared for 10,000 children through its childcare initiatives, worked with over 350 senior citizens, helped over 100 men get de-addicted, and much more. And what's more - it was all made possible by one amazing lady!
The story of the amazing nun and educationist who has single handedly empowered 5,000 women and cared for over 10,000 children in Pune, a city that she now calls home.  
Four years ago, on Diwali eve, my husband and I were scouring the neighbourhood (Wadgaon Sheri) for an NGO to share some sweets, savory and toys. We had just relocated to Pune and we had had no time to zero in on an NGO to share Diwali goodies with, a long-held tradition in our families.
When we were almost about to give up our recce, that's when we noticed a small non-descript signage that read H.O.P.E.  We followed the direction given in the signage and after a few minutes into the tiny lane, I asked a group of children, who were cycling, for directions to H.O.P.E. The joy and clamour with which they gave us the directions was not just refreshing but also told us that the home surely had its heart in the right place.
So, there we were at the gate of H.O.P.E – a humble red-hued house with a blue-tiled shed surrounded by thick foliage and some really big, beautiful trees. On pressing the bell, an elderly nun opened the door and when we asked if they would accept sweets and stuff meant for children, she smiled gently and said the children at her daycare would be delighted. It was a tad later – during the introductions – that we learnt that this lady was none other than the founder of H.O.P.E., Sr Noelline Pinto.
As we were led into the sit-out area, we couldn't help notice the simplicity of the place. The occupants of the home too carried this simplicity. There were a few functional furniture and household items, a lone fan, a clay water pot on a stool and a soothing quietude that hung in the air like the smell of sweet champas outside the house. It seemed the trappings and air of the uppity Kaylani Nagar – that borders H.O.P.E's home – could not penetrate these four walls.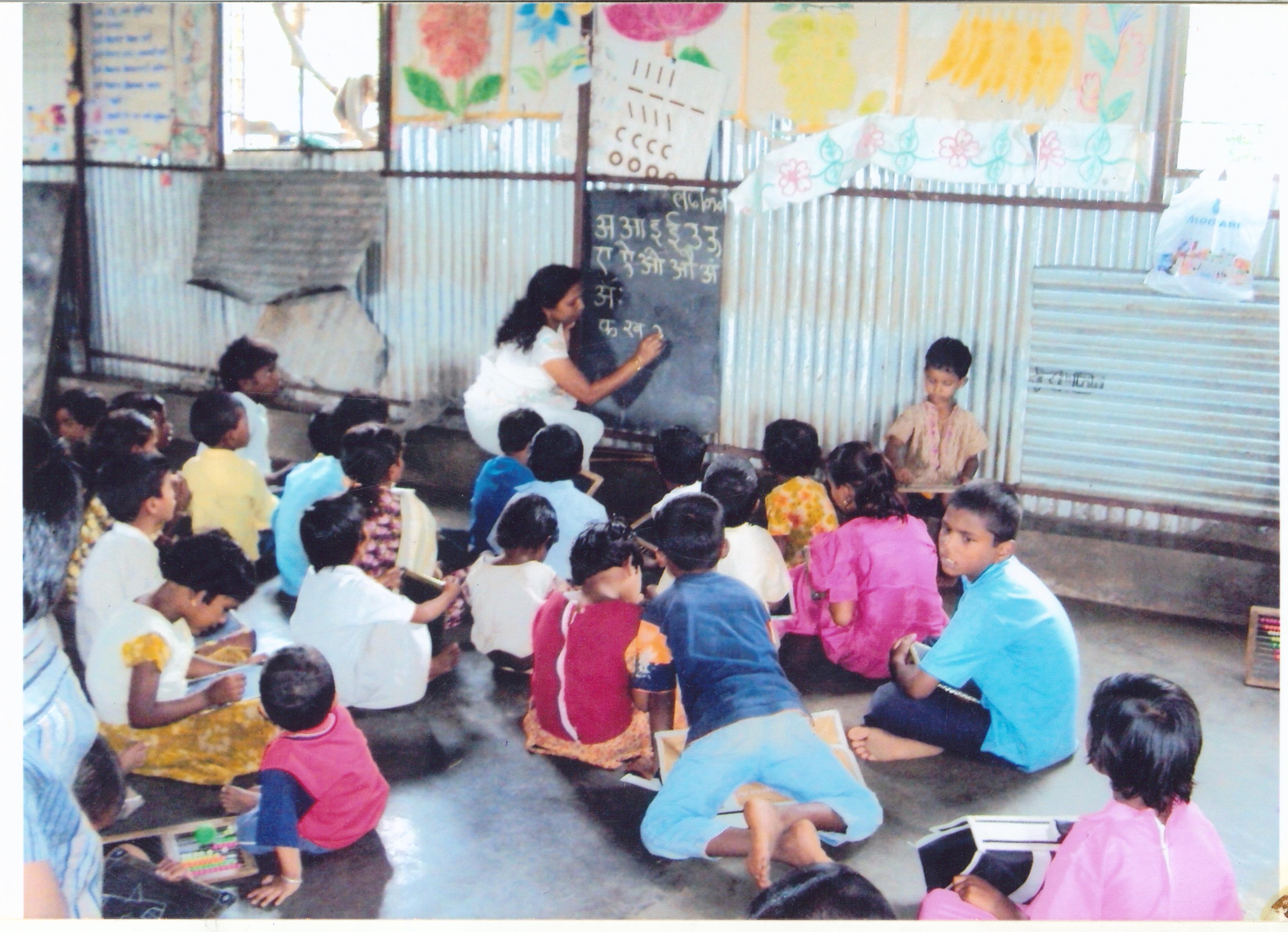 "It's a long story…this is not how the place looked when I laid the foundation of Human Organisation for Pioneering in Education (H.O.P.E.) on June 16, 1974," began Sr Noelline.
"H.O.P.E. was actually born under a tree. I would gather women, mainly daily wage earners, from Wadgaon Sheri and other neighbouring areas with the intention to learn from each other. As I asked the women about their interests they said that they would like to learn something by which they could earn their own money," she recalled.
Sr Noelline said the objective of HOPE – to connect with those in need and to be present with a commitment to empower them in life – developed from her observations and the needs articulated by the women themselves.
"To this end, we strive to educate, enable, facilitate, and intervene in our efforts to empower women and work towards all-round development of children," she added.
Born on August 15, 1927 in Revora, Goa, Sr Noelline entered the congregation Sisters of the Cross of Chavanod when she turned 18 and soon began working as a teacher at Holy Cross Convent English High School, Amravati. After 14 years of teaching and principal ship, she joined an English Medium High School in Aurangabad as the Principal of the school.
It was during the construction of the school building in 1963-69 that she came face-to-face with people living in grinding poverty. A lot of men and women afflicted by drought came to her seeking work. She could not employ everyone but she knew that given the drought conditions, no work would mean for them no money and thereby, no food.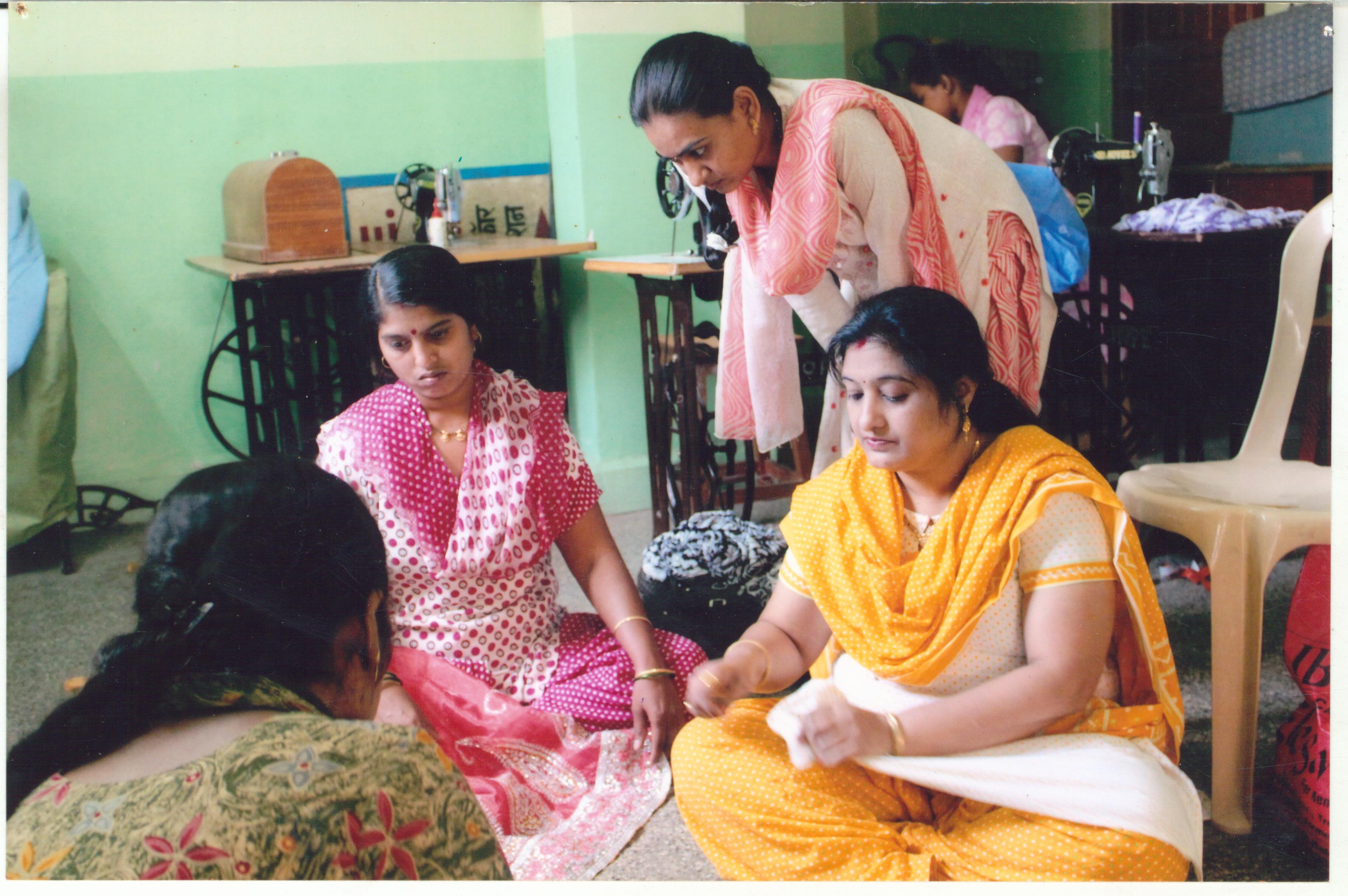 She was so affected by those encounters that she decided to tour neighbouring villages including Maligogargaon, Mahalgaon, Vaizapur, Bidkin, Boisar, and Padegaon to get a first-hand experience of the living conditions of the poor. She not only witnessed abject poverty and people reeling under severe drought conditions but also noticed that the situation of people who were literate was not any better. Amongst all, the situation of women was the worst as they possessed no skills to be self-reliant.
"Having grown up in Goa, a state which is not poor and is blessed by bountiful nature, it was for the first time that I saw men and women, who were dependent on agriculture being driven to penury by harsh nature," she exclaimed.
Moved by her experiences in Aurangabad and other villages of Drought-hit Maharashtra, she decided to dedicate her life to serving the poorest of poor and the marginalized instead of educating pupils from the upper classes.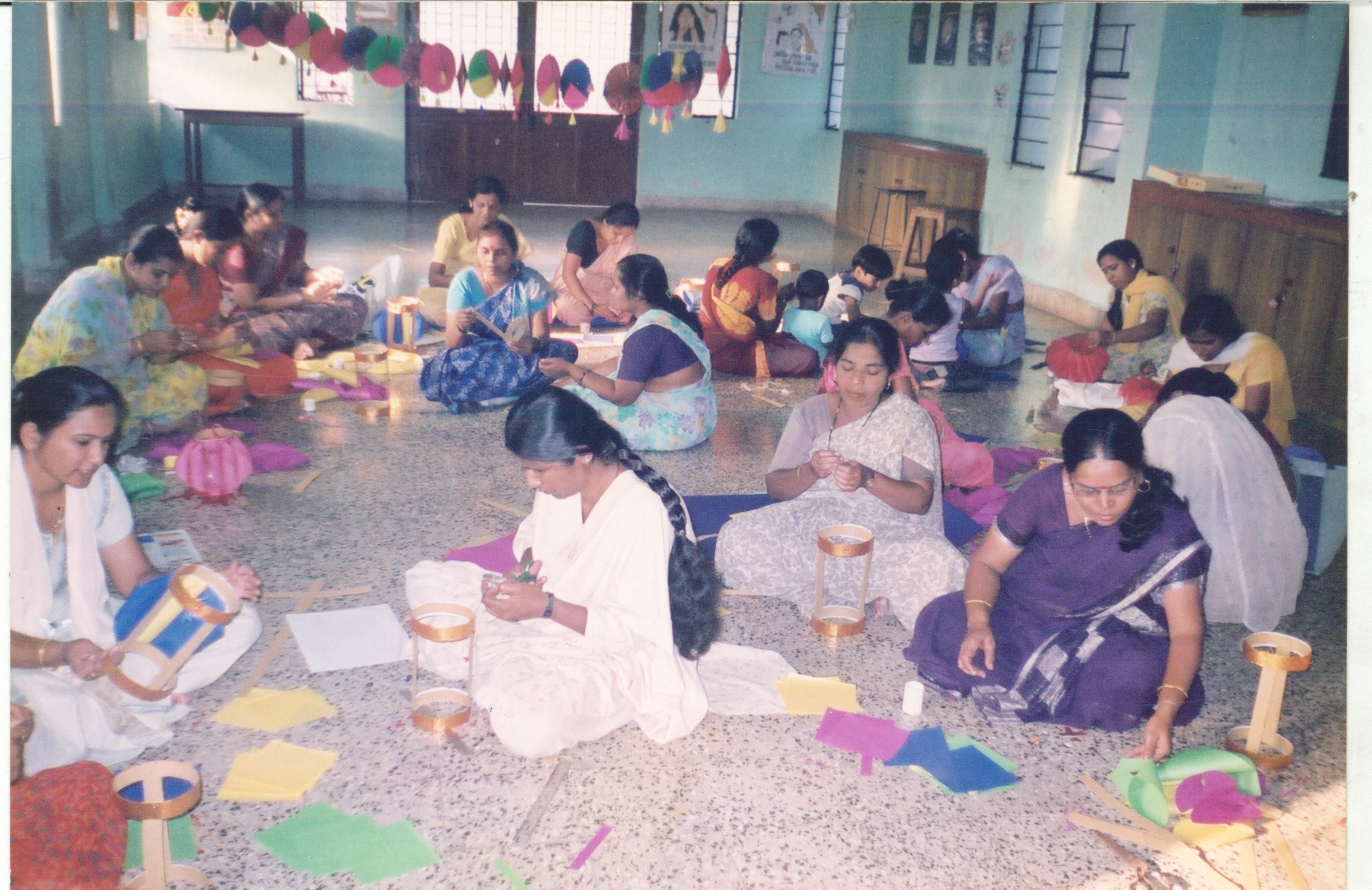 As Sr Noelline went on to narrate how she forayed into social work, we got interrupted by her associate of many years, Sr. Flory Mezenes, Director, H.O.P.E., who came into the room cheerily followed by a petite girl, who was carrying cups of tea.
My eyes fell on a beautiful painting of The Last Supper while the tea cups were being laid on the rickety table. "Beautiful painting!," I quipped. To which Sr Noelline said: "Thank you. Our women at H.O.P.E have made this using batik technique." I looked back at the painting with awe and admiration.
"We have a bunch of very talented women, who have blossomed into sound craftswomen with a bit of training and support. We receive a few orders from corporate during festival season and our products do well during the exhibitions we organize. However, we need to do better than this as all our initiatives are dependent on funds," Sr Flory chimed in.
With the promise of showing us the products later, Sr Noelline resumed: "For gaining foundation in social science, I went to France to do my Master's Degree in Applied Social Sciences from the Catholic University of Lyon in 1972," she said.
Armed with a degree and exposure to various cities of Europe, she came back to Pune in 1974 to begin her social work with daily wage earners, which later took the form of H.O.P.E.. Sr. Noelline's work was based on a simple principle of learning from one another using informal education – social and vocational, skills training and conscientization (consciousness raising) to empower women and make them self-reliant.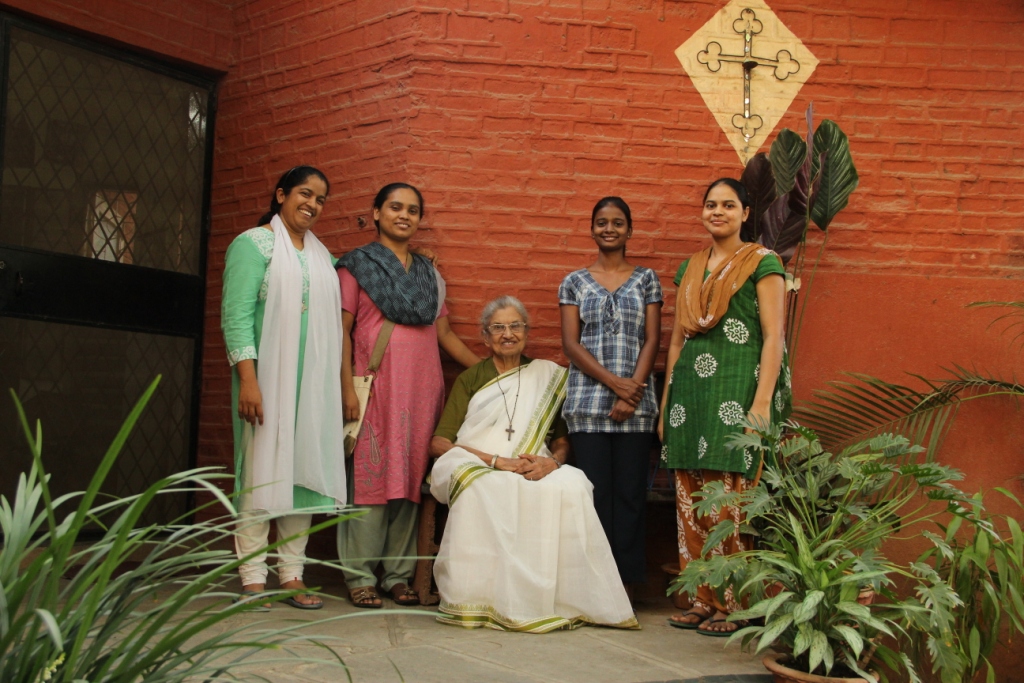 She soon gathered that many of the women in the group had a natural talent for handicrafts. Along with that, she encouraged women to learn making chocolates, crochet, macramé, and produce different kinds of handicrafts – batik articles, candles, Diwali lamps, embroidery, greeting cards and paper bags through informal workshops.
H.O.P.E's Achievements
Women's Empowerment –
Skills Training– Spoken English, basic computer, tailoring classes are provided on a regular basis.
Self Help Groups – Guidance, trainings towards self-reliance provided every month. H.O.P.E helps 250 women through SHGs.
Domestic Workers Solidarity – H.O.P.E works with 500 domestic workers, and conducts training programmes to make them aware of their rights, value dignity of work and work ethics. It also organizes training/workshops to upgrade their skills, and offers guidance to avail of benefits provided under various schemes of the government.
Legal Aid and Counseling – On a need and case-to-case basis, H.O.P.E arranges for legal assistance and psychological counseling for individual women and children. It has also fought legal battles in the court on behalf of falsely implicated poor people and winning several court cases too.
Family Welfare – The NGO offers help to families and individuals during their difficult times especially during major illness, family problems, children's educational help, payment of house rent, providing food grains to destitute senior citizens and families etc. To rescue women , H.O.P.E.  launched MAHER, a midway home for battered women.
Social Action – It works and collaborates with civil societies to stand against injustice meted out to women, children, etc.
Integral Child Development
H.O.P.E works for children through day care centres at the construction site, support classes, personality development workshops, scholarships for poor and deserving children. H.O.P.E cares for 150 children directly at its day care center, which are run through sponsorships and support classes. It connects with another 100 children through young adolescent groups.
Elderly Care
H.O.P.E offers home assistance for 350 Senior Citizens in 10 different area clubs. Daily visits, monthly gatherings, home assistance is provided to individual cases, Health camps organized, assistance provide to prepare senior citizens cards etc.
Public issues
H.O.P.E also works on mobilizing public opinion and calling for action on issues such as water shortage, road safety, atrocities against women, migrants and communities.
On her travels in Europe, Sr. Noelline had made contacts with Parisian, Swiss and Viennese boutiques such as Artisans du Monde, Boutique Tiers-Monde and Bazaar that were willing to sell handicrafts made by underprivileged women. She promptly got in touch with these boutiques and managed to bag orders as well. "I felt a sense of joy and achievement on the part of women on receiving the first order and advance cheque from Artisans Du Monde."
After the initial orders and earnings, Sr Noelline's project received a much needed shot in its arm when she managed to get some land and a tin shed with Father Francis D'Sa S.J.'s support. Thereafter, she scaled up her program and projects for development of women, women empowerment and organize social actions in Goa and different parts of Maharashtra including Wadgaon, Amravati, Kolhapur, Aurangabad among others.
Today, her work, that started with around 60 women 40 years ago, has now reached thousands of women, has become a beacon of hope for thousands of hopeless and hapless women. These poor and illiterate women have been able to escape poverty and depressing circumstances and become self-reliant with the help of H.O.P.E.
The NGO, as we speak, has provided over 5,000 women with informal social and vocational education with around 10,000 children been cared for in H.O.P.E.'s various institutions, receiving love, care and education. Up till now, 60 Self- Help Groups have been formed with the help of H.O.P.E. and 1,200 women have benefited from it.
Along the way, Sr Noelline made some great friends, received sponsorships (for instance, Hope for the Children Foundation sponsors a few of H.O.P.E.'s activities for children, Bharati Hospital does free eye surgeries for people supported by H.O.P.E while BrahmaCorp funds H.O.P.E.'s day care center for the children of migrant workers since its launch in 2007, and associated with national and local organizations such as Action for the Rights of Children, Federation of senior Citizens of Maharashtra) MAHER National Domestic Workers' Movement, Poona Diocesan Social Service Society, Sarva Sava Sangh, Streevani,  Pension Parichat Movement for helping out more people.
And it's not just women and children alone who have been touched by Sr Noelline although she works primarily for women and children. "Such is the aura of Sr Noeline that close to 100 incorrigible men have gone through de-addiction programs," Sr Flory stated.
"Their women had given up on them but Sister's intervention worked like magic. Such is her sway that even the most callous men turn gentle in her company. Today, they are all leading normal productive lives. Sister checks on them regularly and threatens to send them back to de-addiction centres if they stray," Sr Flory added laughingly.
As the office-bearers and occupants of the Home narrated success stories, the Founder, however, remained dismissive of her achievements. All she was willing to say about her achievement was, "I am trying to do Lord's work to my best of ability…many of our brothers and sisters and children are still suffering. We will need more hands to help out one another to make this world a better place."
When stepping out of H.O.P.E's home that evening, we felt humbled, human. We knew that we had been touched by an angel! Sr Flory's words rang in our heads. "Such is her sway that even the most callous men turn gentle in her company."
H.O.P.E.'s work and staff is financed solely by donations – both monetary and in-kind contributions. If you want to help, please write to hopepune2010@gmail.com or call Sr Flory at +91 9325473339
H.O.P.E. ASARA
Sainikwadi
Vadgaon Sheri
Pune-411014
Phone: +91 020 27031152
Like this story? Or have something to share? Write to us: contact@thebetterindia.com, or connect with us on Facebook and Twitter (@thebetterindia).
About the Author: Rajeshwari Sharma is somewhere at the start of a lifelong affair with words. She currently consults for an education NGO in the areas of communications and social media. A former journalist (worked with the Economic Times, Thomson Reuters, Mint and SHRM), who has veered from writing on Food & Lifestyle, Arts, Books, US Equity Markets to HR, workplace issues, and Education.
We bring stories straight from the heart of India, to inspire millions and create a wave of impact. Our positive movement is growing bigger everyday, and we would love for you to join it.
Please contribute whatever you can, every little penny helps our team in bringing you more stories that support dreams and spread hope.