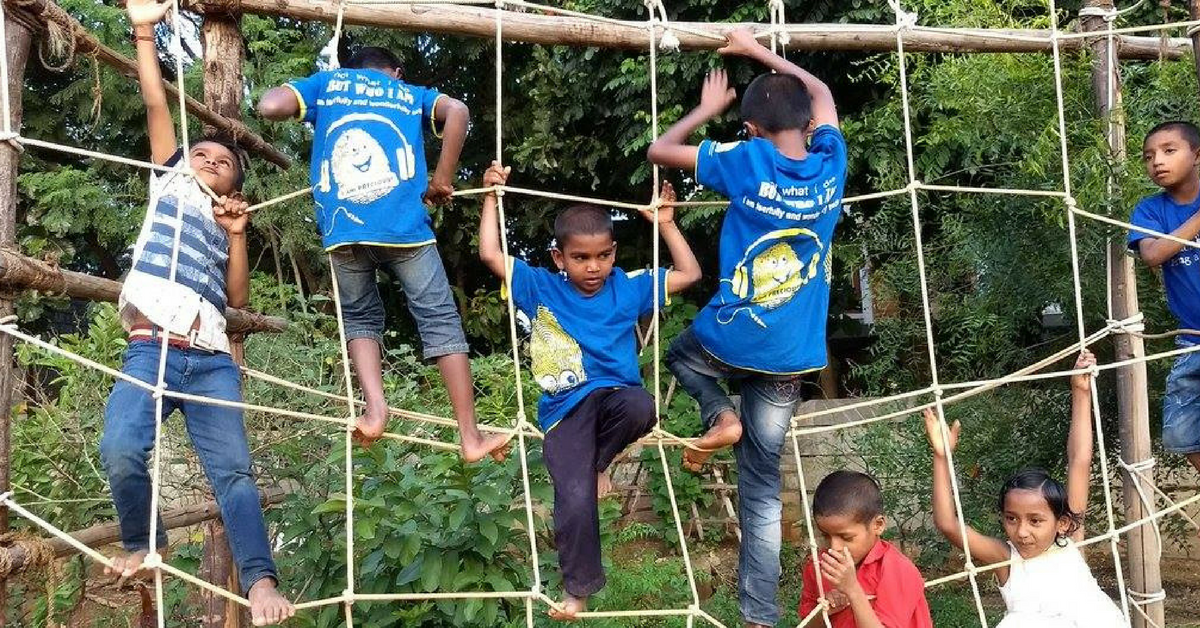 In building Ananda Sagara, which translates to 'Ocean of Joy', a home for the children of migrant labourers in Bengaluru, Amar found his true calling.
While speaking to people about their stories, we come across various kinds of people. Some leave a greater impact than others. This is one such story. Meet Amar Daniel Gibran, who runs a home for the children of migrant labourers in Bengaluru called Ananda Sagara.
Once upon a time, Amar says he was an ego-centric young man who believed that he knew it all. He was making enough money to feel that way. Some rather unfortunate circumstances led to Amar losing everything he had and almost overnight he was reduced to nothing.
We, at The Better India, spoke to Amar to understand how this transformation from a know-it-all to a humble parent of 15 children occurred.
"I was running a software business. I lived a bad life. I spent money without thinking and assumed that I would always have an abundance of it. This lifestyle and the choices I made eventually left me in ruins. I started working in the social sector, and it took me almost three years to regain my confidence and do something with my life. There was a time in my life when I thought I was a god. I refused to bow down to anyone. The change happened when I lost everything and that brought me back."
"The transformation from having it all to having nothing and rebuilding my life was a very painful one."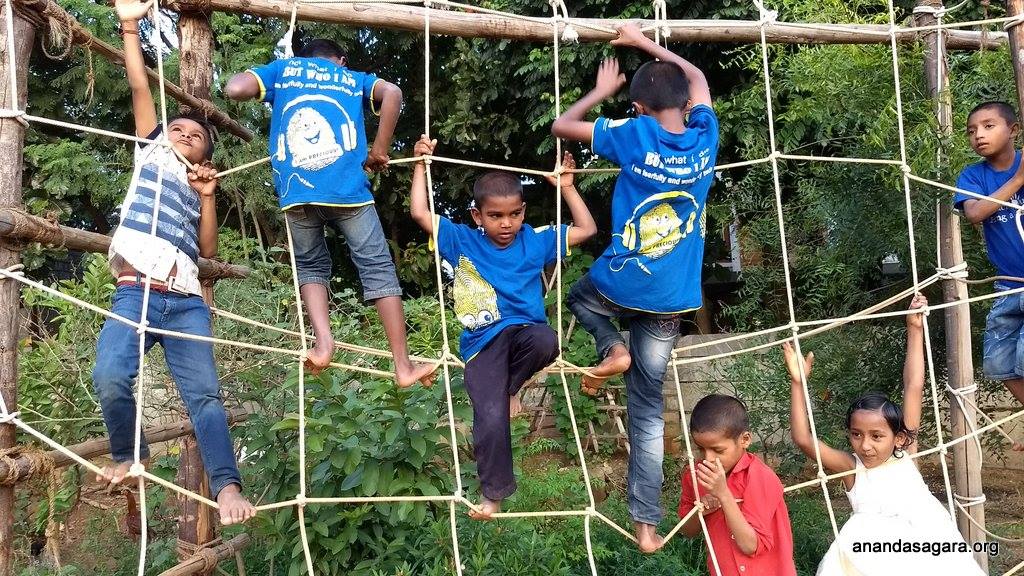 Thoughts of suicide often plagued Amar, but he continued to work towards finding his goal. In building Ananda Sagara, which translates to 'Ocean of Joy', a home for the children of migrant labourers in Bengaluru, Amar found his true calling.
"These children often come from broken families or have abusive fathers. While the parent is out working, these children are left to fend for themselves. They all live in blue tents and have no access to even a clean toilet. I started this home so that I could help these children and give them a meaningful life," he says.
Speaking about how their day is structured, Amar says, "We wake up between 5.30 and 6.00 am each morning and spend half-an-hour praying. This is followed by all of us taking up different chores since we all live like a big family. The work is also divided accordingly. This takes up an hour of our time. The children get start getting ready and between 8.00 and 8.45 am they all finish their breakfast, which is a meal in itself. They then leave for school and return by 4.00 p.m. After a half-an-hour break, we get back to some chores around the house while the younger children are engaged with a tutor who comes home.
"Our evenings are spent engaging in some physical exercise and activities."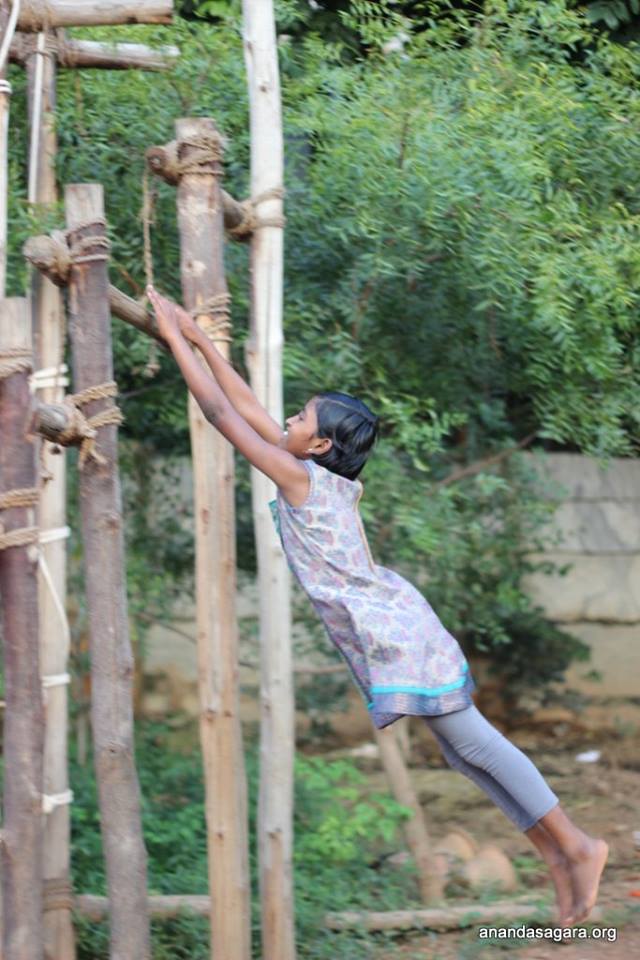 "By the time we get done, it's time to clean up and sit for dinner. Just like other families, we enjoy our dinnertime as we all sit together and discuss the day. I ensure that I talk a lot to the children and keep them abreast of all the happenings around the world."
The children retire for the day by 9.30. Even after that Amar has a lot of work to complete before he can call it a day. His unflinching dedication to these children is remarkable.
When asked what keeps him going, he says, "If I can make a difference to even one child, I would have achieved my goal."
"All this exhaustion and tiredness is made worth it when these children smile and do me proud."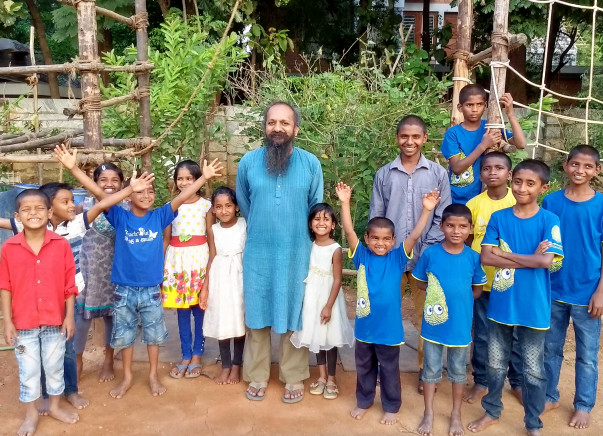 Amar speaks about a child who came from Uttar Pradesh with his parents and was left at Ananda Sagara. "Rahul, when he came to me was a very closed off and selfish young boy. He had no interest in academics and didn't want to share or mingle with anyone. Not knowing the language (Kannada) also made it difficult for him. I am myself amazed to see how much he has changed over the course of time. This is what I work towards," he said.
Amar runs this home all by himself and if you wish to volunteer to teach the children, or extend monetary or material support then do check their Facebook page or donate on their Milaap page here.
Like this story? Or have something to share?
Write to us: contact@thebetterindia.com
Connect with us on Facebook and Twitter.
NEW: Click here to get positive news on WhatsApp!