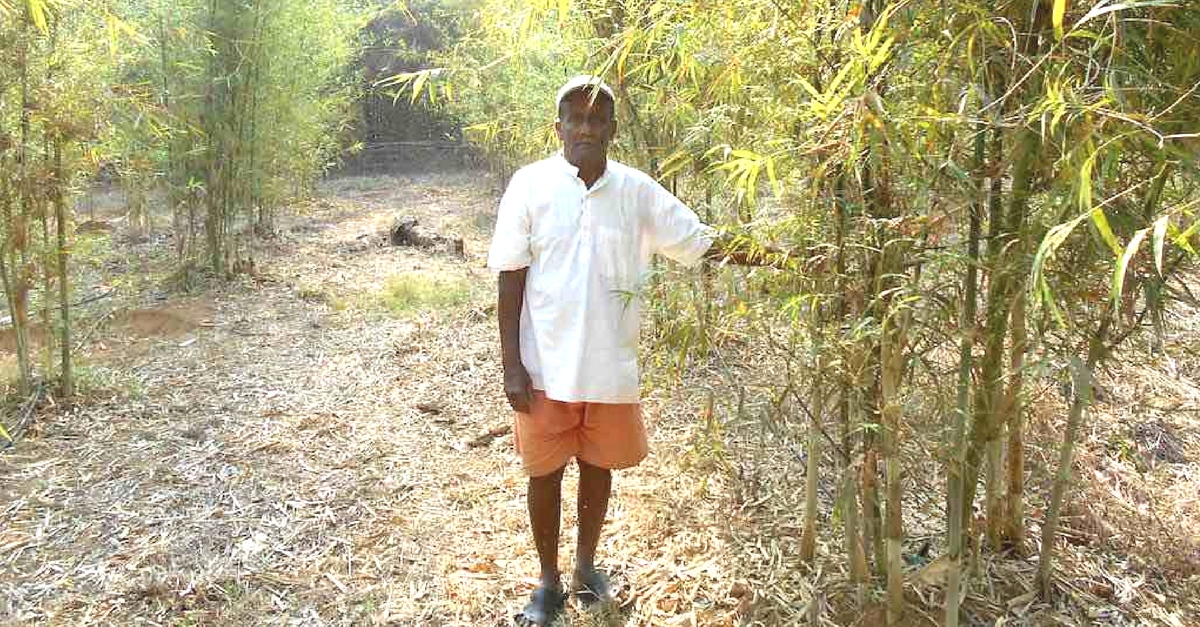 Newfound interest in the cultivation of bamboo, known as the wise man's timber, is helping transform the Konkan region of Maharashtra. Hiren Kumar Bose takes a closer look.
Nestled among fields of mango, cashew, coconut and areca palms, and surrounded by houses roofed with Mangalore tiles, bamboo vies for attention in Pinguli village in Kudal taluk. Grown in homesteads till now, it has started making its presence felt in farm plots as well. The scene is similar in Kolgaon, Hirlok, Ranbumbuli and Konal villages, all in different administrative divisions of Sindhudurg district.
In these villages, bamboo supplements the farm income of those who have decided to stay back and continue farming rather than migrate to cities in search of livelihood. The farm landscape is slowly changing. Known for coastal fisheries and Alphonso mangoes, villages in Kankavli, Kudal, Sawantwadi, Vengurla and Dodamarg taluks of Sindhudurg district are increasingly falling under the charm of bamboo – the 'green gold'.
Abundant resource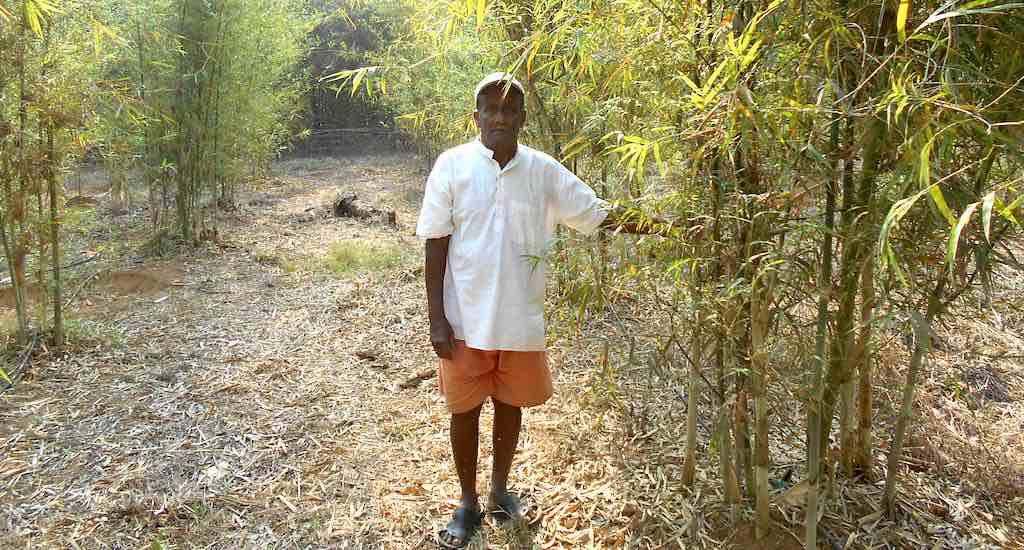 According to the Status Paper on Rice in Maharashtra, Sindhudurg district receives 2,000 mm to 4,000 mm of rainfall and rice remains the mainstay crop. Endowed with laterite as well as alluvial soil, vegetables, millets and pulses are grown in winter. In addition to these, bamboo is being increasingly cultivated.
According to the Bamboo Resources of the Country prepared by the Forest Survey of India, the bamboo-bearing area under Maharashtra is 11,465 sq. km, distributed across 10 districts. Vidarbha produces over 90% of the total yield. The varieties grown here since long are Manvel (Dendrocalamus strictus), Katang (Bambusa bambos) or thorny bamboo, Manga (Dendrocalamus stocksii) and Chivari (Munrochloa ritchiei).
---
Also read: As Busy As Bees: Meet The Farmers Making Kashmir a Land of Honey
---
The Konkan region, which includes Sindhudurg, is home to Manga bamboo. Manga has been the preferred choice among farmers for its multipurpose uses. It is solid without thorns and grows straight, achieving a height of 15 meters. It is used as stakes in horticulture, for making implements, for scaffolding and for making furniture and handicrafts. It starts yielding after five years – eight to 12 sticks every year.
The varieties introduced in recent years include Bhima (Bambusa balcooa), Burma (Dendrocalamus brandisii), Giant Burma (Dendrocalamus giganteus) and Yellow or common (Bambusa vulgaris) bamboo.
Bamboo benefit
Sunil Sawant, a 57-year-old railway points man at Kudal, has refused several promotions that entailed transfers because he doesn't want to leave the bamboos in his 20-acre plot. He informed VillageSquare.in that last year he sold Rs 15 lakh worth of bamboo to traders from Andhra Pradesh, Gujarat and Delhi. He plans to make Rs 20 lakh next year.
Bamboo can do without much irrigation and is not susceptible to pests. Attack from vertebrates like langur, gaur and wild boar can be controlled through three months of active guarding during the shoot-growing season. It requires minimum labour and is unaffected by extreme climatic conditions. Also it has readily available and well-established market linkages.
Farmers cultivate Manga bamboo as a tree-based intercrop. They do not clear the existing natural vegetation but plant the bamboos around existing large trees. As the clumps compete with existing trees for sunlight, they grow taller and more erect than the clumps planted in the open. Additionally, the tree branches provide physical support and stability to the clumps. As the existing trees derive nutrients from deeper soil layers, the leaf litter makes nutrient readily available for the bamboo clumps.
Bamboo boosts economy
According to experts, Sindhudurg presently produces around 5,000 truckloads of bamboo every year. Each truckload bears 1,200 to 1,400 poles, with each pole fetching between Rs 50 and Rs 80, meaning bamboo farmers have a minimum annual turnover of Rs 40 crore. The total bamboo economy of the district could be around Rs 50 crore.
On the benefit-cost ratio (BCR) of bamboo cultivation, Milind Patil, a postgraduate from College of Forestry, Dr Balasaheb Sawant Konkan Krishi Vidyapeeth (DBSKKV), said he found the bamboo farmers of Sindhudurg a satisfied lot. His conclusion was based on his study of each crop from physiographic, climatic, environmental and economic perspectives.
"The BCR of bamboo was 3.7, meaning a net benefit of Rs 3.7 on an investment of Rs 1.0, which was greater than the BCR of mango and cashew, which were 2.3 and 2.8 respectively," he told VillageSquare.in.
According to horticulturist Hemant Bedekar¸ a veteran campaigner who has organized scores awareness workshops in Maharashtra, bamboo grown in Sindhudurg is either transported to Kolhapur, Sankeshwar or Goa and then sent to the silk-rearing centres in the country's southern parts or to Mumbai to be used as scaffolding in the construction industry.
Additional farm income
Like other villages in the district, Rambumbuli has witnessed the large-scale migration of its inhabitants to cities in the recent years. But those who come home during festivals praise 37-year-old Santosh Dattaram Khot. Early in life, Khot realized the potential of bamboo. Over the years he has planted 2,500 bamboo saplings, that now cover six acres of his farm. He continues to cultivate rice as well.
Francis Thomas D'Souza of Kolgaon village, who has increased his bamboo plantation from one acre in 1994 to 15 acres in about 13 years, expressed a similar sentiment.
"In the next couple of years, I expect to make Rs 20 lakh a year just from bamboo," the 58-year-old traditional farmer and orchard owner told VillageSquare.in.
According to Ajay Dattaram Rane, associate professor of forestry, DBSKKV, who has helped set up several Manga nurseries, bamboo is helping farmers cope with changing climatic conditions. "A farmer in Hirlok in Kudal taluk did not get the desired yield from his cashew crop. But the Manga bamboo yield helped him," Rane told VillageSquare.in. "I believe cashew plus Manga bamboo is a win-win situation for farmers of Sindhudurg district."
Under the state government-funded Rashtriya Krishi Vikas Yojana (RKVY), 14 private nurseries have been established in 11 villages, each nursery having the capacity of producing 5,000 plants. Each nursery owner is likely to earn around Rs 1.5 lakh per year by the sale of bamboo saplings.
Among the beneficiaries of RKVY scheme is Patil of Pinguli village. He began with 100 mother plants of the Manga variety in 2016 on 7,000 sq. ft and sold 2,000 saplings for Rs 90 each. His nursery now spreads over 25,000 sq. ft. "I expect to make around Rs 5 lakh each year from my nursery and also from timber," he told VillageSquare.in.
Challenges and way forward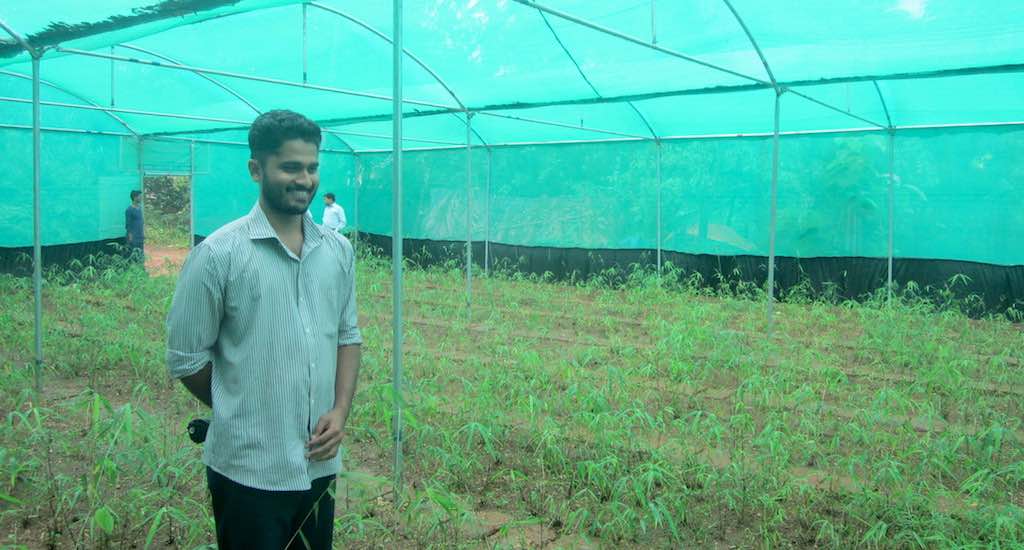 Though bamboo is a type of grass, the Indian Forest Act, 1927 defines bamboo as a tree — a contradiction in the law that has impacted the livelihood of millions and stunted the growth of the bamboo industry. Despite India being the second largest grower of bamboo, the incense sticks industry is forced to import bamboo, thanks to the draconian law.
However, the Maharashtra government's decision three years ago to free the transit pass (TP) condition for bamboo grown on private land is a shot in the arm for bamboo farmers.
According to architect Sunil Joshi, chairman of the Maharashtra chapter of Bamboo Society of India, the TP regime affected all Maharashtra and more so Vidarbha, which is abundant in bamboo. "The TP-free regime has liberated bamboo and a bit of awareness about the cause and effects of future industrial development would help bamboo find its right place in farmlands," he told VillageSquare.in.
---
Also read: From Rs 3K per Year to Rs 2.75 Lakh a Year: How Fish Seeds Are Transforming Assam
---
According to Bedekar, National Bank for Agriculture and Rural Development (NABARD) and other nationalized banks should consider bamboo as a plantation crop and start financing the farmers. "It takes four to five years to get yields, and hence, repayment cycles should be planned accordingly," he said.
Hiren Kumar Bose is a journalist based in Thane, Maharashtra. He doubles up as a weekend farmer.
Adapted from an article originally published on VillageSquare.in. Subscribe to VillageSquare's weekly update on the website for more stories from rural India.
Like this story? Or have something to share? Write to us: contact@thebetterindia.com, or connect with us on Facebook and Twitter.
NEW: Click here to get positive news on WhatsApp!
We bring stories straight from the heart of India, to inspire millions and create a wave of impact. Our positive movement is growing bigger everyday, and we would love for you to join it.
Please contribute whatever you can, every little penny helps our team in bringing you more stories that support dreams and spread hope.