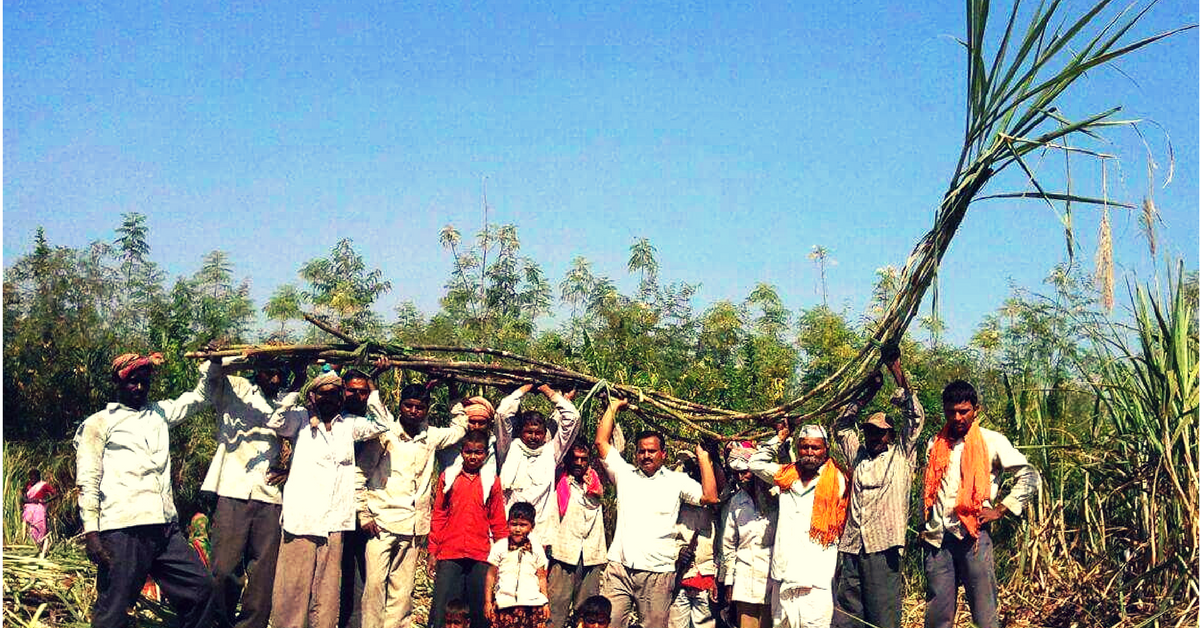 While sharing the entire process of the plantation to harvesting of the sugarcane, Suresh tells us how it is a result of continuous efforts wherein he keeps nourishing the plants right from the day of planting.
Appaso Kabade, a farmer from Karandwadi village in the Sangli district of Maharashtra, owned 30 acres of ancestral land. As a local sugar mill was giving a reasonable price for sugarcane, he started growing the crop. He was able to grow about 25 to 30 tonnes of sugarcane per acre, but his dream was to reach up to 100 tonnes from the land, but it remained unfulfilled.
Years later his son, Suresh Kabade has fulfilled his dream by growing 100 tonnes of sugarcane in just one acre. Each of these sugarcanes is more than 20 ft. long and weighs almost 4 Kg each.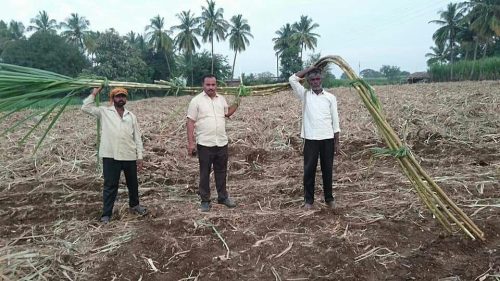 Suresh took to farming at an early age and realised that he did not want to study after Class 9.
"My siblings are well educated, so everyone was very disappointed with me when I left studies. But they also understood that farming is my passion and I wanted to fulfil my father's dream of getting 100 tonnes sugarcane at least once," says Suresh while talking to The Better India from his farm.
Suresh started experimenting with various techniques of planting sugarcane on his farm. As luck would have it, the local Rajaram Bapu Sugar Factory invited Prof. Aabasaheb Salunkhe from Vasant Dada Sugar Institute, Pune to train the farmers for free.
"It was Aabasaheb who visited our farms and resolved our problems. He also made us understand the contents of the fertilisers used to grow sugarcane and the optimum utilisation of it. Before this, we did not even know what we were putting into our crops. No one knew how much nitrogen is there in NPK and how much potash in DPA," informs Suresh.
After following Aabasaheb's suggestions, Suresh was able to increase his yield by more than 70%, which inspired him to conduct more experiments.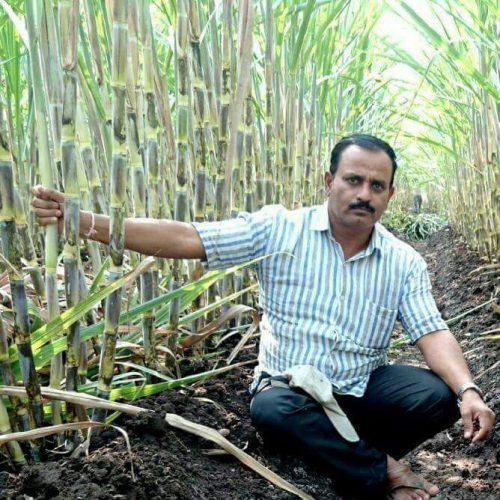 With every year, the yield and the size and weight of the sugarcane kept increasing, and this year Suresh has harvested 100 tonnes per acre from his first crop and 120 tonnes from the second crop. The size of each sugarcane this year exceeded 20 feet. Each one weighed more than 4 kg.
Here are the changes that Suresh made in his farming method —
1) Preparing the land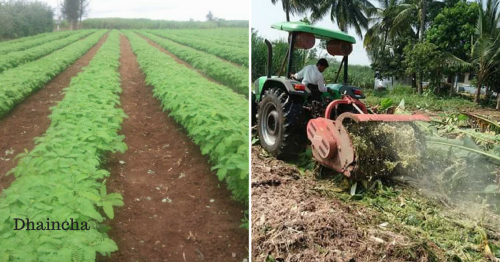 The first thing that matters most is the soil where the crop will be grown. Suresh's journey to achieve the best quality sugarcane begins in March when he plants a green manure called Sesbania, which is also known as also known as Dhaincha. Once the plants are almost ready to start flowering, they are crushed with the help of a power tiller or a tractor and mixed within the soil. A layer of mud is put upon this, and a bed to plant sugarcane is prepared.
According to Suresh, Dhaincha is a rich source of carbon, and its roots contain essential nitrogen which provides the required nutrition to the soil.
2) The ideal bed for sugarcane plantation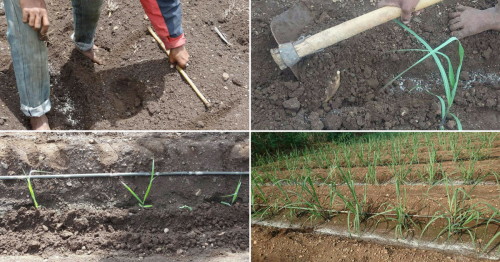 Once the land is ready, deep drains that are about 10 inches to 1 feet, are dug at a distance of almost 5 to 6 feet from each other. It is essential to put the fertilisers on the side of the drain where sunrays fall directly.
"In the traditional method of planting sugarcane, we would keep the distance between two drains up to 2 .5 feet, but I realised that keeping a gap of 5 to 6 feet gives them required space to grow," says Suresh.
3) The seeds of success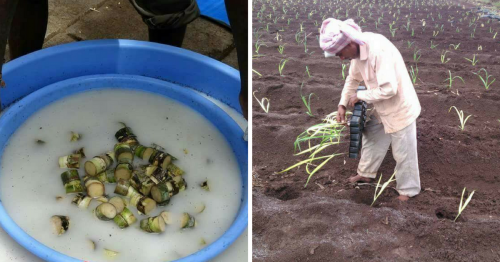 For a good crop it is very important to select the right seeds. Suresh suggests that farmers take up one eye seeds of sugarcane of best quality. He then recommends that they wash the seeds with a mixture of 20% chloro in one litre of water, then two gm of bavistin in one-litre of water and finally 5-10 millilitre of germinator in one-litre water. These seeds are then planted in the drains by making a quench in the drains of about 3 inch deep at a distance of 2.5 feet each.
4) Use fertilisers but in optimum amount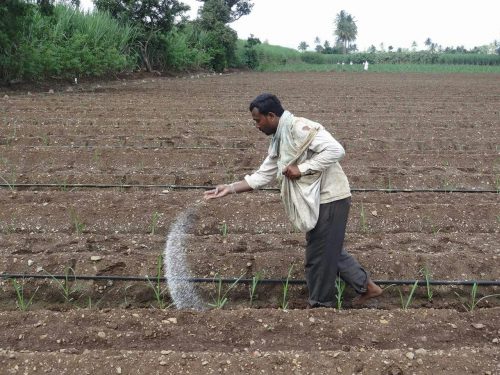 Suresh informed us that plants need fertilisers, but one has to take care of the quality and the right way of using them. He digs a small quench near the space where the seed has to be planted and puts the essential fertilisers right at the roots of the plant and covers it carefully with the soil. This technique ensures the plant gets all the nutrients from its roots. "It takes at least five farm labourers to do this job, but one can see the positive results," he explains.
Suresh also makes organic manure at his own farm and says that he strains the cow dung first before using it in the manure.
5) Watering plants the right way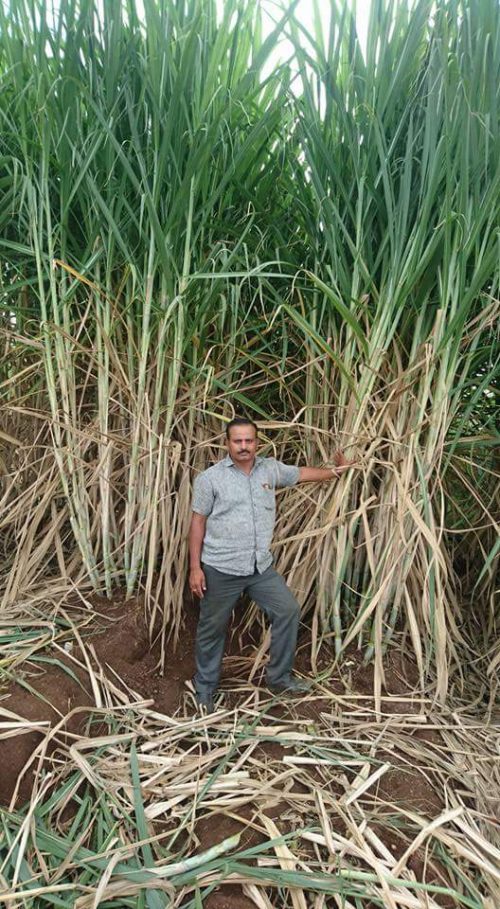 The method of flood irrigation is harmful to the plants as well and leads to water wastage. Suresh waters the plants as when required. At times, he has remained awake all night, just to ensure that the plants are watered at the right time.
Suresh worked very hard for six years to ensure that his father's dream came true. He tells us how he would double up the fertilisers, try using power tillers instead of bulls, make his own seed plot and stay awake night after night to fulfil his father's dream.
While sharing the entire process of the plantation to harvesting of the sugarcane, Suresh tells us how it is a result of continuous efforts wherein he keeps nourishing the plants right from the day of planting.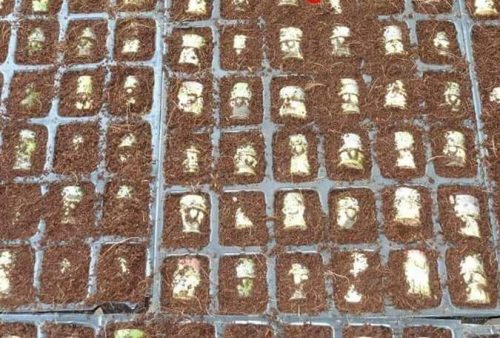 On the 30th day of the plantation when the sprouts are visible, he puts a mixture of various nutrients at the root of each plant by digging a small quench around it and then covers them too.
This process has to be repeated on day 65, day 85, day 105, day 135, day 165 and finally on day 225. One also has to keep removing the dead leaves from the plants as and when required.
Suresh makes a separate drain beside the plantation drain to put these dead leaves which work as green manure. Suresh has also set up an example among the farmers to make the environment pollution free.
He does not burn the farm residue which comes up to 30 to 40 tonnes, and instead, crushes them with the help of shredder and tractor or a power tiller and then covers the farm with a layer of soil that was taken out during the formation of the drains. Suresh claims that this method has also helped to retain the soil nutrient as the residue converts into green manure.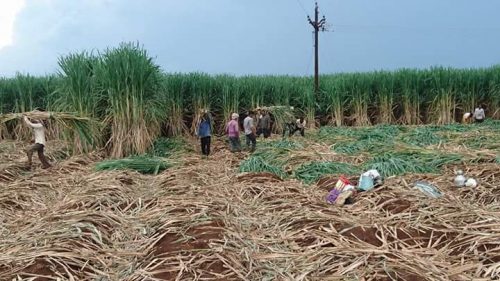 Suresh has created a sugarcane seed-plot of the best quality seeds, which are in demand in Madhya Pradesh and Karnataka. He is also admin of the Facebook page, 'Maharashtra Uus Udpadak Samuh'(Sugarcane Growers of Maharashtra) which is an initiative of his social foundation 'Hoye Aamhi Shetkari' (Yes! we are farmers). The group which was started just six months ago has 1lakh and 15 thousand members currently. He also runs a WhatsApp group and a YouTube channel named 'Hoye Amhi Shetkari' where he gives live lessons to the farmers.
Currently, Suresh grows sugarcane, bananas, and turmeric on his farm land.
He made a profit of around ₹40 lakh from his first crop this year and is hoping to excel this record in the second crop which has given him an average of 120 tonnes/acre.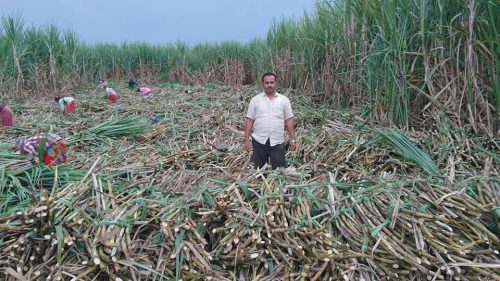 Suresh who has won many awards including the best sugarcane farmer award at the recent Krishithon at Nasik, says that this was not possible without the support of the farm labourers who work at his farm and the constant support of his wife, Padmaja.
Appasso is a proud father today when he sees farmers coming from all across the country to get trained from Suresh.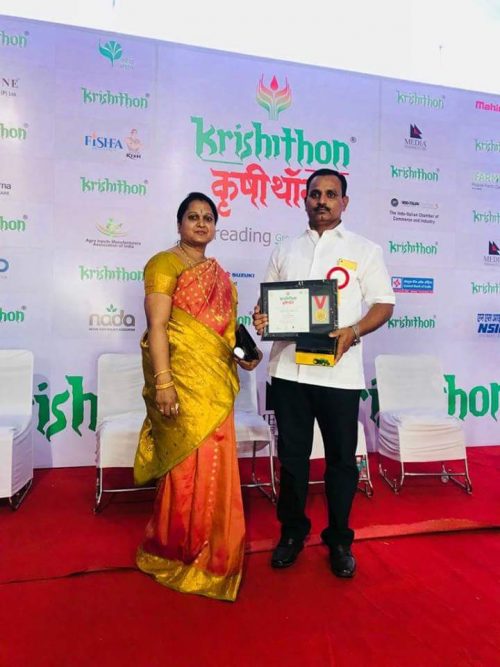 "I regret that I could not finish my education, but now when collectors and agri-scientists come to me to learn my technique, it makes me feel happy. However, I don't deny that education is important, and have always encouraged my children to study," says Suresh.
Suresh's elder son has completed his MBBS degree, and his younger son is also an aspiring doctor.
When we ask him if his sons are interested in farming, he laughs and says, "Of course! They love to farm just like me, but they will be educated Sunday farmers!"
You can contact Suresh Kabade at kabadesuresh21@gmail.com
---
Like this story? Or have something to share? Write to us: contact@thebetterindia.com, or connect with us on Facebook and Twitter.
NEW: Click here to get positive news on WhatsApp!
We bring stories straight from the heart of India, to inspire millions and create a wave of impact. Our positive movement is growing bigger everyday, and we would love for you to join it.
Please contribute whatever you can, every little penny helps our team in bringing you more stories that support dreams and spread hope.