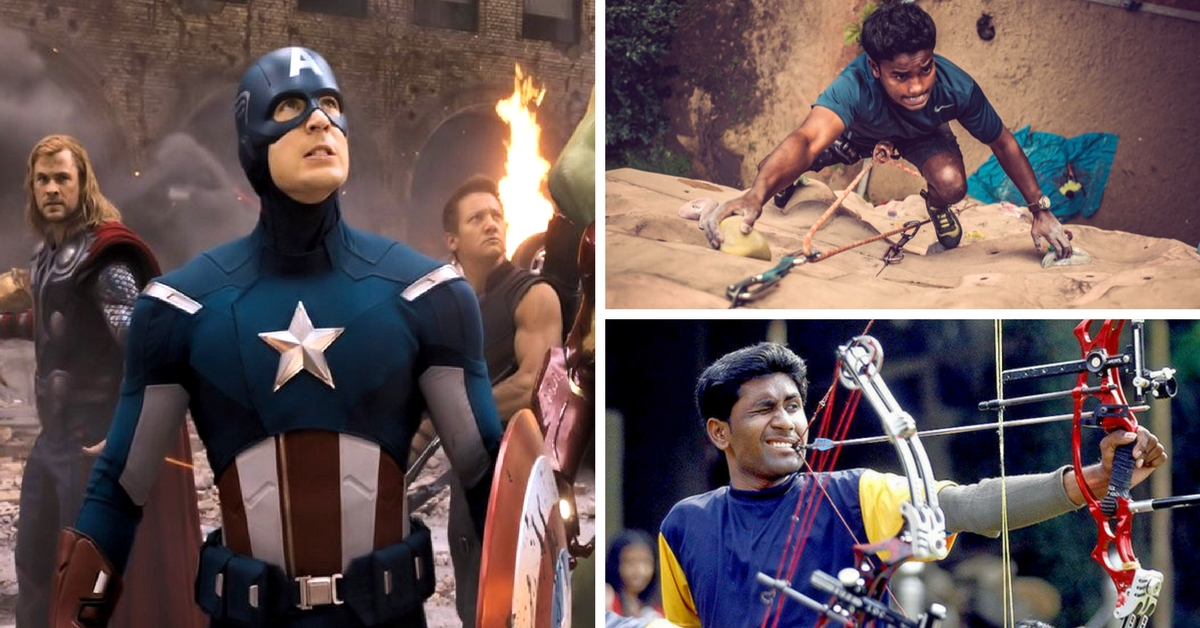 A lighthearted list of amazing real-life heroes from India who embody the values and strengths displayed by Marvel's Avengers.
"All the best heroes are ordinary people who make themselves extraordinary." – Gerard Way
The culmination of a decade-long cinematic series that began in 2008 when Marvel's Iron Man introduced the concept of a shared universe, the first trailer for Avengers: Infinity War was finally released online on Wednesday.
All our favourite superheroes will be uniting for this much-awaited movie and I'm as excited as any other Marvel fan to hit the cinema and witness the Avengers coming together "to fight the battles that they never could."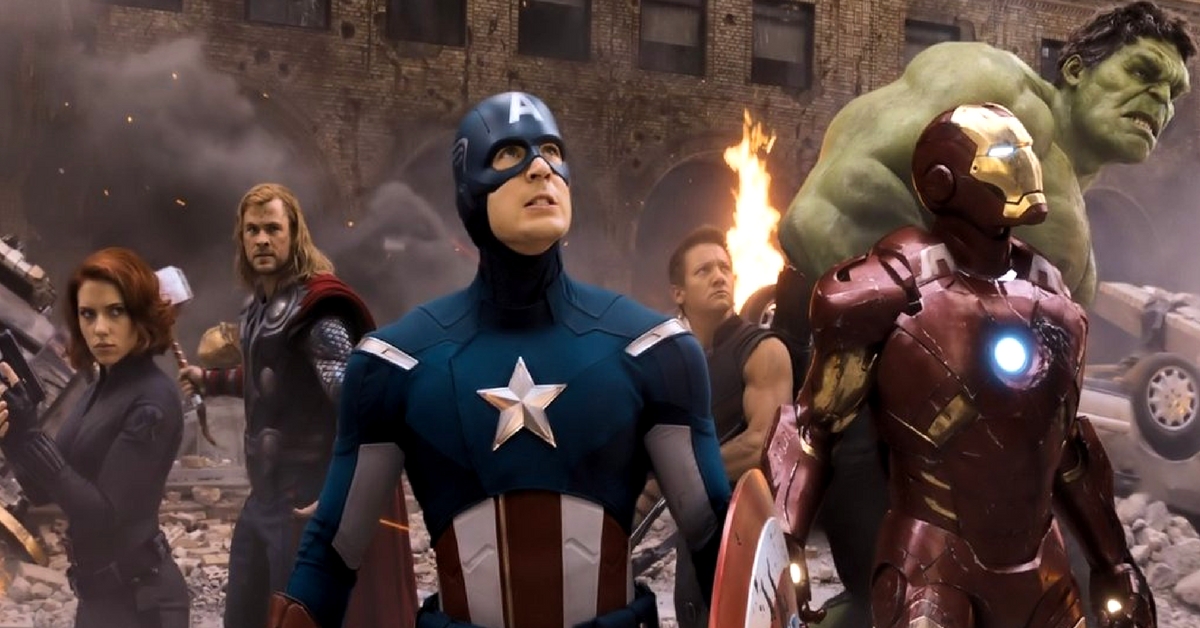 But do you know who we forget to notice while wishing these fictional heroes were real? The actual real-life Avengers who walk among us. India has some amazing individuals who have made it their mission to help others, who are living embodiments of the values displayed by Marvel's much-loved characters.
Some have innovated and invented for a good cause. Some have inspired us by overcoming huge odds. Others have moved us simply by their hard work and hopeful view of humanity. But one thing is for sure, all of them have set an example that is sure to inspire people for a long, long time.
Here's a lighthearted list of real-world Indian equivalents of Avengers. If you know someone who should be on this list, don't forget to let us know in the comments!
1. Iron Man – Rahul Narayan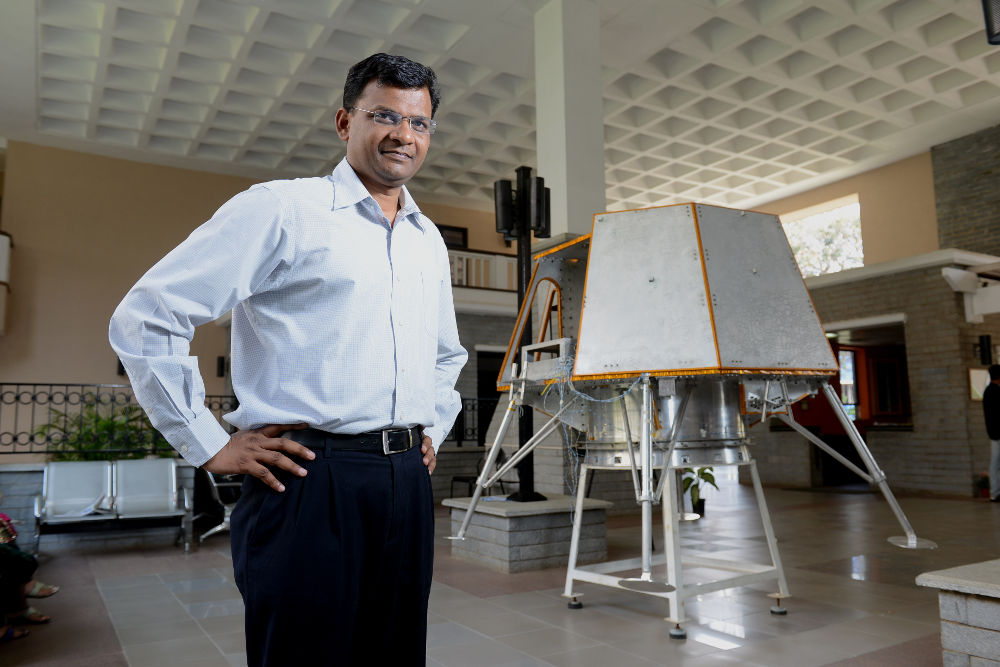 Never a conformist, IIT-Delhi alumnus Rahul Narayan had always wanted to pursue "something larger than the goals of a regular job". And in 2010, he took his first step towards fulfilling his dream when he decided to wrap up his three-year stint as the COO of a tech company to compete in the Google Lunar XPRIZE — the $20 million (₹ 129 crore) reward for the first privately-funded team to successfully build, soft-land and manoeuvre a spacecraft on the moon!
Deciding it was "now or never", Narayan relocated from Delhi to Bengaluru in 2011 to start Axiom Research Labs, the company behind TeamIndus, which is currently one of the five finalists, and the only one from India, in the fray for the Lunar XPRIZE.
Nearly seven years (and about $25 million in funding) later, Team Indus is just months away from sending the first Indian private spacecraft to moon on its roughly 380,000 km, month-long journey that will hopefully end in an Apollo moment. No wonder Narayan (who calls himself Fleet Commander of Team Indus, which, interestingly, has Star Wars-based designations) reminds us of Tony Stark, the genius engineer played by Robert Downey Jr.
2. Captain America – Major Somnath Sharma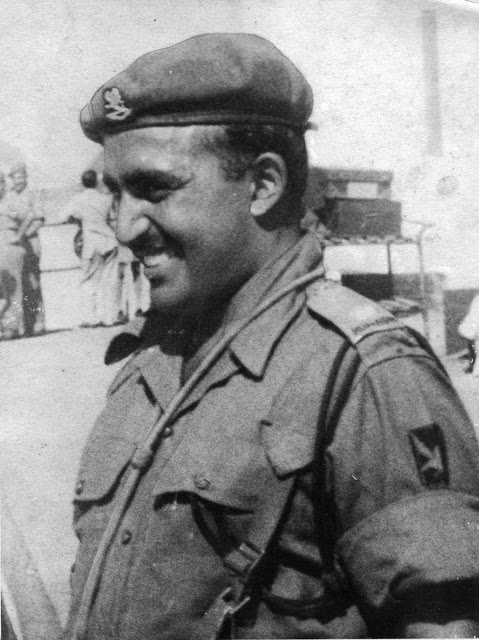 "The enemy are only 50 yards from us. We are heavily outnumbered. We are under devastating fire. I shall not withdraw an inch but will fight to the last man and the last round."
This was the last message sent by Major Somnath Sharma of 4th Kumaon Regiment to the headquarters.
Posthumously awarded India's first Param Vir Chakra (the nation's highest wartime gallantry award), Major Sharma is a man whose actions in the battlefield transcended heroism. During the Pakistani invasion of Jammu and Kashmir in October 1947, he fought incredibly bravely (despite being hindered by a fractured arm) to prevent the fall of Srinagar and arguably the Kashmir Valley
This is what his citation read:
"His leadership, gallantry and tenacious defence were such that his men were inspired to fight the enemy outnumbering them. Major Sharma set an example of courage and qualities seldom equaled in the history of the Indian Army."
A symbol of courage and combat ability, Major Somnath's story reminded of us another amazing war hero — Captain America!
3. Black Widow – Seema Rao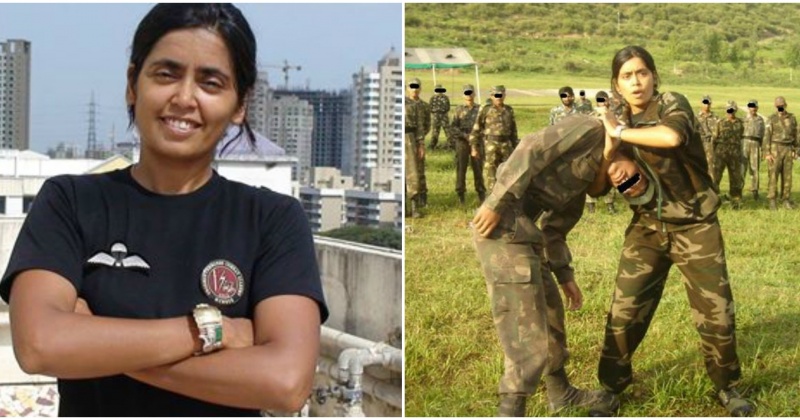 Black Widow was definitely one of the more difficult casting decisions in this list but the incredibly multifaceted Seema Rao fit the bill perfectly.
A 7th-degree black belt holder in military martial arts and India's only female commando trainer, Seema is a combat shooting instructor, a firefighter, a scuba diver, an HMI medalist in rock climbing, and a Mrs India World pageant finalist. She is also one of the only 10 women in the world certified in Jeet Kune Do, a unique martial art form created by Bruce Lee in the 1960s.
A close-quarter battle expert, Seema has been giving commando training to various armed forces in India for 20 years, without charging a single rupee for the work. She and her husband have stuck to this decision despite financial and physical hardships — constantly travelling to hostile locations, through harsh weather and inhospitable terrain, Seema could not even attend her father's funeral.
In fact, realising that it would be impossible to carry a pregnancy through (given her rigorous training schedule) Seema consciously decided not to have her own child and instead adopted a girl. In July 2017, Seema's daughter, Komal, became one of the few woman in the world to defeat a male opponent in Mixed Martial Arts (MMA)!
Read more about Seema Rao here.
4. Spiderman – Manikandan Kumar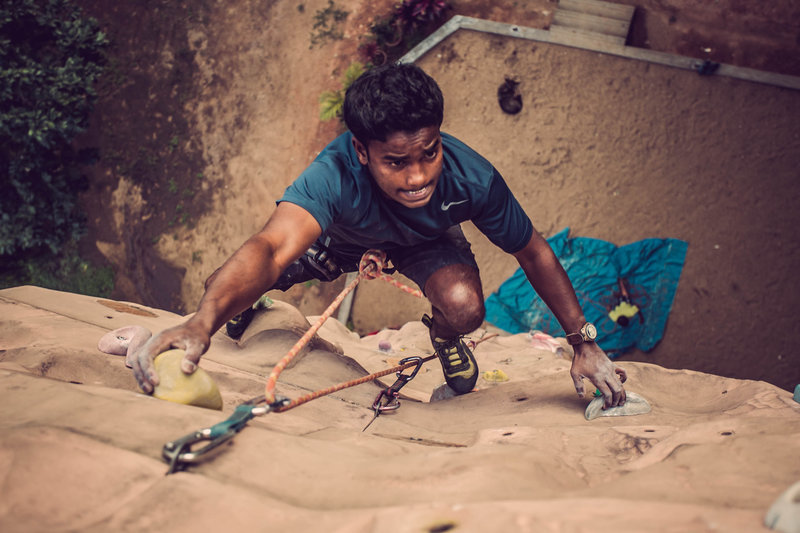 Manikandan Kumar's story is a legendary one. Just like Marvel's Spidey, there is no mountain too high for this determined daredevil to climb.
Born into a poverty-struck family, Manikandan's mother used to roll incense sticks to support the family and his father is a carpenter. Unfortunately, poverty was not to be the only obstacle he would have to face. He fell victim to polio as a young boy in school. But he didn't it stop from his pursuing his passion — rock climbing.
Although Manikandan's parents knew that he liked rock climbing, they were shocked and angry when he told them that he wanted to become a professional climber. But the determined young boy persevered, following an exhaustive regime for 10 years to become a better climber.
And better he did become. In 2012, Manikandan won a gold medal in the IFSC Paraclimbing World Championship, held in the Bercy stadium in Paris. There was no looking back for him after that. Today, he is India's only para-climbing world champion and has won 11 international medals. He is now eyeing a medal at Tokyo 2020.
5. Thor – Dashrath Manjhi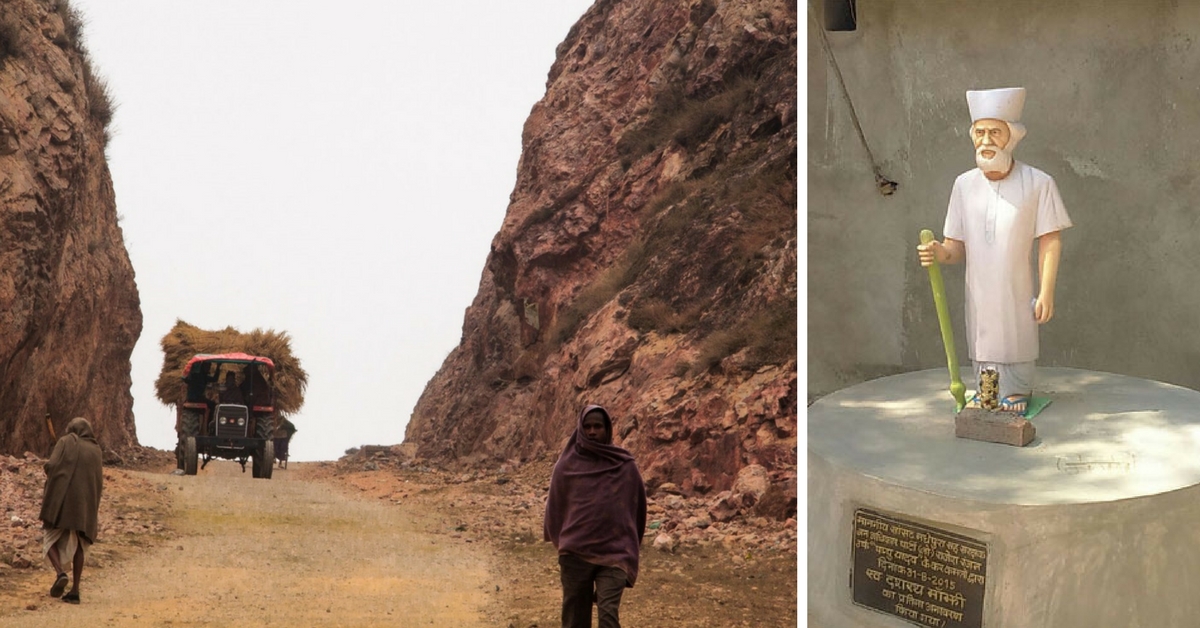 It took him 22 years but Dasrath Manjhi single-handedly carved a path through a mountain, shortening the travel distance between the Atri and Wazirganj of Bihar's Gaya district from 55 km to 15 km. And the landless farmer did this (with only a hammer and chisel)  just so that his village could have easier access to medical facilities.
In 1959, Manjhi's wife, Falguni Devi, fell down from a mountain and ultimately died due to lack of medical treatment because the nearest town with a doctor was 70 kms away. Devastated by her loss, the heartbroken husband wanted to ensure no one else died due because medical care was too far away.
So he sold his goats, bought tools and started carving a road through the mountain. People laughed and made fun of him but the undaunted man never stopped working. He gave 22 years of his life to this work ,single-handedly carving a 360 foot long (110m), 25 foot high (7.6m) and 30 foot wide (9.1m) road that made a huge difference in the lives of his fellow villagers.
For us, this hammer-wielding hero and his incredible feat are no less impressive than Marvel's Thor!
6. Hawkeye – Abhishek Thaware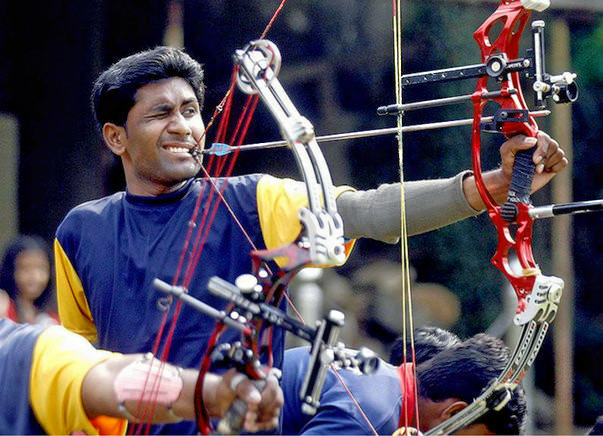 Destiny had set him up for failure by taking away his right hand and leg. But Abhishek Thaware defied destiny by becoming the first teeth archer of India.
When he was just one-year-old, Thaware's right arm was afflicted by polio after an injection for fever led to a serious infection. In 2010, he suffered a knee injury that never let him run again. But perhaps everything happens for a reason. And in Abhishek's case, the reason was archery. Abhishek's cousin, Sandeep Gawai, was an archer and he motivated Abhishek to join him.
However, this was also not easy for Abhishek. He could hold the bow with his left hand but the right hand did not have enough strength to pull the arrow. So he tried doing this with his teeth. It was only due to his sheer will, dogged determination and tremendous that he managed to achieve this tough feat.
Today, he is India's first and only teeth archer. Having won several awards, he now hopes to represent India at Paralympics 2020 in Tokyo. Unsurprisingly, he fit perfectly into this list as the real-life equivalent of Hawkeye, the Marvel superhero known for his archery skills and inventive trick arrows.
7. Antman – Shrikant Gajbhiye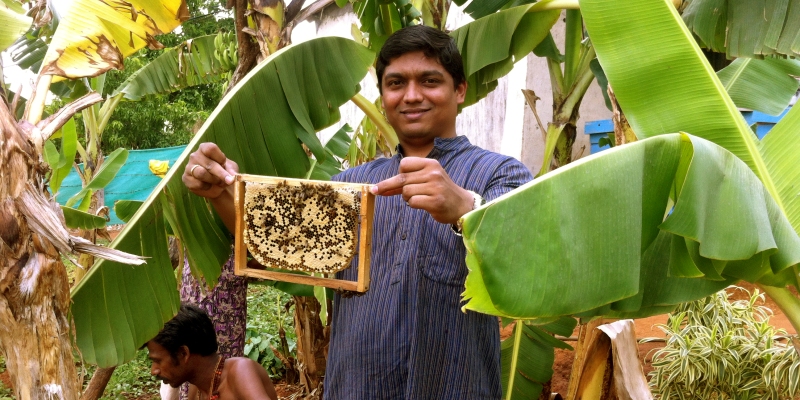 We didn't exactly find an Indian Antman but we did find a 'Bee Man'! Amid reports of honeybees being at risk from climate change and the use of pesticides on crops, Shrikant Gajbhiye from Maharashtra has been working tirelessly to save these keystone species from going extinct.
The founder of Bee The Change, Gajbhiye fell in love with bees after he took up a five-day hobby course on beekeeping at a government institute in Pune. Realising that not only are bees important for ecological balance, they also have the potential to transform human lives, he decided to set up an organisation that works in the field of bee-keeping.
Today, his organisation, Bee The Change, offers free beekeeping training to farmers and forest populations in Maharashtra. Other than providing bee boxes and free training, the organisation also buys back the honey at a pre-determined price, allows the bee-keepers to increase their income, while preserving bee populations in the wild.
8. Hulk – Laxmi Agarwal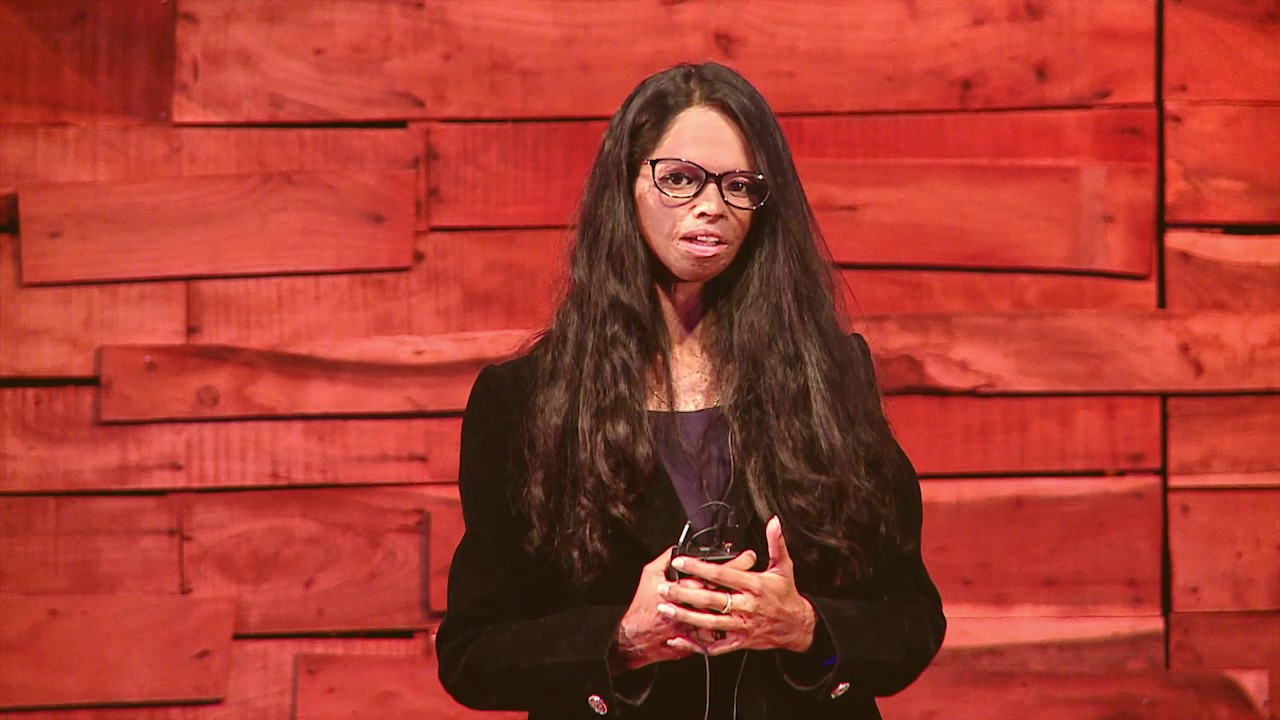 15-year-old Laxmi Agarwal had been on her way to the bookshop when a man who had been stalking her for nearly a year — a close family friend, double her age — threw a beer bottle full of acid on her face because she had refused his proposal. The pain seared her moments later, as the acid corroded her pretty face and the person she had been
Nearly 10 years later, at a TEDx event in Jaipur, a confident Laxmi explained how she had wanted to kill herself after seeing her face for the first time after the acid attack. But she also knew that life had to start again after her attack. "He threw acid on my face, not on my dreams", she said at the event.
Despite being scarred both physically and emotionally in the years following the attack, Laxmi battled immense pain, refused to be shunned, and stepped out into the light so that the world could learn from it and hopefully make amends. She also launched a campaign to regulate the sale of acid in India, pressurize legal bodies to take strict action against acid attacks and provide affordable treatment to survivors.
Little wonder Laxmi's fight against acid attacks, resilient spirit and incredible inner strength reminds us of the most powerful Avenger, the Hulk.
Like this story? Or have something to share? Write to us: contact@thebetterindia.com, or connect with us on Facebook and Twitter.
NEW: Click here to get positive news on WhatsApp!
We bring stories straight from the heart of India, to inspire millions and create a wave of impact. Our positive movement is growing bigger everyday, and we would love for you to join it.
Please contribute whatever you can, every little penny helps our team in bringing you more stories that support dreams and spread hope.