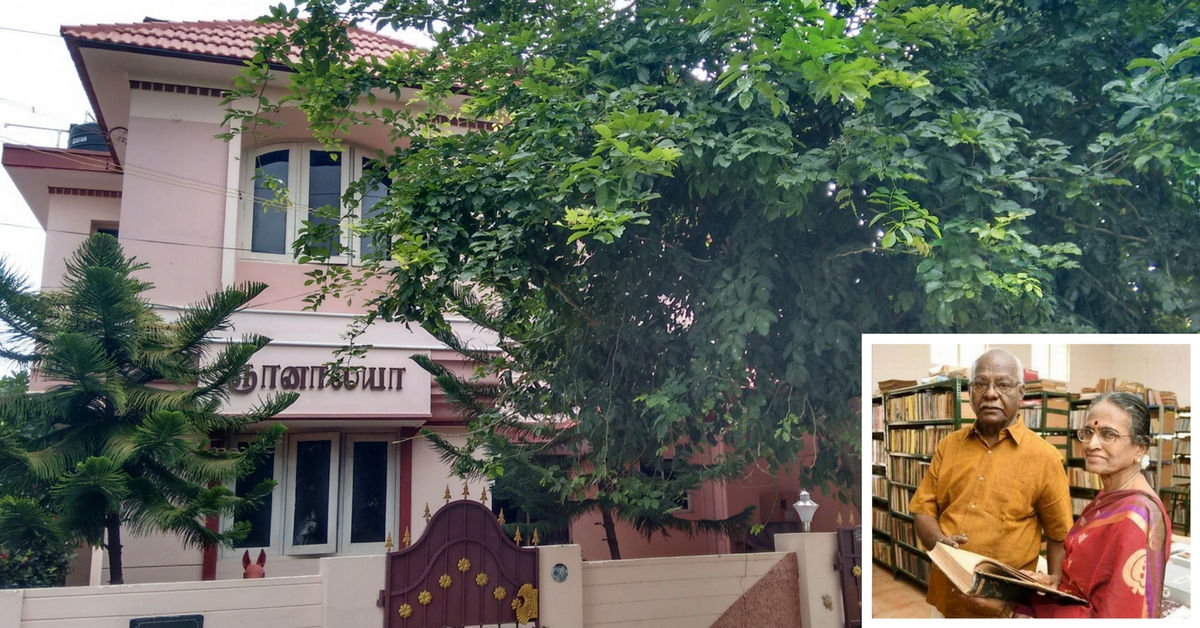 Amongst the largest private libraries in the country, Gnanalaya bears the extraordinary distinction of hoarding some of the rare Tamil publications that one wouldn't be able to find anymore.
There is only one place on earth that you would find a 1942 issue of Sakthi with a resplendent Rukmini Devi Arundale on the cover, letters written by Rajaji and poet Bharathiyar's daughter Thangammal, a rare photocopy of Thampiran Vanakkam (1578)—the first Tamil book ever published, and a hand-written 1867 Latin-Tamil dictionary, all under one roof.
Gnanalaya is a private library and research centre in Thirukokarnam, Pudukkottai that was established by B Krishnamurthy and his wife Dorothy in 1999.
A three-storey structure that houses around 1,20,000 Tamil and English books, the library stands as the epitome of love for books mutually nurtured by the husband-wife duo.
Amongst the largest private libraries in the country, Gnanalaya bears the extraordinary distinction of hoarding some of the rare Tamil publications that one wouldn't be able to find anymore.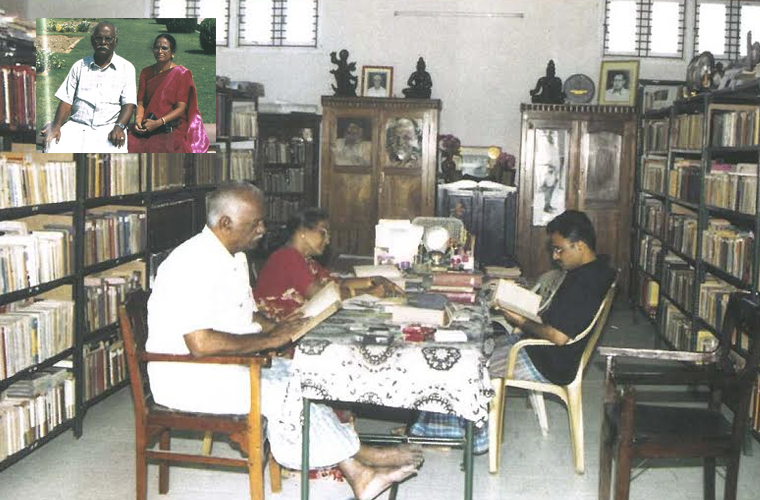 Some of the rare books include legendary poet Subramaniya Bharathi's Swadeshi Geethangal (1908), Bharathidasan's anthology of poems (1930), and Veeramamunivar's Charthuragarathi (1848), besides an exclusive section for Tamil literary journals ranging from Manikodi to the Kanayazhi.
"The biggest drawback in modern Tamil publishing is that books as recent as 60 years old have not been reprinted. So what is the hope of reviving older publications that chronicled the achievements of an earlier generation? How many people know anything about the great musicians and cultural icons of those days?" Krishnamurthy told The Hindu.
Having entered the library at different stages of their lives, every book in their collection has a unique story behind it. And it is 76-year-old Krishnamurthy, who takes a keen interest in unfurling these stories to the visitors.
A retired government school headmaster, the man is a treasure trove in himself whose knowledge of the history of Tamil literature and publishing is quite extensive. Dorothy had served as a Botany lecturer in various colleges.
Krishnamurthy's love for books goes all the way back to his college days during the 1950s.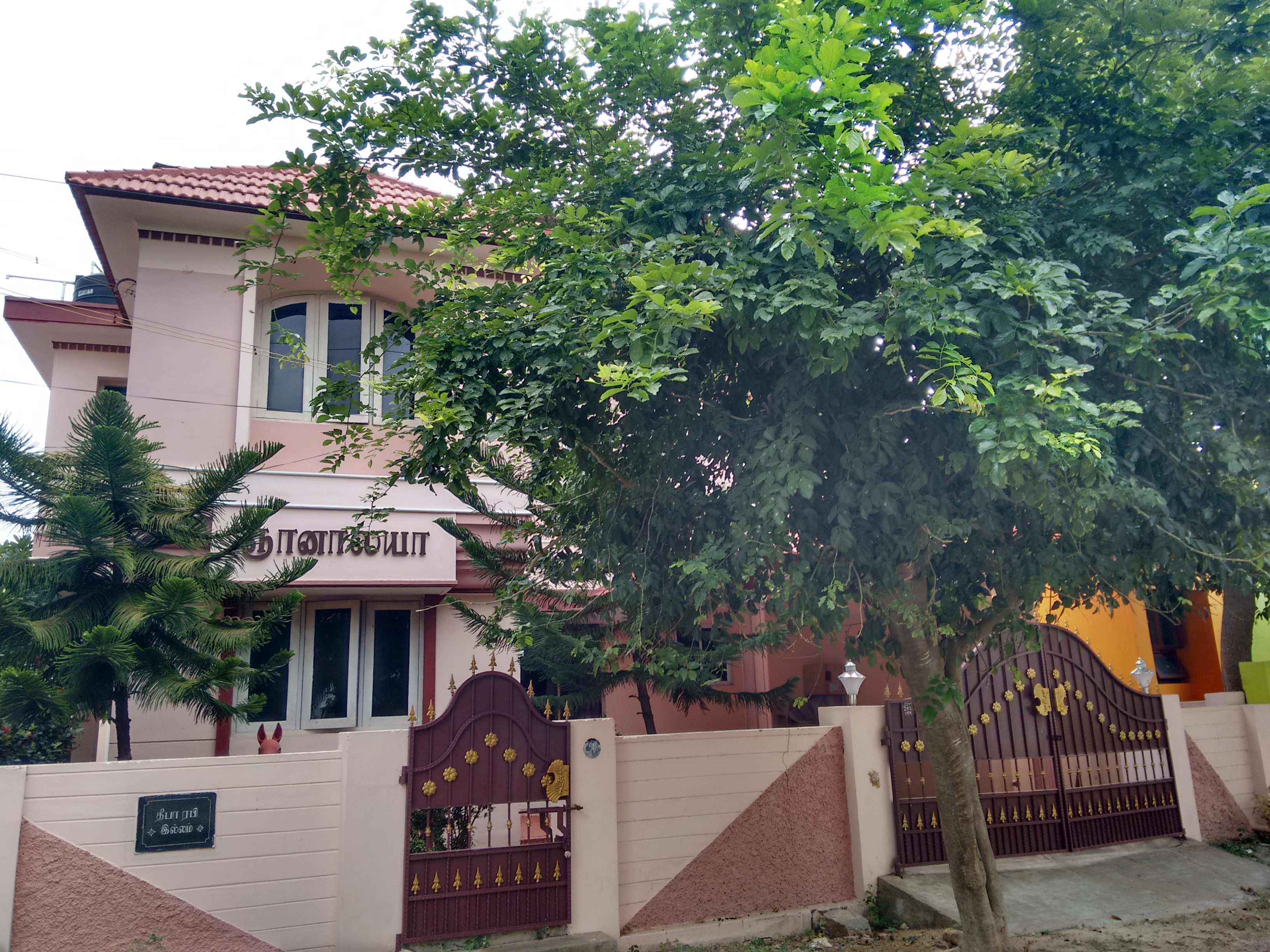 But the idea of starting a library only sprouted wings when his father gifted him a trunk full of books upon his retirement in 1962.
And then began a journey that opened doors for Krishnamurthy to forge lifelong friendships with great Tamil literary figures like VRM Chettiar, Moraiyur Chokkalingam and AK Chettiar, who played a great role in guiding the bibliophile with their selection of books.
In fact, it was upon Chettiar's advice that Krishnamurthy took the step forward to marry Dorothy and went on to become the 'model secular couple' in 1969.
With Pudukottai being the last district where they served, the couple finally made Thirukokarnam their home following retirement in 1985, where they stored their already enormous collection of books.
But when the collection burgeoned beyond the perimeters of their house, the collectors finally decided to set up a library and purchased a 2400 sq. ft. plot next door and constructed the library at a cost of ₹ 11 lakhs.
Today, the library has become the ultimate reference point for political speechwriters, students of Tamil culture and scholars from foreign universities in search of authentic publications related to South Asia and Southern India.
To further encourage researchers, the septuagenarian couple has even kept the library free for reference.
Krishnamurthy often lends researchers with his extensive historical inputs and is invited to various literary jamborees to share his pearls of wisdom. Even Dorothy tried her hand at translating recently and churned out the first complete version of Marcus Aurelius's Meditation into Tamil for Sandhya Publications.
Maintaining the books lined in racks across the three floors is an enormous task in itself with constant damage-check of volumes. Krishnamurthy and Dorothy had taken special care in building the library with high ceilings that would enable free air circulation and safeguard the priceless treasure inside. An amount of ₹2.5 lakhs goes into its maintenance every year.
---
You may also like: This Fabulous Treasure Is Hidden Just a Few Lanes From Kerala's Sreevaraham Temple. Know More!
---
Though the idea of a digital library is appealing to the couple, their hands are sadly tied with financial limitations. With the love of reading dwindling amidst the younger generation, Krishnamurthy and Dorothy hope that the habit does not die out.
"We want to take the books across to as many people of the next generation. It's sad that people don't read for pleasure anymore," added Dorothy.
Like this story? Or have something to share?
Write to us: contact@thebetterindia.com
Connect with us on Facebook and Twitter.
NEW: Click here to get positive news on WhatsApp!