Meet Sushant Ajnikar and Anita Rane, the founders of a unique movement that promises to change the lives of Desi dogs for the better.
How many times have you noticed your local Indie dog rummaging in the neighbourhood garbage vat? Usually not many spare a second glance toward our fellow city inhabitants.
Running around aimlessly, tails wagging, they're usually on the lookout for a meal. If they're lucky, they'll get a few biscuits, instead of the usual stones people usually throw at them.
Where many turn a blind eye, one couple from Bengaluru has taken it upon themselves to uplift the living conditions of our canine companions.
Not the high-end breeds sitting cozily in people's houses, but the neighbourhood Indian Dog, the ubiquitous free-ranging canine who has never experienced a friendly pat on the head.
Sushant Ajnikar and Anita Rane are the founders of Paws of India, a one-of-a-kind initiative that aims to increase awareness regarding the widely found Desi dog breed.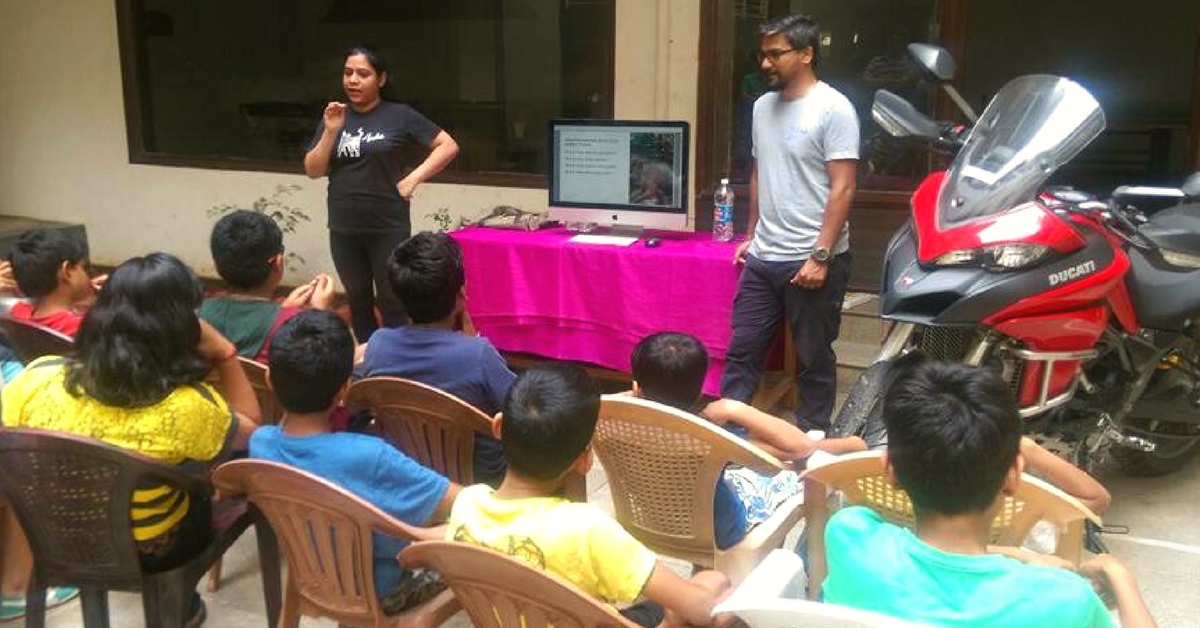 Hailing from an advertising background, they both realised that actual rescue work might be too hectic and demanding. Given their tight professional schedules, they concluded that if Sushant was going on bike rides and meeting dogs on his pit stops, he could raise awareness about those dogs in that neighbourhood.
Says Anita, "Paws of India was co-founded by Sushant and I. We are not an NGO, but we want to call ourselves a movement — a movement that can inspire bikers to feed street dogs whenever they go riding."
Thus, it all started when Sushant, an avid motorcyclist and animal lover, wanted to combine his passion for riding with his love for dogs. The result was a 9000 km ride, from Bengaluru to Leh and back, during which he befriended dogs along the way.
Whenever he stopped for a break, he interacted with the dogs in the area, giving them food, water and a much-needed hug. A pleasant moment in the dog's lives to make them forget the difficulties they face daily.
Thus was born Paws of India, an honest attempt to bring people and canines closer, by creating compassion for the latter. If each dog is given a name, and consequently an identity and a background story, people will warm up to it.
Resultantly, people will see the dog in a different light. The indifference on the people's part hopefully might disappear.
Combining Sushant's and Anita's love for motorcycling and animal activism, Paws of India has carried out activities to further their cause.
One initiative saw the couple hold a seminar in their old housing society, where the children were scared of dogs, and would scream and throw pebbles at them.
Another unique initiative saw Sushant travel to Nepal, where he held a seminar at the Lincoln School, educating children and encouraging them to behave compassionately with canines.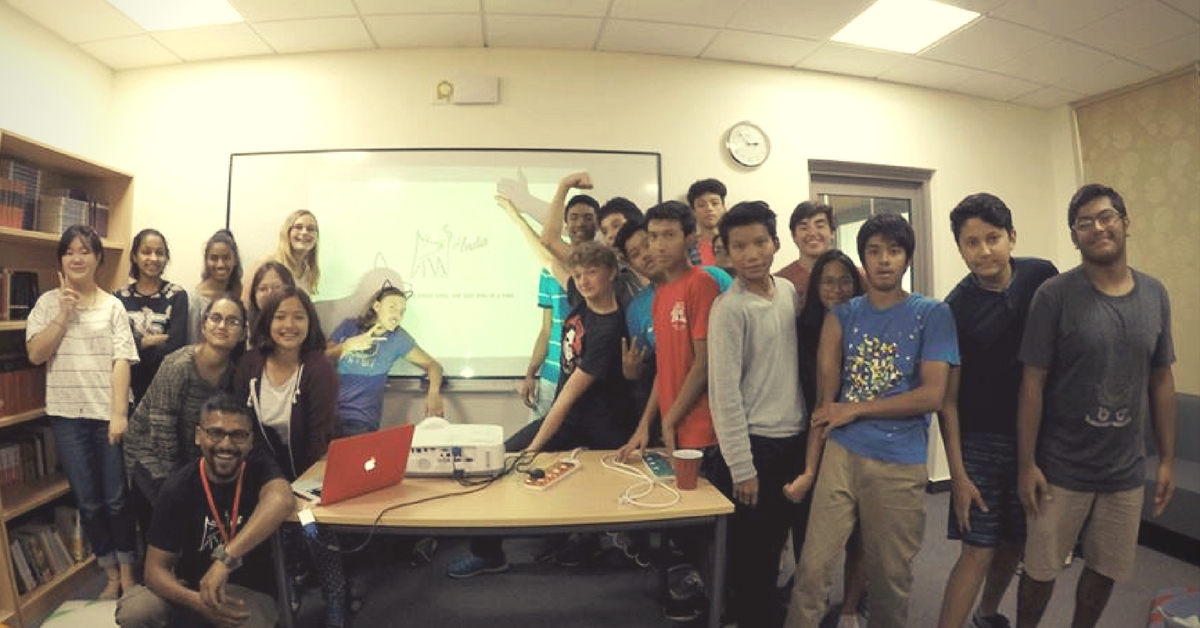 Invited there by a professor in October 2016 to talk about Paws of India and street dogs, he was successful in making the children realise there is no harm in showing their 4-legged friends some love.
Anita says there has been a shift in perception and increased awareness over time. People might not always go to the extent of adoption and active rescue, but there has been a definite increase when it comes to looking out for canines, co-existing peacefully with them, and taking people who mistreat animals to task.
But she says there is still a prevalent attitude which makes people opt for specific breeds. When someone puts up a Golden Retriever or a German Shepard for adoption, there are a lot of enquiries, but when someone posts a photo of a Desi breed, people comment "cute puppy, hope it finds a home", yet don't come forward to adopt the dog themselves.
Getting involved and helping the cause is easy explains Anita.
"5 minutes and 5 rupees'" is a unique concept, and its uniqueness lies in its utter simplicity.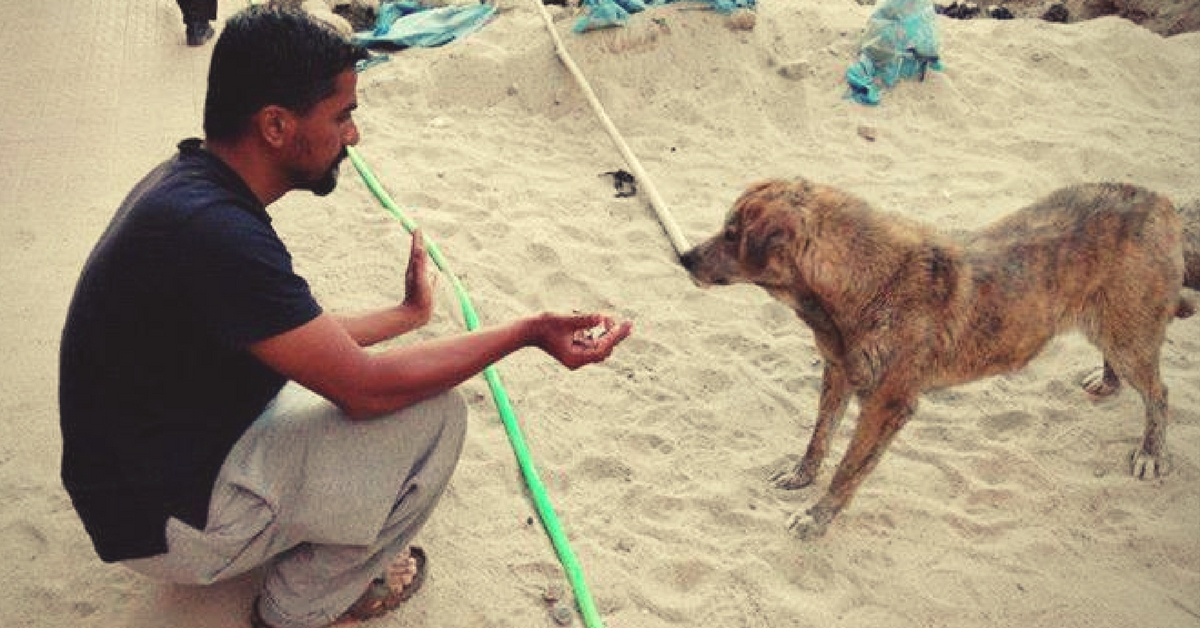 The challenge is to change people's mindset. Those who want to make a difference, and cannot adopt or rescue a dog themselves, can take 5 minutes to buy a packet of Parle-G biscuits worth Rs 5, and feed a dog.
Feed the dog personally, or if you're scared, leave the pack open for the dog and step back. Parle-G contains a generous amount of glucose, which keeps the dog's energy levels up for at least 24-30 hours. Parle-G is not the best dog-food, but is widely available and easy on the pocket. Not everyone can afford to feed a free-ranging canine chicken and rice on a regular basis. Besides, it is better to feed a dog biscuits rather than to let it go hungry.
The immediate goal of Paws of India is to create a paradigm shift in mindset. Adoption and rescue work aside, compassion is what needs to be instilled in society. That is the first and the most crucial step. A lot of people are opening up and overcoming their fear of canines.
Anita recounts an incident in which there was an old man living in Mumbai, who was terrified of the neighbourhood dogs. The dogs would follow him, whenever he went for a walk.
He walked with a slight limp and carried a stick. Anita suggested that he carry some biscuits the next time, and feed these dogs, as they might just be hungry.
The very next day, the man reported that the dogs had consumed the biscuits happily, and would now wag their tails on seeing him. For a 60-year-old person, who has never touched or interacted with a dog, this is a huge step. Anita attributes this to the fact that animals are intelligent and recognise friendly behaviour.
When asked to shed light on the future course of action for Paws of India, Anita mentions that their primary objective is to open a facility for the unwanted. The facility will employ people who are homeless, to take care of the dogs the facility adopts.
This unique rescue/boarding facility will see these homeless people become staff and take part in actively rescuing destitute animals.
---
---
Anita also hopes that this movement will also benefit the large motorcycling community in India. Motorcyclists are often wrongly perceived to be rule-breakers.
If the biking community gets involved in the cause to help feed dogs, the effects will be multi-pronged. For one, people might have a new and favourable opinion on bikers, and secondly, the initiative to help dogs will get a massive boost, owing to the active presence of tons of bikers in India.
And above all, this will help change people's perceptions of our beloved Desi breed.
People often complain that the Indian Dogs in their lane are aggressive and bark. Anita attributes this behaviour to hunger. Feed the dogs she says, and they will calm down, trust you and protect you. You will gain an invaluable lifelong friend!
To know more about Paws of India, visit their
Facebook
page.
Like this story? Or have something to share? Write to us: contact@thebetterindia.com, or connect with us on Facebook and Twitter.
NEW: Click here to get positive news on WhatsApp!
We bring stories straight from the heart of India, to inspire millions and create a wave of impact. Our positive movement is growing bigger everyday, and we would love for you to join it.
Please contribute whatever you can, every little penny helps our team in bringing you more stories that support dreams and spread hope.