Her writing is away from all literary influences, as she never had a chance to read any.
"Arey Sansaar Sansaar, Jasa Tava Chulyavar
Adhi Hatala Chatake, Tevha Milte Bhaakar"
(Oh this life, just like a pan on the hearth
First it burns the hand, only then one gets the bread)
– Bahinabai Choudhari
She had never held a pen, she could not read a word, but she gave us some of the most beautiful poems with deep insights into the joy called life.
B
orn in a merchant's family in Asode village of Khandesh region and married off at 13 to a wealthy farmer named Nathuji Choudhari in Jalgaon, Maharashtra, Bahinabai was like any other village woman.
Her life and struggles were the same too. But she had that extra vision to see happiness and love in every part of this routine life and form verbal couplets (ovi) out of it.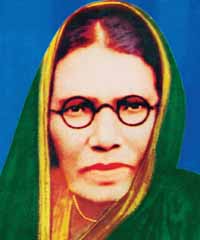 A few years after her marriage, the joint family split, and Bahina and Nathu were left with a small piece of land and a Wada (house). To make it worse, droughts struck year after year, and the couple had to work as labourers to feed their three children, Kashi, Madhusudan and Sopandev.
Her struggle did not end here. She lost her husband when she was just 30, and her eldest son Madhusudan was disabled after suffering from the plague.
However, Bahinabai's poems are full of gratitude towards everything she had.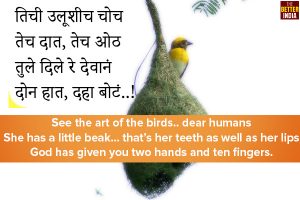 ---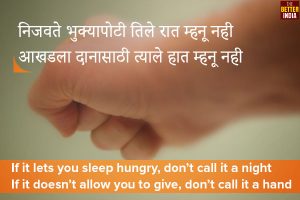 Her son, Sopandev – who also became a notable poet of Marathi literature – first published her poems in 1952 under the title 'Bahinabainchi gani [Bahinabai's Songs] after her death.
It took almost 13 years to revise and add further poems to her collection.
Sopan writes in his book:
"I was in class 4, when once while browsing through my old books, I chanced upon a class 2 textbook. I was looking for the ink marks I used to leave, and I stumbled upon my favourite story. It was titled ' Savitri's Sagacity'.

I started reading aloud with aplomb. Mother was listening intently, and I was wondering what my illiterate Mother would understand out of this. Next morning mother was up early to do her chores. Her sweet rendering of couplets as she ground grains woke me up. I rested in her lap as she sang…
"Savitri Savitri ..Satyavanachi sawli

(Savitri – is with Satyawan like a shadow)

Ninghe Satyawan, tyacha maage dhawli

(Even after his death, she ran to follow him)

Unfortunately, I just remember these two lines now. The full text never got documented!"
After his mother's death in 1951, Sopandev found the notebook and shared one of her poems with Acharya Pralhad Keshav Atre.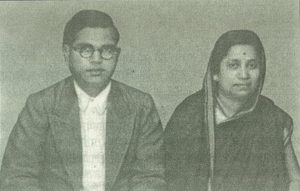 Acharya Atre was a humorist, journalist, and orator par excellence and had won the President's gold medal for his Marathi film, "Shyamchi Aai".
"It is pure gold," Atre retorted in response and took the initiative to publish the poems, thus giving the world this masterpiece. Atre writes in his foreword to Bahinabai Chaudhari's poems, "I jumped to extract all the pages of the script. They were so enchanting and left me breathless."
Bahinabai's poems have created a lasting impression not only on the poetry of Khandesh but on all modern Marathi poetry in general. This illiterate village woman expressed the essence of her life through her poems.
At the same time, she depicted the philosophy of human life in simple words.

According to Sopandev, she would often converse in rhythmic poetry. When a neighbour asked her how she could compose such poems, Bahinabai said:
"माझी माय सरसोती

माले शिकवते बोली

लेक बहिनाच्या, मनी

किती गुपीतं पेरली."

(My mother Saraswati (Goddess of Learning) taught me to speak

She hid many "secrets" in my mind)
Bahinabai has composed her poems in the spoken variety of Varhadi and Ahirani, a Khandeshi dialect of Marathi. Hence her poetry has a special world of its own. Most of her verses are expressed in the ovi (verbal couplet) format, in accordance with the oral tradition of the region.
Her poetry expresses the emotional world of a woman who is born in a poor, hard-working family of farmers and looks at the day-to-day routine life with an observant eye.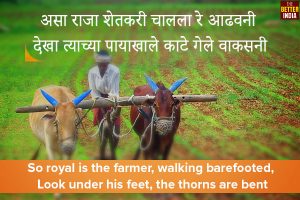 ---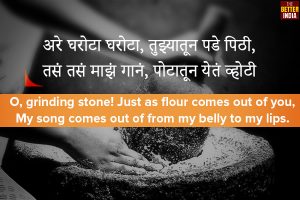 Her writing is away from all literary influences, as she never had a chance to read any. It seems to be thoroughly soaked by her singular worldview and the people around her.
When Sopan once asked her – "Mother you toil so hard every day, at home and in the farm and your eyes are always downcast, then how do you come up with such extraordinary thoughtful and imagery words that none of us gets?"
Bahinabai answered – "Sopan, my dear…I can see heaven in the mirror of this earth…"
Bahinabai died at Jalgaon on 3rd December 1951 at the age of 72. Although many of Bahinabai's poems were lost, 732 of them could be preserved.
'आला सास, गेला सास, जीवा तुझं रे तंतर,

अरे जगनं-मरनं एका सासाचं अंतर!'

(Breathing begins- Breathing ends, that's what life means

What separates life and death is but merely a breath)

– Bahinabai Choudhari
---
Like this story? Or have something to share? Write to us: contact@thebetterindia.com, or connect with us on Facebook and Twitter.
NEW: Click here to get positive news on WhatsApp!