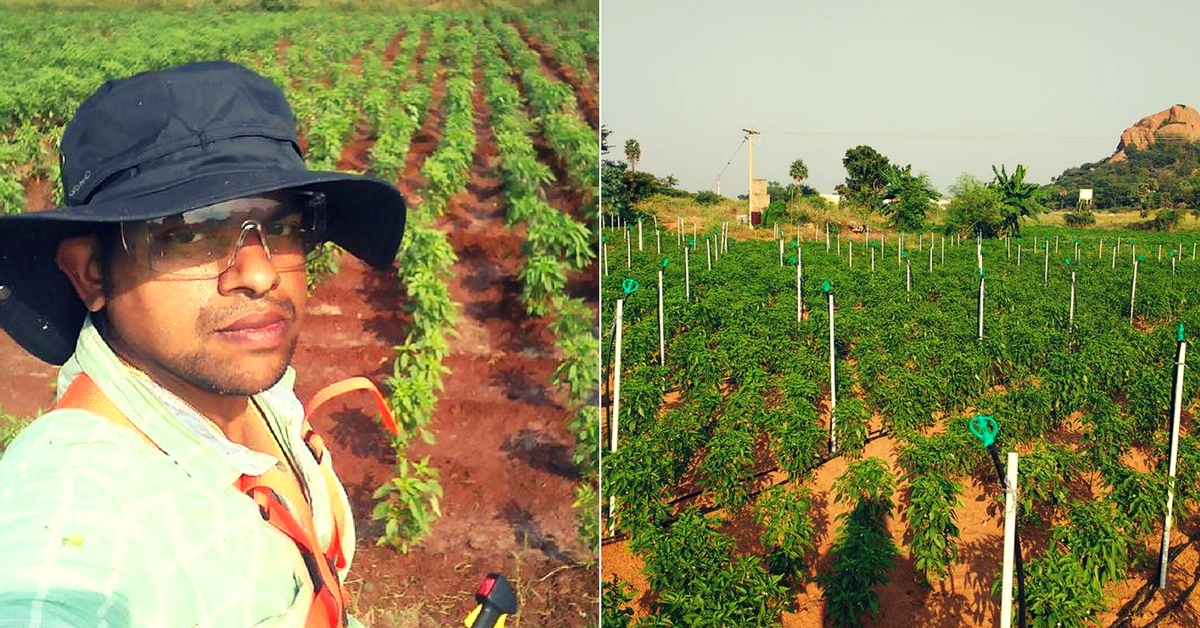 Once a barren piece of ancestral land that was wasting away, the Rangamalai Organic Farm established in 2015, is a fully integrated organic farm today, thanks to the vision of 34-year-old Pradeep Kumar and his pillar of support, his wife, Mangai.
If you happen to look at the lush organic farm located in the foothills of Rangamalai in the village of Vellayampatti in Tamil Nadu, you will be unable to imagine what it looked like two years ago.
Once a barren piece of ancestral land that was wasting away, Rangamalai Organic Farms established in 2015, is a fully integrated organic farm today, thanks to the vision of 34-year-old Pradeep Kumar and his pillar of support, his wife, Mangai.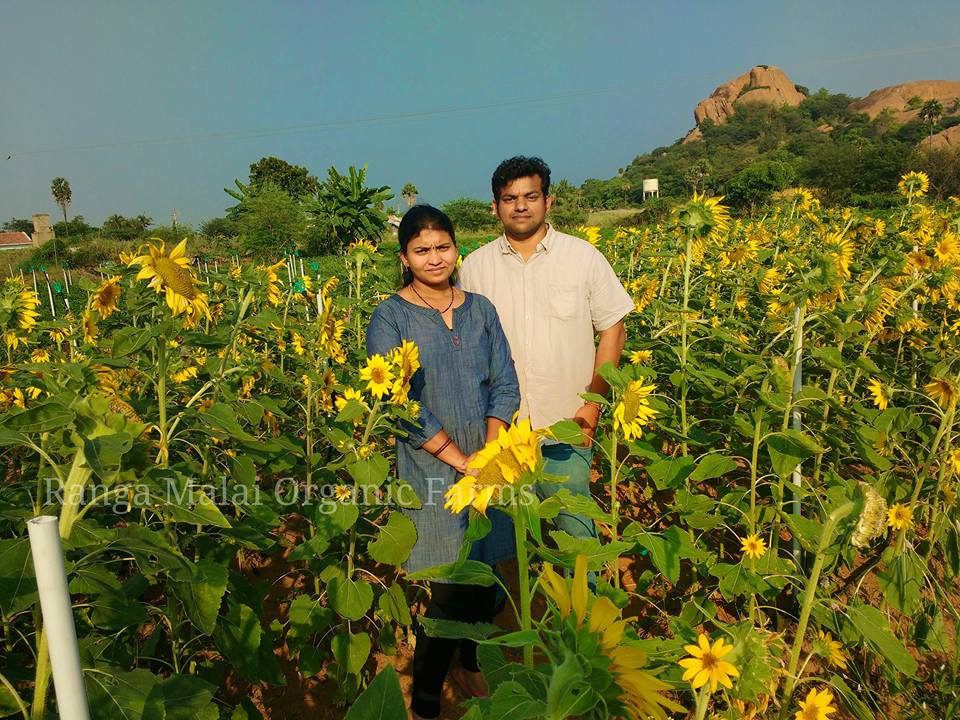 However, there is something that makes Pradeep stand apart from most modern-day farmers. Pradeep is an engineer and has worked in the software industry for over 15 years now. While he works his corporate job at Hewlett Packard Enterprise in Bengaluru on weekdays, this techie travels almost 300 km to Karur every weekend, to visit his village in Tamil Nadu and take care of the farm.
It was over these 13 years that his lifestyle exposed a simple truth to him. It does not matter how much money you earn because you are becoming poorer by the day if the food that graces your plates is not healthy, and is laden with toxins and pesticides.
While he confesses that he belongs to an agrarian family, he hesitantly points out the modern day truth of how the younger generation has mostly left the farming way behind and moved on to pursuing a life in the city.
"Farming has always been in my blood. I remember being deeply passionate about it even as a child. Looking at the absolute unavailability of good organic and poison-free food, I knew I had to make healthy food accessible to my family and friends. Therefore, I decided to go back to my roots and start farming on our ancestral land," he says.
Pradeep's aim of going back to his roots was to not only grow his own food but also restore the ancestral land to its former glory. "When I spoke to my parents about farming on the ancestral land, they did not agree because they were looking out for me. They wanted me to continue with my comfortable existence in the city, instead of struggling in the farm" he says.
Once Pradeep got married, he discussed his unfulfilled wish with his wife, Mangai, who immediately pledged her support. When the duo started looking out for land on the periphery of the garden city to invest in, Pradeep's parents yielded to his wishes. "They told me to not spend money and let me use the ancestral land instead," he says.
Travelling all the way to Karur, he recalls how his heart ached, when he saw that the once beautiful green fields had become barren and dusty, and the land was unsuitable for agriculture. Just when everyone thought he would give up, Pradeep decided to take the road less taken.
Only when he started farming, did he realise he had the passion but no hands-on experience. So, he decided to combine traditional farming techniques with latest farming technologies to help him remotely manage the farm.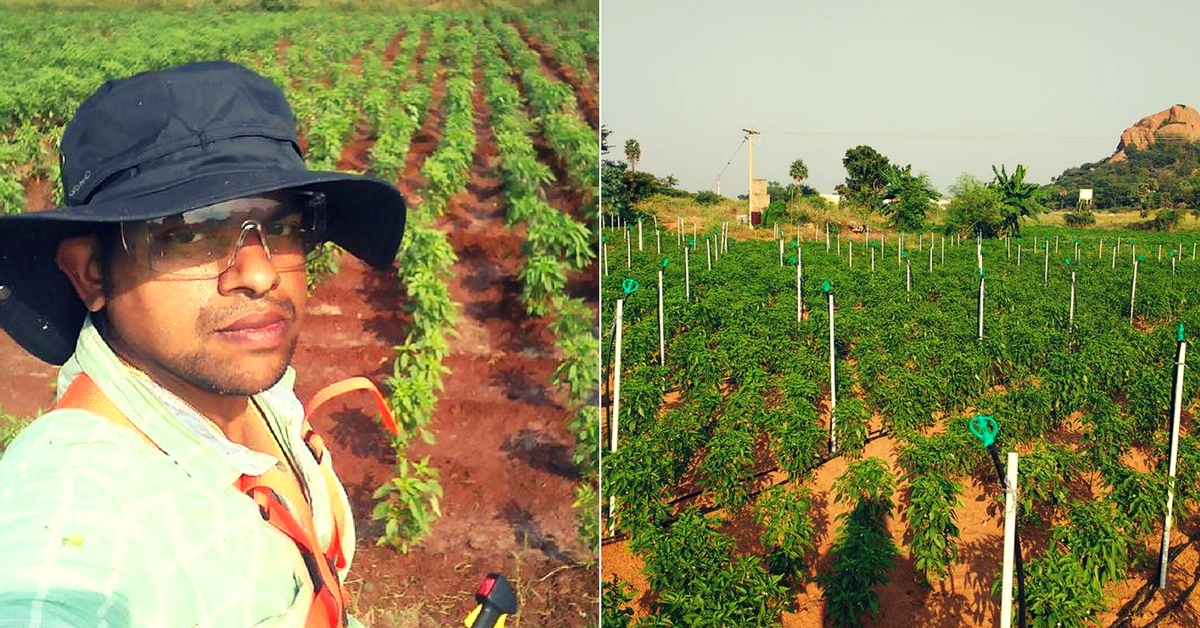 "We took an acre of land and divided into multiple sections and planted almost all crops including small onions, groundnut and red chilli except wheat and paddy. We replaced paddy with millets. The produce exceeded expectations — there was a surplus — and it helped me learn all about the growth patterns and pest and disease management of crops in less than six months," he says.
In the first three months itself, they were no longer dependent on retail stores to purchase food.
"When you grow crops using organic farming techniques on a 400 sq ft of land, the produce will be surplus. So, we were not only able to consume healthy and good food, but also share the excess with friends and family," he says.
While the first year was hunky dory with them concentrating on regular crops as well as experimenting, the next year (2016) South India faced a severe drought. "When I invested a lot of money getting the micro-irrigation lines, there was a lot of opposition in the village, all of whom were my relatives. I was the only person to practice farming in the entire village with water, during the drought."
Since, it is a shared farm, the water connection also had to be shared. During the drought, every farmer in the village would hardly get water for a duration of 10 minutes. While his neighbours could only water a few coconut trees or banana plants with the limited water, the same amount of water allowed Pradeep to irrigate over 1000 trees using micro-irrigation.
Making the farmer a businessman
Pradeep strongly feels farming apart from being a sustainable way of life, is also one of the most profitable businesses. And every farmer in addition to just being a farmer should be a businessman too.
"The existence of intermediaries and middlemen does not help farmers gain any profits. The only way to make this existing crisis a win-win situation is direct marketing," he says.
His IT background came handy, and he set up an e-commerce website, Manvasanai, to help his produce reach consumers directly, thus eliminating middlemen. Manvasanai is rapidly gaining popularity and has several loyal customers today.
From growing the produce to packaging them, Pradeep and Mangai do everything at home. Pradeep boasts of not having used a single drop of chemical pesticides or what he calls 'poison' on the produce, he markets. In fact, he makes his own organic fertiliser and herbal pest repellent and promotes it among the farmers in the village too.
"We want to bring back maximum farmers back to traditional organic farming and make organic food a staple part of the diet of people," he says. He also lays down the roadblocks, pointing towards the existing discrepancies in the market where organic food is sold at thrice the price of non-organic produce. "How will healthy food reach the masses when it continues to burn a hole in their pockets?" he questions.
To tackle market competition, Manvasanai sells all its organic produce to consumers at the retail price, or with a nominal increase (10%) to the existing rates. "This helps a consumer to enjoy fresh pesticide-free organic produce at an affordable rate and helps me, as a farmer, to make a profit as well," he says.
---
Read more: 5 Innovative Ways for Farmers to Fight Pests Without Using Any Chemicals
---
Making native varieties a reality in the local market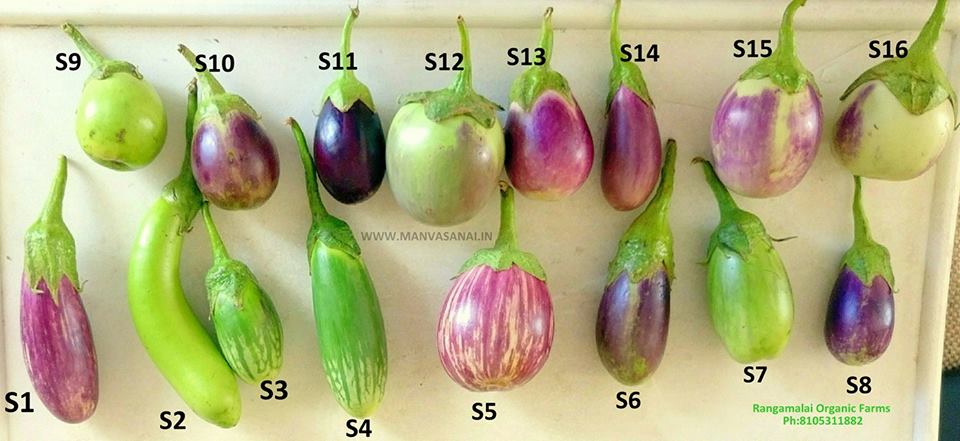 When Pradeep attended a national seed festival in June, he met several seed savers across India. Some came with over 500 native varieties of paddy, others with 300 native varieties of rajma etc. The immediate question he raised was, "You see these varieties now like they are stamp collections. How many of us see have seen it in the flesh in the local market?"
It was at the time the idea of promoting, growing and distributing native varieties came to him.
"In the last one year, we have collected over 40 varieties of brinjal in Tamil Nadu. We cultivated it in half an acre of land and introduced over 21 varieties in the local market. The idea is to confuse the common man with so many options, that the only option left is to switch to healthier foods."
The reaction of the local market was priceless. Several people walked up to him telling him how they remember eating these varieties as children when their forefathers cultivated them.
Also, his belief in seed sovereignty resulted in the establishment of a community seed bank where they collect, multiply and propagate native organic seeds to farmers and home gardeners. "We have collected 180 heirloom seeds so far," he says. In addition to the seeds, even the cattle and poultry breeds on the farm are native breeds.
Pradeep firmly believes that every farmer should allocate a portion of the land for trees. "In the past two years, we have successfully planted 1000 trees which include 70 tree species on just two acres of land. We aim to set up a mini forest on our farmland too," he says as he signs off.
We salute the spirit of farmers like Pradeep, who not only aim to make farming a profitable business for themselves but also want to pave the way for other Indian farmers to follow in their footsteps!
Connect to Pradeep here. You may also write to him at info@manvasanai.in
Like this story? Or have something to share?
Write to us: contact@thebetterindia.com
Connect with us on Facebook and Twitter.
NEW: Click here to get positive news on WhatsApp!
We bring stories straight from the heart of India, to inspire millions and create a wave of impact. Our positive movement is growing bigger everyday, and we would love for you to join it.
Please contribute whatever you can, every little penny helps our team in bringing you more stories that support dreams and spread hope.