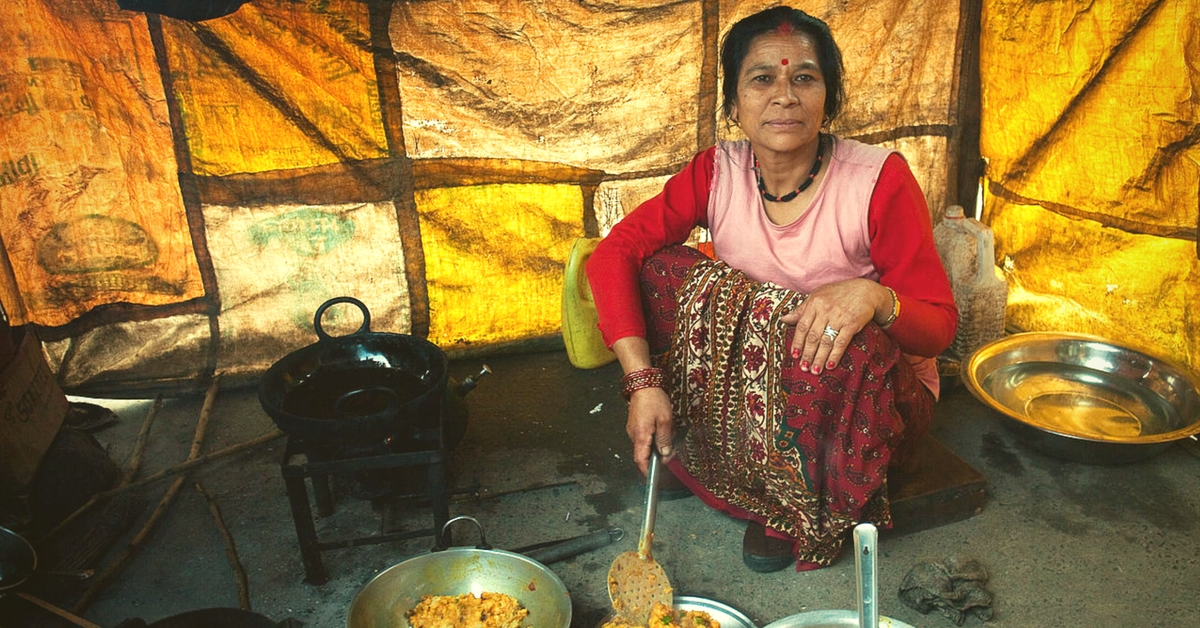 This unusual yet very effective effort has led to tangible positive changes in the lives of nearly 30,000 people!
For 35 years, Manshu Damor of Ambapara village (in Rajasthan's Banswara district) had thought it unthinkable to eat a meal alongside his wife and daughter-in-law. Today, the men and women of not just the Damor household, but all the households in the hamlet eat their meals together as a family.
This change has made a world of difference to the health of the women of Ambapara, one of India's poorest villages. And it has happened due to Rajasthan Nutrition Project, an initiative that was launched in 2015 by Grameen Foundation and Freedom from Hunger India Trust (in partnership with Pradan and Vaagdhara) in the three tribal blocks of the state's Sirohi and Banswara districts.
This unusual project's aim was to address the issue of varying levels of food security and hunger in individual households in rural regions.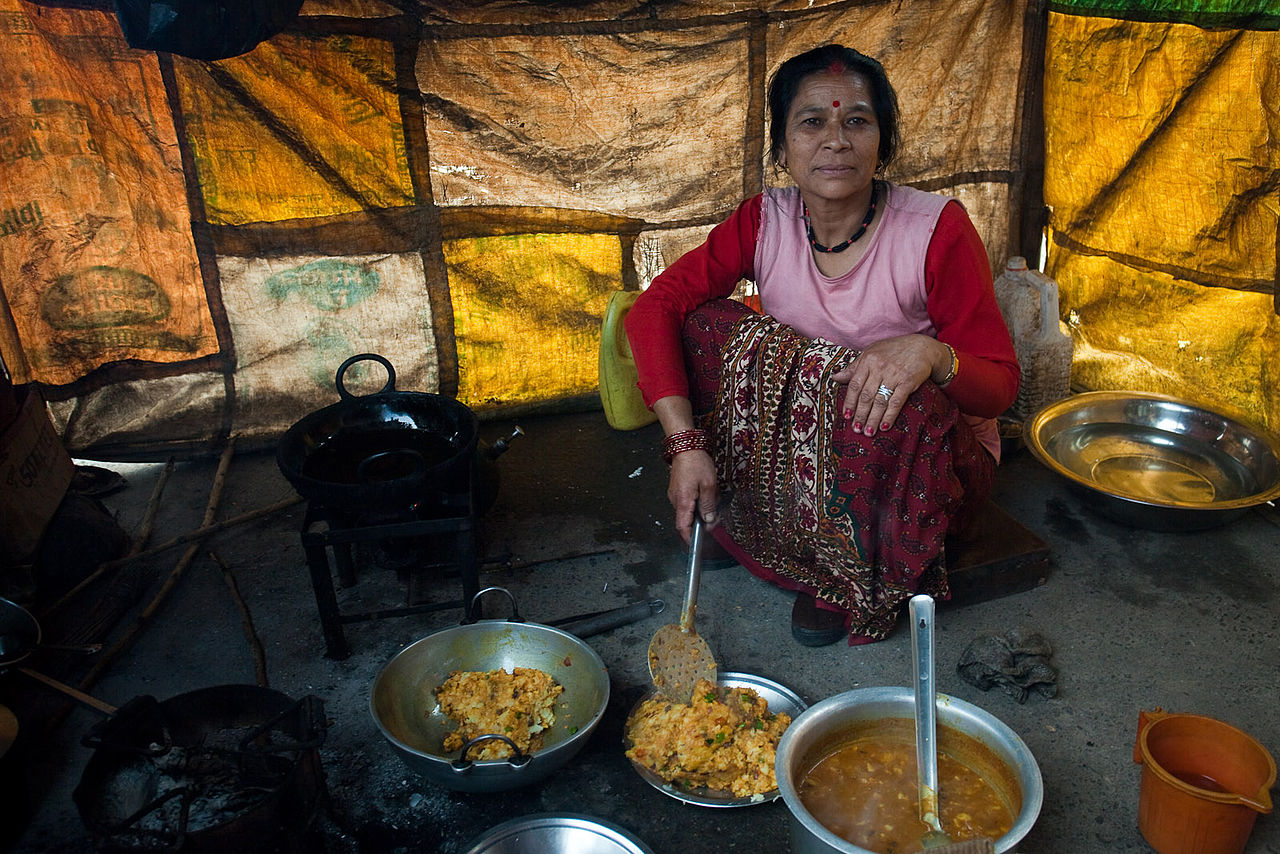 Picture for representation only. Source: Wikimedia
This is an issue of critical importance in India, a country with rates of malnutrition worse than sub-Saharan Africa: 14.5% of its population goes hungry, 38.4% of its children under five are underweight, and 51.4% of its women in reproductive ages are anaemic.
The malaise of global hunger and malnutrition kills more people every year than Malaria, Tuberculosis and AIDS combined. As per the latest UNICEF data, about 815 million people in the world suffer from hunger (that is one in eight people), and 60% of them are women.
The reason why women are more likely than men to be victims of hunger is that their access to food is often undermined by gender-based discrimination. In rural India, tradition dictates that women eat last after all the male members and children have been fed. Also, in times of financial crisis, women are the first to sacrifice their food, to feed their families.
Right to Food in India, a 2003 paper by the Centre for Economic and Social Studies (in Hyderabad) reads:
"Particularly among the rural poor, food distribution in households is not based on need. The bread winner gets sufficient food, the children get the next share, and women take the remains."
In middle-class urban homes, this practice rarely has a serious impact as there is enough food to go around.
But in millions of poverty-stricken rural households, it has had an unintended consequence – chronic malnutrition among women, especially if they're menstruating, lactating, or pregnant.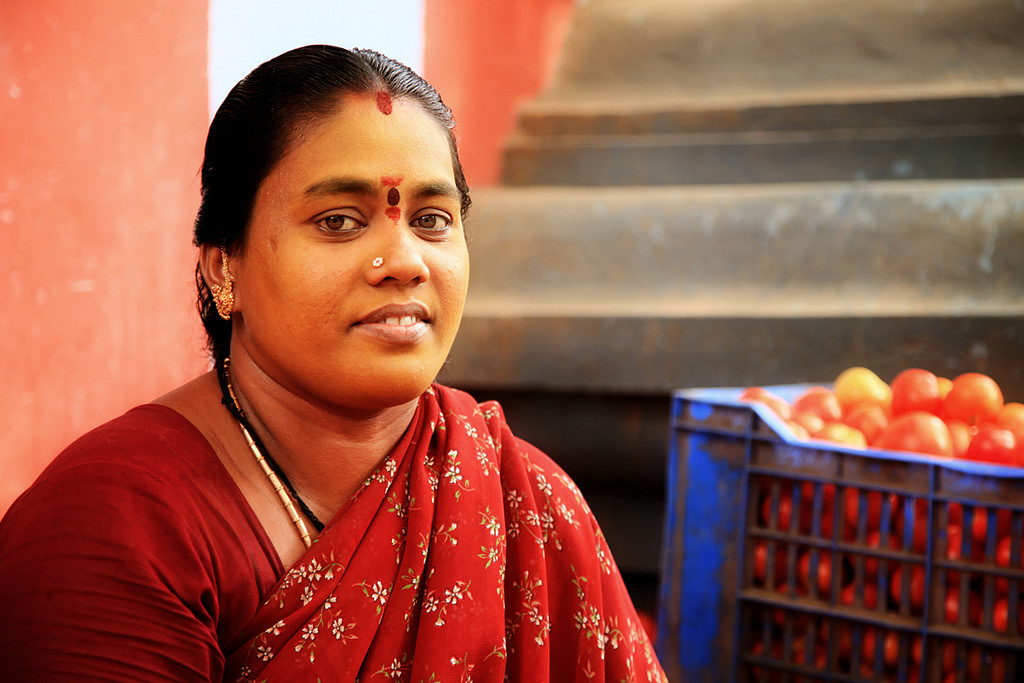 Picture for representation only. Source: Flickr
This is why getting women to eat alongside their families is a big deal for India — not just for tackling health and hunger issues but also for bringing a paradigm shift in deep-rooted patriarchal norms that prioritises the needs of males over females. It was to eliminate this intra-household disparity in food security — in the same household, women and children could be food insecure despite the men being food secure — that Rajasthan Nutrition Project (RNP) was initiated in 2015.
The project's first step was identifying villages in the selected districts that suffered from high rates of stunting, malnutrition, anaemia, infant mortality and maternal mortality (with an especially heavy burden among the disadvantaged population).
The next step was understanding the nutritional practices and ideas that the community valued, resisted, practised, promoted and considered taboo. Attention was also paid to gaining deeper insights into the local economy, crop growing patterns, seasonal food availability and coping mechanism when food was scarce.
This was followed by the appointment and training of Community Nutrition Advocates (CNAs), called Shakti Bais in Sirohi and Annapurnas in Banswara, who would serve as the crucial link between the project and the community.
Their on-ground demonstrations soon began helping the villagers see how things could be done differently, and what benefits could be reaped out of the same.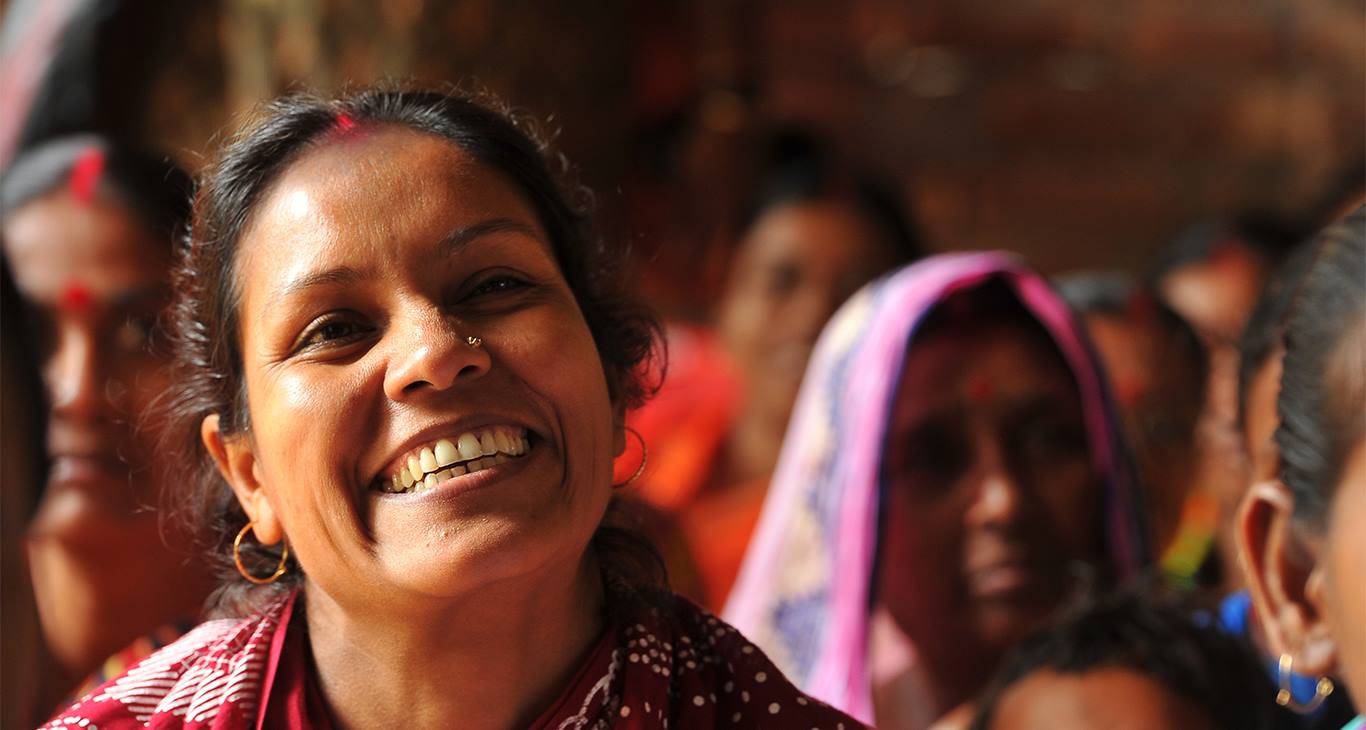 Source: Grameen Foundation
"The training I received as an Annapurna also helped me and my family learn the importance of nutrition in our daily lives. Now we know what is the most nutritious food available locally and what to eat when," says Anita Damor, an Annapurna facilitator, SHG member and homemaker from Banswara whose life has been transformed by her participation in RNP.
The CNAs were also a key conduit for practical suggestions that would help create an environment conducive for the realization of nutrition and food security. Furthermore, picture-based flip books (with simple and executable messages) were used to ensure that the community built on the knowledge it already had and developed it further.
For instance, it was found that using iron pans for cooking food was a cost-effective method to address the significant prevalence of anaemia among girls and women in the area.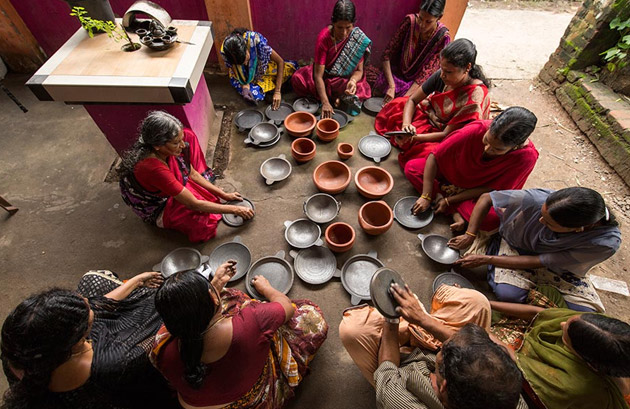 When this was explained by the facilitators, most village women accepted this suggestion and used both individual and collective savings to buy iron vessels. Kitchen techniques such as sprouting of moong/chana, making mixed grain rotis, and cooking complementary nutritional combinations were also taught.
One more efficient way of intervention was to demonstrate a visual comparison between a man's plate and a woman's plate to drive home the point that women were literally surviving on bottom-of-the-barrel food.
This was followed by CNAs suggesting steps to eradicate this bias, such as men and women eating at least one meal sitting together, women having four different colours of food on their plate and women growing at least one nutritious herb in their farm/courtyard. Men were also encouraged to pitch in with household chores and share the responsibility of feeding young children.
Another key 'self-help' component of RNP has been to enable, educate and mobilize families to create poshanwadis — a place which is home (wadi) to nutrition (poshan) — and grow locally available foods for their own consumption through nutrition-sensitive agricultural techniques.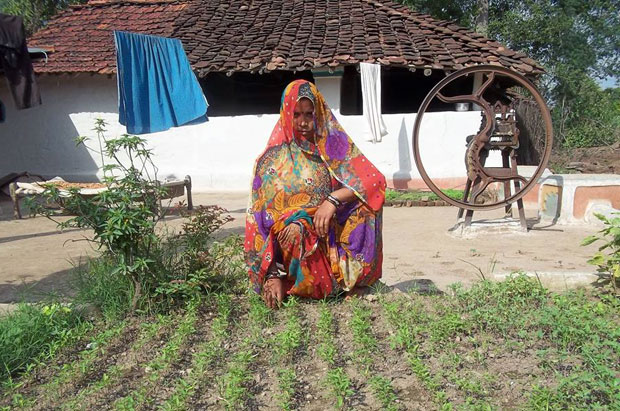 Seeds were sourced from local government agencies, and simple wastewater recycling was taught to enable even those with limited water supply to create these kitchen gardens.
Seasonal crop calendars and livestock cycles were also charted to help the cultivators. By increasing both the variety and quantity of vegetables available for consumption, these poshanwadis have significantly enhanced the nutritional intake of all family members, especially women. Their intake of milk rose by 70%, of green leafy vegetables increased by 344% and of yellow vegetables rose by 940%!
In short, RNP's core philosophy during its two-year long run has been to address malnutrition in social, political and economic terms (instead of just in clinical terms) while helping communities build their nutritional self-reliance.
The many advantages of this approach are clearly delineated by the simple example that teaching communities to use local food to address vitamin deficiencies is more empowering and sustainable than just providing micro-nutrients in the form of medicines.
However, nothing illustrates the merits of this approach than the tangible positive changes brought by RNP in the lives of nearly 30,000 people.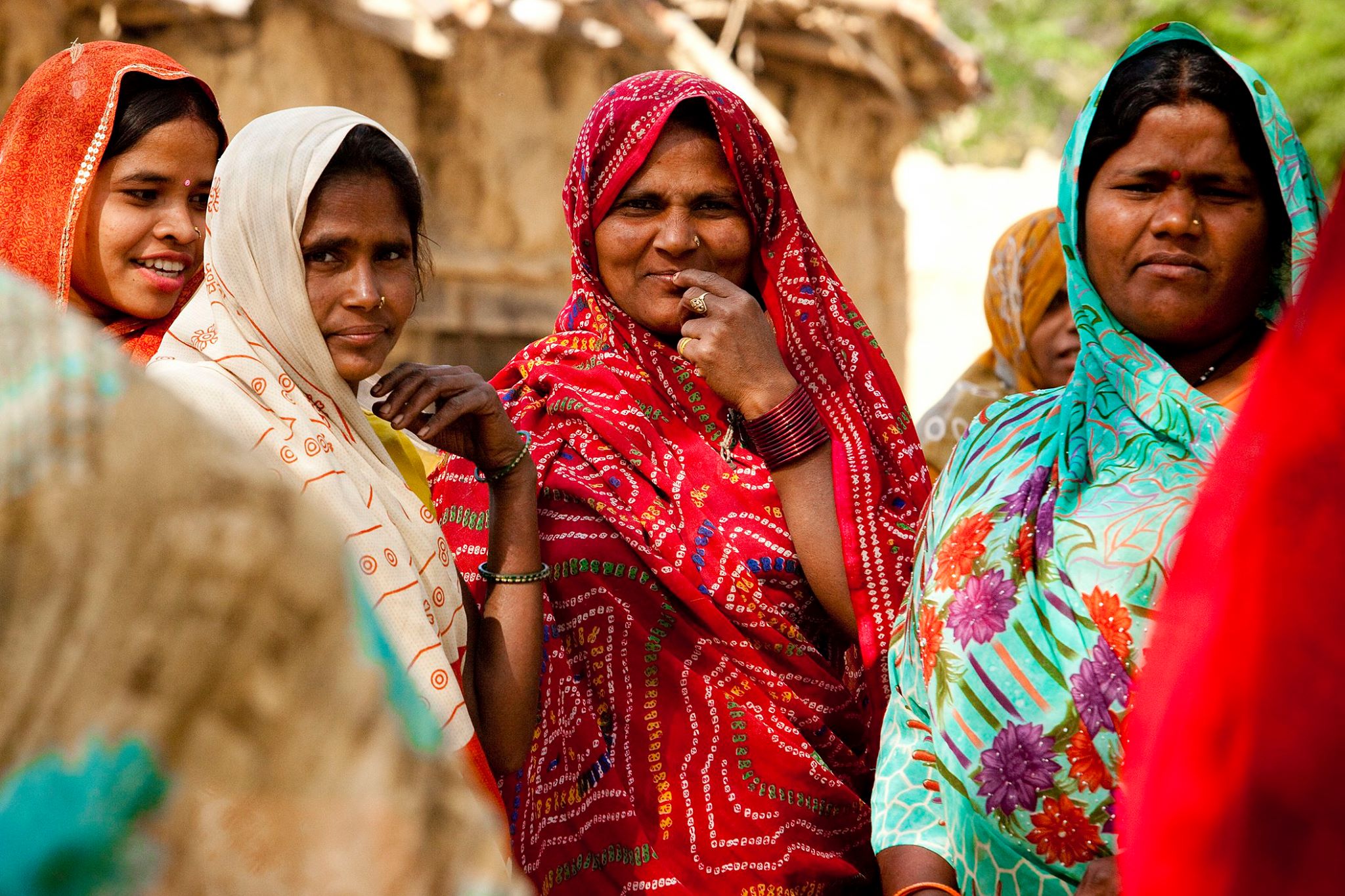 Source: Grameen Foundation
Family meals, dietary diversity and gender-equitable distribution of food have become the norm in the village homes. Members of over 400 SHGs now have enhanced access to nutrition-related support services. Women have better financial literacy while men have a greater sensitivity towards gender equality.
And, most importantly, malnutrition in children has reduced drastically while food security among women has more than doubled. All thanks to a small alteration in mealtime routines!
With alarming levels of undernourishment threatening to reverse years of economic progress, it's time India made tackling hunger a top national priority. And Rajasthan Nutrition Project's strategy — holistic, bottom-up and gender-focused — has successfully shown how this can be effectively implemented on the ground.
Replicating this approach on a larger scale may just be the key to a healthier and hunger-free India.
---
This article is a part of The Better India's attempt to drive conversation around the United Nations' Sustainable Development Goals (SDGs) and where India stands with regards to meeting these goals. Many organisations across the country are helping India proceed towards fulfilment of these goals and this series is dedicated to recognising their efforts and the kind of impact they have created so far.
---
Like this story? Or have something to share? Write to us: contact@thebetterindia.com, or connect with us on Facebook and Twitter.
NEW: Click here to get positive news on WhatsApp!
We bring stories straight from the heart of India, to inspire millions and create a wave of impact. Our positive movement is growing bigger everyday, and we would love for you to join it.
Please contribute whatever you can, every little penny helps our team in bringing you more stories that support dreams and spread hope.