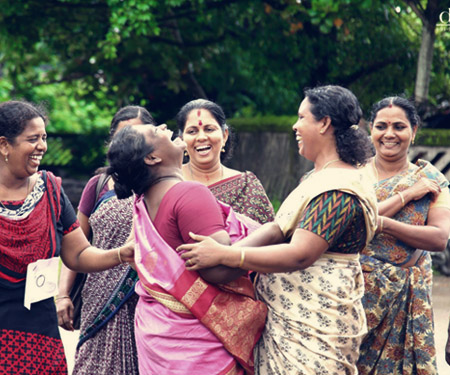 Today, nearly 5 million women are a part of Kudumbashree, making it the world's largest women empowerment project. And all this in a state one-tenth the size of California.
The countryside of Thrissur is paddy rich and filled with gangly coconut trees. If you glance up such a tree, a seemingly out of place device might be seen on its narrow trunk. But most stark might be what, or who, is atop it – a woman plucking the coconuts!
A sight nobody beheld a decade ago, and one that addresses a crucial problem, in fact.
A family of five in Kerala consumes at least one coconut every day. Be it as oil, pulp or milk – the coconut's versatility is incredulous! To feed this obsession, Kerala has 180 million coconut trees, most of which grow in the front and backyards of its residents.
However, it is not always easy to get your hands on a coconut despite the tree's abundance, thanks to the acute shortage of climbers.
Ideally, Coconuts have to be plucked every 45 days, and for this, the state needs at least 50,000 climbers for the trees, according to Kerala's Economics and Statistics Department data.
Ten years ago, the state realised the want of climbers could slowly be fulfilled by opening the job market to (whom else) women.
Women from districts like Kozhikode, Thrissur, and Malappuram were trained to climb the trees with the help of a device and also given subsidised two-wheelers and mobiles. These devices prevent chest pains and scars usually associated with climbing trees sans any help.
Many women in the district now earn up to Rs. 650 a day by climbing coconut trees – something no one would have imagined possible just a few decades ago.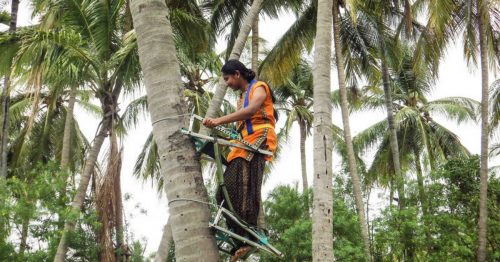 Women, who were once relegated to society's backwaters, are now (literally) scaling new heights!
So who helped bring this, and so many other, revolutions in the lives of Kerala's women? It was all thanks to the country's, if not the world's, most successful anti-poverty and gender equality movement – The Kudumbashree.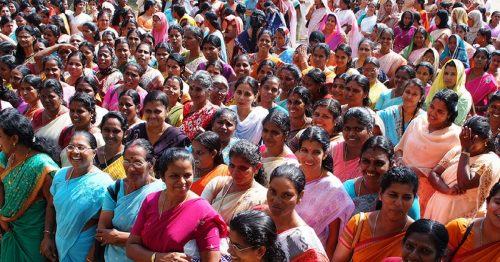 To be poor, from a backward caste, and a woman are a triple blow in Kerala. Any attempt at alleviation requires patience, time, and a comprehensive program that goes beyond just handing over some money or food as charity. What it requires a transformation from the ground up.
And so, nearly two decades ago, the state began the Kudumbashree, a path-breaking venture that has considerably helped eradicate poverty in the region.
Kudumbashree translates to 'prosperity of the family'. 'Kudumb' in Malayalam is family, while 'shree' means prosperity. The solution is simple – successful familial units contribute to a healthy society.
Words that describe Kudumbashree's mission include holistic, participatory and woman-oriented.
It organizes poor women at the grass root level and enhances their socio-economic standing through micro-credits and women empowerment initiatives via vocational training, education and healthcare. Its innovative poverty reduction approach is implemented through local self-government (LSGs).
Today, nearly 5 million women are a part of Kudumbashree, making it the world's largest women empowerment project. And all this in a state one-tenth the size of California.
So, how does it work?
Kudumbashree forms small groups of economically backward women and provides them with a mix of microfinance, state support and dynamic community action.
The backbone of Kudumbashree is the Neighbourhood Group (NHG), which comprises of no more than 20 women from a ward in a district.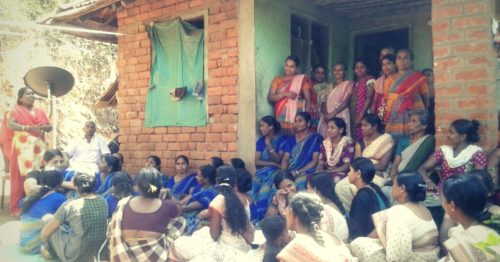 The idea behind this is that neighbours or people in a similar socio-economic community are more likely to understand each other's problems than an arbitrary grouping of women, in spite of similar economic backgrounds.
Meetings occur on a weekly basis in the houses of NHG members where schemes and other issues are discussed.
Joining Kudumbasree means that women have to go for weekly meetings, where they meet other women and socialize. This makes them confident about themselves, and also ensures a steady monthly income.
"More than anything, it has liberated women to get out of the house and go to work. In a traditionally male-dominated society, women participating in the polity, going to vocational training programs and starting small businesses was not the norm. Kudumbashree helped changed this, "says K.J Sohan, former mayor of Kochi.
What does this translate into on the ground? Take the Kudumbashree kitchens, for example. Community kitchens have been set in almost every district, and some even promote traditional food habits of tribal people which involve the consumption of locally-grown foodgrains and vegetables.
"I have to work in shifts only for 15 days of the month. I was trained by Kudumbashree members to cook and perform other service-oriented jobs in the cafeteria. The skill, money, and time it gives me are so beneficial. Life has changed after I became a member of the Kudumbashree," says Kumari Saju, a cook at a Kudumbashree cafeteria in Kottayam.
The advantage of being apart of this network is it also encourages small-time enterprises. So Kumari and a group of women from her ward – Edamula in the Akalakulnnam district in Kottayam – are also able to grow their stitching business, where they tailor blouses and salwar-kameez suits for women in the area.
But most crucially, at these weekly meetings, all members bring their thrift or savings, which can be as low as Rs 10.
Thrift, or small savings, can help alleviate poverty and decrease risk more than debt. Kudumbashree women have demonstrated that the poor can and will save if given proper opportunities and incentives.
"The idea behind small savings is to encourage women, even those below the poverty line, to save. Savings are collected and recycled in the system by way of sanctioning loans," says Priya Paul, project manager with Kudumbashree for more than ten years.
Each NHG opens a joint account in a local bank, while each participant is given a separate passbook. Once trained to make simple banking transactions, these women become more empowered.
Once savings are generated, heavily subsidized loans are granted to these women and they can go upwards of Rs. 10 lakh.
How much could small savings by economically backward women possibly be? Most recent public figures (in 2014) said the group saved to the tune of Rs 2200 crore!
The Structure Of The Organisation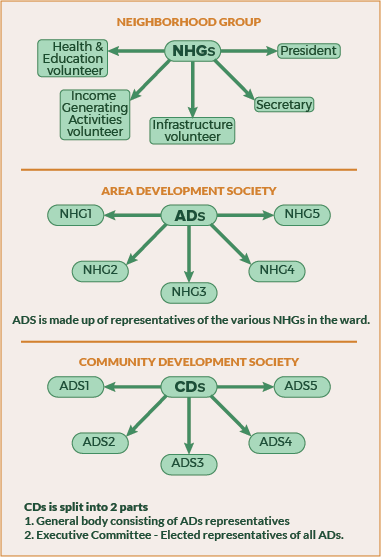 The Involvement of Local Governments or Panchayats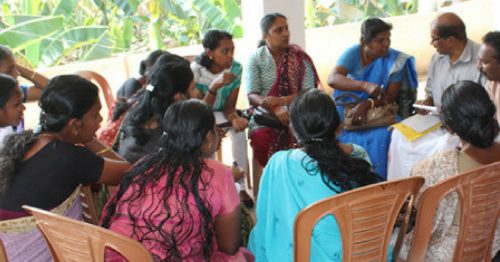 "One of the peculiarities of Kudumbashree is the extensive involvement of the local and state government, which has resulted in the success of the scheme," says Priya.
Women do better in local government since they identify with the family more easily — and at the village panchayat level, you are dealing with families.
Kudumbashree, hence, was a turning point for the life of women in Kerala – an entry point into public life.
One of the central themes within the Kudumbashree idea has been the smooth unity between the Kudumbashree's NHGs and CDS, which is the representative group at the district level, and the local panchayats within whose jurisdictions they operate.
In theory, the CDS and the local panchayat are independent. This is because their elections are held separately with completely different electorates.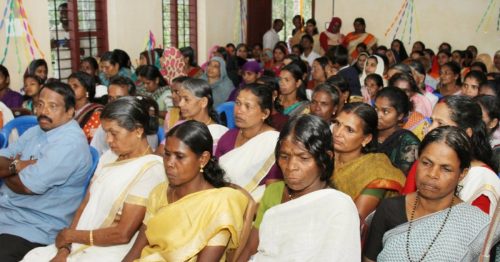 But in reality – they cannot exist without the panchayats. It's an active collaboration. The CDS representative even has a room in the panchayat.
When political parties want candidates (In Kerala, 50% of panchayat seats are reserved for women), they select them from the Kudumbashree because of the leadership opportunities that are given to local women.
"Even though the leadership program is not very systematic, it still gives these women exposure to microfinance, bank processes and other vocational programs and this enables a sense of leadership," says Aleyamma Vijayan, the founder of an NGO called Sakhi in Kerala.
"There have been versions of this in Andhra Pradesh, Tamil Nadu and Karnataka – but what makes it different here is the involvement of local panchayats. The decentralisation of the panchayat plays a crucial role, and understanding Kudumbashree's success without understanding the part of the panchayat is impossible," says Aleyamma.
Kerala has development indicators that are comparable to developed countries and has been experimenting with decentralisation and participatory local democracy.
Local governments were vested with the powers and responsibilities of economic development and social justice in their respective regions.
Kerala Panchayats are also comparatively rich in India.
"They have lakhs of rupees and must allocate at least 10% of that for the women's component plan (WPC). They cannot their budget sanctioned from the state govt it that do not have a solid idea for the WPC," Aleyamma says.
And in all of this, Kudumbashree is a crucial cog that keeps the wheels of the Panchayat running, allowing them to meet their goals, year on year.
This includes matching up programmes between the two and co-operation when using institutions run by the panchayat.
Indeed, a crucial integration is the sharing of resources from both sides. How it works is that Community Development Societies present a 'mini plan' to the local panchayat, which folds in the ideas with their governing policies and decisions.
Who can join the Kudumbashree?
Poverty is more than the lack of income. In Kudumbashree, to identify the poor, a nine-point non-monetary risk indicator index has been developed. The indicators' are simple, transparent, easily understood by the community and include various manifestations of poverty.
Therefore, Kudumbashree members are not identified only by absolute poverty or income levels.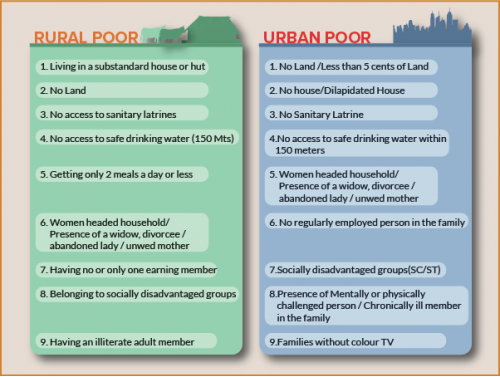 Sucess In Numbers
It's hard to find a single area of work Kudumbashree's efforts have not penetrated. Be it higher education, the flowering of small-scale businesses or even in healthcare, Kudumbashree women have been able to leverage their opportunities to work in various fields.
Perhaps Kudumbashree's most successful endeavours have been in agriculture. Farming has taken off in a big way among women in the Kudumbashree's collective farming and 'Samagra' projects, implemented with active participation from Panchayats, supported by a farming subsidy.
Not only has the project increased agricultural production, but it has also brought considerable fallow land back under cultivation and financially empowered thousands of women.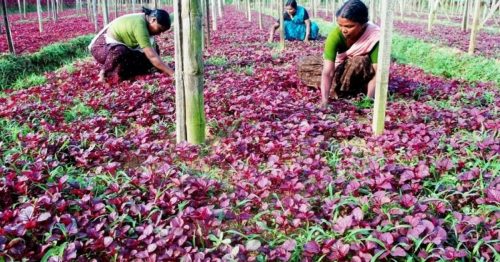 Kudumbashree volunteers are already cultivating all major food crops, including rice, vegetables and fruits in select areas through more than 60,000 Joint Liability Groups (JLG).
Some 2,50,000 Kudumbashree women throughout Kerala have come together to form farming collectives which jointly lease land, cultivate it, use the produce to meet their consumption needs and sell the surplus to local markets.
To keep the cultivation ball rolling, a handful of measures have been further adopted. These include seed banking, soil testing facilities and a steady credit flow by linking the JLGs with banks. And taking the solution from end-to-end, marketing facilities have also been provided through the creation of weekly and monthly markets through Community Development Societies (CDSs).
And that is just farming. Kudunmbashree's ripple effects spread to nearly every aspect of Kerala society, and its rejuvenating vision continues to grow daily.
The Road Ahead
"While encouraging savings and entrepreneurship is what the Kudumbashree has always strived to do, right now we want to include other marginalised people into the organisation like tribals and transgenders. We hope it will benefit them as it has to the lakhs of women who were and are a part of it," concludes Priya.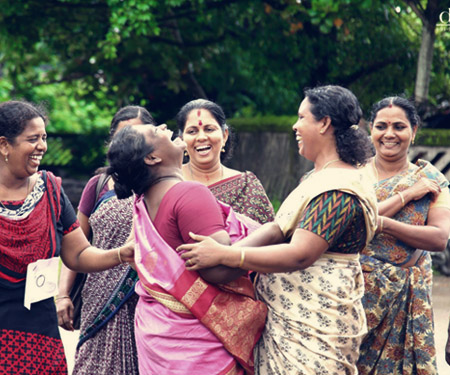 ---
This article is a part of The Better India's attempt to drive conversation around the United Nations' Sustainable Development Goals (SDGs) and where India stands with regards to meeting these goals. Many organisations across the country are helping India proceed towards the fulfilment of these goals and this series is dedicated to recognising their efforts and the kind of impact they have created so far.
---
Like this story? Or have something to share?
Write to us: contact@thebetterindia.com
Connect with us on Facebook and Twitter.
NEW: Click here to get positive news on WhatsApp!
We bring stories straight from the heart of India, to inspire millions and create a wave of impact. Our positive movement is growing bigger everyday, and we would love for you to join it.
Please contribute whatever you can, every little penny helps our team in bringing you more stories that support dreams and spread hope.