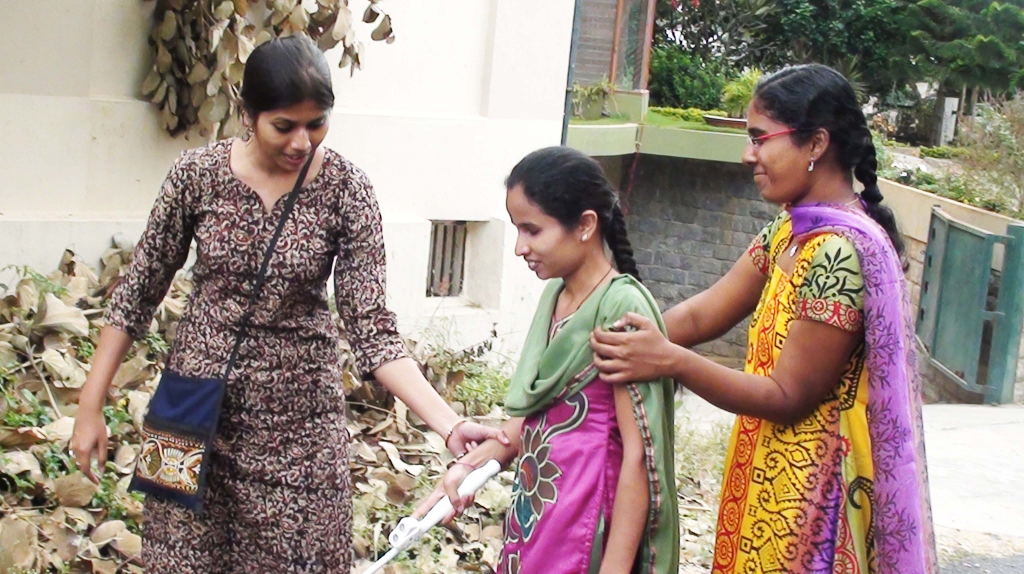 SmartCane is one of the best examples of classroom teaching transformed into practical application. This product not only benefits a large section of the society - the blind population, but also shows the power of research and technology in bridging divides and enabling independence. Conceptualized in IIT Delhi, read how this product mobilised global resources and expertise to come into being!
India is home to the largest population of visually challenged people in the World (2011 census).
Visually challenged people face fundamental challenges in mobility, education, employment and an independent living, which ultimately impact their inclusion and integration into the society. From visiting a neighborhood grocery store to opening and maintaining bank accounts, every quotidian task is a herculean travail.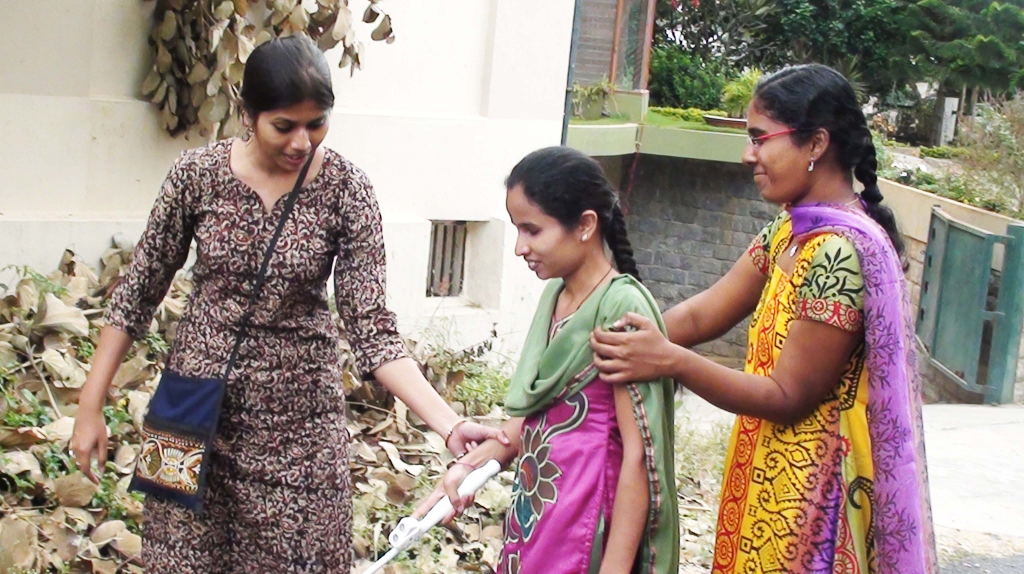 Individuals with blindness commonly use the white cane for independent mobility. They tap the cane from side to side as they walk to detect obstacles in their path. However, the traditional cane can only help a person detect obstacles on the ground and within a maximum range of half to one meter. Blind persons often bump into hazardous over-hanging branches, protruding ACs, signboards and parked vehicles thereby getting upper body or face injuries. Apart from causing injury, these unwanted collisions are awkward or unsettling, for example, on colliding with people, animals, garbage dump, etc. Ultimately, it makes them anxious about moving safely and severely limits their independent mobility.
To overcome this hurdle, a group of passionate technologists, an IIT professor and a social entrepreneur joined hands and came up with an innovative product that aims to alleviate the hardships faced by visually challenged people when it comes to independent mobility.
SmartCane™ is an aid for the visually impaired that provides safe and independent mobility which eases their integration into the society. It helps its user diagnose any above-the-knee obstruction from a distance of 3 meters.
India Innovates : Episode 1 : Smart Cane#IndiaInnovates is an attempt to bring out the stories of some of the most brilliant minds in our country & Smart Cane is the first in the series. This innovation has changed the way visually impaired people move around! Their cane just got smarter.

Posted by TheBetterIndia on Saturday, February 20, 2016
For the first time, visually impaired have a device that allows them to detect objects in their vicinity without physical contact. Across the trials conducted, SmartCane™ has been successful in helping the visually impaired not collide with protrusions and has helped them walk around with security and confidence. Frugality and resourcefulness have ensured that this product costs only INR 3,000.
People behind SmartCane
SmartCane™ has been developed in Assistech (a lab of IIT-Delhi that focuses on developing affordable technology for the visually impaired) by Rohan Paul, a Rhodes-Oxford & IIT scholar, who chose to develop and launch it in India – letting go of many other opportunities in the west to take the product from the laboratory to the society. Mr. Dipendra Manocha, Director of Saksham and Delhi-President of National Association of Blind, has provided research and marketing support through a network of organizations that are supporting it. Phoenix Medical Systems is the industrial partner of SmartCane™, providing R&D and executing the manufacturing process. The Wellcome Trust, a global charitable foundation, donated almost £450,000 to IIT Delhi under the R&D for Affordable Healthcare in India initiative to further develop SmartCane™.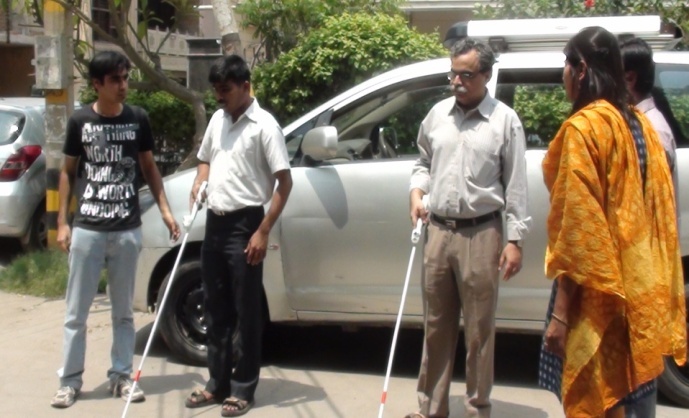 The genesis of SmartCane
During Dr. Rohan Paul's undergraduate years at IIT Delhi, he and his team had undertaken a project-oriented course (titled 'Embedded systems design' under Prof. M. Balakrishnan) where the goal was to take up a problem, develop a novel solution and then deploy it in the field. Since they were interested in developing an assistive device, they visited the National Association of Blind, New Delhi for ideas. They met Mr. Dipendra Manocha at NAB and discussed the problems faced by the blind. Mr. Manocha highlighted that the biggest challenge for a visually challenged person is independent and safe mobility, since there is only so much a white cane can detect. After that meeting, the team decided to work on this problem and develop a solution.
The idea, therefore, germinated from various people – Dr. Rohan and his fellow batch mates, Mr. Dipendra Manocha, and Prof. Balakrishnan, who guided the project from the very beginning.
Usage Videos
User Experience:
Ketan from Ahmedabad says: "It is a very useful device because earlier with a regular cane, I quite often collided with vehicles like truck, tractor or bus. This was because my cane would pass beneath these big vehicles and I would collide abruptly. I have got injuries on my forehead due to such incidents. With this device I get a pre-warning of such dangerous obstacles through vibrations. This also helps me in detecting street animals such as a cow."

Indirani from Mumbai says: "It feels great to be able to move around alone. I no more take help from people to move around. I now enjoy being all by myself. Family and friends now have the confidence in me that I can travel independently without getting hurt or injured."

Amit and Satguru from Delhi say: " Our travel time to work has decreased with the use of this device. We walk faster now."
Making Smart Cane fit for Indian Consumers: Design Innovation
Regarding mobility and the use of the SmartCane device, the challenge of independent mobility is much more severe in developing countries where regulation for a disabled-friendly environment is rather weak. For example, we often encounter raised signboards (without a base), jutting tree branches and obstructions that may hit a blind person as their cane would pass from underneath without detecting these obstacles. Similarly, many buildings also have window openings in the corridor, protruding ACs or water fountains that may hit a blind person walking with a cane. Hence, SmartCane's ability to forewarn the user about obstacles in the path, particularly raised obstacles, significantly reduces the number of collisions and hence increases the safety of the blind user.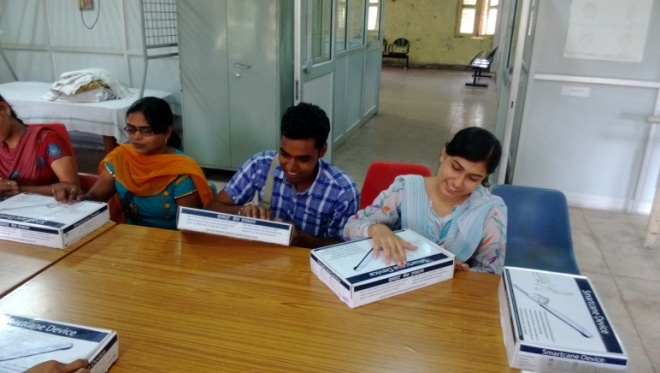 The development of SmartCane involved systematic detailed studies to determine usability factors, scenarios of use and end-user needs in a real life scenario. These studies were conducted in various parts of the county. The device features were improved by several breakthroughs as a result of this process. Here are a few examples.
Variability of holding grips: We observed that there is considerable variation in the way the white cane is gripped by the blind people in India. Very few people conform to the internationally recommended sideways holding style. The number of mobility trainers is very less compared to the total population that needs orientation and mobility skills in India. Consequently, many users develop their own personalized grips which may or may not be the recommended grip. In order to allow usage with a variety of holding styles, a unique ergonomic grip was evolved.
Adjustment for angles: On several occasions users tap the cane close to their feet and hence the cane can become more vertical, particularly in a crowded environment. On other occasions, they may extend their hand and tap the cane a bit further, e.g., walking outdoors. To account for this variation, a mechanism was introduced to change the angle of the sensors so as to direct them forward. Hence, the user can easily adjust the sensors according to their holding style.
Detachability of the cane: Several users reported that their cane breaks if it gets stuck in a cycle spoke or gets bent if someone walks over it. Hence, Smart Cane device has been designed as an attachment to the standard cane with a convenient mechanism so that the user can himself/herself replace the cane.
Robust design: SmartCane has been designed to withstand exposure to dust and temperature variations. The device conforms to CE mark European Union Quality standard.
Small form factor: Many users, particularly blind women wanted that the device could be easily folded along with the cane and could be carried in their purses. Hence, a very significant effort was made to miniaturize the electronics and design the product as a thin, light-weight device. Further, the device comes with a carry pouch to keep the folded unit that prevents the dust sticking to the cane and getting onto other items while carrying. This was suggested by their user at the Centre for Blind Women in Delhi and was then designed by our team.
Affordability: Above all, the goal was to create a solution that is affordable for our people. A huge amount of effort was put into designing with low-cost sensors, electronics, appropriate materials and addressing manufacturing issues to keep the cost low but at the same time, achieving international quality standards.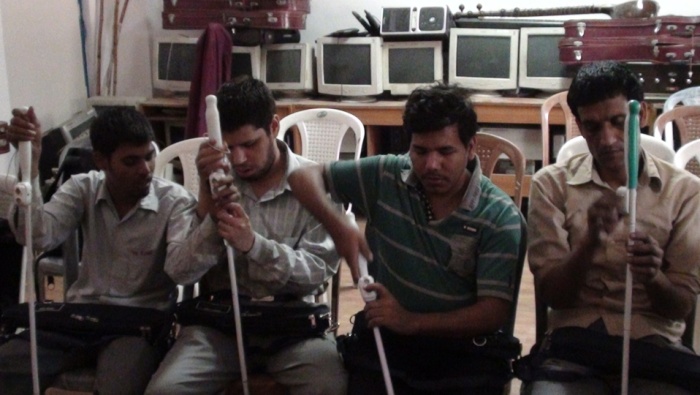 Challenges faced by the Design Team
Funding & Industry Collaboration:
Funding was one of the major obstacles for converting SmartCane from an idea to reality. Phoenix medical systems, SmartCane's industry partner joined hands with IIT Delhi's design team and Saksham to help design the product for manufacturing. Wellcome Trust in UK, an international healthcare charity, sponsored large scale user feedback trails across the country.
Cost:
SmartCane's team made sure that cost doesn't in anyway interfere with the ease of adoption of the product. There are many reasons why SmartCane is available for just Rs. 3000/-. Chief among them are:
Focused design by IIT Delhi as well as sourcing of components by Phoenix was done with a clear objective of producing a product that is affordable in the Indian context.
The complete initial research, design & development at IIT Delhi had been underwritten by IIT Delhi whereas the subsequent translational research as well as the extensive validation trials had been fully supported by Wellcome Trust, UK through a grant.
Pricing has been done keeping in view expected large volumes – they hope to reach 10,000 units per year in 3 years. This is possible because of the large number of visually impaired in the country and less structured public places, requiring such an aid for safe mobility as well as the government's support schemes like ADIP for the disabled.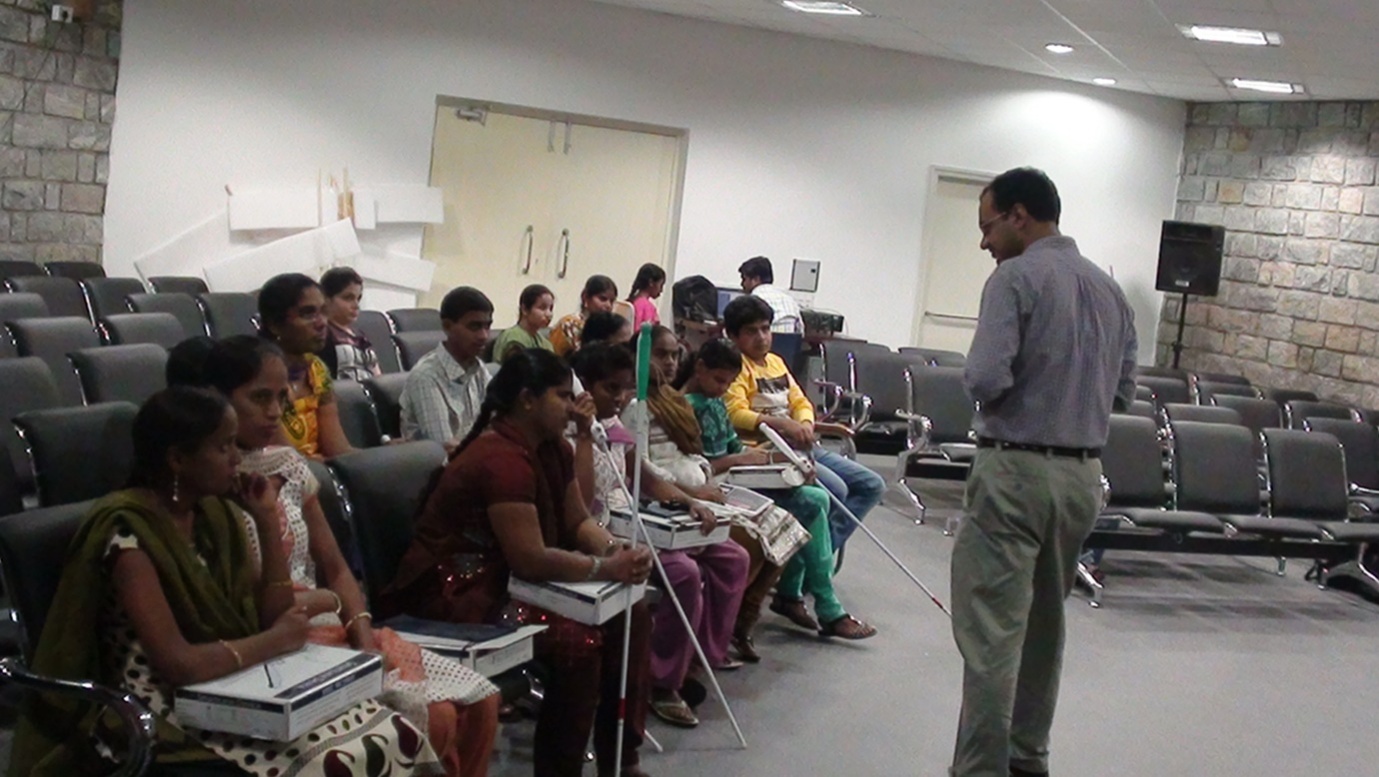 USP of SmartCane: Users' Product
SmartCane has been developed in close collaboration with end-users. The final stage validation trial itself involved 150+ users from 6 cities spanning more than 10 organizations. This is one of the largest user studies for a mobility aid worldwide. The feedback from users has made SmartCane the perfect choice for a visually challenged individual.
Availability
SmartCane is available to the user from a network of over 16 welfare organizations for the blind across 12 states in India. It is important to note that since training forms an integral part of using a SmartCane, it is essential to guide prospective buyers to get in touch with the organization closest to them. These organizations are: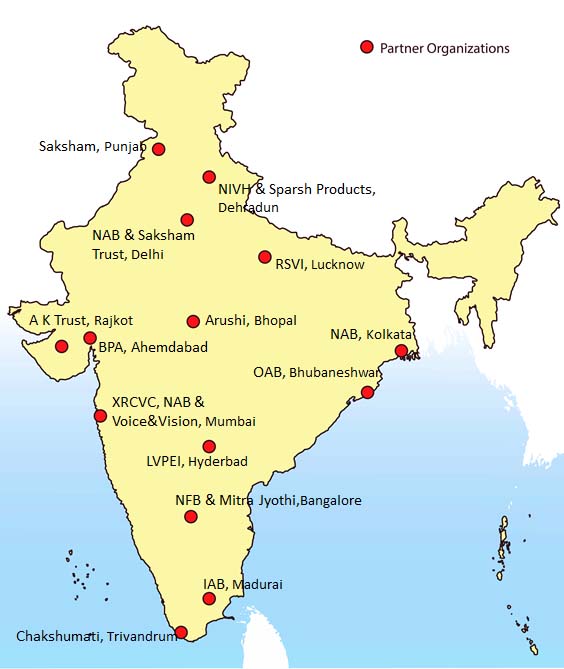 SmartCane device is also available as part of Government of India's scheme for providing devices to the disabled population with low incomes. The scheme is titled "Assistance to Disabled Persons in Purchase of Aids and Appliances (ADIP)". This scheme is handled by the National Institute for the Visually Handicapped (NIVH), Dehradun, the nodal government agency under the Ministry of Social Justice and Empowerment, Govt. of India.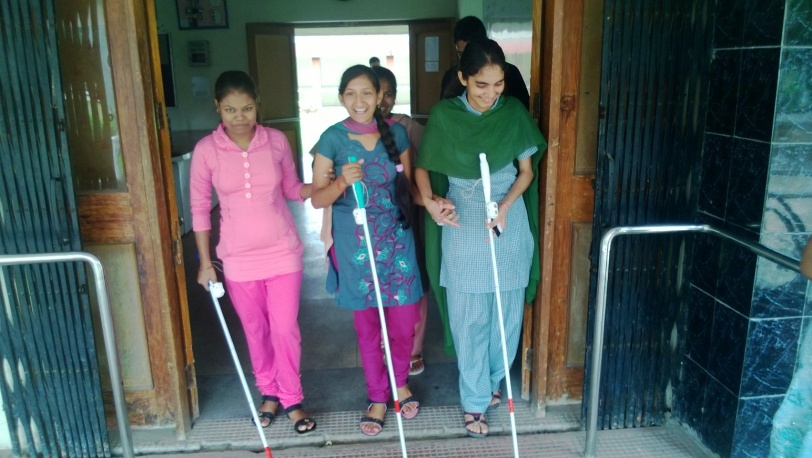 In Conclusion
SmartCane is one of the best examples of classroom teaching transformed into practical application. Not only does it benefit a large section of the society that finds it difficult to be integrated with the current norms and available assistance, but it also shows the power of research and technology in bridging divides and enabling independence.
For more information, you could also visit their website!
Like this story? Or have something to share? Write to us: contact@thebetterindia.com, or connect with us on Facebook and Twitter (@thebetterindia).
About the Author:
Rahul Anand is interested in social innovation, enterprise and social impact. He is co-founder of
Bloodaid
We bring stories straight from the heart of India, to inspire millions and create a wave of impact. Our positive movement is growing bigger everyday, and we would love for you to join it.
Please contribute whatever you can, every little penny helps our team in bringing you more stories that support dreams and spread hope.
Tell Us More