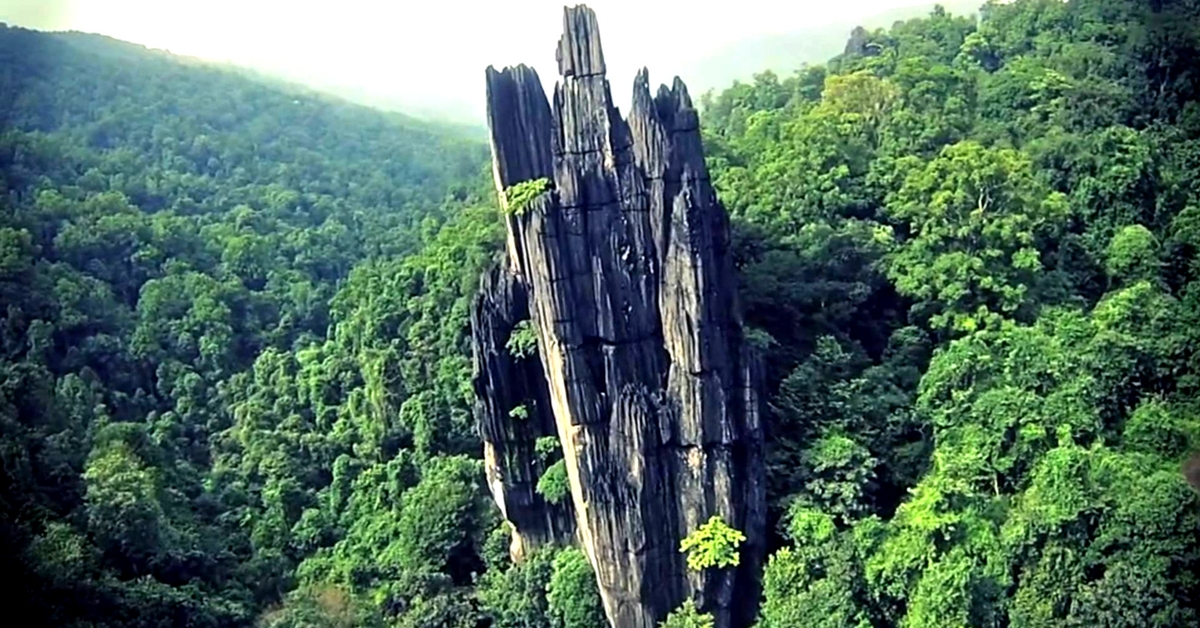 One of the world's most varied countries in terms of geographical diversity, India has an astonishing array of natural wonders. Here's a round up to reignite your wanderlust!
When we think of natural wonders, the Grand Canyon, the Great Barrier Reef, Mount Everest and the Amazon Rainforest are the names that typically come to mind. However, there lies a treasure trove of strikingly scenic natural wonders a little closer to home too.
One of the world's most varied countries in terms of geographical diversity, India has an astonishing array of natural wonders. Some are pretty well-known and undeniably spectacular, while others are less-discovered gems. However, they have one thing in common — they will all take your breath away!
So if you are looking for some travel inspiration to reignite your wanderlust, here's a roundup of 20 lesser-known natural wonders in India.
1. Lonar Lake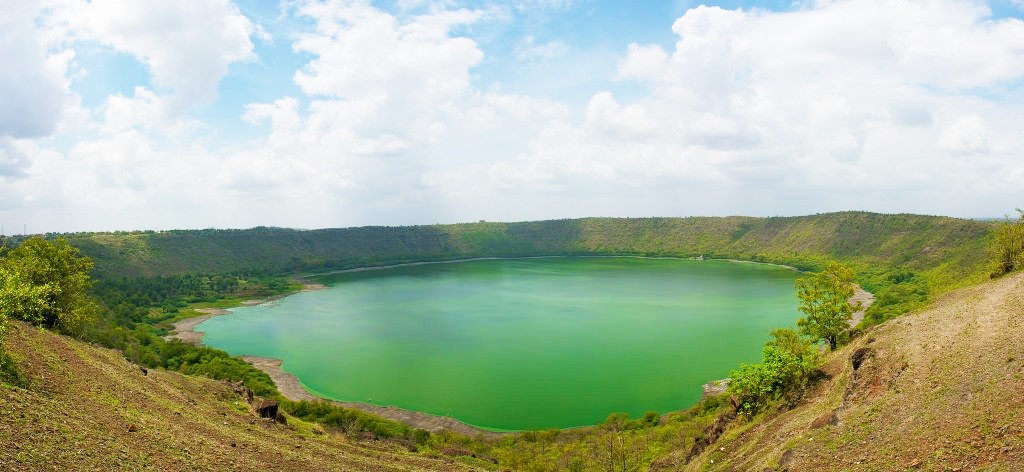 Incredibly old at 50,000 years, the Lonar crater is the youngest and best preserved impact crater formed in basalt rock and is the only of its kind on earth. The crater was formed fifty-two thousand years ago, when a gigantic meteor crashed into the earth at an estimated speed of 90,000 km per hour.
Over time, the jungle took over the deep depression, and a perennial stream transformed the crater into a tranquil, emerald green lake. Today, the forest-fringed lake (located in the Buldhana District of Maharashtra) is a wildlife sanctuary with a unique ecology that is vastly different from the surrounding flat landscape. Its water supports micro-organisms rarely found elsewhere on earth while its surroundings are peppered with fragments of unique minerals like maskelynite.
2. Borra Caves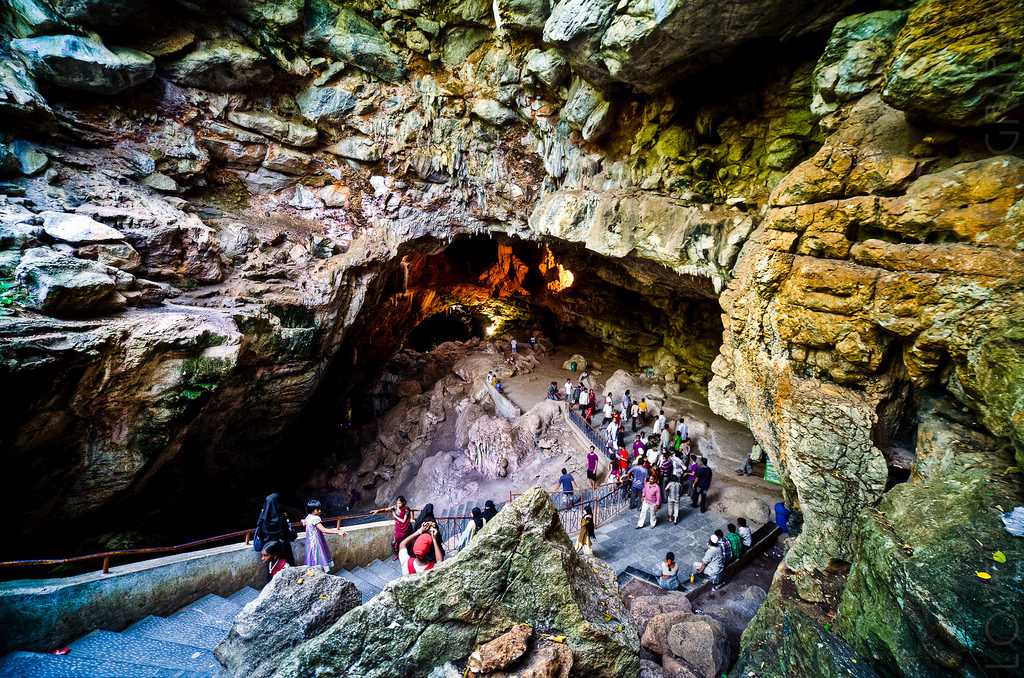 Most people have never seen a real cave in their whole lives; still, those who do remain permanently fascinated by the amazing display of natural forces. The rock formations at the Borra caves (located in the Ananthagiri hills of Andhra Pradesh's Araku Valley) are proof that wonderful things can appear when water meets limestone.
Among the deepest caves of India, the Borra cave was created millions of years ago by the karstic action of the Gosthani river and has some spectacular speleothems. The local tribals also associate several legends to the cave. Interestingly, the cave is also highly valuable for anthropological research, with excavations unearthing stone tools of middle Paleolithic culture (confirming human habitation in the area dating back to between 30,000 and 50,000 years ago)
3. Riverine Potholes of Nighoj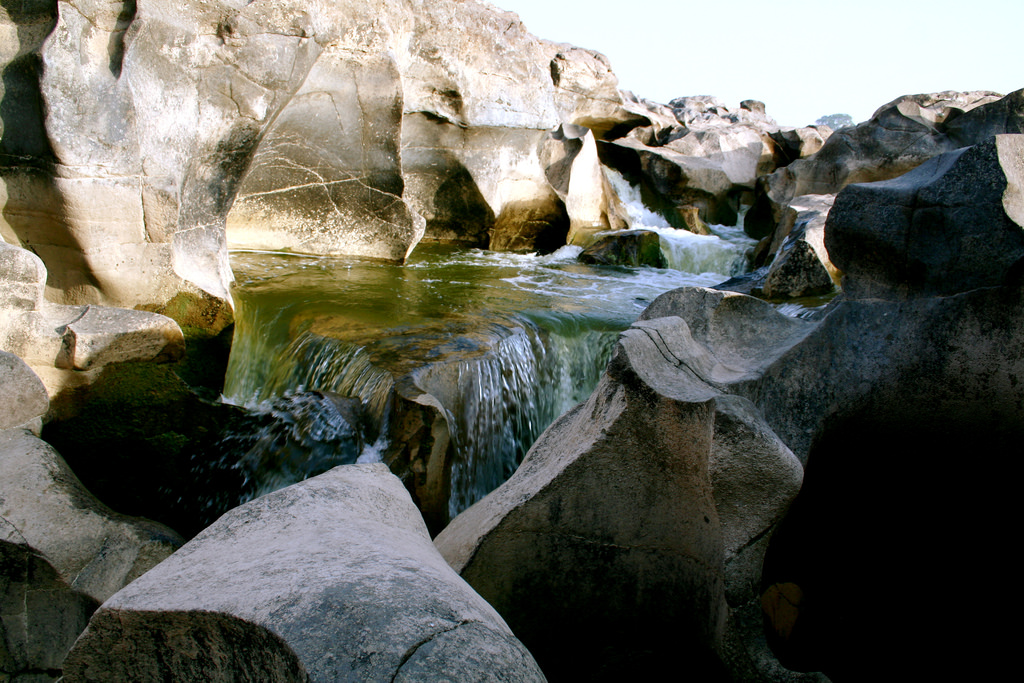 Home to a basalt-rock river bed hollowed out by primeval potholes like a giant block of cheese, the village of Nighoj is a place that stays with you long after your visit is over. These pot-shaped craters (called kunds by locals) have been carved out by the waters of river Kukdi over thousands of years.
Some of these potholes run 40 feet deep, with swifts building nesting colonies in their overhanging rocks. Winter or summer is a good time to visit Nighoj, about two hours away from Pune, as there is not much water in the river. A visit to this geological wonder can also be combined with a visit to the Morachi Chincholi, a unique village whose eco-friendly residents co-habit with hundreds of peacocks
4. Gandikota Canyon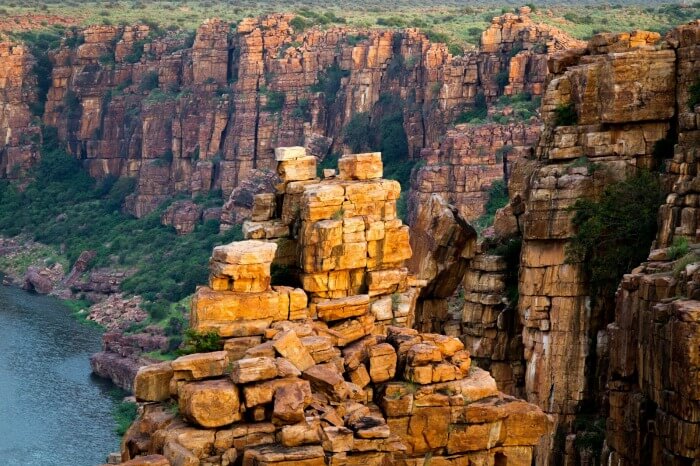 With striking grandeur reminiscent of USA's majestic Grand Canyon, Gandikota is a 300-feet-deep valley located in Cuddapah district of Andhra Pradesh. Believed to be more than a thousand years old, the canyon is also known for the 13th-century Gandikota Fort – an intricately-carved citadel made of red sandstone.
Few sights in India can beat Gandikota in instilling stupefying awe. Peering over the edge of this giant hole in the ground is enough of a thrill for some, but to really appreciate the canyon's grandeur, one can hike all the way up to the top of the gorge for unforgettable views of the river Pennar flowing through the forested canyon.
5. Loktak Lake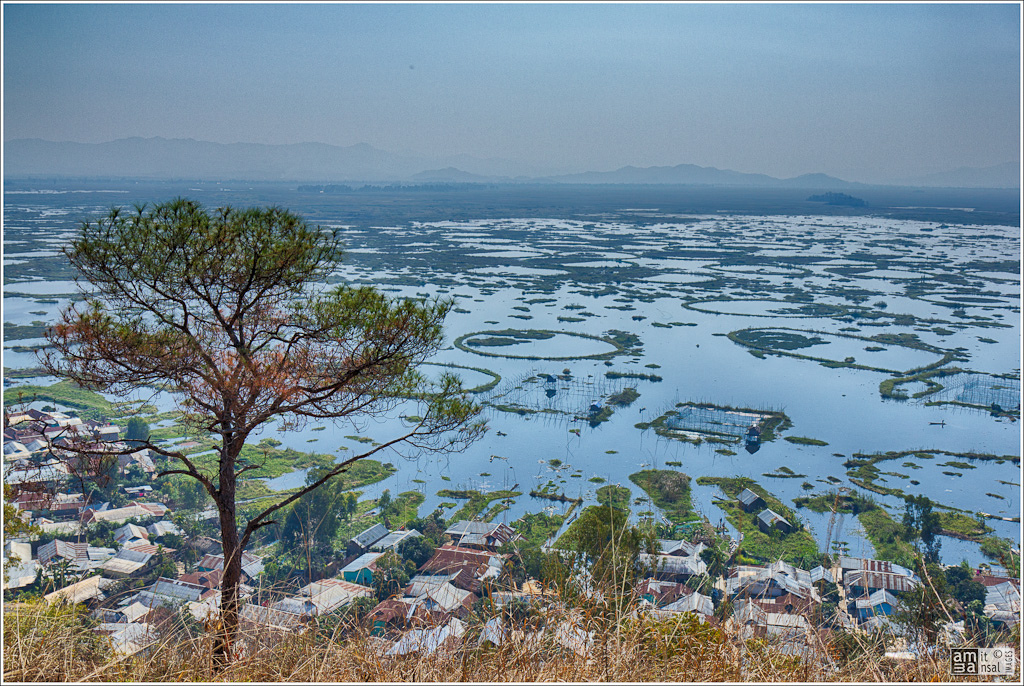 The largest natural freshwater lake in northeastern India, Loktak Lake is home to unique ecosystems called 'Phumdi' (a Manipuri word meaning floating mats of soil, vegetation and organic matter). Resembling miniature islands, these phumdis are found in various forms, floating on the picturesque freshwater lake that serves as a lifeline for the communities living around it.
What makes the Loktak Lake even more special is the Keibul Lamjao National Park located at the south western part of the lake. It is the world's only floating national park and is home to the endangered Manipuri brow-antlered deer, Sangai. The biodiversity hotspot is also home to 233 species of aquatic plants, more than 100 species of birds, and 425 species of animals!
6. Hogenakkal Falls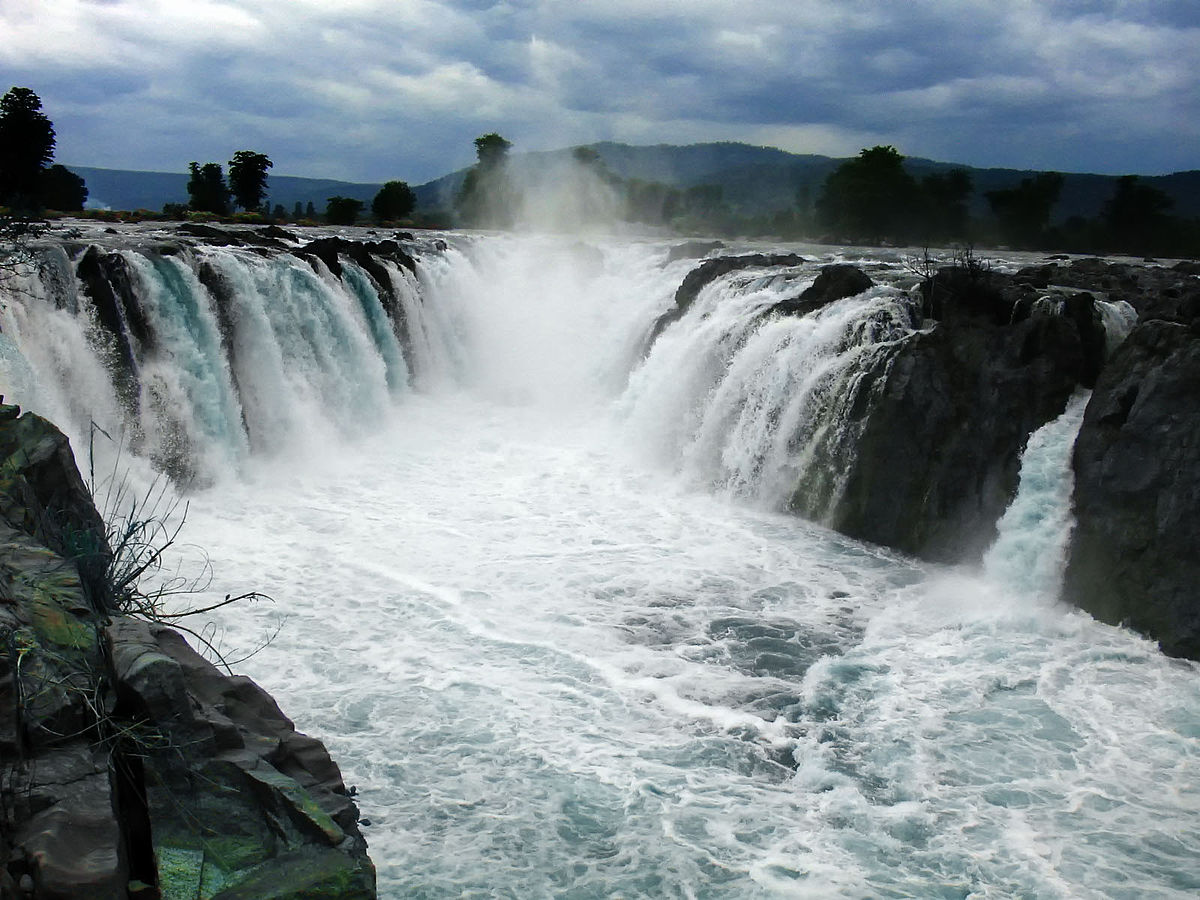 It is not for nothing that this breathtaking waterfall is called Hogenakkal ("smoking rocks" in Kannada) — after winding its way through a placid valley between Karnataka and Tamil Nadu, the river Cauvery cascades from a height of 150ft, creating a spray so strong that feels more like smoke than mist.
Bounded by giant black granite rocks on either side, Hogenakkal is not one huge waterfall but a series of smaller falls that merge into a stream meandering towards the hills in the distance. A peaceful coracle ride on this stream takes you to a makeshift market of freshly fried fish while also letting you take a closer look at the little caves dotting the craggy cliffs lining its shore.
7. Living Root Bridges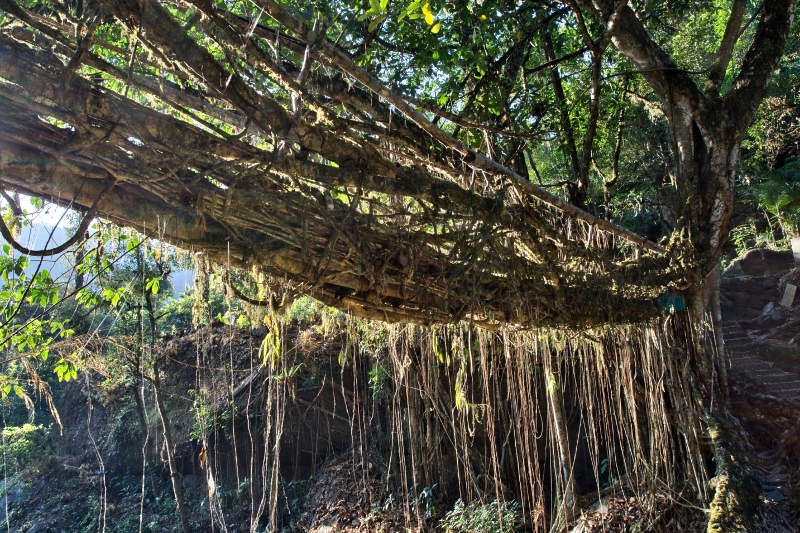 Centuries old living bridges over swift flowing streams provide a stable alternative to the easily destroyed wooden bridges in the fiesty rainy season of Meghalaya's Cherrapunji. Some well-known examples are the 180-year-old Nongriat double decker bridge, the Ritymmen Root Bridge (the longest at 30 m) and the Mawsaw Root Bridge (that has several natural swimming holes nearby).
Constructed by the native Khasi tribe, these bridges have been built by tangling the naturally growing roots of Ficus Elastica rubber trees (native to the region) through hollow betel nut tree trunks to form a structure that grows stronger over the years. Once built, they don't need maintenance, with thickening roots enhancing the solidity of the base and smaller vines growing into a protective railing.
8. Marble Rocks of Bhedaghat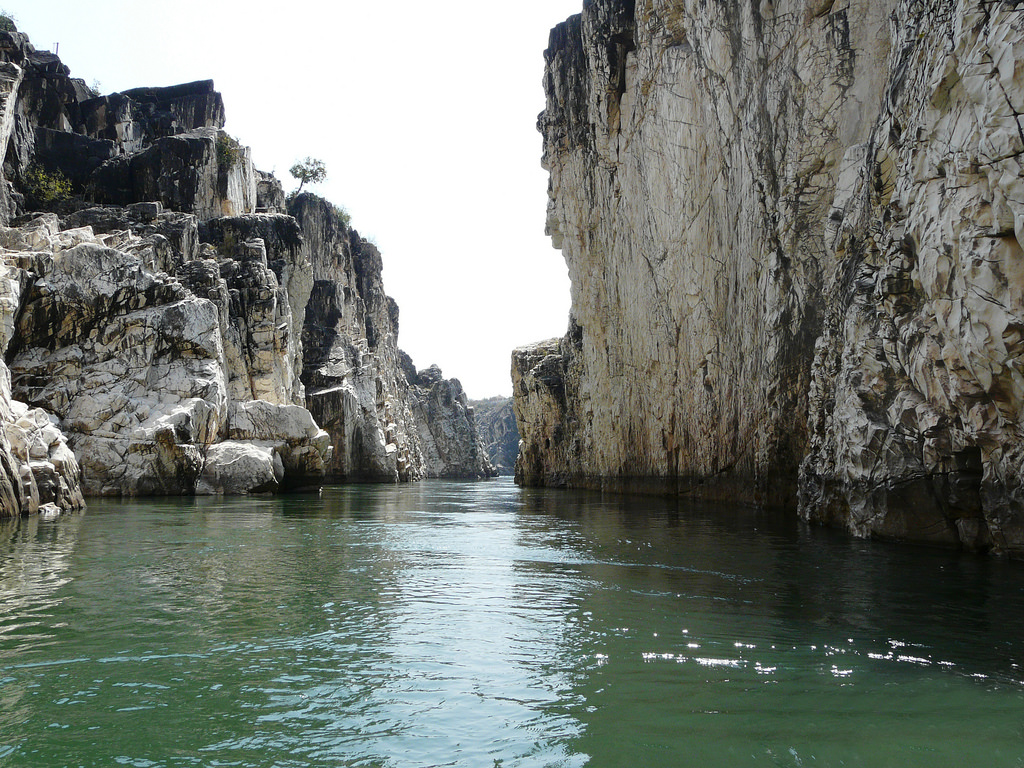 Perched on the banks of Narmada river, about 25 km away from Jabalpur, the marble rocks of Bhedaghat are emblematic of the region's ancient geology, characterized by marble-like limestone rocks, all lifted over eons into its present rugged relief. The white-grey of these rocks is due to the presence of a large amount of magnesium, which also lends it a soapstone-like texture.
At Bhedaghat, it's not just the height (about 100 feet) that impresses, but also the stunning spectacle created by the massive rock cliffs rising up perpendicularly from the placid blue-green waters of the river. One can take a rather rickety boat ride through the 3 km gorge that runs between these canyon-like cliffs or make a short detour to soak in the majestic beauty of the nearby Dhuandhar waterfall.
9. Sangetsar Lake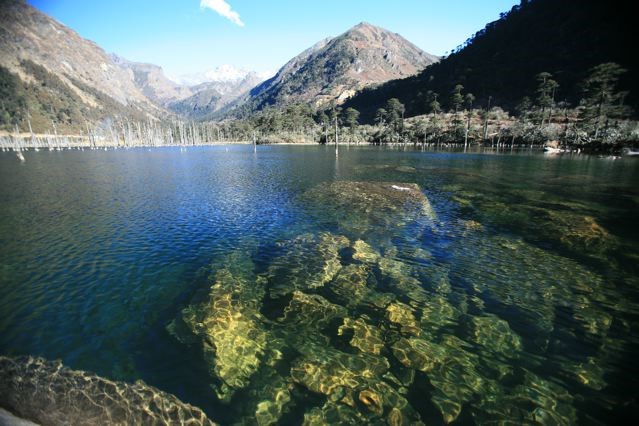 Formed as a result of an earthquake, Sangetsar Lake in Arunachal Pradesh is spellbinding in its beauty. This name of high-altitude lake is actually pronounced as Sho-Nga-seir by locals, after the Shok-Tsen village that was transformed into a lake due to an earthquake in 1971. It is also known as  Madhuri Lake, after the actress shot here for the movie Koyla, and is deeply revered by Buddhists in both India and Tibet.
Numerous dead tree trunks, which were once alive before the earthquake, emerge from the serene waters of the lake creating a hauntingly picturesque imagery before visitors. Do note that a special permit from the District Commissioner's (DC) office at Tawang (about 30 kms away) is required to visit this lake.
10. Floral Blooms at Valley of Flowers (Uttarakhand) and Kaas Plateau (Maharashtra)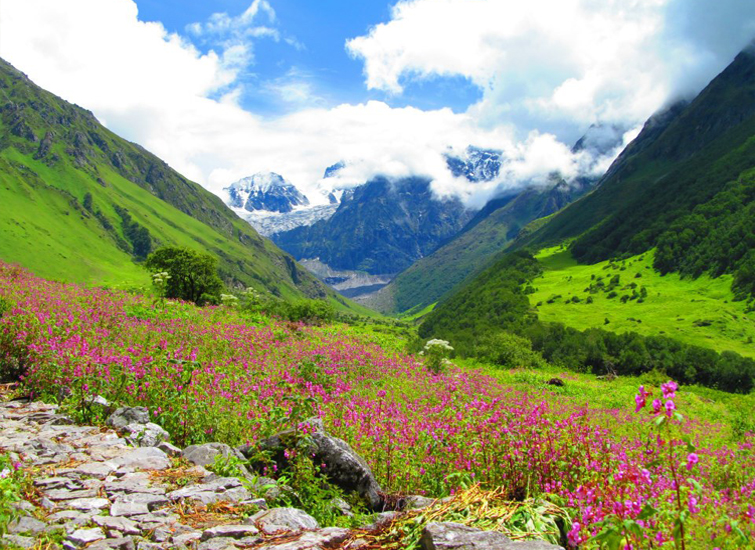 One of the most beautiful floral bloom phenomena in the world, the Valley of Flowers is a spectacular natural show of over 500 species of alpine blossoms that takes place in the lush meadows of Uttarakhand's Nanda Devi Biosphere Reserve between June and October. Now on UNESCO's World Heritage List, it was discovered by three British mountaineers in 1930.
The equally stunning yet distinct floral bloom of Kaas plateau takes place in Maharashtra's Satara district between September and early October. The soil of this unique plateau is made up of large quantities of basalt, which makes it ideal for the interesting and vibrantly coloured species of flowers that bloom here (like orchids and insectivorous plants).
So the next time you're travelling to these two states, consider adding some flower power to your trip!
11. Hide and Seek Beach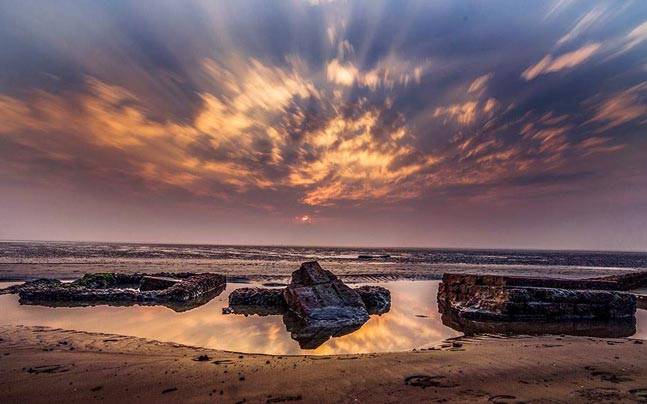 The beautiful Chandipur beach, located in the Balasore district of Odisha, is a home to a phenomenon that is rarely seen in any other part of the world. Every day, the sea here recedes during ebb till it almost seems to disappears and then comes back later in order to fill up the massive void during high tide.
This hide-and-seek of the sea comes to play twice a day and is the reason why the beach is home to a host of unique species (like the horseshoe crab and the red crab). Its a surreal experience to watch the sea disappear before your eyes and walked on the exposed sea bed that extends for nearly five kilometres.
12. Magnetic Hill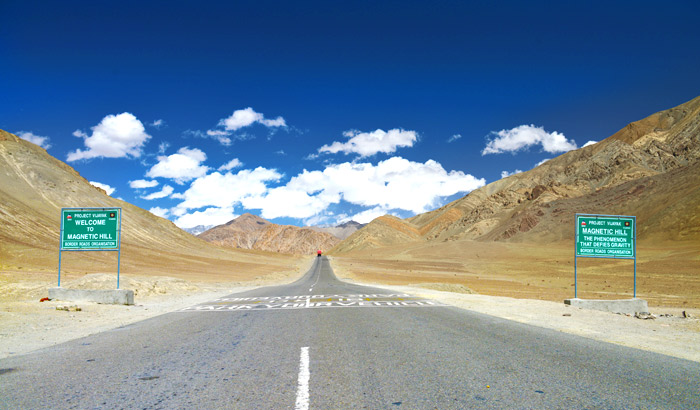 A mysterious spot where the laws of gravity seem not to apply, Ladakh's Magnetic Hill has been baffling visitors for years. Perched at a height of 14,000 feet above sea level, the hill is located on the Leh-Kargil-Srinagar national highway, about 30 km from Leh. As one reaches the spot, a sign along the road invites you to stop your car over a white square (marked on the road) before switching it off while in neutral gear.
If you follow these instructions, the car appears to roll uphill on its own at speeds of 10-20 km per hour. The reason for this strange occurrence is actually nothing but an optical illusion that the downhill road is actually an uphill road. Interestingly, a similar phenomenon can be observed at the Kalo Dungar hills of Bhuj.
13. Yana Rocks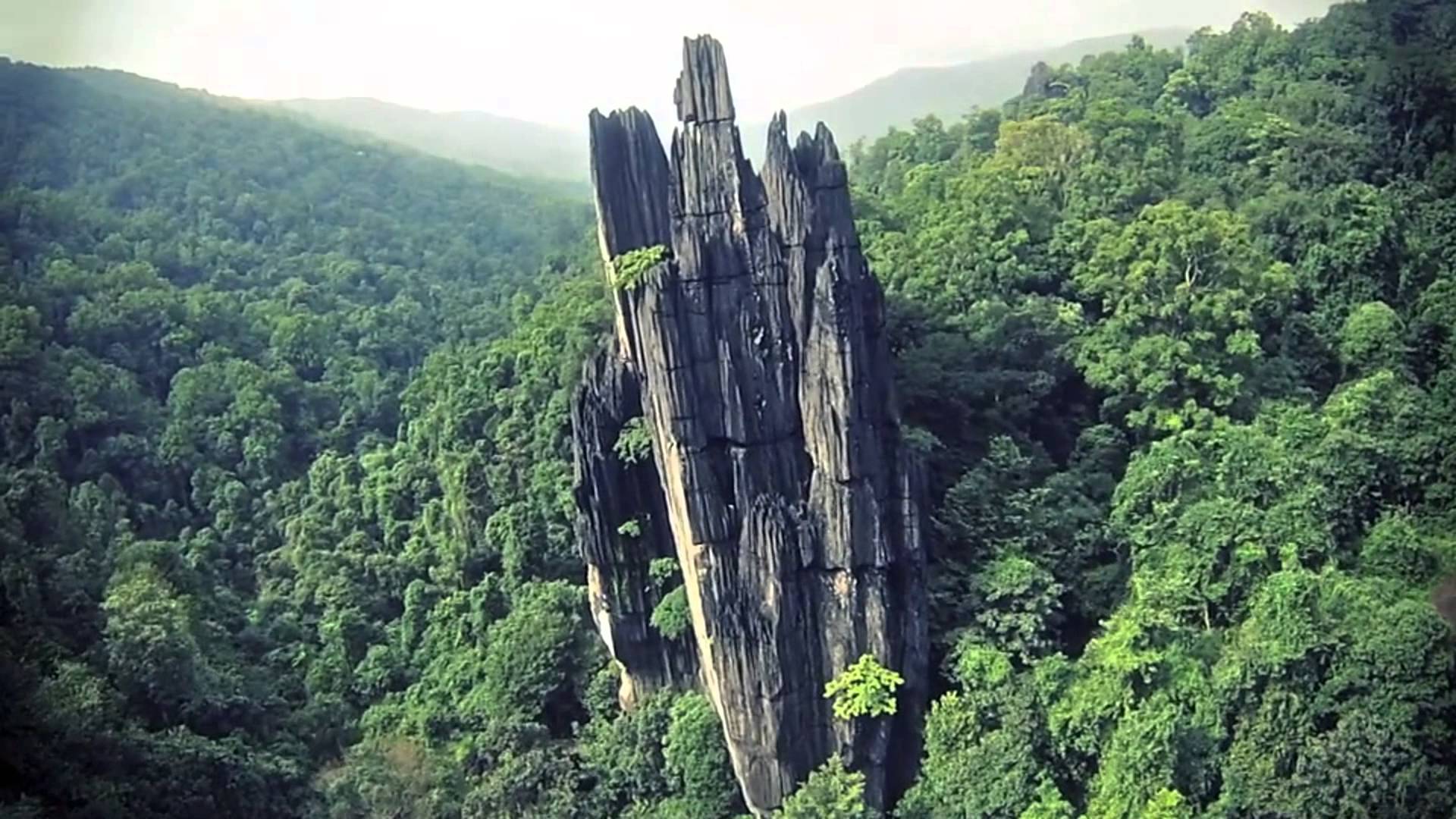 The striking black monoliths of Yana village lie nestled among the primeval jungles and rolling hills of Karnataka's Uttara Kannada district. Made of crystalline Karst limestone, the formation has two prominent rock outcrops (known as Bhairaveshwara Shikhara and Mohini Shikhara). At the base of the soaring rock giants lies a cave temple that hosts an annual festival during Maha Shivratri.
Reachable through a 3 km trek, Yana rocks also find some interesting mentions in local folklore, which the temple's priest is only too happy to narrate. Interestingly, Yana's monoliths were relatively unknown spot until a few years ago when they shot to fame after being shown in the Kannada movie, Nammoora Mandara Hoove!
14. Krem Liat Prah Cave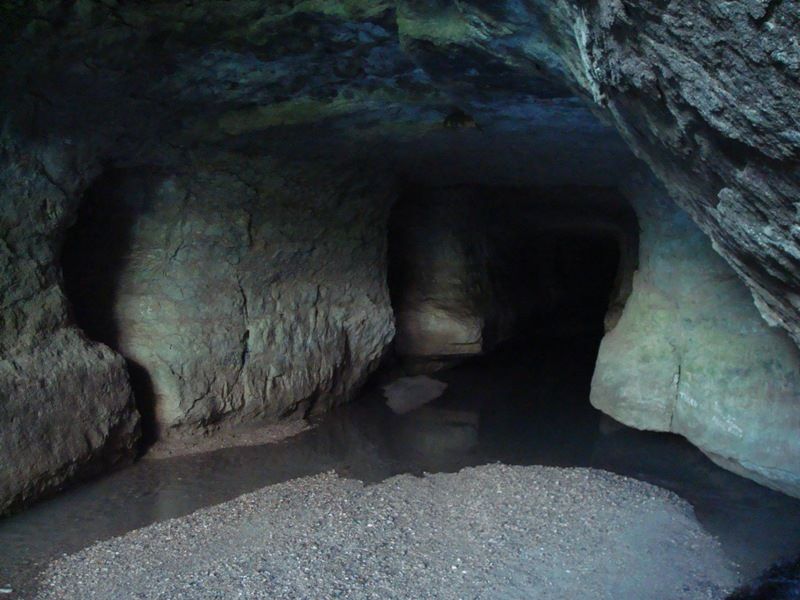 The southern slopes of the Jaintia Hills in Meghalaya have more than a thousand caves and crevices, and not all of them have been explored yet. Among these is the longest cave in India, Krem Liat Prah Cave, that was discovered in 2006. It is considered to be around 34 km long, however its length may extend manifold if nearby cave systems turn out to be connected.
A fantastic spot for spelunking, or caving, Krem Liat Prah Cave greets you with rugged rock formations, breathtaking stalactites, narrow passages, shallow pools and spooky reflections. Exploring this cave is a thrilling experience you will not forget soon — expect to climb,  squeeze, duck and even crawl as you Indiana Jones your way through it!
15. Reverse Waterfall at Sinhagad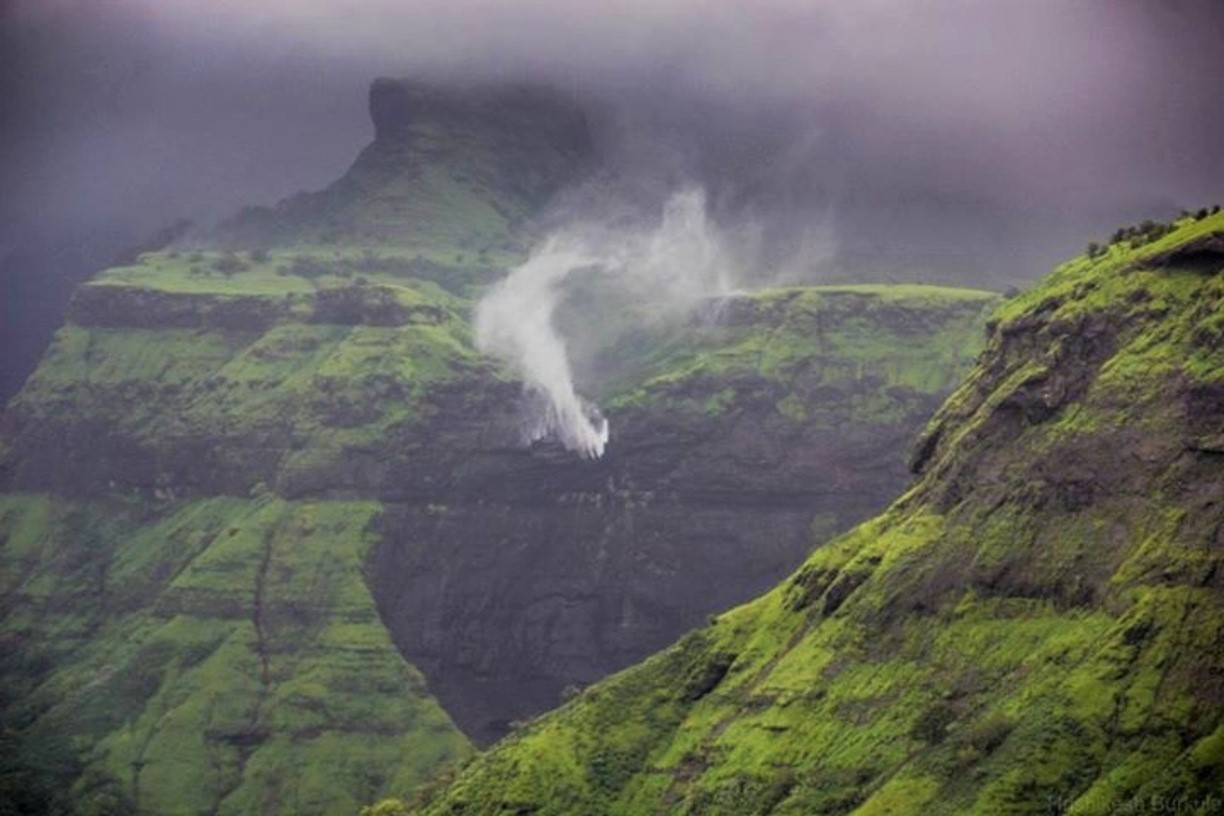 Located on the crest of the Western Ghats in Maharashtra, Malshej Ghat falls along the only motorable road between Kalyan and Ahmednagar. Perched along this scenic ghat lies Sinhagad Fort, a favourite weekend getaway of Punekars (the city lies about 25 km away). Every monsoon, the mountainside along this stretch undergoes a makeover, with lush greenery and gurgling streams breathing life into the dusty brown earth.
It is only during this season that one can see a reverse waterfall near the Sinhagad fort. A rare gravity-defying phenomenon, reverse waterfalls are formed during heavy monsoon when water starts flowing upwards due to the high pressure of the winds. Other than a gorgeous trek and photo-ops, a visit here also provides the uniquely enjoyable experience of standing at the top of a waterfall (behind a guarded railing) and getting drenched in its reverse-flowing water!
16. Mud Volcanoes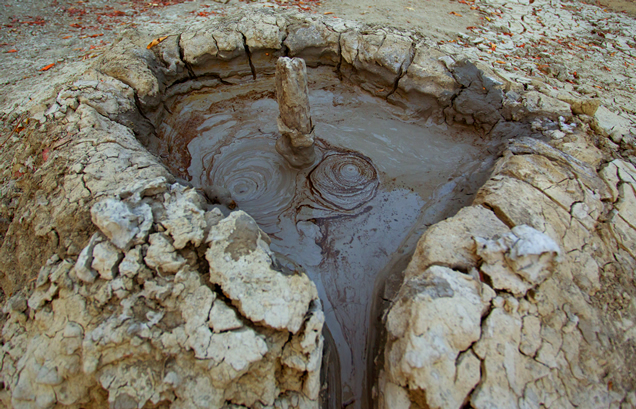 A rare geological phenomena, mud volcanoes are formed by emission of depressurized pore water and natural gases from decaying organic matter underground, accompanied by loud explosions and fire flares. This gradually forms a miniature volcano with rich, creamy mud crater at the top.
As per available records, the first observed mud volcano explosion on Baratang island was observed in March 1983 in Nilambur village. Called jalkis by the locals, these mud volcanoes have been sporadically erupting since then. In 2004-05, the mud volcano eruptions witnessed a spurt due to increased seismic activity in the region (associated with the 2004 Indian Ocean earthquake)
17. Umngot River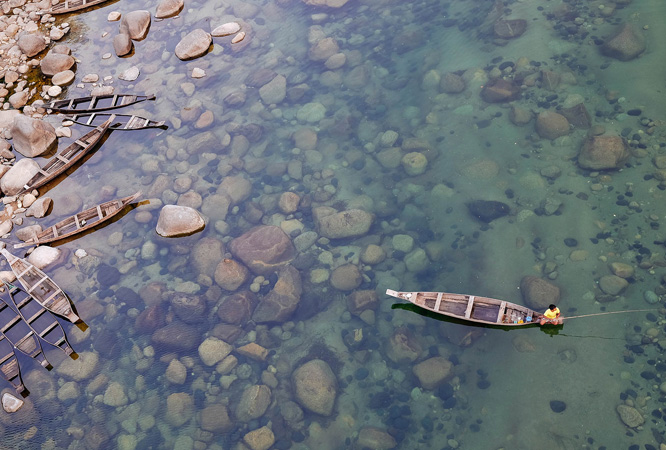 A little-known gem, river Umngot flows through Dawki, a small but busy town in Meghalaya's East Jaintia Hills district that is a mere 95 km away from the capital Shillong. The site of a boat race held in March-April every year, the river (that extends into the plains of Bangladesh) is famed for the incredible clarity of its waters that makes it almost completely transparent.
Thus, one to clearly see both the river's thriving aquatic life and its rock-strewn river bed from the boats of the local fishermen (or the single-span suspension bridge hanging over the river). At times, the water is so clear that, when seen from a distance, it appears as if boats dotting the river's emerald-green surface are floating in mid-air!
18. St Mary's Island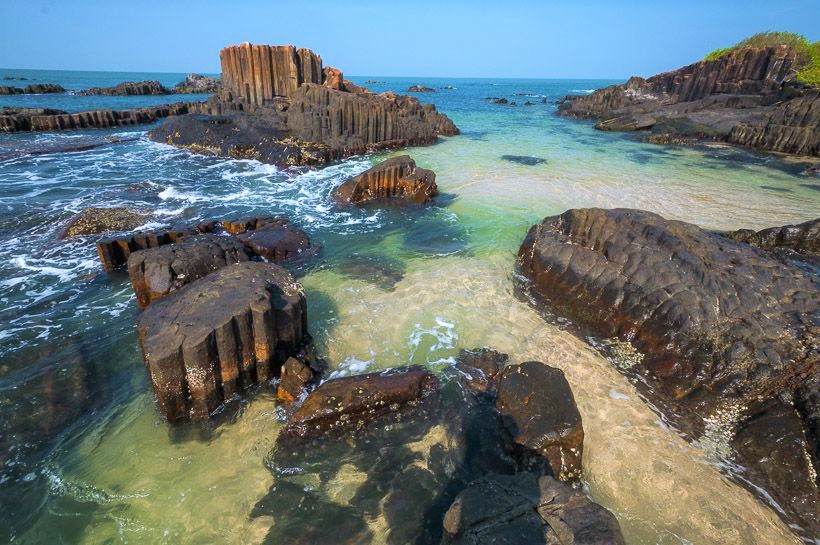 Also known as Coconut Island or Thonsepar, St Mary's Island lies off the coast of Malpe in Karnataka. Renown for its unique hexagonal columns of basaltic lava, this pristine little island is believed to have been a halt for Vasco Da Gama during his journey to Kerala. In 1979, it was declared a national geological monument by the Geological Survey of India.
Interestingly, while one half of the island are dotted by these rock pillars, the other half is a shellfish haven, with all kinds of seashells and pebbles (broken shells smoothed by years of relentless wave action) carpeting the beach.
19. Belum Caves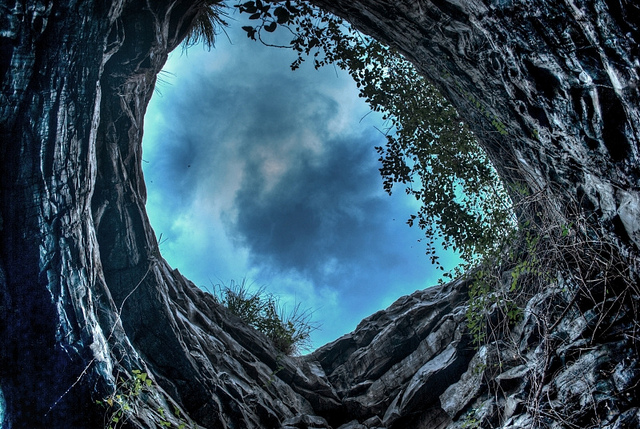 Approximately 275 kms from Bangalore, in the Kurnool district of Andhra Pradesh, sit the longest caves on the plains of India – the Belum caves.These caves, which get their name from the Sanskrit word bilum (hole), were formed by the action of water flowing on limestone deposits over millions of years, forming stalactites, stalagmites, siphons, sink holes, and water galleries.
Intricate formations and sculptures — such as Simhadwaram, Voodalamari and Thousand Hoods —created by nature add immensely to the allure of the Belum caves. One of the most interesting features here is the Saptasvarala Guha ( the chamber of seven notes) where the stalactite formations produce musical sounds when struck with a wooden stick or knuckles.
20. Barren Island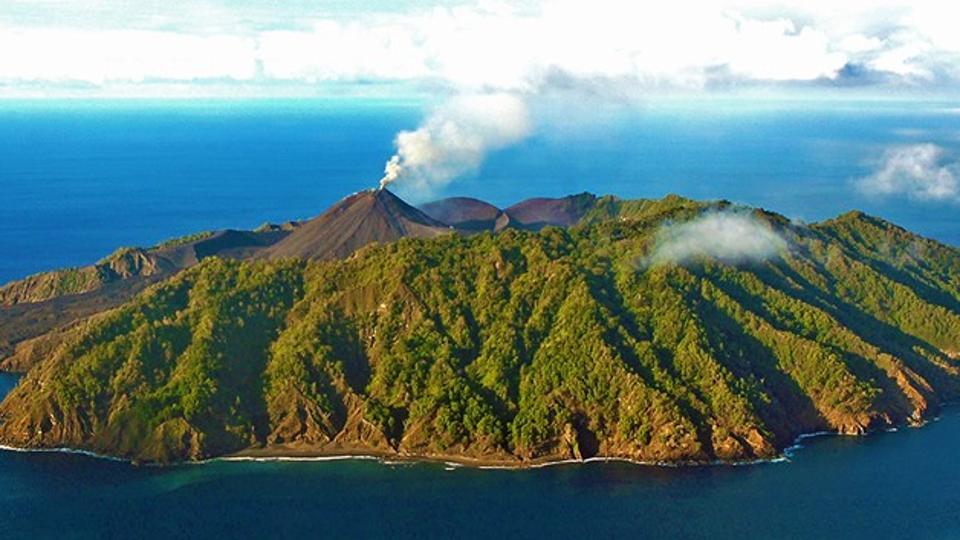 Photo Source
Surrounded by nothing but water for miles, Barren Island in the Andaman Sea provides glimpses of nature at its most primordial. Situated at the cross of the seismically active Indian and Burmese plates, the uninhabited island is 1.8 million years old and provides a place of rest for large marine creatures like turtles, manta rays and reef sharks on their migrations.
The sand on the island's narrow beaches has a deep purple-black hue. At places where the shrub-covered slopes reach the sea, steam rises in swirling spirals as if reaching for the sky. A place where one can literally witness planet-building in action, a visit to Barren Island promises to be an electrifying experience.
---
You May Like: A Journey to Barren Island, India's Only Active Volcano, Is a Once-In-A-Lifetime Experience
---
Like this story? Or have something to share? Write to us: contact@thebetterindia.com, or connect with us on Facebook and Twitter.
NEW: Click here to get positive news on WhatsApp!
We bring stories straight from the heart of India, to inspire millions and create a wave of impact. Our positive movement is growing bigger everyday, and we would love for you to join it.
Please contribute whatever you can, every little penny helps our team in bringing you more stories that support dreams and spread hope.