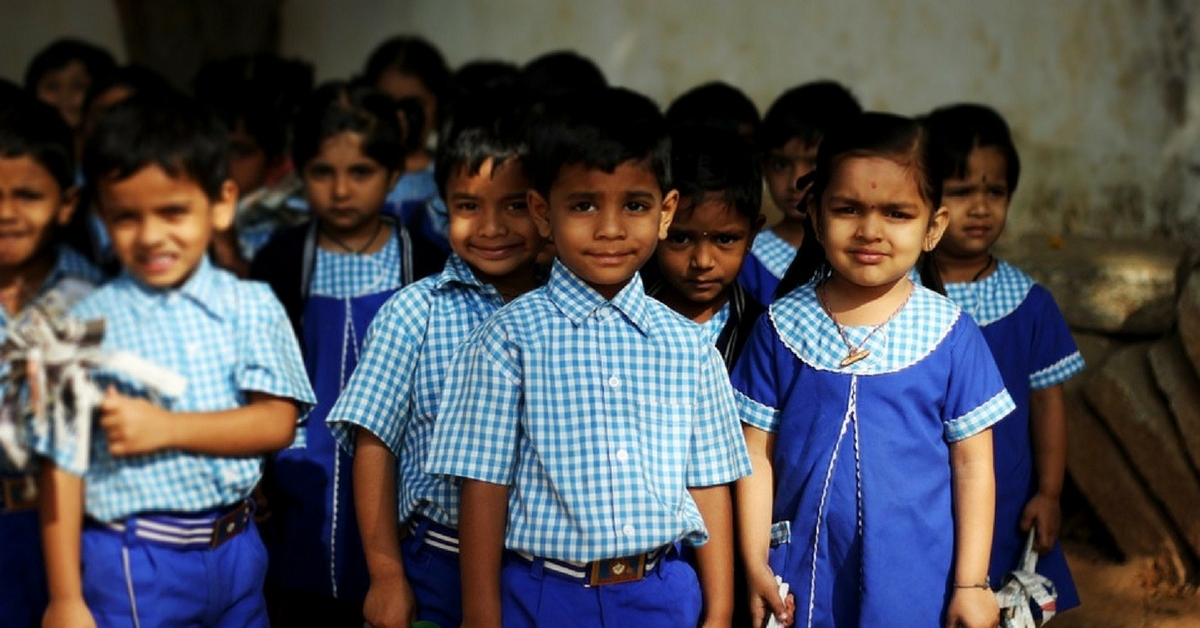 No Detention Policy was built into the law to ensure that students receive elementary education without fear of failing. As the government reconsiders this policy, Maadhyam looks at arguments for and against the policy decision.
Over the last couple of years, the government's focus has been towards utilising the vast workforce India is copiously producing. This has been reflected in its policies. For example, changes in the child labour law now permit children as young as 14 years of age to be employed in their family trades. Another policy, the skill India mission, focused on building vocational and trade skills etc, though it wasn't matched by sufficient employment opportunities.
Another policy change has been the recent move to reconsider the compulsory 'No-detention policy' (NDP). In combination, all of these changes may have the unintended effect of pushing even more children out of school. [The Bill can be read here.]
Under the Right to Education Act, 2009, every child was guaranteed free and compulsory education till VIIIth standard without the fear of failure. The law also moved the focus from year-end competitive exams to a year-round review of a child's performance through continuous and comprehensive evaluation.
As per the government's new policy, students may be failed in exams and made to repeat a class on subsequent failure.
In the first post of this two-part series, we listed arguments advanced against NDP. In the second post of this series, we look at arguments for retaining NDP.
Need for NDP – and why it may be retained
As stated earlier, the NDP seeks to achieve universal enrolment in elementary education. It is obligatory on the state to ensure that a child gets an education for eight years, which is a fundamental right. Thus, it is necessary to prevent dropouts because of failing examinations.
Especially in rural areas, due to socio-economic factors, dropping out is preferred to repeating a class. In case of girls, failing an exam may be seen as an end to their education given the prevalent gender bias. Thus, NDP serves as an assurance of elementary education to children from marginalised sections of society.
State of Maharashtra favours the policy as it has helped reduced drop-out rates and build self-esteem.
As highlighted in the first part of our analysis, a few states turned this argument around and cited high drop-out rates as a consequence of NDP.
A look at the following figure, however, seems to reveal a trend of low drop-out rates among states favouring NDP [marked with an 'S'] and high drop-outs among states opposing NDP [marked with an 'O'].
In such a scenario, it is tempting to make the argument that while multiple factors may be responsible for high or low drop-outs in a particular state, in absence of clear research, it is misleading to attribute it to NDP and consequently ask for a reconsideration of the policy.
Drop-Out Rates across several states [as taken from State Report Cards 2015-16]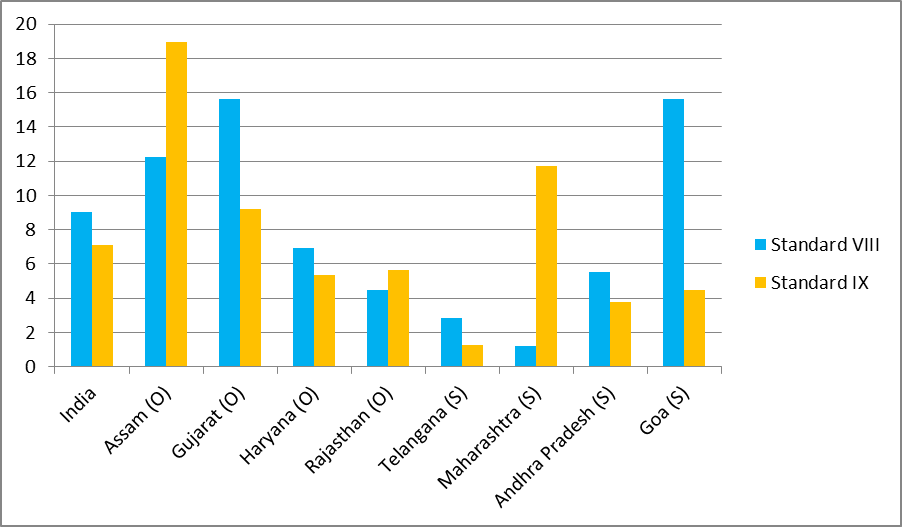 Further justifications for the policy are based on the observations of "Learning without Burden" Report, 1993 and National Curriculum Framework (NCF), 2005.
These documents raised genuine concerns about the quality of the learning environment under the regular examination system and its impact on the children. The primary issues identified were:
Focus of teaching-learning process is always upon the child's ability to reproduce the memorised information
Too much emphasis on getting good marks
Examination process becomes more important than the learning process itself
Thus, the need to have a conducive learning environment, which has a scope of discovery, exploring and activity-based learning was emphasised by the NCF. It is crucial for honing the skills of those students who are otherwise capable, but somehow fail to perform in exams.
It must be pointed out that in the first part of our series, we had highlighted that a number of states believed that examinations breed a culture of competition which is likely to encourage students and teachers to perform better.
In this context, it is important to note that there is no research evidence anywhere in the world to show that repeating a class improves learning (as admitted by Bhukkal Sub-Committee Report, 2014).
The State of Andhra Pradesh worries about detention being a de-motivating factor for students, as it leads to rote learning, suppressing their creative thinking, analytical ability, exploration and experimentation skills. Besides, undue fear of exams encourages malpractices.
There is also a misapprehension that 'no detention' means 'no assessment'. The CCE method for assessment is developed to implement NDP and assesses 'learning' through various formative and summative tests with reduced syllabus throughout the year.
It also focuses on the role of teachers. Thus, it shifts the burden of performance from the children to teachers. In this sense, it strives to improve quality teaching.
This also directly contradicts the argument explored in our first article in which several states asked for withdrawing NDP in the hope that the possibility of children failing would encourage teachers to perform better. But poor implementation of CCE and low levels of learning outcomes should not necessarily result in condemning NDP.
The figure below indicates that learning outcomes in rural India have declined at an all India level pointing to a systemic failure.
Learning levels outcome in Rural India at All India level [as taken from ASER report 2011 and 2016]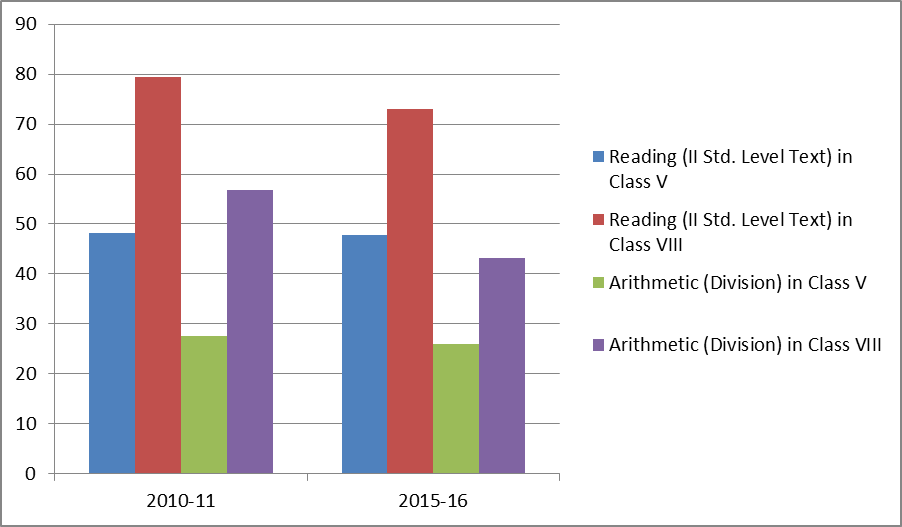 Thus, NDP in itself is a much-needed reform of our education system, which attempts to release a child from the stigma of failure at an early stage of life and calls for teacher accountability.
State of Telangana favours the retention of NDP to enable a child to learn better without fear of failure, detention and stigma.
However, if the policy has failed at the level of implementation, then the following reasons can be attributed for the same:
Lack of understanding and motivation in teachers to adapt to CCE methods, due to inadequate training. This makes their work tedious and time-consuming.
Continuing poor pupil-teacher ratio
Lack of familiarity of CCE to parents
Therefore, the states supporting NDP called for strengthening measures for CCE methods, instead of scrapping it altogether.
Ensuring regular and effective evaluation of learning levels remains the core of the suggestions.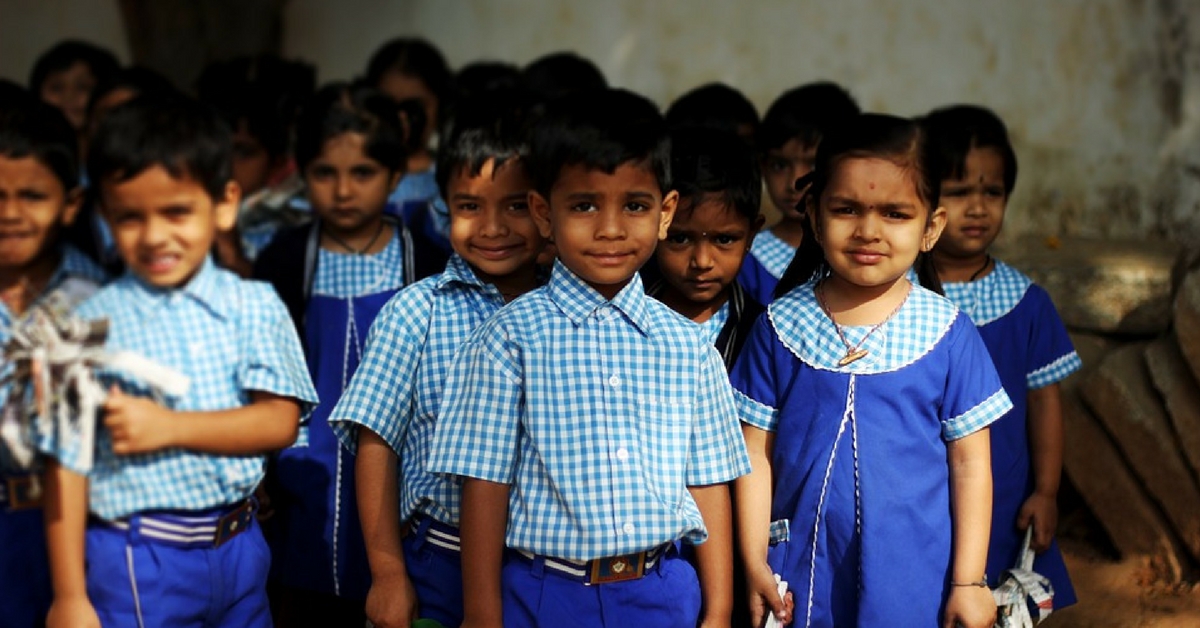 It is interesting to note that even the State of Haryana (opposing state) concedes that NDP can succeed through effective implementation of CCE methods, compulsory attendance and optimum Pupil-Teacher Ratio.
In light of this discussion, several questions arise:-
[You can provide your inputs on these questions by filling this QUESTIONNAIRE which will be shared with Members of Parliament as they discuss this Bill]
Is the fear of failing likely to lead to better learning outcomes?
Are more children likely to drop out instead of repeating the class if they fail?
Is it likely that withdrawing NDP will lead to better implementation of CCE?
Is it NDP or improper implementation of CCE which is responsible for poor performance of students in higher classes?
Is it teacher training or withdrawal of NDP that is likely to improve teacher performance?
In the upcoming winter session of Parliament, the Bill is likely to be discussed and it will be interesting to see what arguments find favour with the lawmakers. The future of our children rests on their decision.
Like this story? Or have something to share?
Write to us: contact@thebetterindia.com
Connect with us on Facebook and Twitter.
NEW: Click here to get positive news on WhatsApp!
Tell Us More
We bring stories straight from the heart of India, to inspire millions and create a wave of impact. Our positive movement is growing bigger everyday, and we would love for you to join it.
Please contribute whatever you can, every little penny helps our team in bringing you more stories that support dreams and spread hope.