The humble farmer said he never knew his efforts would one day invite buyers from across the country and would be promoted by an agency.
There's an idiom in English, "knowing your onions". If someone holds expertise in a field, practice or trade, they are said to be knowing their onions. While it's always used in a figurative sense, like all idioms are, it applies to a Haryana farmer quite literally.
Balwan Singh, 58, from Bhiwani, is credited with developing a high-quality variety of onion that fetches a premium in the market.
In the mid-80s, he procured some good quality onion seeds.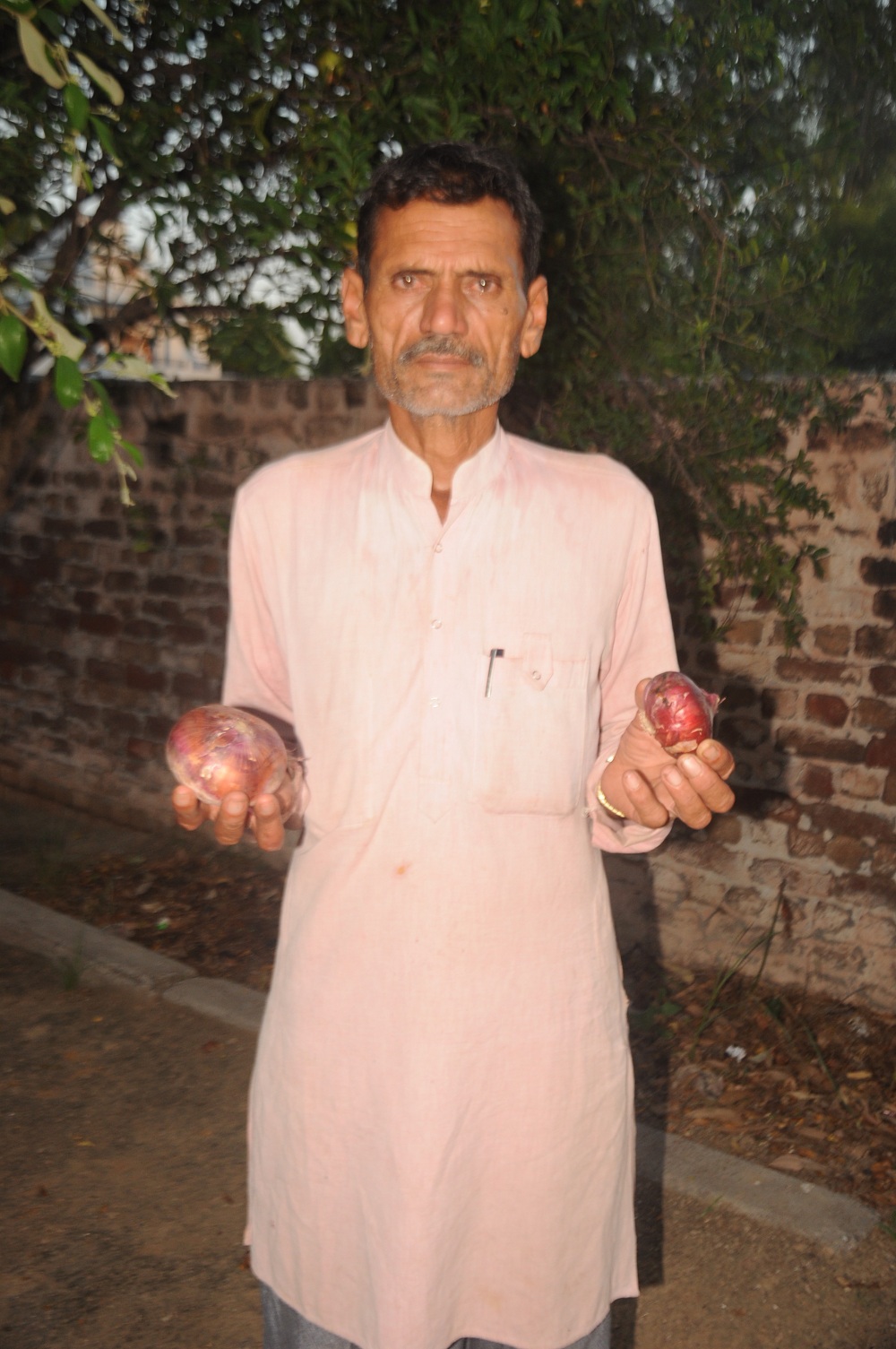 Then on, from every harvest, he started choosing the best onion bulbs to get his seeds from. He paid close attention to parameters such as size, evenness of the shape and tightness of the bulbs.
Choosing the best of the best, crop after crop, he was finally able to stabilise the characteristics of these onions.
It took him 17 years to develop this variety, but the effort was worth it. For one, the yield of his onions – which are now named after him, Balwan Pyaaz – is higher than the regular variety. Secondly, it fetches a higher price in the market. Further, it needs minimal chemical fertiliser and more of organic manure. Also, it requires less water to grow.
Hailing from Alakhpura village in Haryana's Bhiwani district, Balwan told 101Reporters that he earns about ₹3 lakh a year from selling onion seeds alone.
He earns a similar amount from cultivating onions on the less than two acres of land he owns.
He sells his crop directly at the vegetable market in the neighbouring village of Hansi.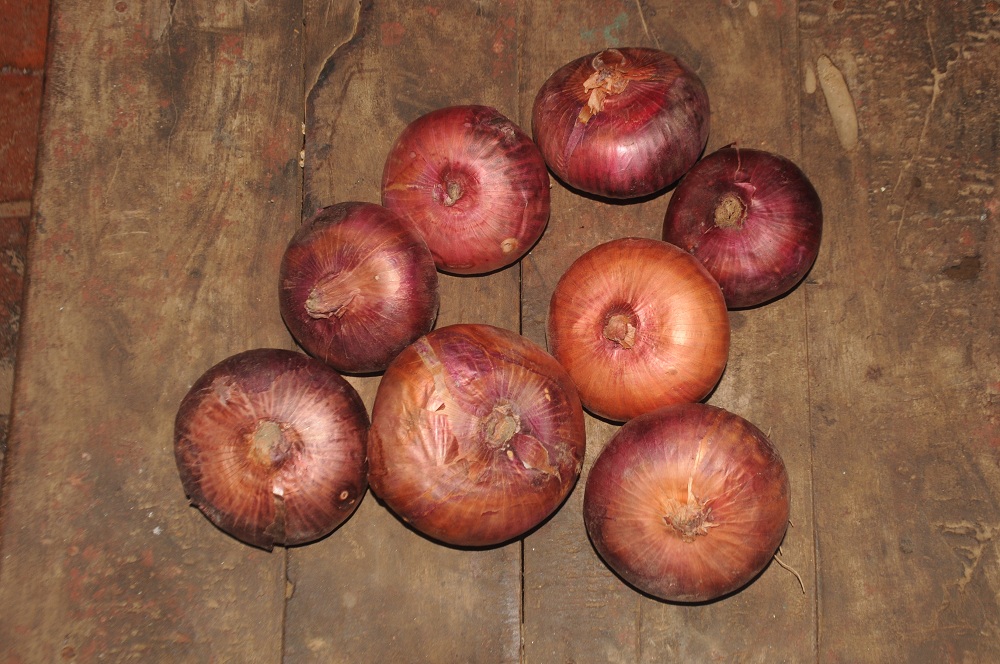 When it all began
In the mid-1980s, Balwan began looking for good-quality onion seeds. On the advice of his village elders, he enquired in the neighbouring villages of Bawani Khera, Hansi and Bhiwani and stumbled upon the variety known as Desi Pyaaz.
The size, even shape and tightness of these onion bulbs impressed him. He said he bought a few kilogram of seeds of this variety instantly.
He said he took great care in their sowing, irrigation and weeding and found the first crop phenomenal. Realising this variety could be refined further, he started using the best of the onions for getting seeds. He said he wanted seeds that would give him even, healthy onion bulbs. He would keep a record of the crop output from every batch of seeds and the price it would fetch him.
He said that when he started getting good-quality onion crop in 1989-1990, he reaped a premium of 25% for the quality product.
His produce would sell for ₹125 per quintal, whereas the onion crop of others would sell at ₹100 per quintal.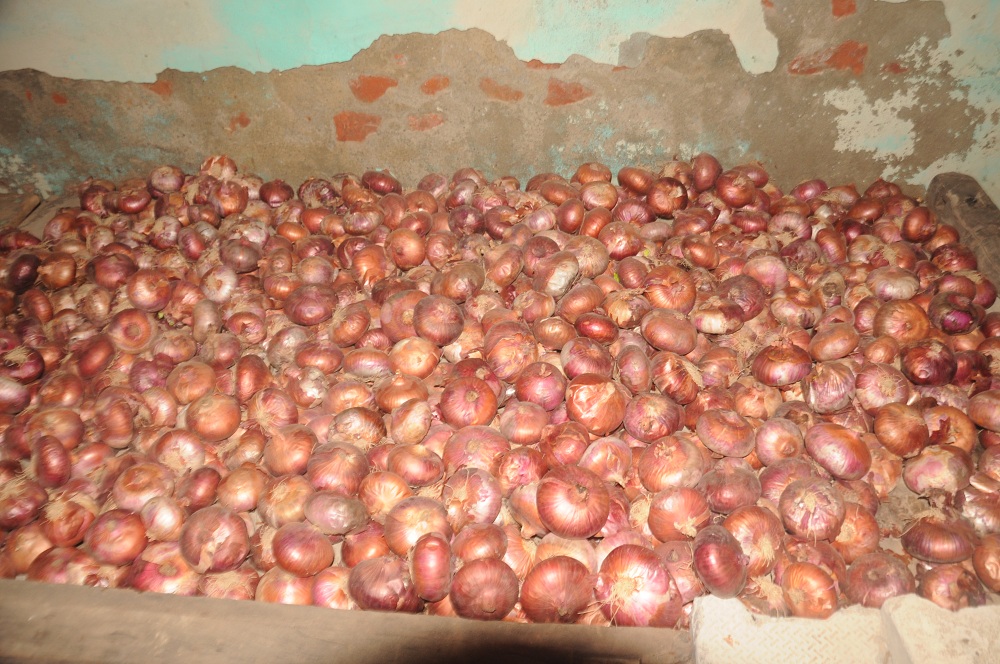 As recognition and awards for his onions exposed him to the world beyond his fields, he learnt about the demand for organic produce and began using homemade manure and reducing the use of chemical fertilizers.
He made the transition with the guidance of experts from Haryana Agriculture University (HAU), Hisar. The onions he thus grew had a longer shelf life and were bigger.
Accolades
Balwan said his Balwan Pyaaz started winning first prizes in state-level competitions organised by Haryana horticulture department. He said he remained the unanimous winner from 1990 to 1999 in this category. In 2008, his efforts won him the sixth National Grassroots Innovation Awards of National Innovation Foundation (NIF). Four years later, he was honoured with President's Award at a function in New Delhi.
As word began to spread about these high-quality onions, farmers began visiting Balwan to buy seeds from him. To exploit this demand, some opportunists began selling spurious seeds under the name of Balwan Pyaaz. Balwan said when the NIF was researching the quality of Balwan Pyaaz seeds, they came across eight types of seeds that were being sold under his name.
NIF director Hardev Chaudhary told 101Reporters that Balwan has done a wonderful job by grading and developing a variety within his limited means. He said the HAU tested his seeds and adopted it after getting positive results.
He said Balwan's onion seeds are now sold to farmers across the country.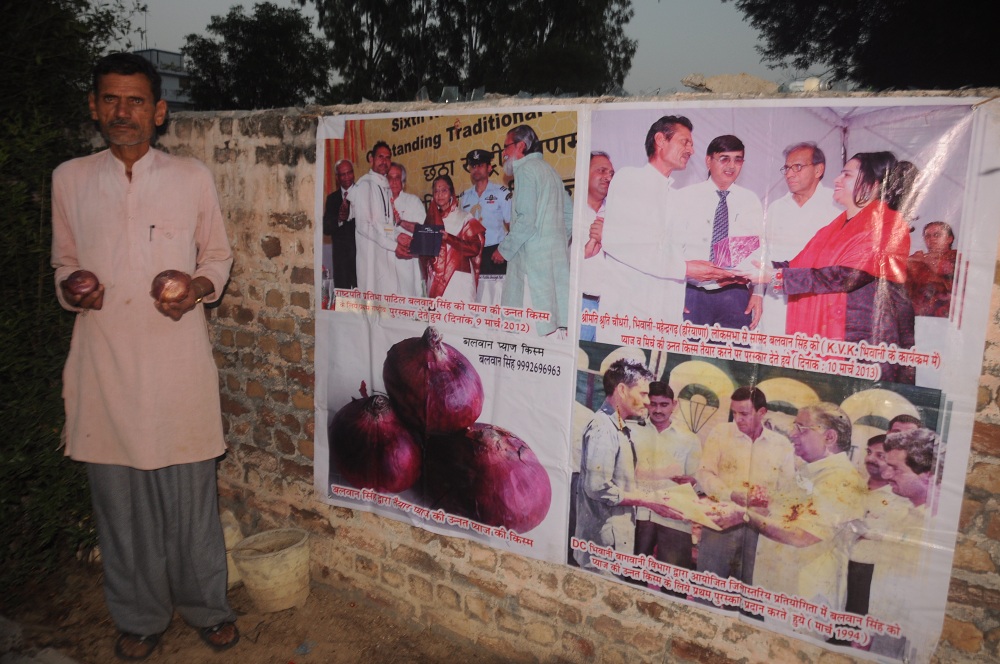 Dr RK Singh, a scientist at Central Soil Salinity Research Institute, Karnal, said the institute cultivated Balwan Pyaaz on an experimental basis on less than half an acre of land.
He said they found the onion's shelf life was much longer and its size was also bigger than the regular onion. He confirmed that the yield of Balwan Singh's onions is 25% higher than of other varieties. He said they had suggested some sowing techniques to Balwan to refine this variety further.
Inspiring figure
Most farmers in the region grow traditional crops like wheat and sugarcane, but farms around Balwan's have been growing vegetables of late. Unlike him, they rely solely on chemical fertilizers to boost their yield.
Dharambir Singh of Bawani Khera village said he has been growing Balwan Pyaaz on his one-acre farmland for some time now. He confirmed that the new onions take less water and minimal fertilizer, yet give better output. He said when farmers buy seeds from Balwan, he advises them to use a mix of neem leaves, cow dung and cow urine to spray on the plants.
Randhir Tyagi, another farmer from Bhiwani, said water scarcity is an issue that limits what can grow on their fields. Balwan Pyaaz, by the virtue of requiring less water, fits the bill.
He said he grows these onions on half an acre and makes Rs 2.5-3 lakh every year. This year, he harvested about 240 quintals on half an acre, a bumper crop by any standards.
Balwan said while the innovation earned him respect from within and outside the farming community, its monetary benefits saw him overcoming all his debts. Earlier, he was limited to his fields like a frog in a well, but today he travels across the country to give talks about innovation in farming.
The humble farmer said he never knew his efforts would one day invite buyers from across the country and would be promoted by an agency such as the NIF. He has two sons who work with a private company in Hisar but help him in the fields on weekends. Balwan is living a fulfilling and content life. "I find working with seed varieties more satisfying than anything else in the world," he said with a smile on his face.
(Written by Sat Singh with inputs from Indervesh Duhan. Sat Singh and Indervesh Duhan are Rohtak based freelance writers and members of 101Reporters.com, a pan-India network of grassroots reporters.)
Like this story? Or have something to share?
Write to us: contact@thebetterindia.com
Connect with us on Facebook and Twitter.
NEW: Click here to get positive news on WhatsApp!