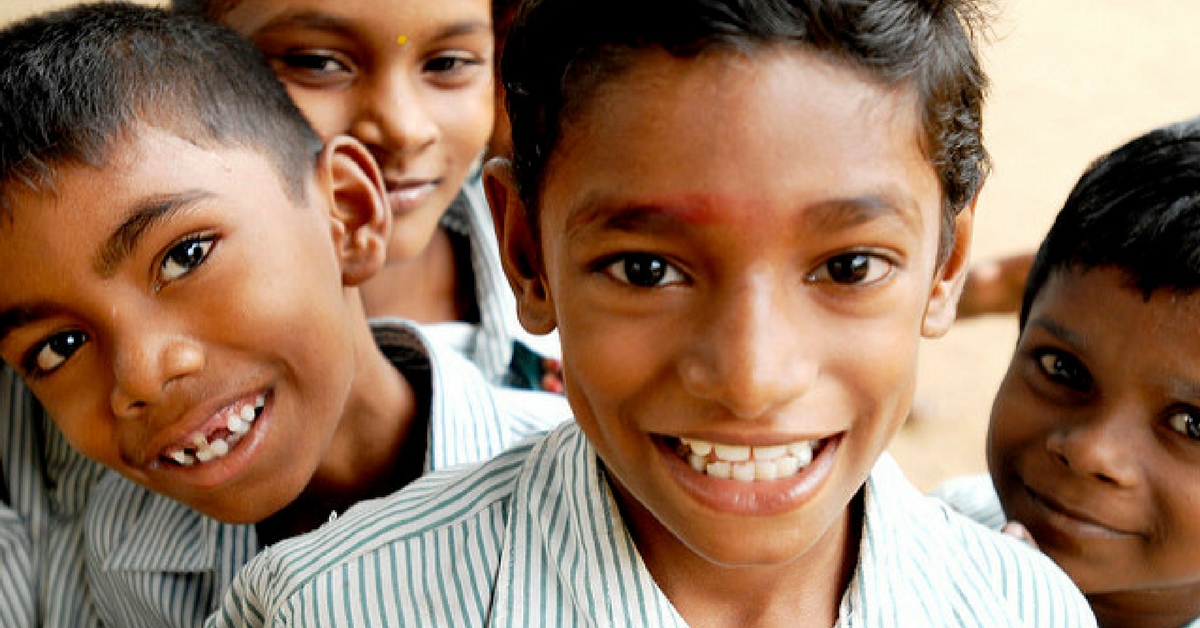 No Detention Policy was built into the law to ensure that students receive elementary education without fear of failing. As the government reconsiders this policy, Maadhyam looks at arguments for and against the policy decision.
The role of education in an individual's life can never be undermined. That is not a topic of contention. But how one must attain that education remains in contention.
The question of education places many dilemmas for policymakers and those who have to follow those policy decisions. Questions like which institution (government or private); formal or informal (including vocational); free education or school vouchers; subjects and the content of syllabus; teacher training and placements etc.
A recent proposed policy also brings up another dilemma- whether or not to fail students during elementary education years.
What is No-Detention Policy and how is it being reconsidered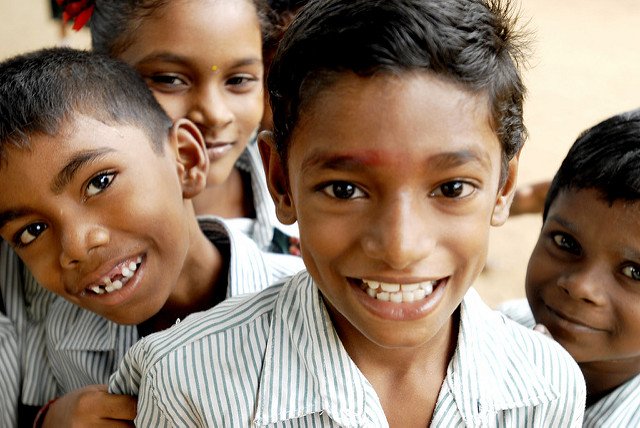 In India, every child between 6-14 years of age is entitled to free and compulsory education under the Right to Education Act, 2009, as guaranteed by Article 21-A of The Constitution.
Therefore, to ensure universal enrolment and compulsory education to all for eight formative years, the Act does away with the detention of students till VIIIth standard – more popularly called the No-Detention Policy (NDP).
It was felt that compelling a child to repeat a class was both discouraging and demotivating.
The Act further adopted a Continuous Comprehensive Evaluation (CCE) method, instead of year-end examinations, to evaluate the performance of children.
However, this procedure might be dismantled by the Right to Education (2nd Amendment) Bill, 2017, as introduced in the Lok Sabha recently.
The Bill seeks to do the following:-
Amending Section 16 to re-instate regular year-end examinations for the students of fifth and eighth classes, in which they can be failed for poor performance.
A re-examination is to be conducted for failed students, after additional instructions, within two months of the declaration of results.
On subsequent failure in a re-examination, such students may be allowed to repeat the class by 'appropriate government' – indicating that governments at the Centre, State and Union Territories can come out with their own policies in this regard which may differ from each other.
In no case are the students to be expelled till the completion of elementary education.
The Bill brings the formal "pass-fail" system back to the students at an early stage.
Apparently, the objective is to improve upon their learning abilities by ensuring a certain level of performance in exams for promotion to the next class.
In this two-part series, an attempt will be made to present arguments for and against NDP, especially on the basis of the stand taken by various state governments in this regard.
Opposition to the No-Detention Policy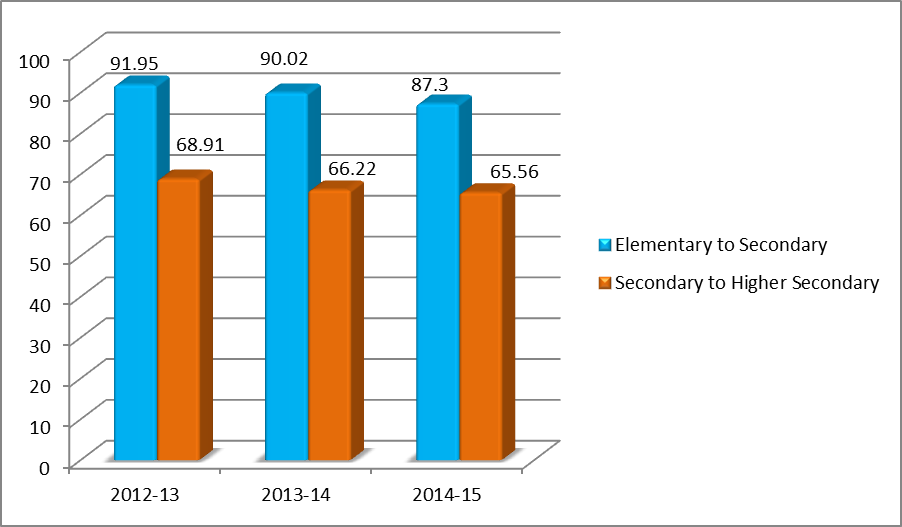 A number of states/UTs including Punjab, Delhi, Haryana, Rajasthan, Uttarakhand, Uttar Pradesh, Bihar, Gujarat, Assam, Nagaland, Odisha, Daman & Diu etc. supported the decision to scrap NDP, linking it to deteriorating learning levels of students, particularly poor performances in higher classes due to increased academic pressure for which they are not well prepared.
Indeed, this graph shows that there is a considerable difference in transition rate of students from elementary to secondary education and then from secondary to senior secondary education, though it is arguable whether the difference can be attributed solely to NDP.
NDP aims at providing a stress-free learning environment to young students without any fear of failing in the exams.
But some states like the State of Delhi have argued that in due course, students tend to become disinterested in studies in the absence of any motivation to learn and perform better than others. It can further lead to prolonged absenteeism and dropouts. The State of West Bengal also argues that adequate safeguards need to be built into NDP so that
The State of West Bengal also argues that adequate safeguards need to be built into NDP so that dropouts do not increase.
Delhi government has argued that NDP results in unreasonable and undisciplined behaviour of students or their dropping out of schools.
It is interesting to note that though at the national level, dropout rates increase in Xth standard as compared to IXth standard and fall again in XIth standard (West Bengal also follows this trend), Delhi shows a reverse trend – drop-out rates fall considerably in Xth standard before rising again in XIth standard.
With such variations in drop-out rates across secondary and higher secondary classes and across states, can NDP be blamed for it?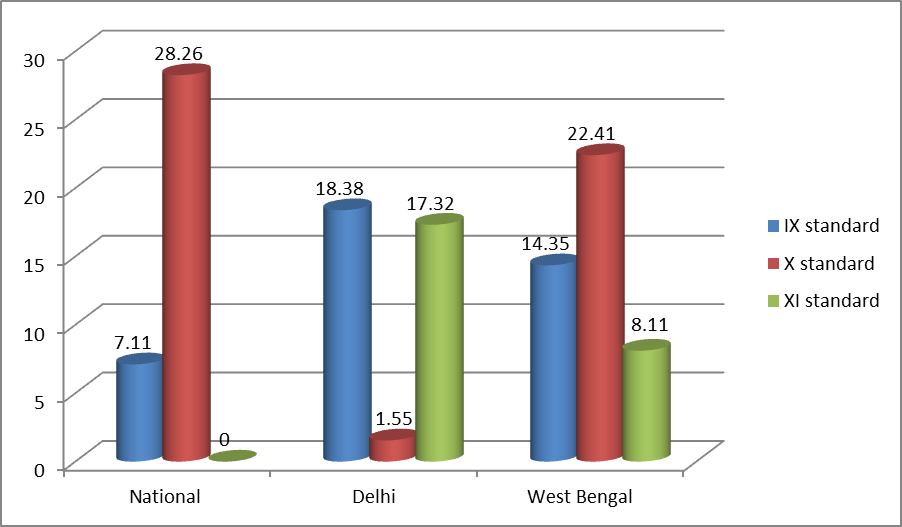 Further, it has been argued that teachers may not employ the best of their skills in the teaching process when they know that all the students will automatically get promoted to the next class, irrespective of the quality of their teaching. The State of Uttarakhand, therefore, believes that scrapping NDP would increase the responsibility of teachers.
It has also been argued that the parents in this set-up may lose sight of actual abilities of their children and the required contribution from them may not be secured in the learning process of their children. The State of Haryana holds NDP responsible for deteriorating quality of education due to decreased commitment levels of stakeholders. It is also interesting to note that the State of Kerala, despite performing better in education as compared to many other states, opposes NDP to encourage competition and objectivity in assessing learning levels.
The state of Kerala prefers weak students to repeat the class to promoting them to higher class in an unbaked condition.
The State of Punjab has gone to the extent of suggesting that board exams be conducted in classes 5th and 8th and has even passed a resolution to this effect in its Assembly.
Several questions arise in the face of this analysis.
[You can provide your inputs on these questions by filling this QUESTIONNAIRE so they can be shared with policy makers]:-
Is NDP the reason for the poor academic performance of students in higher classes and could detaining students improve their performance?
Has NDP led to constant ignorance of teachers and parents towards children?
Is it fair to have a policy of failing students so that teacher performance may improve?
Can NDP be the reason for children dropping out in higher classes?
In the second part of this series, arguments in favour of retaining NDP will be presented.
Like this story? Or have something to share?
Write to us: contact@thebetterindia.com
Connect with us on Facebook and Twitter.
NEW: Click here to get positive news on WhatsApp!
We bring stories straight from the heart of India, to inspire millions and create a wave of impact. Our positive movement is growing bigger everyday, and we would love for you to join it.
Please contribute whatever you can, every little penny helps our team in bringing you more stories that support dreams and spread hope.