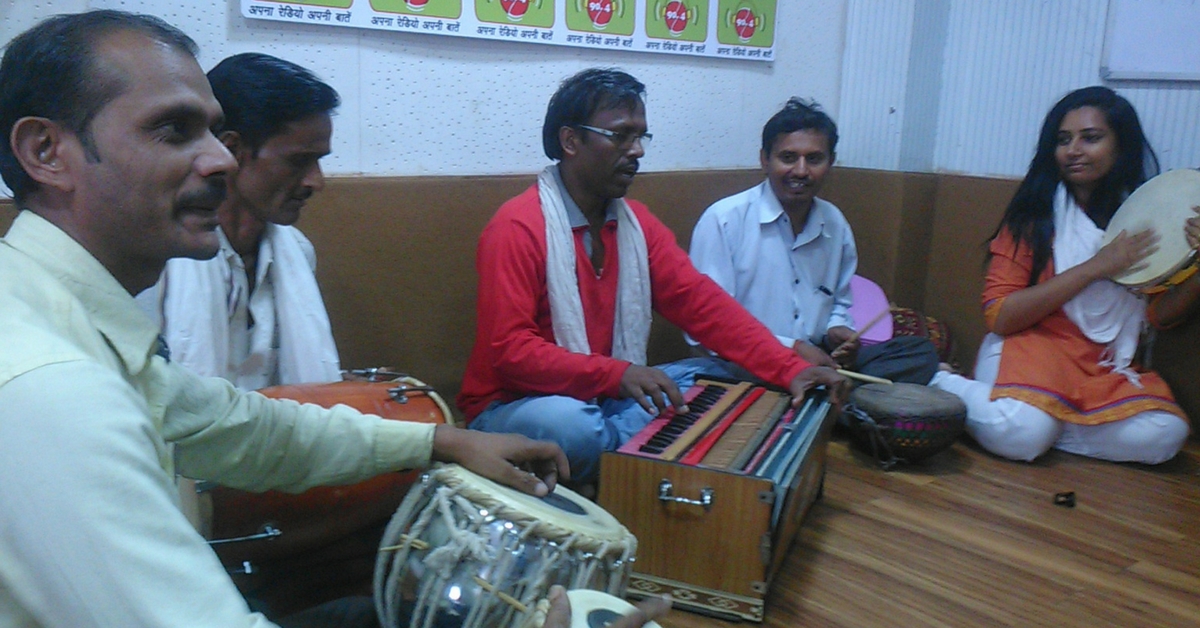 Radio Bundelkhand reaches out to nearly 2 lakh listeners in the hilly region of Bundelkhand. The station airs shows ranging from agriculture and women empowerment to healthcare.
It's their confidence you first notice when you walk into the office.
In an office in Tara Gram, 20 kilometres away from Jhansi, Gauri, Kaushalaya, Matadeen and Gujrup are constantly multitasking. They are the team responsible for Radio Bundelkhand. Reaching out to 150 villages in the hilly region of Bundelkhand for over eight years now, the station has close to more than a lakh and a half listeners.
Senior Programme Manager Naheda Shaiekh says apart from the 4,000 folk songs, the radio airs programmes on agriculture, health, youth, environment, cleanliness and women's empowerment.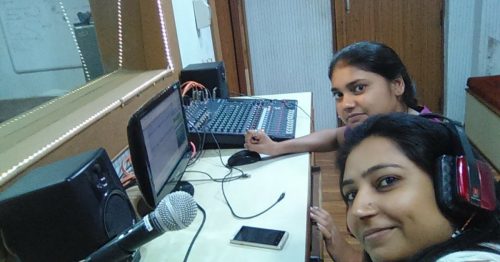 Dr Ashok Khosla who founded the venture felt community radio would be an excellent tool for rural communication.
Radio Bundelkhand started in 2010, and the content produced is in the local language of  Bundlekhandi.
From the initial 40-45 calls, the station today handles up to 500 calls a month.
It has helped women take charge of their lives and become agents of change. Naheda recalls a day when a mother called into Sakhi Sahali, a programme for women. She said her young daughter was to get married, and as a mother, she was unsure if it was the right thing to do. She also mentioned that her daughter had studied up to Class XII.
Gauri, the radio jockey managing the programme that day was caught off guard. But she was quick to ask the mother to call back. Once Gauri had been able to confer with the team, they called the mother back, saying they would train her and then let her work at that station – thus stalling an early marriage.
In 2015, farmers in Babai village, who listened to Radio Bundelkhand took a huge leap of faith after they listened to a programme about the effects of traditionally burning crop. The farmers stopped burning their fields after they had reaped their harvest.
Naheda also mentions that due to severe water shortages, earlier farmers could not grow wheat. Guided by information on agriculture provided by Radio Bundelkhand they are now growing both rice and wheat.
Training the radio jockeys included giving time, organising activities and packaging information. The station regularly encourages students to visit the studio and organises storytelling workshops. Students from Bundelkhand University are regular volunteers at the station.
Matadeen Khushwah has been a reporter at Radio Bundelkhand for eight years. The 35-year old says he used to work as a security guard at Taragram when he asked to join the radio programming training.
"I like songs and music so I thought I would give it a shot," he explains.
From the 40 people initially trained, only five – Gauri's sister, Kaushalaya, Matadeen and Gujrup were able to complete the training and begin to work on content. He admits when he first started working, it used to take him time to compile this programme.
"Now I do it quickly. I know how to save folders, use the software Audacity, and I know the difference between 128 web and mp3," he explains proudly.
It's evident that Matadeen is a music enthusiast. Apart from agriculture-centric programmes, he recorded local music such as Gari, Lamtera and Chetoga, which he says, are gradually becoming harder to find, "I would interview people in the community who were keeping these traditions alive and record their songs," he says. Little wonder that the station has a collection of the folk music.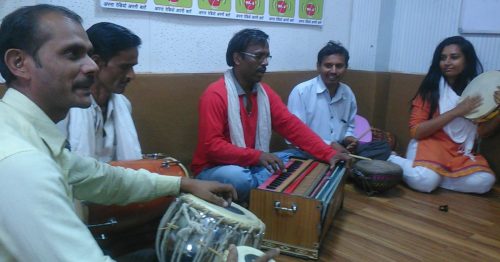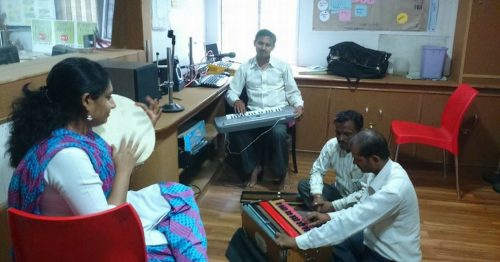 Matadeen recalls that the programme 'Khula Asman' once announced vacancies in the Army in Lucknow. A local youth applied and he made it to the Army. Even today, this young man calls from Lucknow to request for songs.
When the team tells him he will not be able to hear the song because he is out of the 5-kilometer radius, he says – "Play the song for my village." He is always very amazed when random people can recognise him in the village because of his voice, and they call out to him saying- you are Radio Bundelkhand!
Kaushalaya, a Radio Bundelkhand jockey, says her parents who used to work as gardeners in TaraGram and listened to Khet Khalyan on Radio Bundelkhand. "We began to practice what we heard. The programme would tell us how to use manure, insecticides, and how to take care of the crop. From Rs 15,000 to 20,000 per yield, my family was able to go up to Rs 70,000 to 80,000," she explains.
She talks about how she would prep for her show called Shubh Kal, "I would read books, but it would still take me four or five days to make a programme. I used to hesitate to record my programme. I stammered and paused – almost never had a smooth flow."
Today, she says, she can package an excellent one-hour programme with songs, jingles and recordings.
Kaushalaya also talks about the impact of the programmes that Radio Bundelkhand has. "Since this is a drought-prone area, we encourage farmers to use sprinkler irrigation. A farmer in Raiwar, Deendayal, who was growing chillies and earning Rs 20,000 says he earns between Rs 30,000 to Rs 40, 000," she explains.
Kaushalaya lost her father when she was very young. Their ancestral property was managed by her uncles while she completed her schooling and higher studies from Niwari in private. "My elder sister was already married, and her father-in-law too encouraged me to complete my studies. But I was shy, I did not know how to speak to people," she says adding that working for Radio Bundelkhand, she has learnt to – go out, to talk, office work and slowly through training, picked up the ropes of community radio.
"I have also learnt computers and begun to type in Hindi, and I have no problem working now. I have learnt a lot, and I know this will take me forward in my life." Her husband, Lala Ram Khushwah helps her with all her work, and the extended family takes care of her infant son.
It's Gauri Sharma who is most captivating. This bright teenager confidently moves in and out of the station, coordinating errands with colleagues and villagers alike.
Among six sisters Ankita, Sakshi, Radha, Nidhi and Nishi – Gauri is the second to work in Radio Bundelkhand after her sister.
After teaching two years, she worked at DT Movies and the Reliance Call Centre, Gauri already had skills that have helped her grow.
---
You may also like: The Heartwarming Story of How a Radio Channel & Many Mumbaikars Helped a Visually Impaired Girl
---
For the past eight years, she has been working with the radio station and has learnt how to package a programme, record, and interview people. She appreciates the help that she received over the year from Gujroop, Matadeen and Anuradha. "The first day I made a lot of mistakes, but now have drastically improved," she says confidently.
"I get lots of support from my family. My father is a farmer, and we have 15 bighas of land. In the village, a lot of people would question my dad about our education. He wanted all his daughters to study, and so he moved away from his family." Gauri's next target is to learn Mass Communication.
Radio Bundelkhand's RJs touch your heart. This cheerful, enthusiastic team works in one of the countries most difficult terrains. Years of drought have devastated communities and livelihoods – yet the airwaves have always been able to bring some optimism.
By
Sushmita Malaviya
We bring stories straight from the heart of India, to inspire millions and create a wave of impact. Our positive movement is growing bigger everyday, and we would love for you to join it.
Please contribute whatever you can, every little penny helps our team in bringing you more stories that support dreams and spread hope.