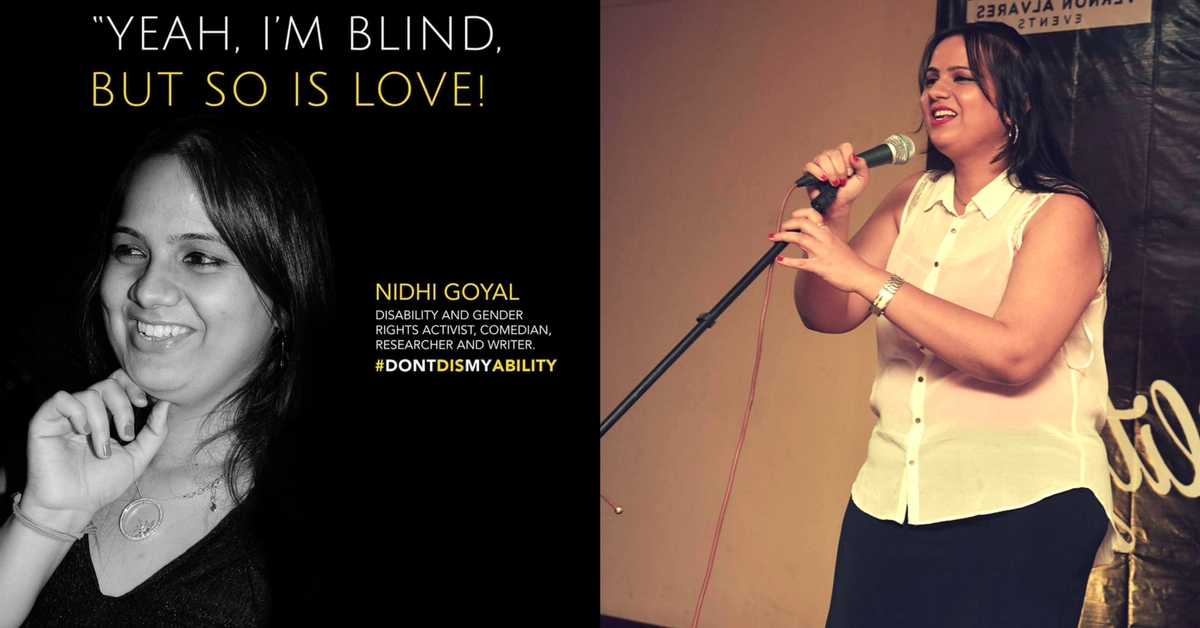 Nidhi Goyal is India's first disabled woman comedian, using humour to challenge existing notions around disability, gender and sexuality.
"People get uncomfortable, the minute I walk on stage. They are like, 'Oh shit, is she blind? She's blind! What is she doing here?'"
Nidhi Goyal is a visually impaired stand-up comedian, making her mark in an industry dominated by men.
To overcome the awkward tension when she walks on stage, Nidhi has a simple yet sassy opening, "I'm blind, so is love. Get over it."
Nidhi is India's first disabled woman comedian, using humour to challenge existing notions around disability, gender and sexuality.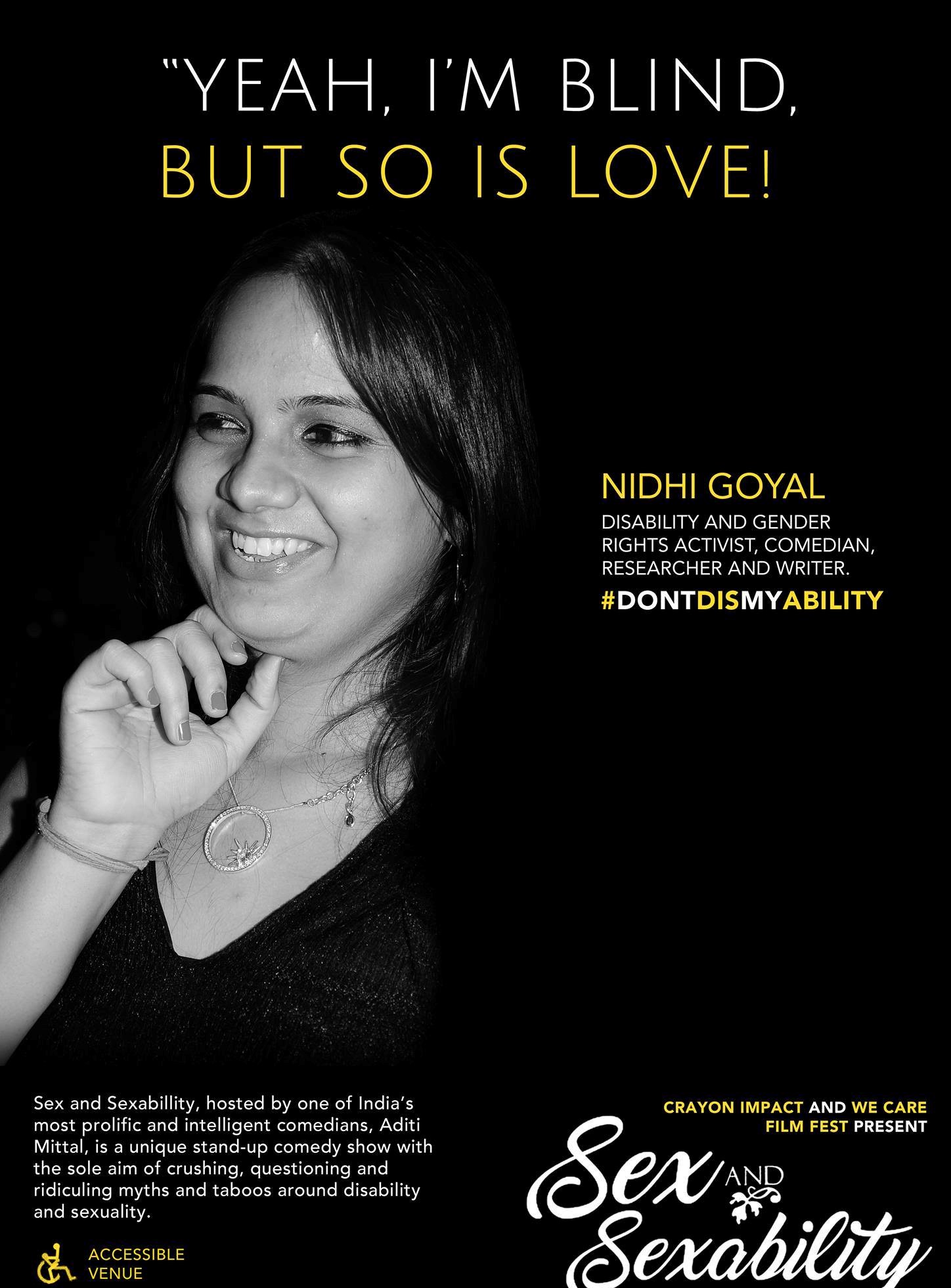 Nidhi, who recently turned 32, was born and brought up in Mumbai. A disability rights and gender justice activist, her range of work includes writing, advocacy, training, and art.
How the world of Comedy opened up to Nidhi
Nidhi wasn't born blind. At the age of 14, she was diagnosed with an incurable, irreversible eye disorder (retinitis pigmentosa) that eventually robbed her of her sight.
"It was a traumatising experience, initially. It took me a couple of years to accept it," says Nidhi.
Only then did Nidhi learn that many people have various preconceived notions about disabled persons.
"It was always funny when somebody didn't speak to me and talked to the person next to me. I was with a colleague on a recent work trip, and the restaurant attendant asked her what I would eat for a meal. My colleague said, 'I don't know, ask her.' It is a very typical situation for a person with such a disability," she says.
In cases like these, Nidhi would either call the person out or make a joke. It was on such an occasion that her friend and stand-up comedian Pramada Menon, asked Nidhi, "Why don't you do comedy?"
Pramada convinced Nidhi to try her hand at opening one of her shows, if not a full-fledged show at the outset.
Nidhi agreed but cursed herself for the next six months, which was when showtime was, for not having thought the decision through.
"I kept telling myself, who asked you to get into comedy? You crack a few jokes, and think you are a comedian!" Nidhi recalls.
But she could not go back on her word; she had to step up and perform a set. And Thank god for that.
This set the ball rolling for her journey as a comedian.
---
Read more: Meet Dr Rajalakshmi, All Set to Represent India at the Miss Wheelchair World!
---
It made her realise how effective a tool comedy is. Humour, she realised, helps people become more aware.
"If somebody is talking to the person next to me instead of me, how much ever I try to state my capability of speaking for myself, they don't register it. But the minute I crack a joke about how ridiculous the action is, they remember. Comedy can bring about serious change," she says.
Nidhi uses comedy to discuss the sexuality of persons with disabilities.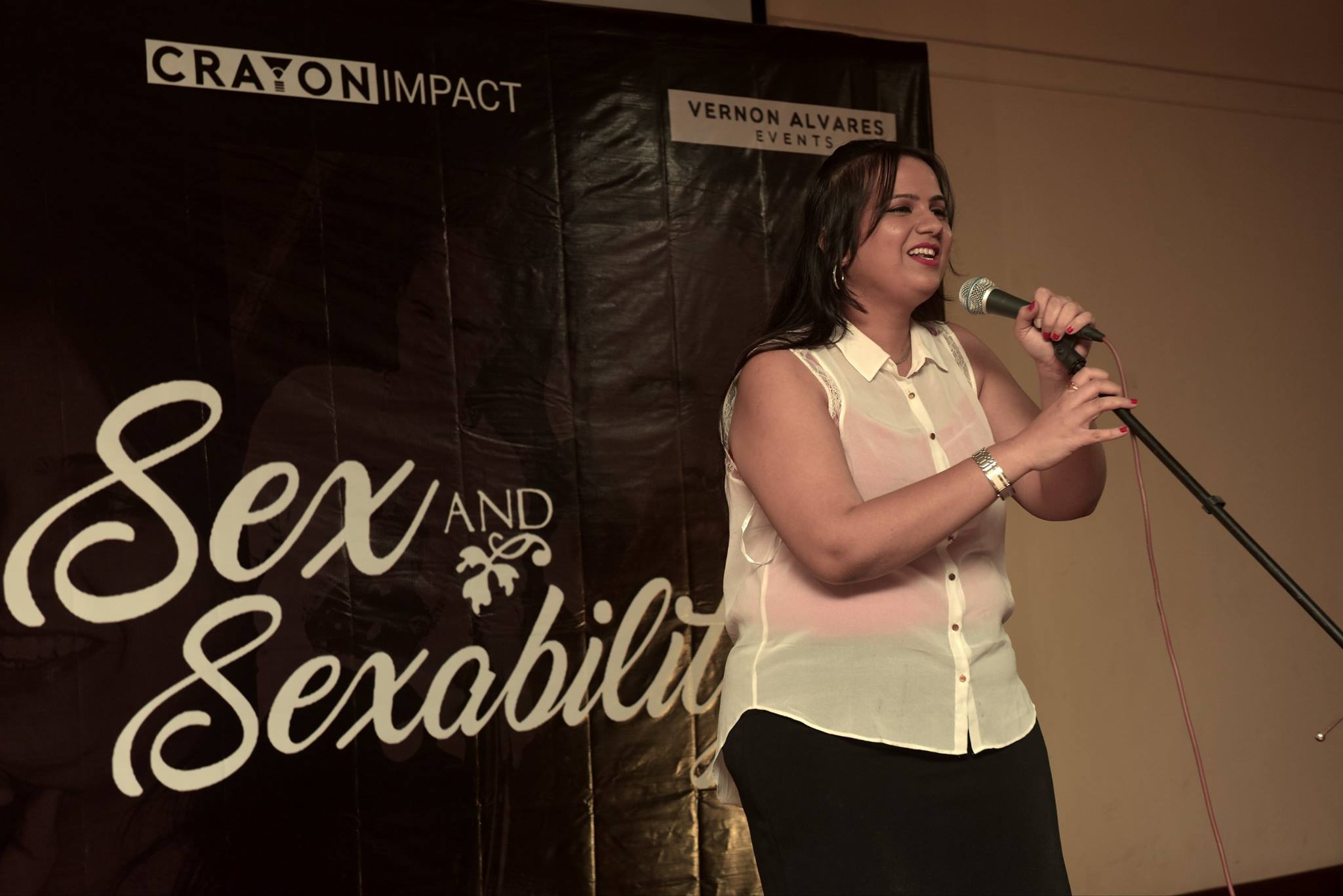 "There is an immediate sense of discomfort when you talk about the sexuality of persons with disabilities. But comedians have a knack for talking about things that we don't talk about in the open. Comedy gives you the latitude to make your spectators feel a little discomfort but also advance unvoiced issues," she says.
This is what kept her going after her first show. A lady in the audience walked up to her lauding her performance. She told Nidhi of how she kept laughing and cringing at the same time, reminiscing the times she would look or think about persons with disabilities differently.
"That was it. It made her think, and at that moment I knew, I had to take my comedy work ahead," says Nidhi.
She expresses how lack of awareness and ignorance has become a mere excuse for people who treat persons with disabilities differently.
"As an activist, I am more patient with individuals who do it out of ignorance. But as a person with disability, I constantly question, 'Why are we invisible. Nobody wants to think about us! Why have you not engaged with any of us? It was because you didn't want to. You will have to go through some discomfort and get it right. It's the fear of the unknown that people have created for themselves, that shuts them down from engaging with persons with disabilities," she says.
She recalls an instance two years ago, where her visually impaired friend who asked help to cross the road was given a Rs 500 note instead.
"What images are we still carrying of PwDs? Honestly, I would be happy to go out of work as a comedian, because then it means these ideas have completely changed. There won't be any ridiculous assumptions left in society, for me, to make comedy out of," she says.
Nidhi calls her take on love & relationships regular, saying, "Everybody who believes in Bollywood, this one's for you. No bells ring, to tell you if he/she is the one. And there's certainly no sad music, to accompany your feelings," she jokes.
"Unfortunately when you are disabled, your disability covers the whole spectrum of interactions. Socially for most people, if you are disabled, that's it. You don't go beyond that. This is what I am fighting through my activism and comedy. You need to go beyond disability and look at the human being first. If you, from your heart establish, that people with disabilities are 'people' first, then you would never have to question why people with disability need relationships," she says.
---
You may also like: How This Woman Broke Taboos By Transforming Chennai's Oldest Crematorium
---
As for the age-old sexist stereotype claiming 'Women are not funny', she says "I thought I was fine!"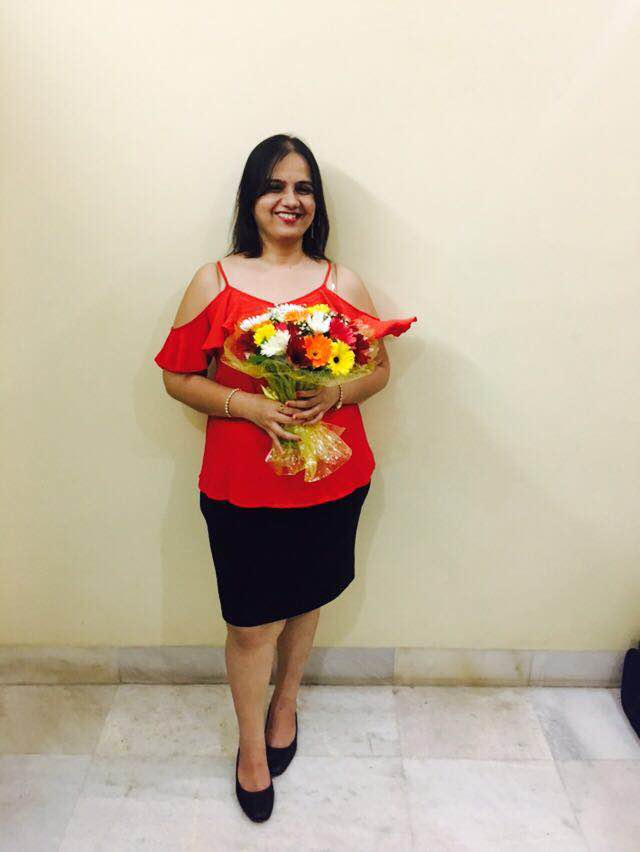 "People who believe in these stereotypes are 'myopic.' And here I thought, I was blind. But I guess there are several people with eyes, who don't see, how funny women can be," she laughs.
The next big idea, she claims full copyright on, is a proposal to filmmaker Karan Johar, to counter the popular 'Zindagi Na Milegi Dobara' boys trip with a girls only trip, maybe with a girl with a disability.
"Only then will people know how adventurous, funny, amusing and entertaining women can be, just by themselves. We have just carved these ideas of women can't be bold or funny or risk-takers. Most of these stereotypes are firmly linked to the pictures around us, be it the cinema or any visual message. We don't want women to ask uncomfortable questions. We believe, they are here to listen, obey and deal. They are not here to challenge. And they are not here to joke about what people think of them or their bodies," she says.
Nidhi a big fan of close-friend and fellow comedian Aditi Mittal, who is known for using comedy to openly discuss women's sexuality and issues. It was Aditi who introduced Nidhi to the world of YouTube, who she is ever grateful to. The very first episode of 'Bad Girls' by Aditi Mittal with Nidhi has raked almost 9 lakh views now!
When asked for a final message, she chuckles asking, "It's supposed to be deep right?"
She encourages people to live, laugh and dream. "Live, laugh and dream. But also, let live, let laugh and let dream. We really stop other humans from being who they are and having the experiences that we have, because we categorise them as 'others'. Let's not!"
If Nidhi's story inspired you, write to her at nidhi@risingflame.org or tweet @saysnidhigoyal
More about Nidhi
Nidhi currently works with a range of national and global women's' and human rights organizations. She is the founder and director of 'Rising Flame' a Mumbai based NGO working for persons with disabilities with a focus on women and youth with disabilities. , and is also the Sexuality and Disability Program Director at Mumbai-based non-profit Point of View. Nidhi has been appointed to the prestigious civil society advisory group of UN women's Executive Director, sits on the advisory board of "Voice" a grant-making facility by Dutch Ministry, has been globally elected on the board of AWID (Association for Women's Rights in Development).
Like this story? Or have something to share?
Write to us: contact@thebetterindia.com
Connect with us on Facebook and Twitter.
NEW: Click here to get positive news on WhatsApp!
We bring stories straight from the heart of India, to inspire millions and create a wave of impact. Our positive movement is growing bigger everyday, and we would love for you to join it.
Please contribute whatever you can, every little penny helps our team in bringing you more stories that support dreams and spread hope.
Tell Us More