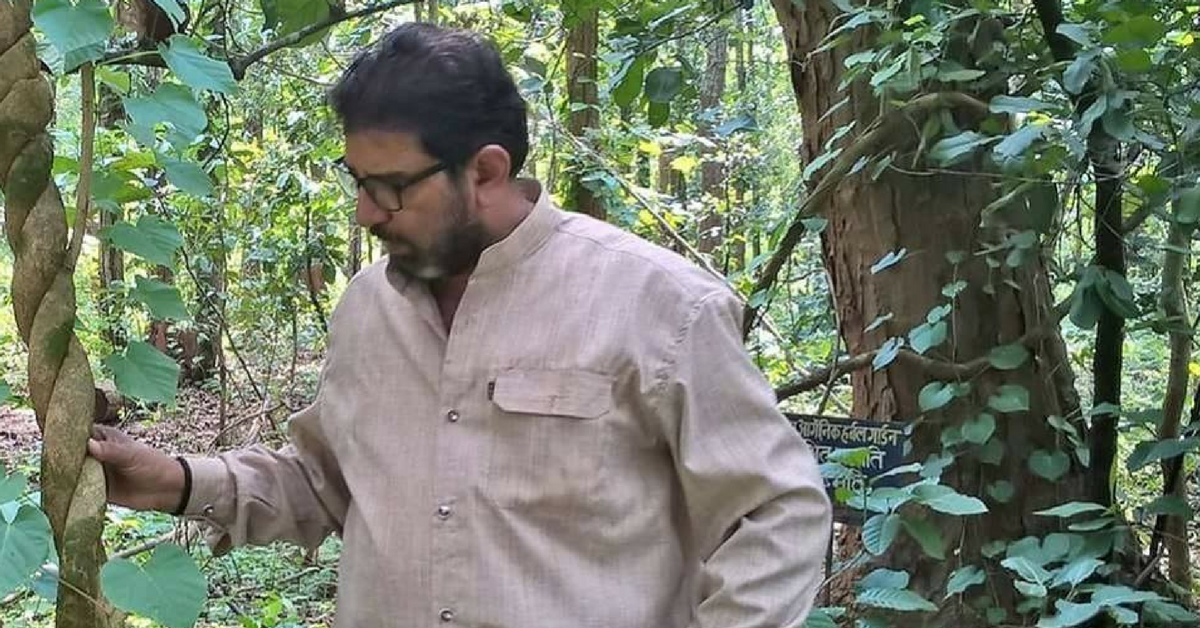 Any farmer who wishes to be a member of the cooperative is given free training and saplings of the herbs.
Rajaram Tripathi could have kept his job as a banker, given the financially and politically unstable area he grew up in –  Dantewada in the district of Bastar, Madhya Pradesh. The village was notorious for its Naxalite tension. Instead, he chose to quit the job and follow his family's footsteps. Rajaram turned to farming. Today his company helps more than 22,000 farmers across the country and is a pioneer in the export of medicinal herbs.
Rajaram and his six brothers grew up learning about farming from their father.  His family, although successful, were no strangers to the hardships farmers faced.
"We bought a tractor to till our farm, but every year my father had to take a loan from his PPF to pay the EMIs for the tractor. I would often wonder how as wealthy farmers we do not make enough to pay our loans back", says Rajaram.
After he finished college, Rajaram joined a government bank in Bastar as a banking officer.The job helped him understand the nuances of the farming economy.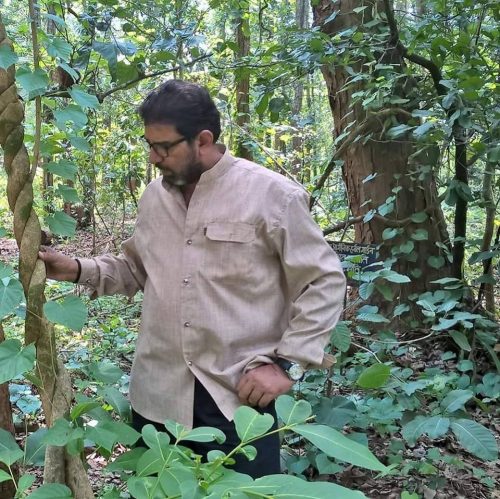 "When I looked at agriculture from the eyes of a banker, I realised that if a farmer adds his input and labour costs and compares it with his earnings, he is always at a loss. Our villages, which are sustained on farming, bear the loss, whereas our cities are enjoying the profit," he explains.
After this realisation, Rajaram wrote a letter to NABARD regarding the misplaced economics in farming. He was also called at the NABARD head office to do a presentation on the same. However, the panel agreed that what Rajaram only broached the problems, but no the solutions. So, they asked him to return with a solution.
He took on the challenge. In 1998, Rajaram quit his job and started farming to find a solution to some of the problems farmers face.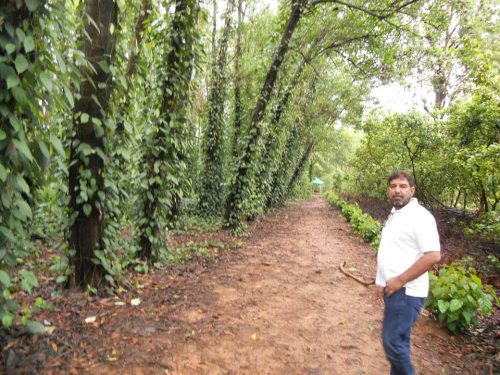 As Rajaram was the eldest of the seven brothers, his parents did not want him to leave a government job. However, according to Rajaram, he was confident that farming could be a profit making sector.
"If I do a regular job, I only help myself, but in farming, I can create jobs for many and help other farmers too," says Rajaram.
While farming, Rajaram was always looking to see how the sector could be made more profitable. After much deliberation, he realised marketing was the weakest link in the agricultural industry; one in need of desperate attention.
In the first year, Rajaram failed to make a profit on his vegetables, as they were perishable items that had to be sold as soon as they were harvested. The market rate depended on the amount of vegetables that reached the market on a particular day.
So if the yield were right, the rate would be low, and the rate would be better only when there was a smaller quantity. In both ways, farmers were the ones at a loss. The first lesson that Rajaram took from this is that he needs to find a non-perishable item to grow and something which is highly in demand but not grown by many farmers.
The much-needed break came when he met Dr G.S. Jarial of the Centre for Entrepreneurship Development, Bhopal, who introduced him to the world of herb farming.
By the end of 1999, Rajaram decided to grow white musli, whose roots are used for medicinal purpose, which had a huge demand in the international market.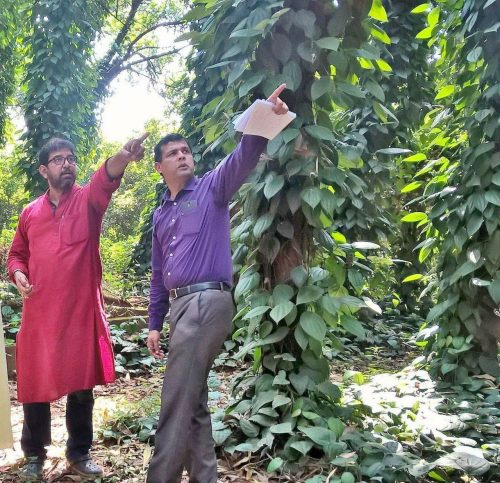 "I found out that due to the awareness about herbal products, the demand for herbs was rising day by day. This demand was fulfilled by getting the herbs from our jungles, which was destroying them. Almost 30 herbs have gone extinct as we are just plucking them from the jungle but never growing more. Farming of these herbs was the best solution to stop them from being extinct," explains Rajaram.
The second reason why Rajaram preferred growing herbs was that most of them required just a one-time investment, yielding long-term profits. Herbs were sold at Rs. 50 and above. Vegetables would never receive more than Rs 50 a kilo, on the other hand. Also, leaves, roots, and the trunk of herbs yielding plants were sold, unlike vegetables or grains. Only 10% of the latter plant could be sold.
He started by planting musli on 2 out of the 25 acres of land he had.
"I wanted to make sure about the market before I started farming. Usually, we grow something and then search for a market to sell our product. That's not the right way according to me. So I surveyed the international market before planting anything," he points out.
As he was sure of the market for musli, he had also registered his company, Maa Danteshwari Herbal Group and launched his website to sell his produce simultaneously.
His family practices organic farming, and Rajaram followed the method, knowing all too well that organic produce has a massive demand in international markets.
This was a huge success, and Rajaram earned almost Rs. 5 lakh from an acre of Musli. As the venture took root, Rajaram also started growing Brahmi, Sarpgandha, Stevia, Mulethi and even Lemongrass.
He also conducted training programs and helped tribals of the village to encourage herb farming while his wife started empowering the tribal women by educating them.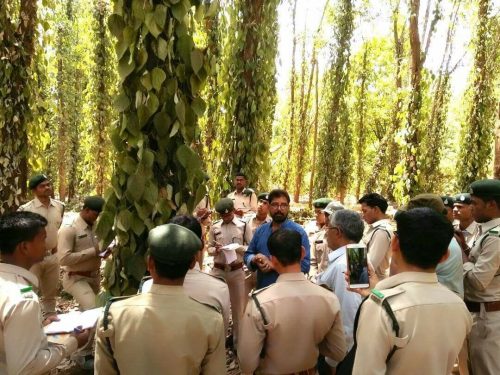 Soon Rajaram made a network of farmers who began to grow herbs organically. To avoid the loss incurred due to the involvement of traders in marketing the small farmers' produce, Rajaram started farmers' cooperative company – Central Herbal Agro Marketing Federation of India (CHAMF) in 2002.
"Large companies which import herbs require them in bulk. If we sell our produce separately we cannot find a market for it. They also need grading. Some companies need the best quality products while some require medium quality. Traditionally traders did that and got all the profit. So we replaced these traders and became a group of farmers, who can gather their produce at one place where it can be graded and exported directly to the client," explains Rajaram
At CHAMF, farmers don't have to buy seeds and saplings from the market. Instead, he can get the seeds and seedlings from other farmers for free. This way one also knows the source of the seeds that it is genuine. According to Rajaram, they first look for the requirement of the client, fix the prices, finalise the deal and then ask the farmers to grow accordingly.
At the end of every harvest, the total quantity is gathered from all the small farmers and exported to the clients in U.S and Europe. The company does not keep any share, and the farmers get the profit share according to the quantity they supply.
CHAMF which is recognised as a national organisation of organic farmers by the ministry of agriculture, Govt. of India has more than 22000 farmers across the nation.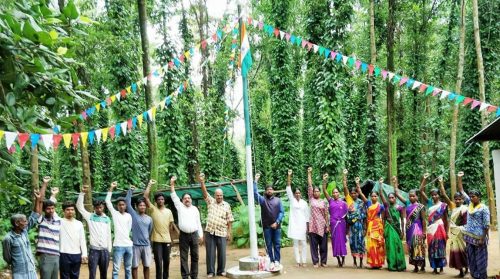 Any farmer who wishes to be a member of the cooperative is given free training and saplings of the herbs.
With passing years Rajaram also kept buying more land and growing more varieties of medicinal herbs. His family has joined the venture. Today his company grows 70 varieties of herbs on 700 acres of land, giving employment to 300 Adivasi farmers.
"Everyone who works at my farm takes the saplings for free and grow herbs on their land too. Thus their farming income has increased to sustainable levels.The international demand for the herb is about 35,000 tonnes while the availability is only about 5 percent of this. There is so much potential for Indian farmers," says Rajaram.
Three years ago, he also appealed to all villagers to leave their aged cattle at his farm. He acquired more than 300 cows and bulls which he now rears purely for manure.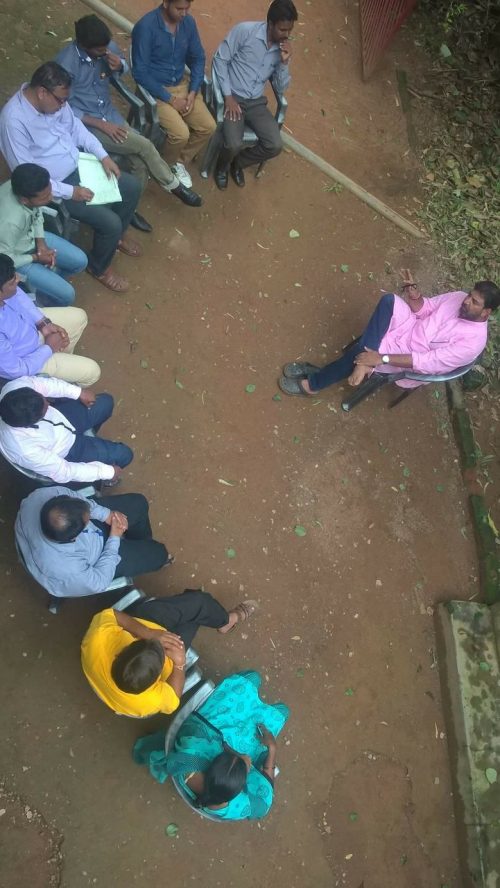 To take care of the cows and to make the fertilisers, a women self help group – Samagra Adivasi Medicinal Plant Development association (SAMPADA) was formed headed by his wife, Shipra. The group now consists of 68 registered and 640 non-registered members.
Rajaram is the biggest individual grower of musli in the country today producing herbs and spices worth Rs. 60 crore every year exporting to U.S, U.K and Europe.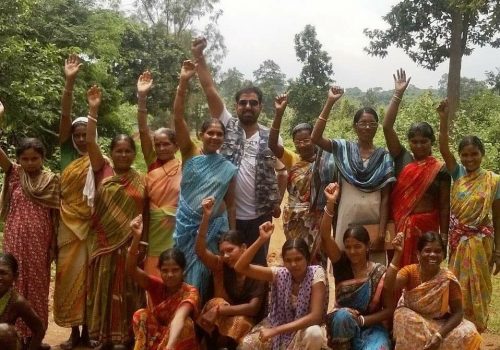 A recipient of the prestigious Earth Hero Award 2012, instituted by Royal Bank of Scotland for biological diversity, Rajaram believes that for small and marginal farmers would benefit from growing Stevia,  Black Pepper and Australian Teak.
Stevia –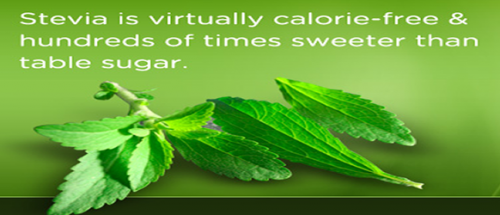 Stevia is widely used as a sweetener in Japan, South America, and parts of Asia.  With its extracts having up to 300 times the sweetness of sugar, stevia has garnered attention with the rise in demand for low-carbohydrate, low-sugar food alternatives. It is a low-risk cash crop with assured tax-free returns in 6 months. Scientific cultivation and careful selection of planting material can yield very high returns for three years as compared to traditional crops. Find more info here.
Black Pepper –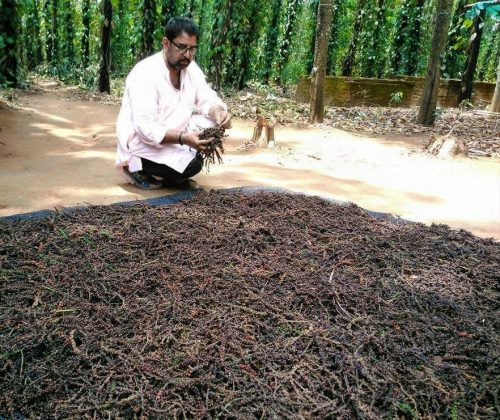 Farmers in India believed that black pepper, which has a great demand in the global market, can be grown only in Kerala. However, Rajaram has grown it in Bastar and inspired many other farmers across 17 states to do the same. He claims that growing black pepper can earn a farmer Rs. 5 – 6 lakhs per acre. Moreover, it is just a one-time investment as the plant give returns for almost 30-40 years.
Australian Teak (Bahuguni) –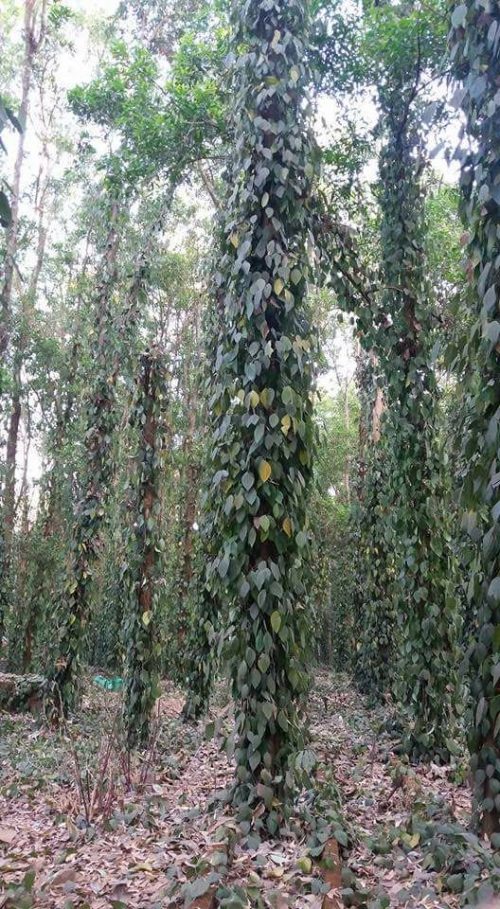 This plant is a leguminous species, and it absorbs Nitrogen and fixes it by its root nodules to increase the fertility of the soil. Science defines this phenomenon as "Nitrogen fixation". It also prevents pollution. This teak wood from Australia is widely famous for being primarily used in ship-building, making furnishing products like doors, cabinets or tables etc. for home or offices which provide stronger durability and exotic beauty and craft works. According to Rajaram if every farmer grows Australian teak in the centre of his farm then he would never require nitrogen fertiliser. Moreover, each tree is sold almost at Rs. 50,000, so a farmer can have a long-term investment for his major expenses like building a house or higher education of his kids.
"The entire global market is open for Indian farmers. Farmers need not fear to experiment and grow new crops. This is the time to grow produce for the demand of the international market. Even a small farmer having 3-4 acre of land can earn equivalent to a high-grade officer. This is not at all impossible if we all come together to educate them and help them," concludes Rajaram.
You can become a member of Rajaram's team by calling at 07712262933
---
Like this story? Or have something to share? Write to us: contact@thebetterindia.com, or connect with us on Facebook and Twitter.
NEW: Click here to get positive news on WhatsApp!
We bring stories straight from the heart of India, to inspire millions and create a wave of impact. Our positive movement is growing bigger everyday, and we would love for you to join it.
Please contribute whatever you can, every little penny helps our team in bringing you more stories that support dreams and spread hope.