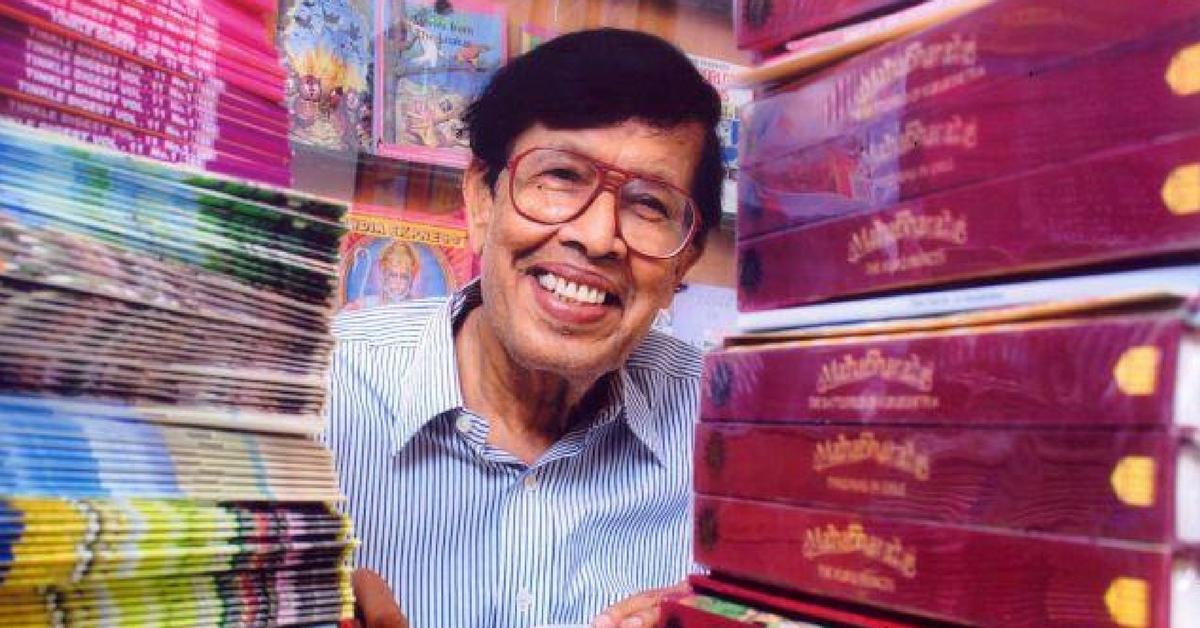 On the birth anniversary of Anant Pai, we bring you the fascinating story of how the much-loved author created the iconic Amar Chitra Katha series.
"Unless you have continuity with the past, you can't easily adjust with the present. An acquaintance with the past is a must. You may not agree with it. You can disagree with it, but be aware of it." – Anant Pai
In 1967, while watching a TV quiz show on the state-run Doordarshan network, a young journalist realised that while the Indian children on the show could easily answer questions about Greek mythology, they couldn't answer a simple question about an important character in Ramayana, one of India's greatest epics.
Upset, he set out to change this by starting a comic-book series that would tell stories from Indian epics through beautifully illustrated, child-friendly narratives.The comic book series was Amar Chitra Katha and the young journalist was Anant Pai, the avuncular writer and illustrator who would go on to become widely recognised as the "father of Indian comics".
For an Indian child born before the year 2000, Amar Chitra Katha and its engrossing world of stories were synonymous with growing up. Bridging the distance between convoluted Sanskrit texts and the Enid Blyton's found in school libraries, this iconic book series taught several generations of Indian children about the country's rich heritage of folk tales and mythology.
Such was the love that young readers had for Anant Pai that they affectionately nicknamed him "Uncle Pai". On his birth anniversary, we bring you the fascinating story of how this master storyteller created India's most-loved comic series.
Born on Sept. 17, 1929, in Karkala in Karnataka) Anant Pai was orphaned when he was just two-years-old and grew up with relatives first in Mangalore and later in Mumbai. He fell in love with literature at a young age and devoted much of his time to learning several Indian languages.
After completing his schooling, Pai was interested in pursuing journalism but on the insistence of his elder brother, he joined the University of Bombay for a degree in chemical engineering. However, early in his career, he gave up engineering and joined work as a journalist for The Times of India. Here, his work involved managing Indrajal Comics (a series that brought American comics like The Phantom, Flash Gordon and Mandrake to Indian readers).
This was when the Pai saw the aforementioned quiz show in a television shop in the Karol Bagh market (in Delhi) and was inspired to launch a series of comics based on Indian history and mythology.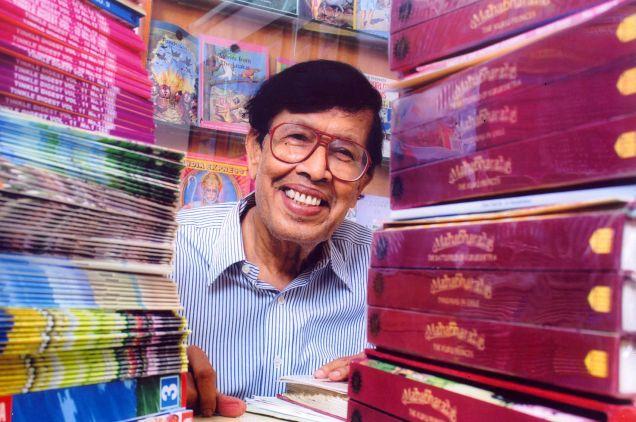 After leaving his job in 1967, he tried his luck with several publishing houses but his idea was rejected by all of them. After much persuasion, the determined writer managed to convince GL Mirchandani of India Book House to take a chance on Amar Chitra Katha (ACK).
Knowing that they were taking a risk, the Pai-Mirchandani team began small. Their concern was justified when the series began loosing money in its early years. Schools would not buy ACK for their libraries because they considered comic books frivolous. Bookshops also refused to stock the series because it was not associated with an established brand.
But things were about to change. To showcase the impact of his comic books, Pai persuaded a Delhi school to run an unusual experiment. Under this, one group of students was taught history using ACK and another using traditional methods. Later, when both groups were tested, the results showed that the students who had studied using ACK had learned more than those who did not!
As word of this experiment spread, more parents, schools and shopkeepers began buying Pai's comic books. ACK's easy to read beautifully illustrated stories about brave warriors, exquisitely dressed queens, stately gods, scheming villains and scary demons quickly grabbed the attention of young readers and interest in the series continued to rise.
There was no looking back after that. Amar Chitra Katha released titles by the hundreds and sold books by the millions (it reportedly still sells 3 million copies annually, with its 440 titles having sold more than 100 million copies till date).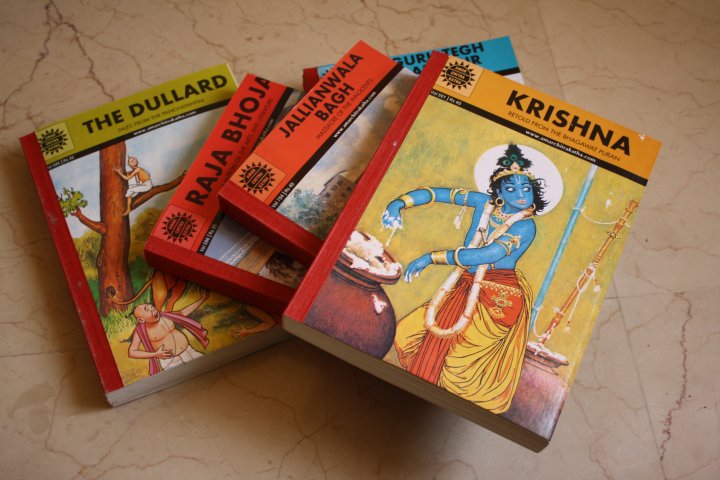 Two years later, Pai launched India's first comic and cartoon syndicate, Rang Rekha Features, that issued interesting factoids and snippets for children. In 1978, he founded the Partha Institute of Personality Development, which conducted personality development workshops through correspondence for teenagers.
In 1980, Pai debuted a children's magazine that would go on to become just as popular as ACK. A super fun comic digest, Tinkle covered contemporary Indian history, illustrated biographies of national icons and the delightful capers of characters created by Pai. It also contained quizzes, contests and non-fiction articles on history, science and geography.
It was also through Tinkle that Pai acquired his famous nickname "Uncle Pai" — he would solicit questions from children and answer their letters under that name in the magazine.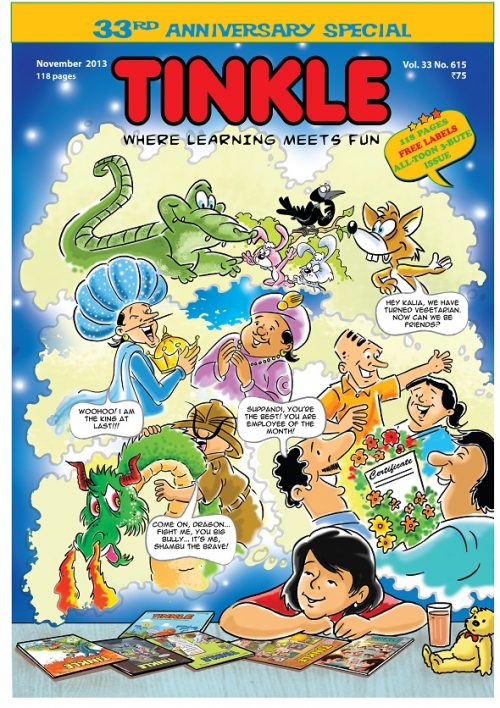 A stickler for rigour, Pai was always involved in every aspect of the creative process. He would look at everything, from the script to the sketches, and insist that every book (or digest) have months of research behind it. A person for whom every book was a labour of love, he ended up editing 439 ACK titles.
Within the ACK family, Pai was considered a walking encyclopedia as he had a story for every occasion and would often correct his employees by telling a story. There are several other interesting anecdotes that surface in a retelling of the legend's life – from a story about Pai's early days of personally selling ACK copies at petrol pumps to Soviet statesman Mikhail Gorbachev calling him to crosscheck the meaning of a Sanskrit quote.
However, one of the most enduring tales about Pai is his enjoyment of days spent sitting among young children and reading from one of his own comic books. This was a role he delighted in, and he continued doing so until the end of his illustrious life.
In 2007, India Book House was sold to a new team of entrepreneurs, but Pai stayed on as the chief storyteller. On February 24, 2011, several days after undergoing surgery for a fracture, he passed away due to a heart attack. Just six days earlier, he had been honoured with the lifetime achievement award at India's first comic convention.
The father of Indian comics did not have any children — other than the millions of young readers across the globe who delighted in his work and continue to do so. As we end Anant Pai's story, here's a little-known incident that tells volumes about the love and goodwill enjoyed by the legend and his comic books.
In 1994, the office of ACK caught fire in which all the artwork and original copies of the comic series were destroyed. A devastated ACK team published an appeal asking children to send any spare copies they had to them in the in the next issue of Tinkle. Thanks to the overwhelming response the appeal received, the team was able to recover a copy of every single Amar Chitra Katha book that was ever published!
---
Also Read: Rise of the Superheroes – The Fascinating History of Comic Books In India
---
Like this story? Or have something to share? Write to us: contact@thebetterindia.com, or connect with us on Facebook and Twitter.
NEW: Click here to get positive news on WhatsApp!