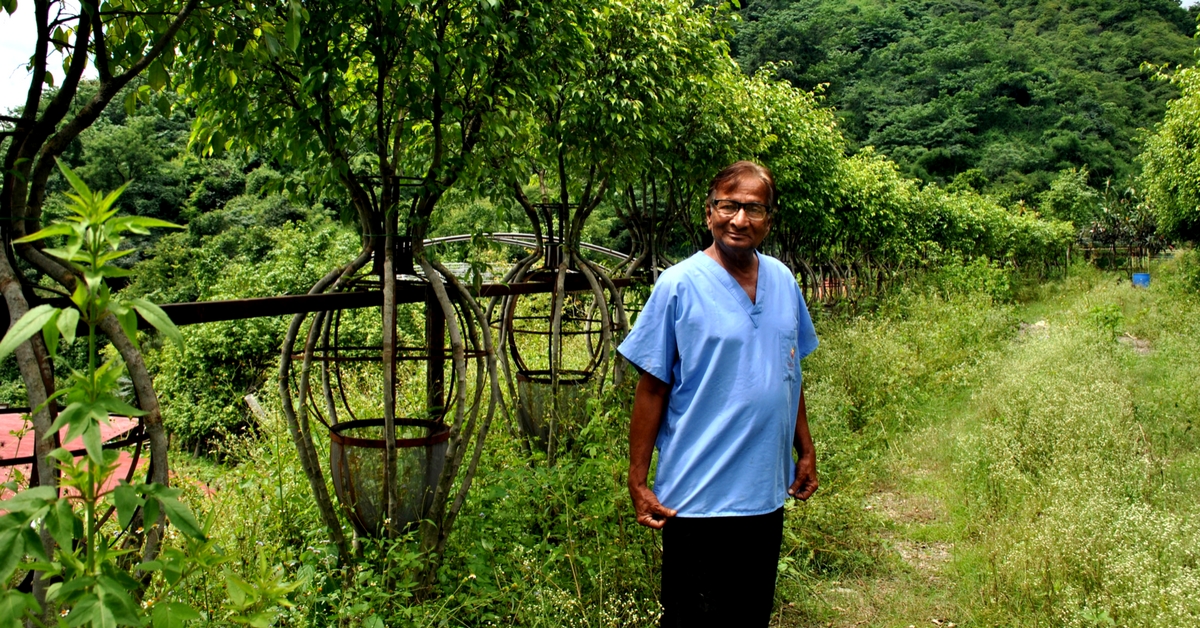 People from remote places in the Himalayas say he is doing "God's work", although the commercial world we live in would term him a failure
In a corner of Malsi, not far from the deer park and zoo, as one heads up to the popular hill destination of Mussoorie, there is a left turn that leads to a bizarre and incomplete children's science park.
In the center of the roughly 4 acre space is a copse of wrangled trees – twisted and bent – creating a huge enclosed area as the branches kneel sharply down towards the ground.
There are strange tunnels at arbitrary spots that allow you to reach different parts of the park if you have the courage to enter. There are a couple of artificially created water bodies that – since I am here pre-monsoon – mostly seem empty.
If the outside is eerie, the inside is not any better. The rooms and the objects they house are as unfathomable as the external environment. One room has thousands of faces, his patients and cases over the years, in white silicone molds.
Peer closely and you can tell that they belong to different individuals.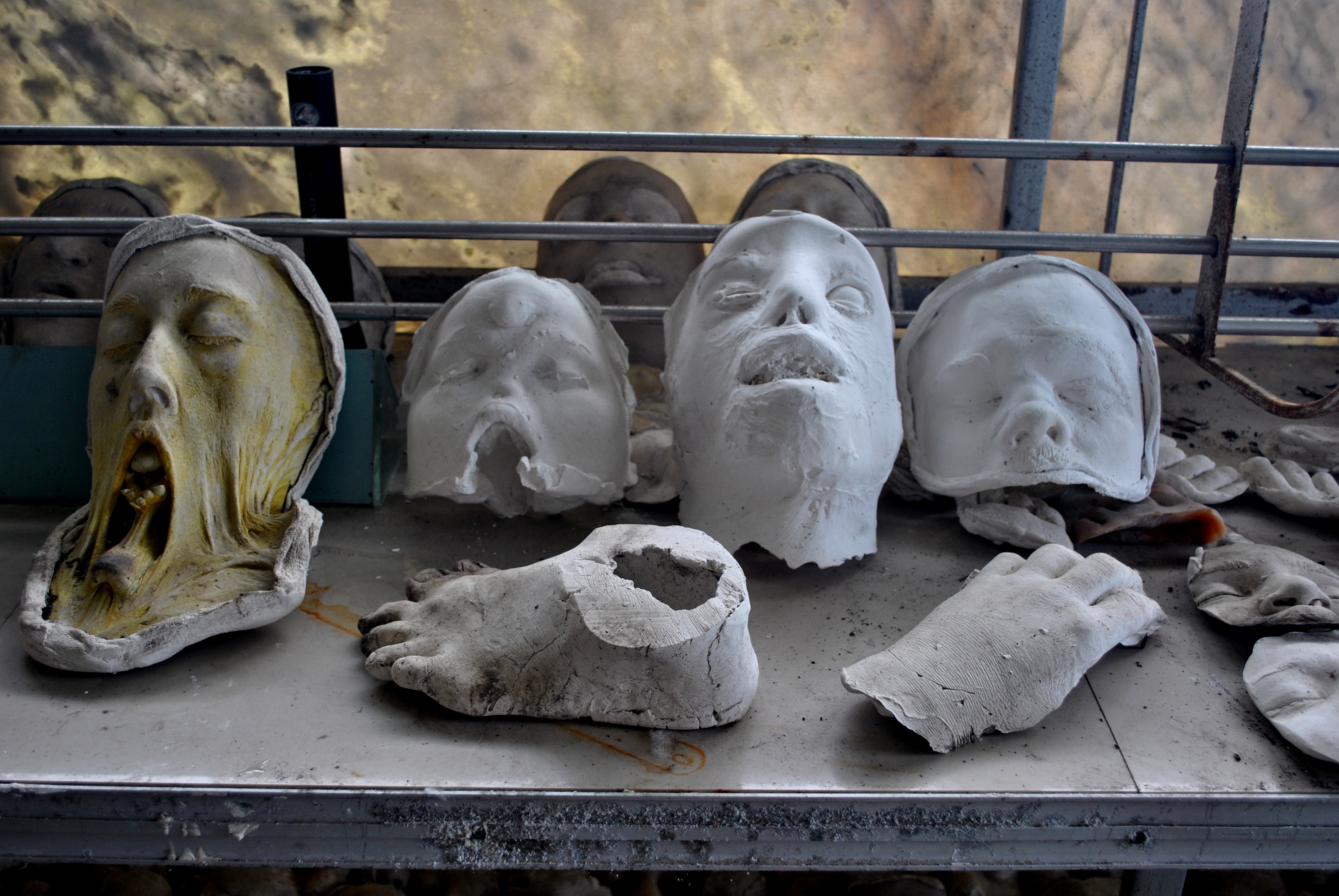 The park is supposed to be both for amusement and education. We are in what is to become the museum. Even in daylight, children and most adults will feel bewildered and scared once they enter the premises. At night, I dare any reader to try.
That's why, once I enter, I am inclined to believe what many locals in the area think that Yogi (his birth name) Aeron, now 80, a plastic surgeon by training and practice, and the owner and designer of this bizarre creation, is a madman.
Why is he doing it? Does he truly believe this can become a scientific children's park?
Burns and Bites Are A Way Of Life
There are aspects of Aeron's life that I have been hearing from locals – in bits and pieces. Those bits and pieces led me here. Local organisations and almost everyone I have met in Dehradun told me about Aeron's work, but nobody quite prepared me for what I finally encountered.
Locals – and villagers from across the Himalayan range – have come to Aeron for treatment for the last several years.
Burn victims from far and wide and anyone attacked by bears, tigers, and other wild animals.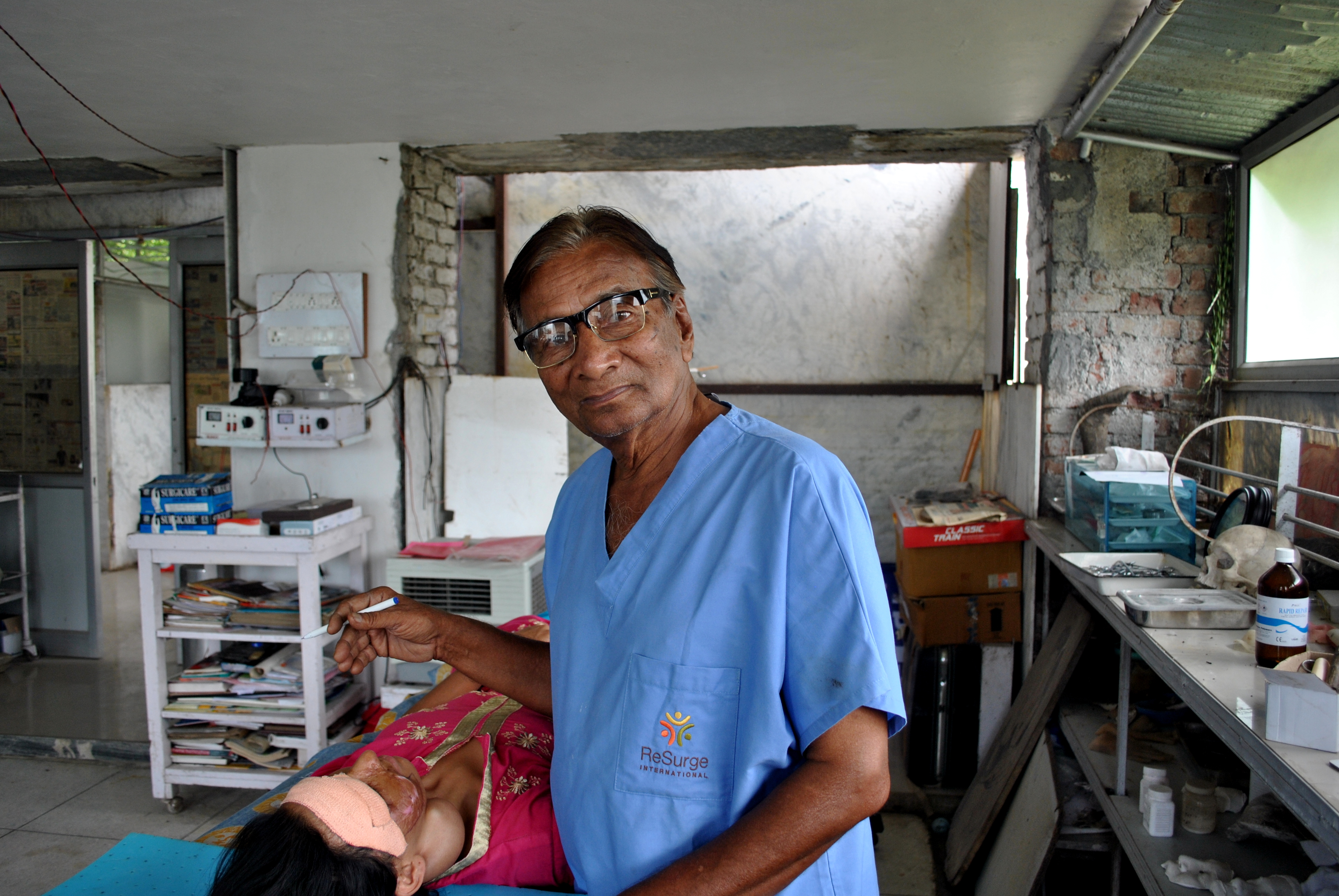 If you have been burnt – I learn an alarming number of small children are burnt regularly in these parts – or suffered an animal attack, your best bet at treatment is with Aeron. It's also completely free for the poor. Even the local and government hospitals in the area redirect the most complicated cases to be under his expertise. There's a huge waiting list for treatment.
How do so many people and children here get burnt? I had no idea it was so common. What does he mean by a waiting list? Can those who are burnt 'wait' before they are treated?
Burn victims, he says, more often than not are young children – sometimes even a newborn – who are locked in huts after parents leave for work, to fetch water, collect fodder and other chores.
Not only do people wait for treatment, they also manage without vital organs. He has just finished treating a 35-year-old woman from the Himalayas (she'd never seen a train line or a train till she turned up in Malsi) whose face had been mauled by a bear (Aeron's 13th bear attack case) on her left side (bears are usually right-handed and tend to attack faces). In the attack she lost one eye, an eyelid, her nose, both lips and part of her jaw. He'd done a series of surgeries on her face but she chose to leave without a nose arguing that she couldn't waste any more time. "She said she had her lips, could drink tea and smoke beedis. She needed to get back to milk her cows and look after her husband and children", he explains. "A nose is not essential" were her last words before she left.
For the last 11 years, he runs a two-week camp twice a year, along with a team of 15-16 doctors from the United States, who bear all the costs. The victims are treated for free and they perform close to 10 surgeries a day.
Roughly 350 other surgeries are done by Aeron, helped by his an assistant who has been with him over 25 years and one of his sons whenever he can spare time, around the year so a total of 500 surgeries on burn and bite victims are performed in a year (including the camps).
They have 10,000 patients on the waiting list for free treatment mostly from remote Himalayas.
Of these, six at present are children who were burnt on the day they were born.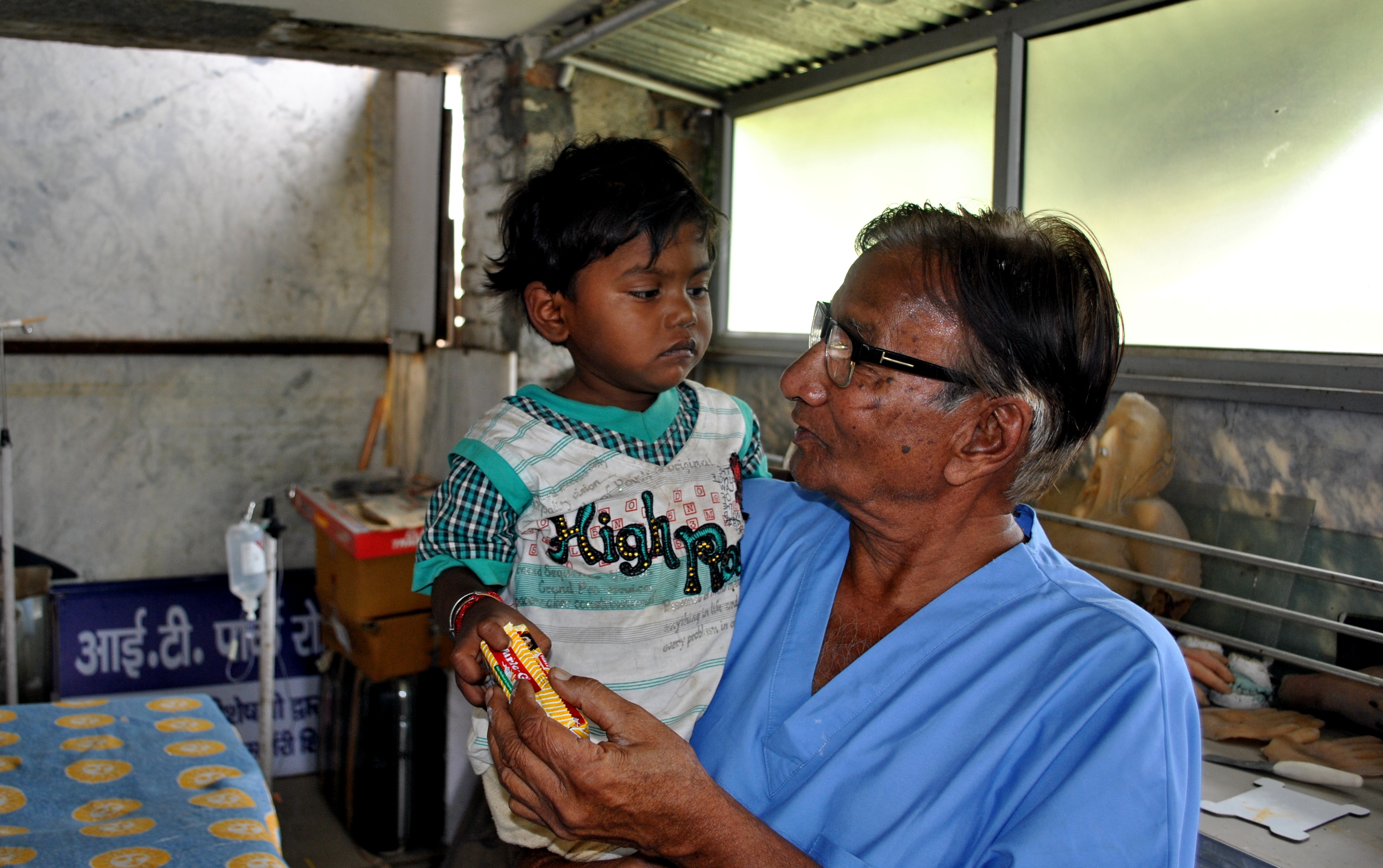 As we are speaking, he summons a case he is currently working on.
We walk up a shaky staircase (my legs equally shaky) and there are eight or ten beds in a covered shed. Two or three beds are empty but on others there are burn victims who live there with their meager possessions, a few clothes and utensils. I really can't muster the strength required to go from bed to bed but he doesn't notice.
He stops next to a large bed. On it there is a tiny dark girl asleep on a white sheet. He pulls off the covers and shows me her legs. Both have been burnt when she was born and are now like stumps as the tissues have stopped growing. A large black fly sits at the end of one leg and I try to flick it away. He tells me she can't feel it.
Failure Is A Way Of Life Too
Born in UP's Muzaffarnagar in 1937, Aeron managed to get into King George's medical college, Lucknow on his fifth attempt.
After taking over 7 years to finish a four-year degree, he specialised in plastic surgery from the Prince of Wales medical college in Patna in 1971. He was already married with two children by then.
His family lived with his parents as Aeron couldn't support himself. Getting a job as a plastic surgeon was proving to be impossible as it was not a well-known discipline in India then and very few medical colleges or hospitals needed the services of one.
He finally landed a job in 1973 at the district hospital in Dehradun as a plastic surgeon but he had very little work.
He was urged to do other medical work but he refused. "I had lived like a beggar, worked like a donkey and wagged my tail like a dog to earn my degree. I couldn't just do something else!"
Supported by his sister, a successful doctor in the United States, in 1982, he went for a while to the US and met many hospitals and doctors and got some exposure in the field as getting exposure in India wasn't possible – there were hardly any cases that you came across.
After he returned, in 1982-83, he bought the land (after borrowing some money from his father) where he is currently building the science park – as and when he has some money he can spare for this – and the topiary where we are meeting.
At the time, he lived in a rented house in Dehradun with his wife and 4 children. He converted the main hall of the house into a place where he could do surgeries – partitioning the living space from the workspace – and treated whoever came his way. His wife sterilised instruments and the only toilet in the house was shared with patients. Sometimes people paid him and sometimes they couldn't afford to pay. Even at this stage – in his mid 40s – and although he had four children of his own, Aeron was supported financially by his father.
Even now he lives in a small rented apartment in town with his wife, one daughter and one of his sons (two sons are in the US). Any money he has goes into the treatment of the patients and constructing his dream park. Mostly, he uses money he earns from patients who pay to treat those who can't. Sometimes local hospitals offer some support – many redirect patients to him due to his expertise.
No fees are charged from burn patients although he charges other patients who come for plastic surgery because burn patients usually don't have the money to pay. "Ameer aadmi jalte hi nahin hain (the rich don't get burnt)".
Shaila Brijnath, chairman of Aasraa trust, which works with street and slum children, says that Aeron can work magic with burn victims and he has worked on many of their children and even babies – cases that no one could or would take. She says he is an eccentric genius. That he personally gains very little from this work is evident to anyone who has visited his Malsi property.
His son Kush, a doctor himself, says he once asked his father why he did it. So much time, effort and energy into treating so many who would never pay him back. "He said because he can," says Kush.
He's been adrift for years and he seemed to have achieved none of what the world terms as success: no money, no fame as we know it, no stability and in some way no direction all through.
"Nobody has ever appreciated the way I have lived. Till date, nobody is happy," he says quite simply. "But when I see my patients leave with a mouth, an eye, lips, a nose or even a smile, I am very, very, very happy."
About the author:
Anjuli Bhargava
is a Consulting Editor for
Business Standard
.
This article was originally published in Business Standard.
Like this story? Or have something to share?
Write to us: contact@thebetterindia.com
Connect with us on Facebook and Twitter.
NEW: Click here to get positive news on WhatsApp!
We bring stories straight from the heart of India, to inspire millions and create a wave of impact. Our positive movement is growing bigger everyday, and we would love for you to join it.
Please contribute whatever you can, every little penny helps our team in bringing you more stories that support dreams and spread hope.