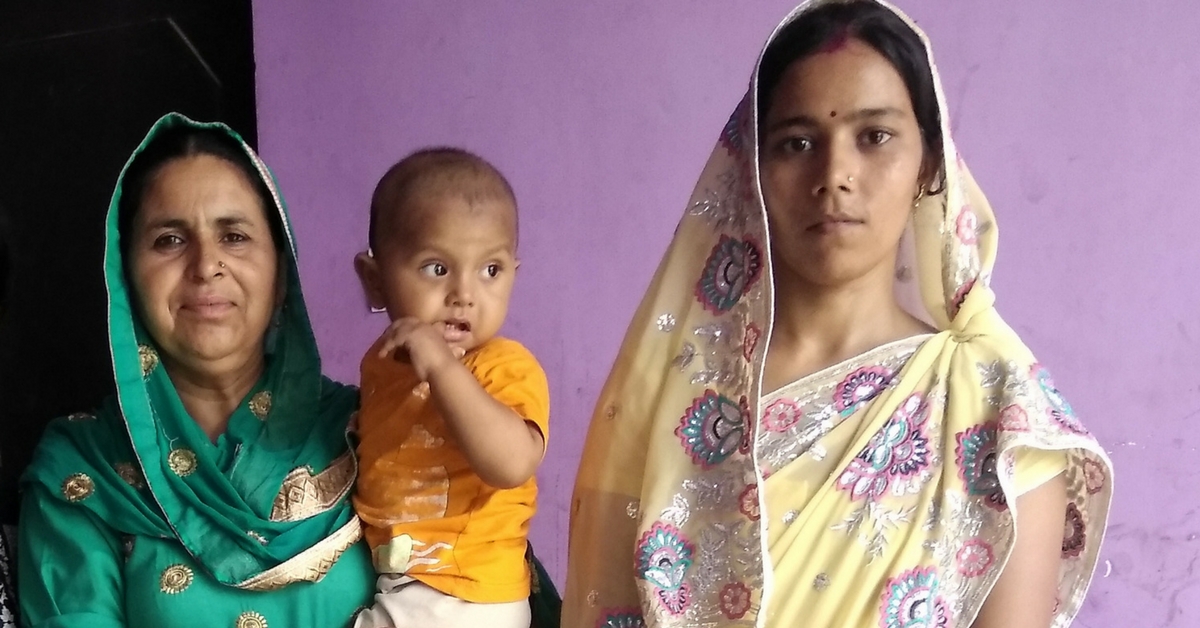 Neem leaves and Ajwain, or Bishop's seeds, are boiled in water, and then left to cool. This concoction, not the mother's milk, is what newborn babies are given in Dhaki village, Uttar Pradesh. Ideally, a baby must be breastfed within the first hour of its birth, as it is the child's first source of nutrition and immunity, protecting them from various diseases .
Neem leaves and Ajwain, or Bishop's seeds, are boiled in water, and then left to cool. This concoction, not the mother's milk, is what newborn babies are given in Dhaki village, Uttar Pradesh.
When 19-year-old Suman Devi's first son was born, her mother-in-law collected a few fresh leaves from a Neem tree and boiled them in water. She added some ajwain seeds to the boiling water and once it cooled down, fed the concoction, referred to as 'kali chai' (black tea), to the newborn using a cotton swab.
"She also asked me not to feed the baby until my sister-in-law washed my breasts," says Suman, now 28. This was a ritual the entire village followed.
The baby was born at 8:00 AM, but was breastfed by the mother only in the evening.
Breastfeeding should ideally start soon after your baby is born or at least within the first hour because breast milk is the child's first source of nutrition and immunity, protecting them from various diseases such as diarrhoea, respiratory infection, sepsis, omphalitis, hypothermia, weight loss, and even malnutrition.
Suman lives in Dhaki village of Dhaki Panchayat, in Chhijalet Block of Moradabad district, in the Western part of Uttar Pradesh (UP).
The whole village, which has about 400 families, follows the tradition of giving 'kali chai' to newborns. The residents are also strict about the ritual that a mother can feed her newborn only after her breasts are washed by her sister in law.
"My second son was born at 02:00 AM and my sister in law could visit us only next day in the afternoon; so I had to wait to feed the baby although he was given the kali chai instantly," Suman says.
Today Suman's sons, Shivam and Manish, are well and growing; but she uses her time to educate pregnant women and new mothers in her village to breastfeed their newborn as early as possible, and avoid giving them kali chai.
"I have been working for the last four months. During this period, 8 children were born in the village, and none of them have been given kali chai," Suman says, proud of her achievement.
Now, she knows that the baby should be fed within an hour of the birth and up till the six month mark, the child should only be breastfed. How did she get to learn this? Shramik Bharti.
A Kanpur-based not-for-profit organisation, Shramik Bharti has been working on maternal, newborn health issues, and sanitation issues for more than three decades.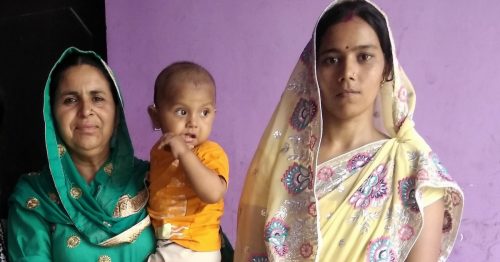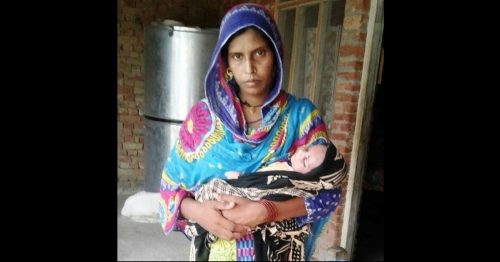 Recently, the organisation struck a partnership with UNICEF to carry out a nutrition and WASH programme (Water, Sanitation and Hygiene) in parts of Moradabad and Mirzapur in UP.
The intervention is being implemented on a pilot basis in the state.
UP, with an estimated population of 220 million, alone accounts for over 500,000 children's deaths annually, of which 45 per cent can be attributed to under-nourishment of the mother or the child, claims a Lancet 2013 study.
According to UNICEF's observation, nutrition in Uttar Pradesh has shown a varied trend in last eight years, between the National Family Health Survey (NFHS)-3 in 2005-06 and Rapid Survey on Children (RSoC) in 2013-14.
While there has been progress across several indicators, what is worrying is every second child in UP is stunted. The percentage of children with a low height for age, stunting, reflects the cumulative effects of undernutrition and infections since and even before birth.
Moreover, various research has established that inadequate complementary feeding, poor hygiene practices, and open defecation play the key roles in causing malnutrition.
Even Niti Ayog, a government policy think-tank, in its latest report on the national nutrition strategy, released on September 5, 2017, has confirmed that the districts with highest malnourishment are in UP. The report has put three districts of UP, namely Bahraich, Shravasti, and Balrampur as the top with the most severe malnourishment levels.
The Ayog aims to bring down the percentage of low-weight, under-5 children from 35.7 per cent to 20.7 by 2022.
The UNICEF programme aims to improve the nutritional status of children by promoting nutrition, health, water, and sanitation behaviour among communities with a special focus on pregnant women, lactating mothers, and children.
Twenty Gram Panchayats (GP) from Mirzapur and Moradabad are covered by the programme.
"The reason for their selection was to carry out a nutrition programme in places that have already achieved Open Defecation Free (ODF) status, and thus establish the link between sanitation, hygiene, and nutrition," explains Sadhana Ghosh, the Programme Manager with Shramik Bharti.
For an effective execution of the Nutrition and WASH convergent programme, Shramik Bharti has engaged with local government institutions and programmes to build on the capacities of frontline workers. It has also mapped community influencers, religious leaders, Swachh Bharat Mission (SBM) motivators, Nigrani Committee members to act as pressure groups.
"Their job is to educate people about the link between WASH and nutrition and inform them about proper hand washing, safe disposal of child's faeces, food hygiene, and proper feeding of children from birth to adolescence," Ghosh elaborates.
Just like Suman, there are 20 Community Process Facilitators (CPFs), one in each GP. Before sending them to the field, Shramik Bharti brought all the facilitators to its office in Kanpur where they underwent a four-day training programme focusing on sanitation, hygiene, and nutrition issues.
Now, these facilitators are functioning as peer educators and sharing their knowledge with other women. The CPFs make daily house visits to families with pregnant women or lactating mothers. Working in coordination with auxiliary nurse midwives (ANMs) and accredited social health activists (ASHAs), CPFs gather information relating to pregnant women and lactating mothers from these government functionaries.
They also maintain their visit registers, which carry the details of all children in their villages, along with specific details of malnourished children like their regular weight chart, which is measured every month. This weight chart is shared with mothers to display the real gain and the effect of changed behaviour and practices.
---
You may also like: Shashi Tharoor on India's Business Quotient: Shifting Growth From A Canter To A Gallop
---
The results have been amazing. Four months ago, 770 children in the 20 blocks of Moradabad were found to be moderately malnourished and 277 severely malnourished . The counselling by CPFs has resulted in a gradual but continuous improvement. As per the figures at the end of August, 558 children are now in the moderately malnourished category whereas the number of severely malnourished children is down to 191.
All this knowledge has empowered many women, including 65-year-old Akbari. A grandmother of two children, when she learnt the benefits of feeding the baby in the first hour of birth, she made sure that her daughter in law breastfed her babies.
"In my village (Sandlipur), no mother would breastfeed her baby in the first hour of delivery," Nishu, another CPF confirms. "Seeing the growth of her grandchildren, now Akbari has volunteered to work as a motivator and goes with me to convince mothers, especially those who are resistant to change." says Nishu.
Like this story? Or have something to share?
Write to us: contact@thebetterindia.com
Connect with us on Facebook and Twitter.
NEW: Click here to get positive news on WhatsApp!
We bring stories straight from the heart of India, to inspire millions and create a wave of impact. Our positive movement is growing bigger everyday, and we would love for you to join it.
Please contribute whatever you can, every little penny helps our team in bringing you more stories that support dreams and spread hope.