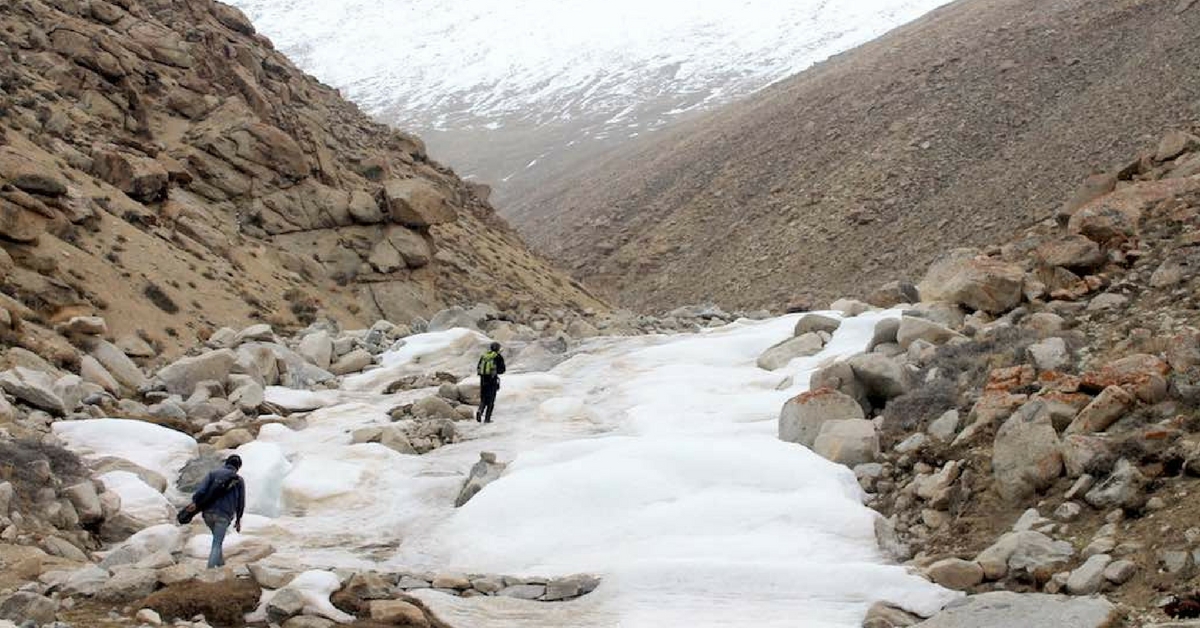 Faced with severe water shortage due to reduced snowfall and receding glaciers, a Ladakh village has built an artificial glacier successfully through community efforts that now fulfills all its water needs. Samten Choephel takes a closer look.
Samstan Zangpo was troubled about his wilting saplings.The 56-year-old farmer from Nang village in Leh district has been planting willow trees for a few years to supplement his farm income and feed his joint family of 14 members.
The family grows potatoes, barley, peas and vegetables, besides rearing some livestock. The newly planted saplings had started wilting due to a lack of water.
Nang village, in the Ladakh region of Jammu and Kashmir, is about 30 km from Leh at an altitude of 3780 m above sea level. Agriculture is the primary means of livelihood- potato, barley and peas being the main crops.
Ladakh is a cold and arid region where the annual rainfall averages at 100 mm. Water from glacier melt has been the only source of irrigation for 80% of farmers in Ladakh. Only 20% farm by the banks of the Indus River and use river water for irrigation. However, in recent times, snowfall has decreased and become untimely – the impact of climate change.
Lower snowfall in the past 35 years has resulted in receding glaciers. This has led to water scarcity in the villages. Nang is one of the villages plagued by severe water shortage.
Low agricultural yield
Due to last year's water scarcity, the amount of irrigation in Nang almost halved, resulting in low crop yields. The potato yield from Zangpo's farm was only 5,000 kg last year, against the usual 7,500 kg.
This has resulted in a loss of over Rs 30,000, as potato is his primary cash crop. When there is sufficient rainfall, he produces 1,000 kg of barley, but last year the yield was a mere 200 kg and he lost Rs 24,000 from barley.
For a Ladakhi farmer with an average landholding of 1.25 acre, these losses are huge.The entire village faces the same crisis as a consequence of depleting water resources.
Artificial glacier to the rescue
Nang has no permanent glacier. The perennial streams and natural springs that supply water for drinking and irrigation do not fulfil the need of all the farmers. Summers are short and hence only a single crop can be grown in a year.
The seeds need to be sown in the month of April and May for crops to mature fully. However, sowing and irrigation are determined by the flow in the main stream.
To apportion the water, families take turns to irrigate their fields. Water distribution is governed by traditional village institutions called chures and churpon.
To overcome the water shortage, the villagers decided to build an artificial glacier in the higher reaches of the village with the support of the Leh Nutrition Project (LNP), a local NGO, and Tata Trusts.
"The purpose of the artificial glacier is to conserve every drop of winter water — which otherwise goes to waste — and use it at the crucial spring time. Since it is at a lower altitude, it starts to melt earlier than a natural glacier. By the month of April and May it starts to melt and supplements the existing source for crop sowing," Tsering Tundup, LNP's project coordinator, told VillageSquare.in.
What are artificial glaciers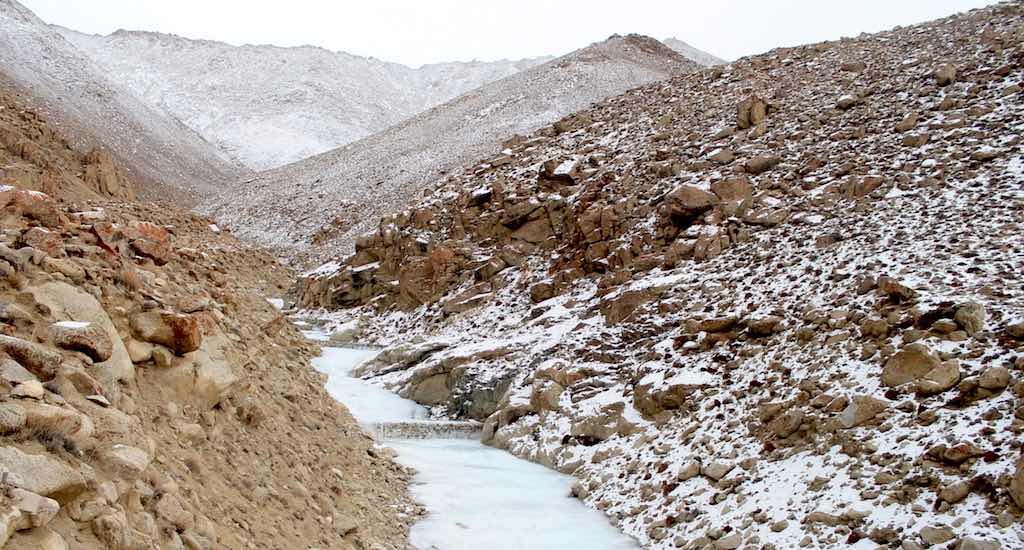 An artificial glacier is a simple, cost-effective and unique technique for harnessing and conserving water in the cold and high altitude་ regions. It was first conceived and implemented by Chewang Norphel, a retired civil engineer working with the LNP.
The artificial glacier is built at a higher elevation — generally at more than 4300 m above mean sea level — but at a walking distance from the village. Stone embankments built at regular intervals impede the flow of water, forming shallow pools. The pools start freezing in late November. Ice accumulates on the mountain slope for four months, forming artificial glaciers.
The construction of artificial glaciers seemed the most viable option since the farmers needed a realistic solution to their water problem. The community was involved in the entire process — selection of site, feasibility studies, collection of construction materials and the actual construction process.
Community participation
The villagers decided to depute one person from each household to carry out the civil work. They camped at the site for two weeks, since returning home meant a three-hour gruelling walk.
40 dry masonry wall embankments, covering a total length of 1,375 feet, were constructed. The technology was handed over to the head of the village, locally known as goba or nambardar.
Occasional flooding in the stream may damage the embankments. In order to sustain the infrastructure, the villagers decided to keep a revolving fund with the village council for repair and maintenance.
They indicate that they may undertake minor repair work through the Mahatma Gandhi National Rural Employment Guarantee Act (MGNREGA) scheme, which ensures 100 days of work to all poor rural households.
Benefits of artificial glaciers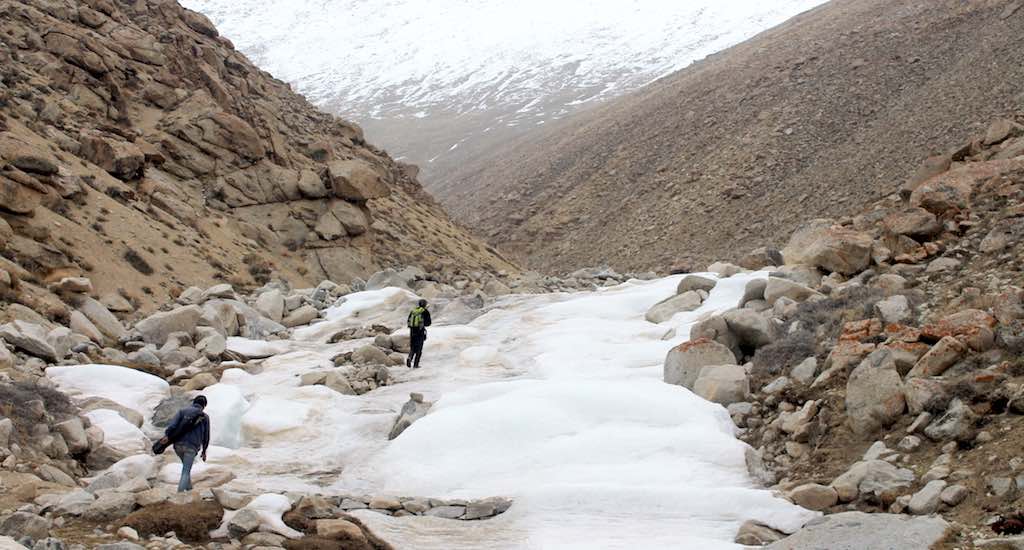 The benefits of the artificial glaciers are most evident during the sowing season. Zangpo's waiting period to get his share of water has come down from a month to 20 days because of the glaciers.
According to the village chief, the entire community is satisfied with the results. "They feel that their hard work has paid off. The crops have grown better this year. We expect better yields," he told VillageSquare.in.
"When we are assured of water supply, everything is possible. I plan to plant more trees. I am positive that my crop yield will increase this year and I will get a better income. I am a happy farmer because we have artificial glaciers in the village," Zangpo said.
According to Chewang Norphel, fondly called the Ice Man, out of the 113 villages in Leh district, 32 villages face water scarcity. Artificial glaciers offer the best solution in the mountain region and can be replicated in the villages that face water shortage.
Samten Choephel works with Tata Trusts Project Management Unit in Leh.
Views are personal.
Adapted from an article originally published on VillageSquare.in. Subscribe to VillageSquare's weekly update on the website for more stories from rural India.
Like this story? Or have something to share?
Write to us: contact@thebetterindia.com
Connect with us on Facebook and Twitter.
NEW: Click here to get positive news on WhatsApp!