Although the original Shanti Sena no longer exists as a formal organization due of ideological differences, the idea still lives on through individuals engaging in such actions under other banners.
---
Shanti Sena was one of the many ideas Mahatma Gandhi wanted to implement but couldn't. In 1948 he had invited a few hundred colleagues to come to his ashram and discuss Shanti Sena's organization. However, a month before the conference, Gandhi was assassinated and the conference did not take place.
The idea was revived in 1957 by Vinoba Bhave, who founded Shanti Sena to deal with riots in villages. The organisation was later led by Jayaprakash Narayan having at its peak 6000 members.
Most of these Shanti Sainiks—'peace soldiers'—were regular development workers from rural areas, who might have taken part in Shanti Sena actions when rioting broke out in nearby places.
And though the original Shanti Sena no longer exists as a formal organization because of ideological differences, the idea still lives on through individuals engaging in such actions under other banners.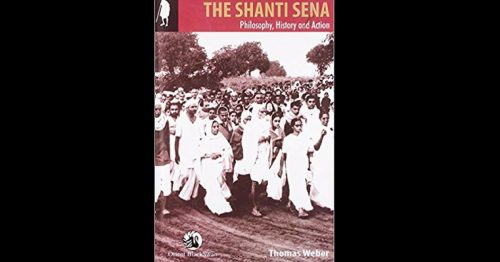 Working Across Communities
Sometimes the Sainiks would persuade leaders of opposing communities to call publicly for an end to violence, or to meet with leaders of the other side to begin talks. They tried to organize some of these leaders into a peace committee.
If the fighting was between Hindus and Muslims, they asked the Hindu community to suggest Muslim names for the peace committee, and vice versa.
This was often difficult, because tensions would invariably be high. But once, say, the Hindus found out that the Muslims have given some Hindu names, they started thinking, yes, maybe they also can find names of some Muslims. And that created joint committees in situations where people would not imagine that Hindus and Muslims could work together.
Most of the Sainik teams would patrol areas prone to violence. The patrols talked to people on the street and at their houses to help restore peace. Sometimes, their presence alone also discouraged violence.
But sometimes the Sainiks could not prevent violence by persuading them. In those cases, they blocked it with their bodies. Dressed in their distinctive uniforms, they rushed among the rioters, exhorting them or shouting peace slogans.
Often Shanti Sainiks faced stone peltings, thrashing by batons or tear gas shells if government forces were involved. Women participated in this direct intervention as well as men. In fact, women were more successful at it, because they were less likely to be attacked.
Fighting Rumours and Fake News (in the age when no social media existed)
One team of Sainiks might have had the special job of fighting rumors. Rumors were even then one of the chief causes of violence in riots. When people used to be afraid, they would believe almost anything they hear.
Figures got exaggerated. Stories of people being killed, when no such thing happened, would circulate like wildfire and result in riots.
---
You will also like: Thousands of Crores Spent on Education; So Why Aren't We Learning Anything?
---
There were also deliberate efforts to create rumors. The Sainiks had known groups of troublemakers who travelled around a city for hours spreading false stories.
The best way Shanti Sena thought to fight rumors was to give factual and unbiased information. They corroborated information they received by going to places and verifying it. They had an advantage because very often Shanti Sena was the only group facilitating dialogue with both communities.
Narayan Desai, who was the Director for Shanti Sena, believed that both fear and courage are equally contagious. So Shanti Sainiks often went to areas that were supposed to be dangerous to show that there is nothing to fear.
In Calcutta in 1964, Shanti Sena organized a silent procession of 3,000 people through the streets where there had been violence. This was one of the most effective techniques to fight fear.
On all the streets, just as they passed by, the closed shops were thrown open, and the shop owners would say, 'Ah, we are safe now that Shanti Sena has come.' Wherever Shanti Sena functioned, it created this atmosphere of trust.
---
You will also like: This 69-Year-Old Tamil Poet Has a Very Special Way of Spending Her Earnings!
---
Shanti Sena Today
Today there are some Shanti Sena/peacekeeping forces which are organised by the different communities, although not connected to the original Shanti Sena. There are also some groups which have misused the name Shanti Sena to achieve their objectives through violent means.
The original Shanti Sena and its members were neutral, nonpartisan, and worked with all the parties including the government and were completely nonviolent and did not use any sort of weapons in their methods.
While the original Shanti Sena does not exist anymore, it has inspired organisations working in a similar space, like Peace Brigades International.
Even today, informal 'Aman Committees' are formed locally by people in some parts of India which consists of members from all stakeholders communities to try and calm down riots. Shanti Sena as a formal organization is an idea which civil society and communities across the world might benefit to learn from.
By Rohit Parakh
For Further Resouces on Shanti Sena Network, check here
The original article appeared in the link here and is an abridged form as appears in his book 'Gandhi Today' by Mark Shepard. This article has been reproduced by Rohit Parakh with Mark's permission. Rohit is based out of Mumbai can be reached at rohit.2691@gmail.com
Like this story? Or have something to share?
Write to us: contact@thebetterindia.com
Connect with us on Facebook and Twitter.
NEW: Click here to get positive news on WhatsApp!