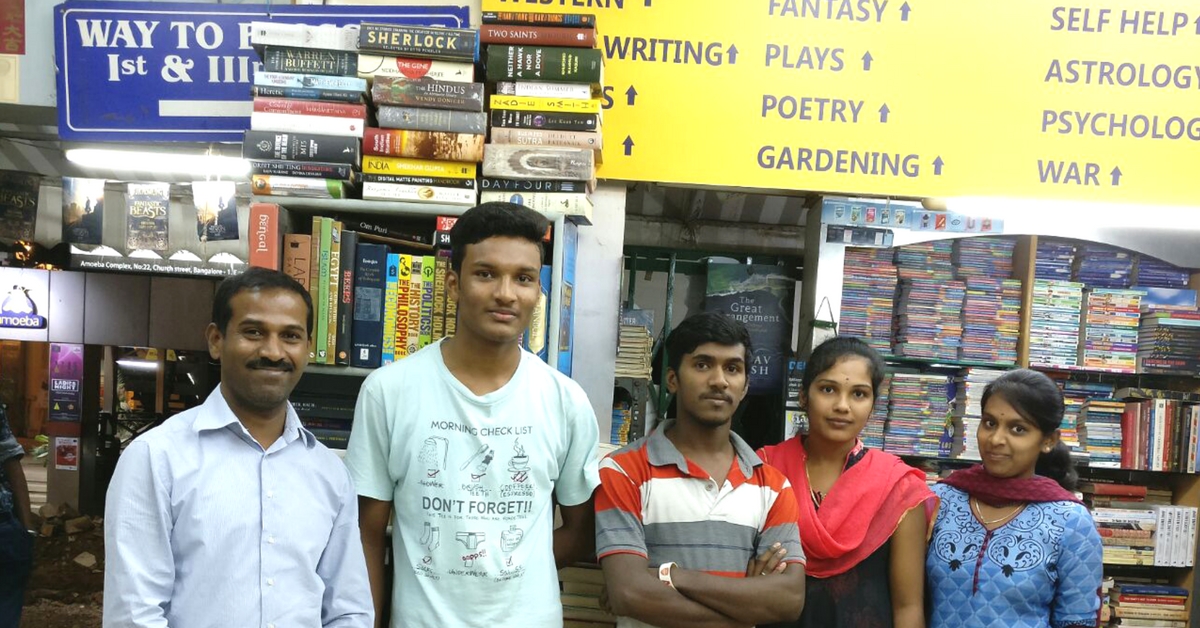 It all began when he started selling books on the pavement. Now, the Blossom Book House is one of the most visited bookstores in Bengaluru.
Rows of shelves spill over with books, holding the promise of an escape into countless different worlds. I walk through them in amazement, but slightly panicky at the thought that I might never read each and every book here. There's a lived-in feel about the place. I close my eyes for a second and can almost feel the stories, secrets and surprises that surround me. I pick up a book at random and flick through the pages, the paper is yellowing and dog-eared, with hand-written notes in the margins. Ah, the sweet smell of yesteryear! I settle down comfortably in a corner, feeling like I've found a new home.
A couple of hours later, I emerge happily from the shop, armed with an illustrated coffee table book, a couple of obscure comics, and some rare western classics.
I've made my first maiden trip to the much-loved and revered bookstore of Bangalore, Blossom Book House!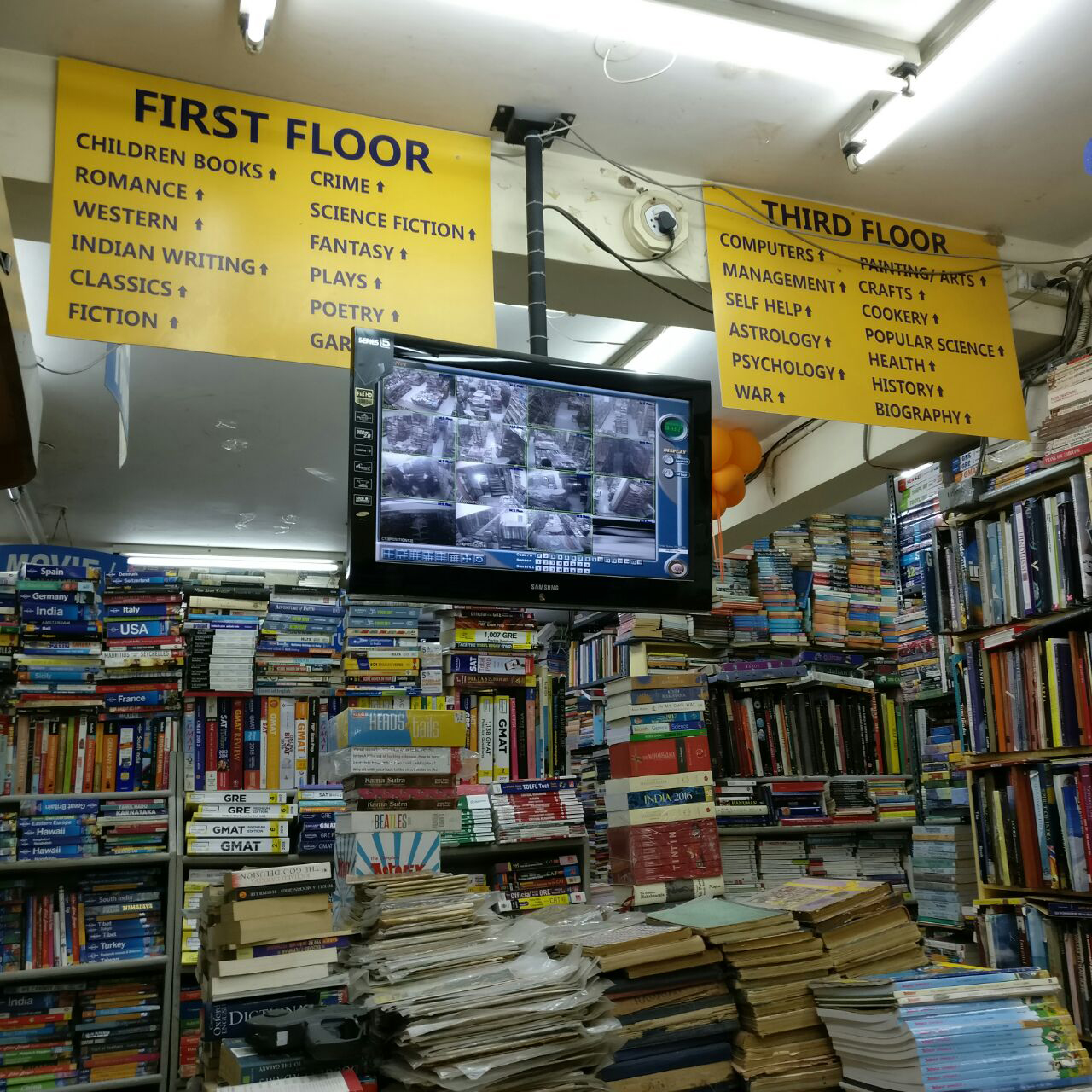 It was the first of many visits that followed. A trip to Bengaluru was never complete without the ritualistic pilgrimage to Church Street. And over the years, in spite of growing rapidly, Blossom (more frequently referred to as Blossoms or Blossom's) has always retained that homely, small-shop feel. The credit for that goes to its founder, the remarkable Mayi Gowda. I catch up with Mr. Gowda ten years since I made that first trip, going through my memories of Blossom, as he goes through his own.
Mr Gowda grew up in a small village near Mysore. As a child, he dreamed of becoming an engineer, but after finishing his diploma in Mysore, his father told him that he would not be able to support him financially. Determined to meet his own expenses, Mr. Gowda moved from Mysore to Bengaluru in 1995 to study electrical and electronics engineering at the University Visvesvaraya College of Engineering.
During the first semester, he worked nights in a factory. "But it was very difficult to work 12 hours all night and then sit in class," he tells me. "I stopped going to the factory in my second semester." He then found a place to stay in near Majestic, outside which, he used to see booksellers on the pavement. Soon, he joined them.
After about three months, Mr. Gowda took some of the books and went to Mayo Hall to try his luck there. "I walked a little further and thought to myself 'Oh! so this is MG Road'… and then I saw Brigade Road for the first time too." He then started selling books on the MG Road pavement. By then he had dropped out of college, and hoped to make enough money to pay the rest of his fees. "Business was going good so I brought another boy from my village to help me. I was able to fund the rest of my engineering course and finish it successfully."
Did he read a lot in college? I ask him. "Only engineering books!" he replies. "I didn't have much time."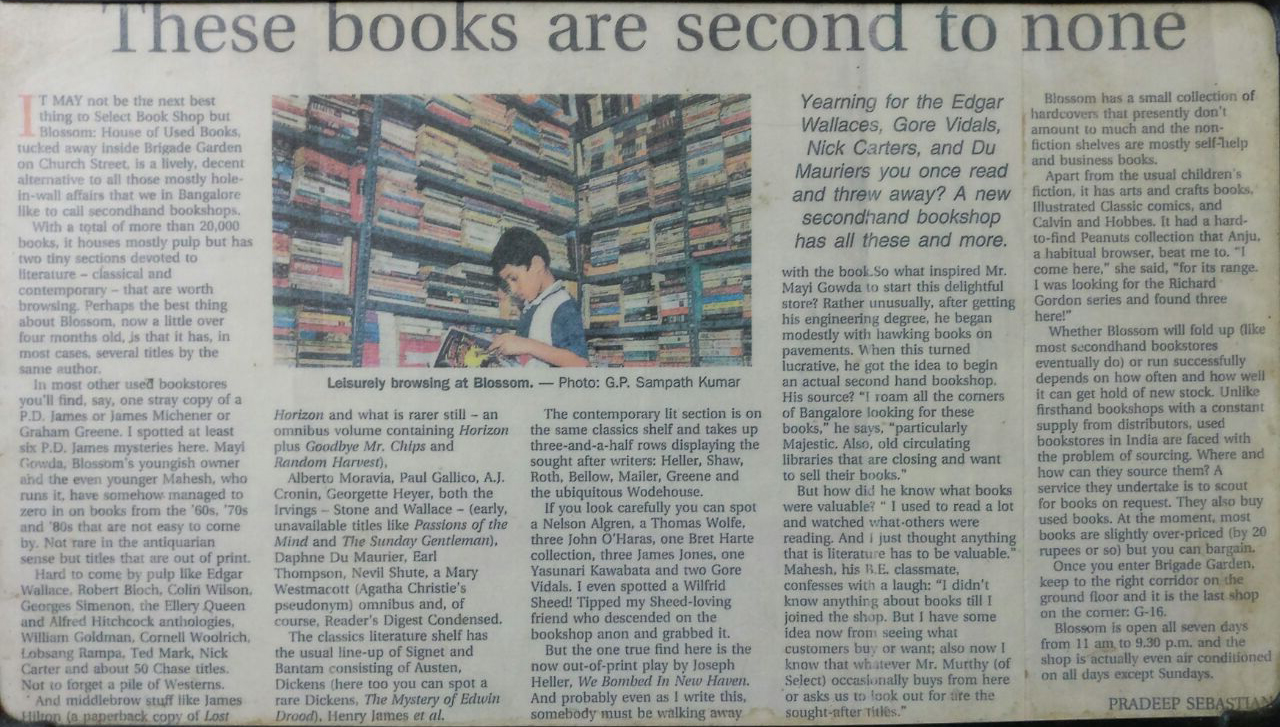 Shortly after, Mr. Gowda landed a coveted job at GE, but ended up working there for only a dozen-odd days. "I wasn't interested enough to continue working there," he confesses. And so, the first avatar of Blossom was born in 2002 in a small 200 square-foot space in Brigade Garden, with a humble collection of second-hand books. In two years, it had a large enough collection and a matching revenue to occupy a space of double the area in Brigade Garden itself.
In 2004, six months after moving to the new place, a first floor was added… and in a similar span of time, another floor! During this period, Mr. Gowda started to develop a strong network all over the country, with book dealers in Mumbai, Calcutta, Chennai and Delhi. He was able to stock books that were not in print or not easily available, steadily building a collection that was unique and varied.
Recently, Blossom also opened a shiny new 8,650sq ft branch on the same street. It's clearly living up to its name, as Mr Gowda explains, "I picked the name Blossom when we moved from the pavement to a store. It seemed an appropriate name for the transformation!"
I ask him how Blossom thrives in a world where e-commerce is taking over the traditional brick-and-mortar bookshops. "I started an e-commerce store in 2006," he says. "But it needs a dedicated team of its own, tracking inventory, delivery, IT support; it's a difficult job." Instead, he employs other commendable ways to retain customers; they get credit vouchers every time they donate or exchange a book.
Mr. Gowda shares a treasured memory, "One day, a mother walked in with her 6-year-old daughter. She told me that it was her daughter's birthday, and so she had promised her to take her wherever she wanted. The daughter had said, 'I want to go to Blossom.' I had tears in my eyes that day!" Another incident Mr. Gowda recalls is about a young man who came into the shop, saying he had lost his book in an airport. He had written his name inside the book (Dune by Frank Herbert) and thought it might have somehow ended up at Blossom. And sure enough, a couple of hours later, he triumphantly emerged, clutching the very same book he had lost!
Blossom has become such a household name that Supreeth Srinivasamurthy, a regular at the store, even started curating an online collection of the amusing conversations that were 'Overheard at Blossoms'. The bookstore has become a meeting point for friends, a venue for family outings, a peaceful hiding place, and even a preferred location for first dates. Mr. Gowda says, sounding amused, "I heard that there were 5-6 couples who actually met at Blossom and ended up getting married!" And why does the bookstore attract so many people, from school children to historians like Ramchandra Guha?
Hard work and customer satisfaction are the mantras to his success, he says shyly.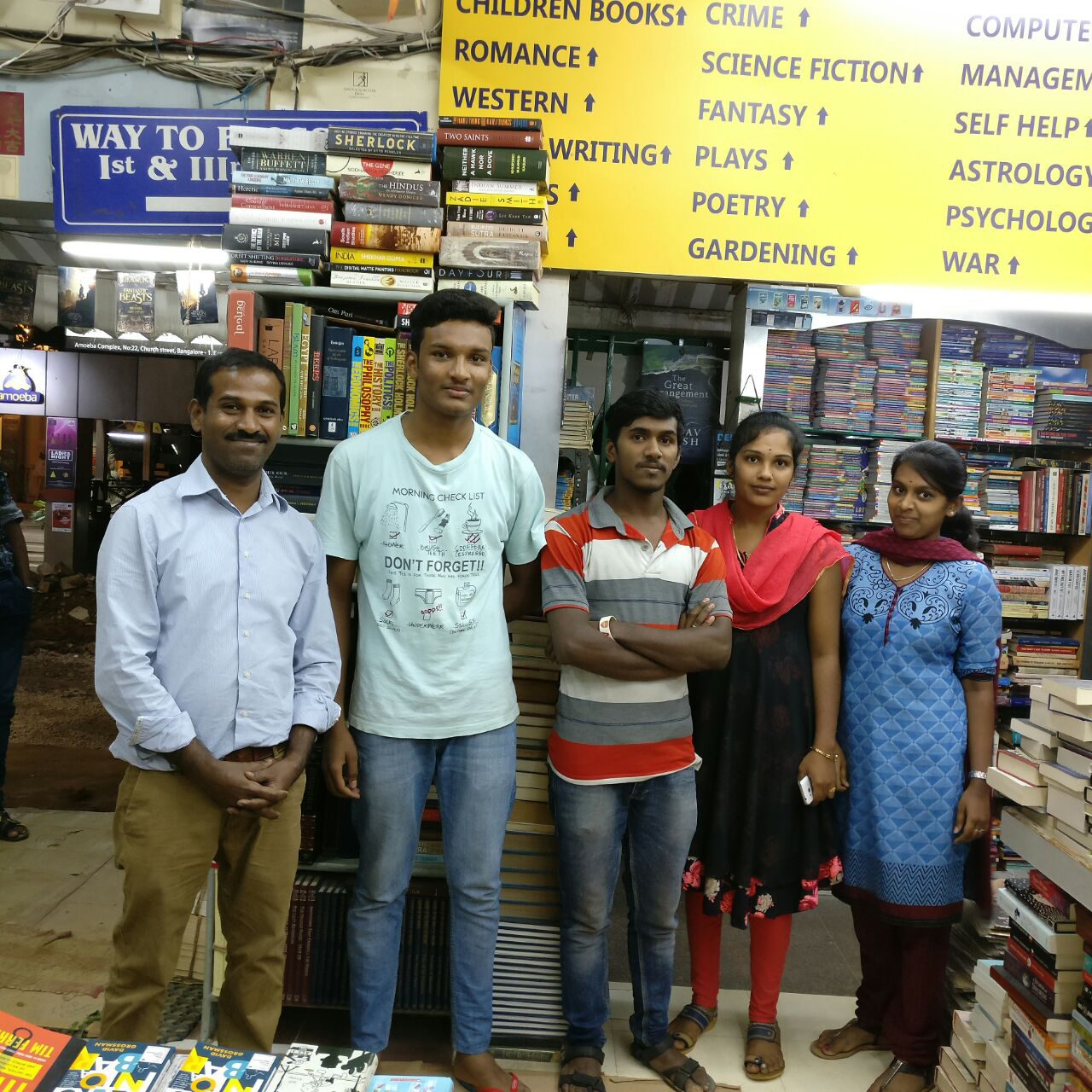 How many customers does Blossom get in a day? "About 100-200 on weekdays, and about 500-600 on weekends. Twenty two people help in managing the store and attending to customers." With 4 lakh books on Blossom's shelves, does Mr. Gowda know each and every one of them? "Well.. Yes. Most of them, at least," he laughs. I ask him if there's any specific genre that's selling fast. "Suddenly, teen fiction is selling so much," he says, sounding puzzled. "You know… '13 reasons why' kind of books. Crime fiction and classics always sell, too."
Mr. Gowda tells me that the book that's had a most profound influence on him is Animal Farm by George Orwell, which he read when he was 18 years old. And does he get much time to read nowadays? "Oh not really. Just 1 to 1.5 hours a day," he replies, matter-of-factly. What's on his reading list at the moment? "Women by Charles Bukowski," he says. "Ah, I've read some of his poems," I supply helpfully. "This is a novel," he replies. "Did you know Bukowski also wrote novels and short stories?"
He is optimistic about the future of books, based on the number of supportive parents he sees on a daily basis, "Parents come in with their kids and tell them to buy any book they want, it's great to see that they encourage reading. I think it's wonderful that kids today are able to appreciate the joy that books can bring."
I ask him if he's ever thought of an alternative career. If not Blossom, then what? "I can't think of anything else, no," he says. "I don't think I'd prefer to do anything else either!"
From 200sq ft to over 8,000sq ft, Blossom has come a long way and has covered a great distance on its journey. It proves the strength of what one man can build. I like to believe that this place is where used or lost books go to find a home, and what a place for these stories to live in!
Today, the bookstore stands testimony to the fact that printed books continue to educate, entertain and thrive, and will never quite be replaced. Bookstores continue to have a charm of their own, offering the joy of leisurely browsing and unexpected discoveries. You just can't experience Blossom Book House on an iPad.​
Like this story? Or have something to share?
Write to us: contact@thebetterindia.com
Connect with us on Facebook and Twitter.
NEW: Click here to get positive news on WhatsApp!