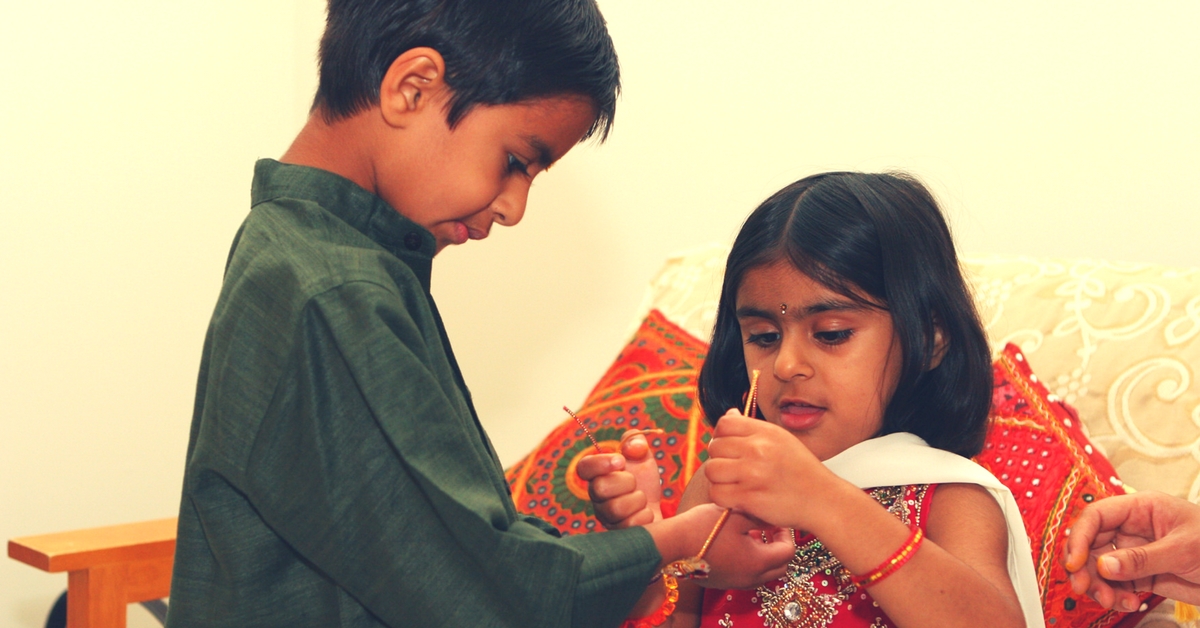 Just like most other festivals in India, the history of Raksha Bandhan is rooted in various mythological legends and folklore.
The legend traces back to a mythological war between the devtas (Gods) and the asuras (demons). When Indra, the king of devtas, was on the verge of losing his kingdom to asura Vritra, he approached guru Brihaspati, a Vedic era sage, to find a solution.
The guru said, "Behold! The answer to your victory lies in a sacred thread to be tied on your wrist powered by the sacred mantras on Shravan Purnima."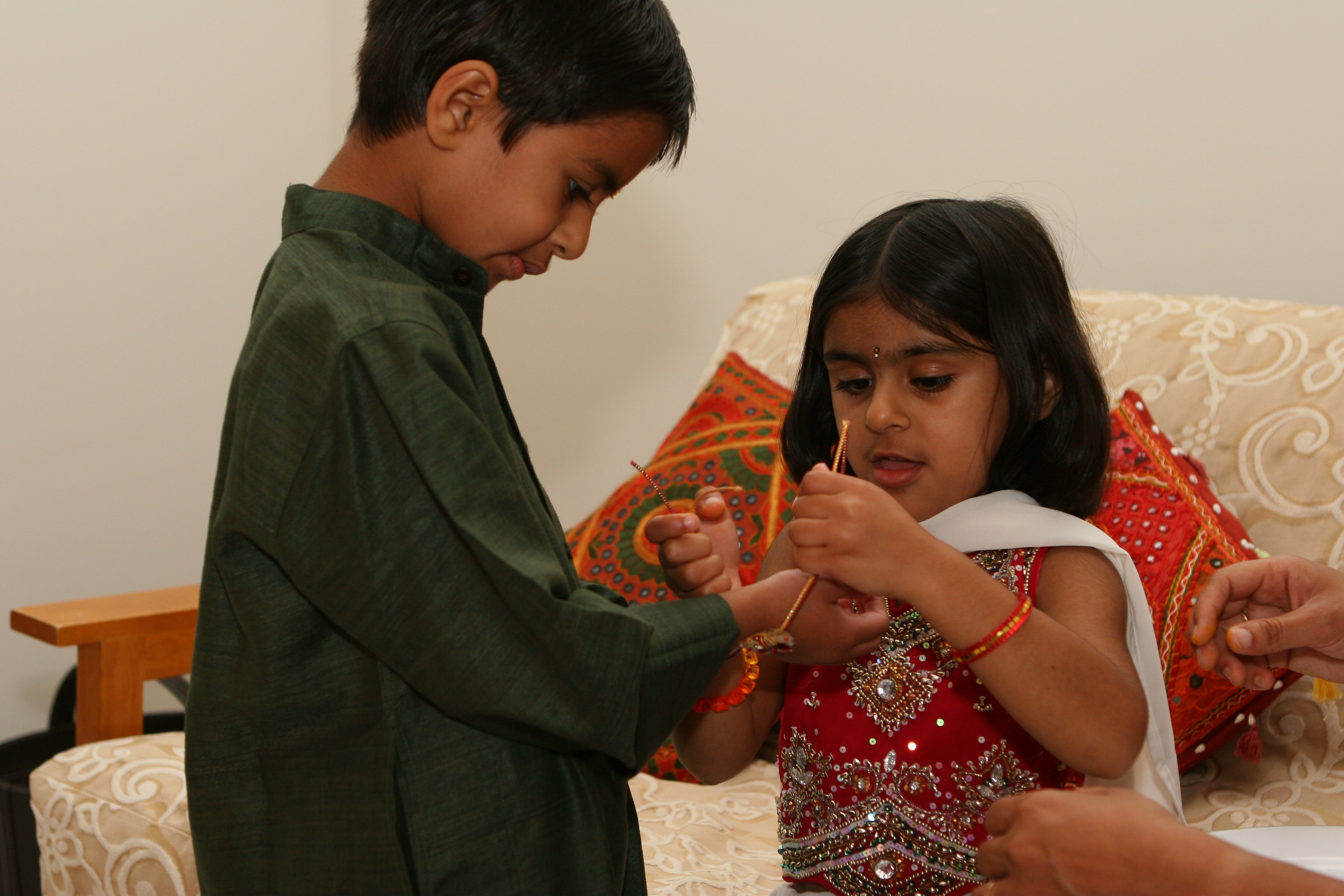 Indra's wife, queen Sachi, referred to as Indrani in the Puranic texts, tied the sacred thread of 'raksha' on his hand, which led the Gods to victory.
Whether the first ritual of Raksha Bandhan began with a woman tying a thread on the wrist of her husband, is still a mystery. But just like most other festivals in India, the history of Raksha Bandhan is rooted in various mythological legends and folklore.
What does Raksha Bandhan symbolise?
Originating from the Sanskrit term 'रक्षाबन्धनम्,' raksha means 'protection' and bandhan refers to a 'bond' – the term simply translates to a 'bond of protection'.
Observed on the full moon day of the Hindu luni-solar month of Shravana, and the Gregorian calendar month of August, this auspicious day, over the years, has been associated with celebrating the connection between a protector and a protectee.
As per Hindu tradition, it has been popularly known to celebrate the love between brothers and sisters, who may or may not be biologically related. The sister ties a rakhi (a sacred thread) on her brother's wrist and prays for his prosperity, while the brother gives her a token gift and a promise to protect her.
---
Read more: Maharajas, Myths and Mysteries: The Fascinating History of India's Jewels and Jewellery
---
Who Tied the First Rakhi to whom? – A Mythological Theory.
Draupadi and Krishna:
One of the most popular Indian mythology legends is of Lord Krishna and Draupadi – the wife of the five Pandavas. On Makar Sankranti, Krishna cut his little finger. Watching Krishna bleed profusely, Draupadi cut off a part of the loose end of her sari and tied it on his finger. In return, Krishna promised to protect her. Krishna's help to Draupadi was immortalised in mythology, when at her unceremonious cheerharan (disrobing), her sari keeps getting extended, which is how he answers her call for help.
Yama and the Yamuna: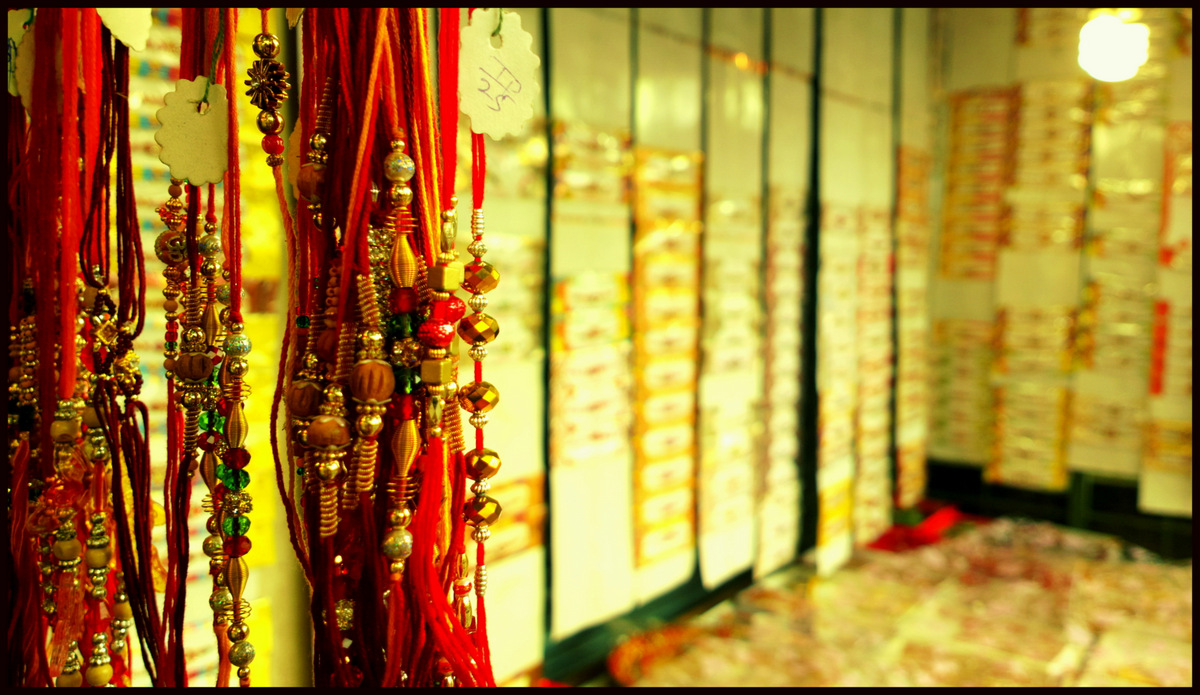 When Yama, the God of Death did not visit his sister Yamuna, the river goddess sought help from river Ganga for 12 years. Upon a reminder about his sister by Ganga, Yama decided to visit Yamuna. Being overjoyed by her brother's arrival, Yamuna prepared a bountiful feast for Yama and tied a rakhi to him. Delighted, he asked his sister what she wanted as a gift. All she wished for was her brother to visit her soon. Moved by his sister's love, he blessed her with eternal life, and so Yamuna, the longest and the second largest tributary river of Ganga, flows tirelessly today.
Lord Bali and Goddess Laxmi:
When demon king Bali, a devotee of Lord Vishnu, asked him for protection, Vishnu did it under the disguise of Bali's doorman. Away in Vishnu's abode Vaikuntha, his wife Laxmi missed him. So, she disguised herself as a woman seeking shelter and approached Bali, who opens his palace doors for her. She being the goddess of wealth, prospered Bali's home.
On the full moon day of Shravana, when Laxmi tied a thread of coloured cotton on Bali's wrist for his protection, he asked her what she desired as a gift. Laxmi simply pointed to the gatekeeper who revealed his true identity. Bali kept his promise and asked Vishnu to return home with Laxmi, but Vishnu in turn promised to spend four months of each year with Bali.
---
Read more: We Indians Love Our Dal. But Do You Know the Fascinating History of Our Favourite Comfort Food?
---
Raksha Bandhan in History
Roxana and King Porus
When Alexander the Great invaded India in 326 BC, his wife, Roxana, sent Porus, the king of the Pauravas, a sacred thread and asked him not to harm her husband on the battlefield. In the Battle of the Hydaspes, when Porus saw the rakhi on his own wrist, he restrained himself from attacking Alexander. Even though Porus lost the battle, he won Alexander's respect and honour, who not only reinstated him as a satrap (governor) of his own kingdom, but also granted him dominion over lands to the south-east extending until the Hyphasis (Beas).
Emperor Humayun and Queen Karnavati: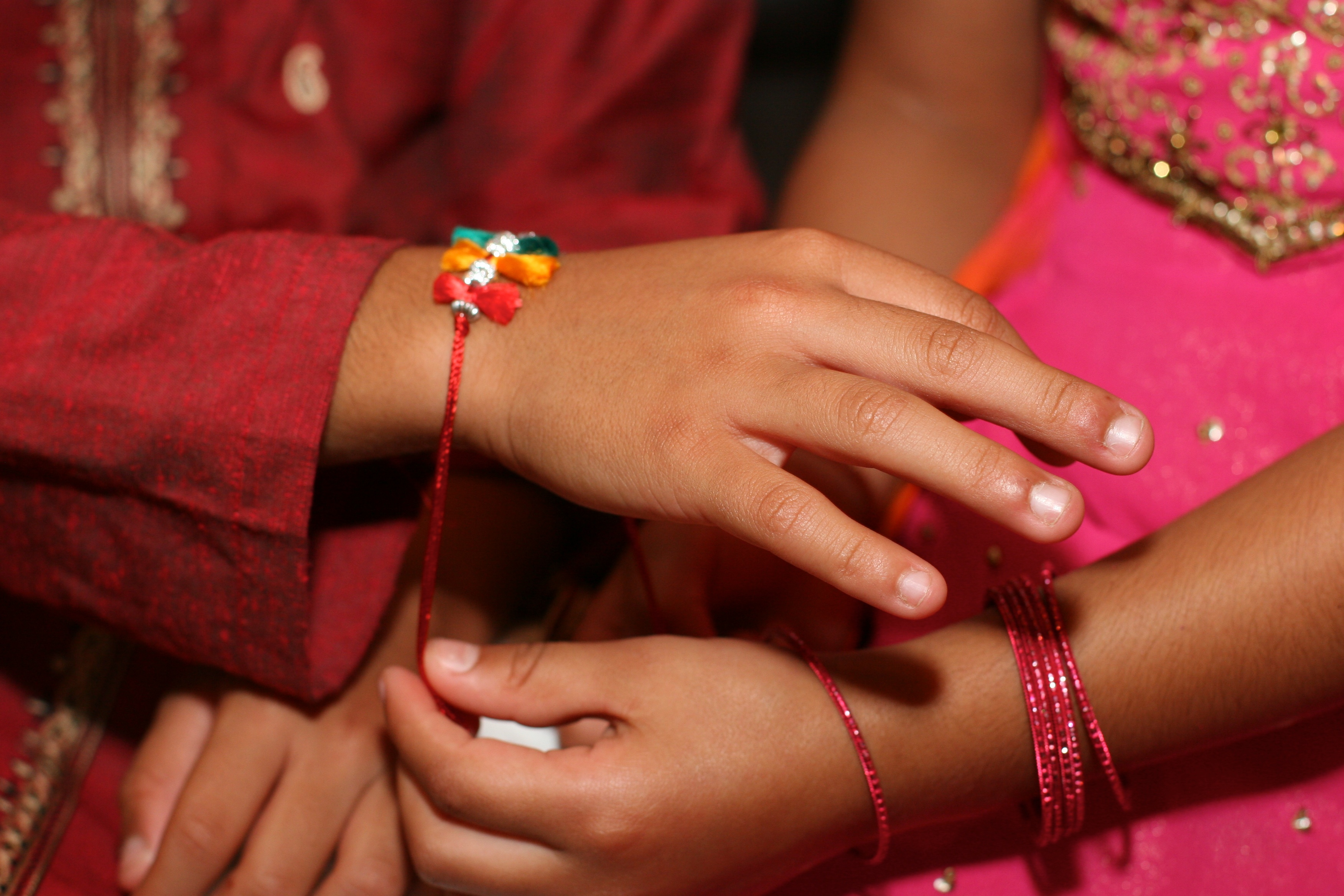 After the death of her husband Rana Sangha, queen Karnavati, became the official of Mewar and ruled it in the name of her elder son Vikramjeet. When Bahadur Shah of Gujarat attacked Mewar for the second time, the queen began looking for support from other kingdoms. Karnavati at the time wrote to Mughal Humayun for help, sending him a rakhi and sought protection. Despite Humayun's father, Babur, defeating Rana Sanga in 1527, and the Mughal emperor himself being in the middle of another military campaign, he abandoned everything to pay his attention to Mewar to help Karnavati.
The Mughal emperor was heartbroken when he couldn't make it on time. The Rajput army was defeated in Chittor, and Rani Karnavati had immolated herself in the Rajput custom of Jauhar. But later, Humayun restored the kingdom to Karnavati's son, Vikramjit.
Rabindranath Tagore and the Bengal partition of 1905:
In 1905, when the Partition of Bengal divided the nation, Nobel Laureate Rabindranath Tagore started Rakhi Mahotsavas to celebrate Raksha Bandhan and strengthen the bond of love and togetherness between Hindus and Muslims of Bengal. He also urged them to protest against the Britishers. The partition may have divided the state, but his tradition continues in parts of West Bengal, as people tie rakhi to their neighbours and close friends.
Penning the symbolism of rakhi, Tagore writes:
The love in my body and heart
For the earth's shadow and light
Has stayed over years.
With its cares and its hope it has thrown
A language of its own
Into blue skies.
It lives in my joys and glooms
In the spring night's buds and blooms
Like a Rakhi-band
On the Future's hand.
Present Day: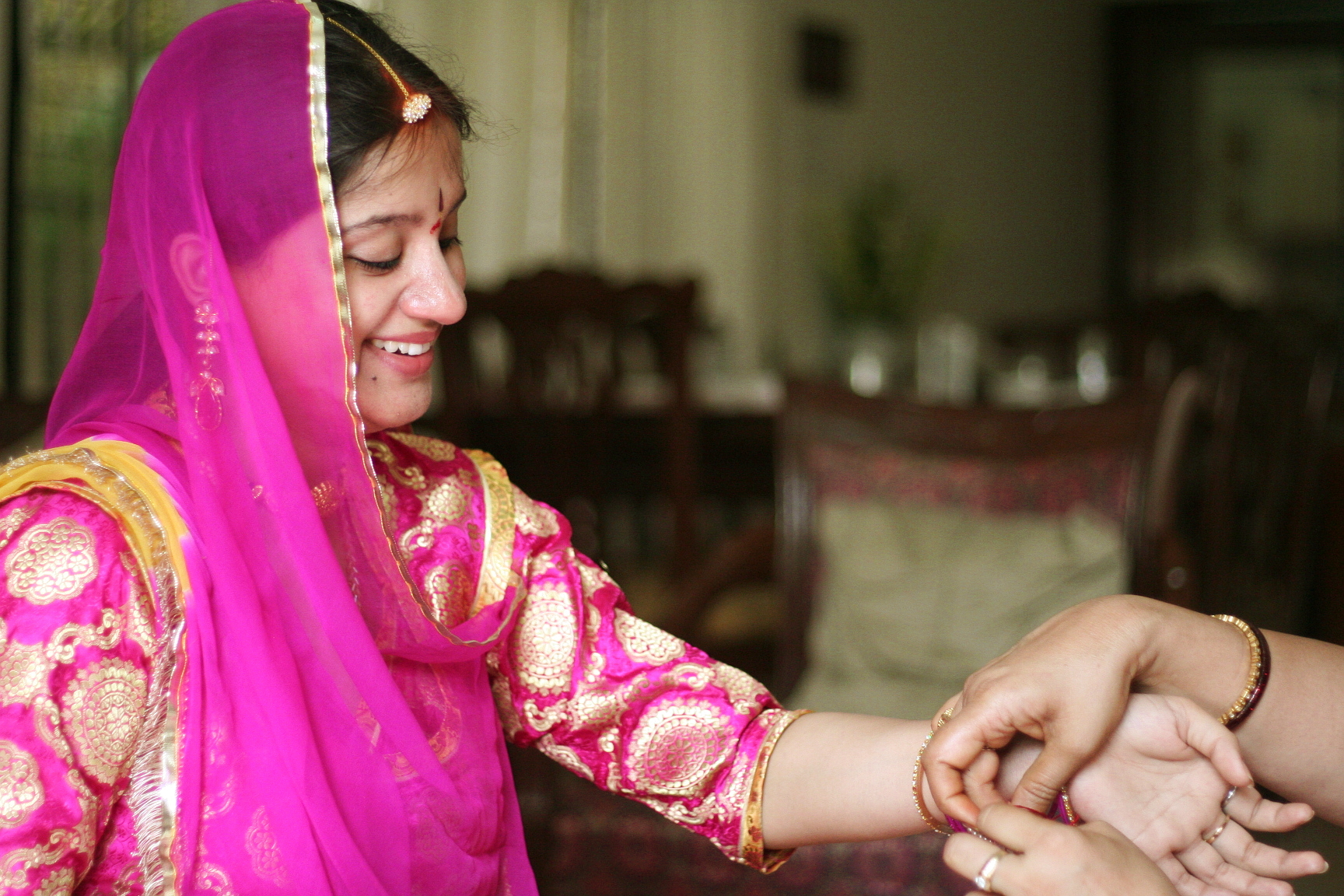 Raksha Bandhan celebrations may have begun in the Vedic era, but the tradition continues in present-day India with full swing and fervour. From a simple sacred thread called kalawa, to modern-day e-rakhis sent to brothers abroad, Raksha Bandhan has drastically evolved, but continues to strengthen bonds.
As times are changing, sisters are not only seen tying rakhis to their siblings, but donning some themselves too.
Man or woman, doesn't matter, every protector deserves a rakhi, no?
Who tied the first rakhi to whom may continue to be a mystery, but don't let that stop you from tying one to whomever you want.
Happy Raksha Bandhan!
Like this story? Or have something to share?
Write to us: contact@thebetterindia.com
Connect with us on Facebook and Twitter.
NEW: Click here to get positive news on WhatsApp!
We bring stories straight from the heart of India, to inspire millions and create a wave of impact. Our positive movement is growing bigger everyday, and we would love for you to join it.
Please contribute whatever you can, every little penny helps our team in bringing you more stories that support dreams and spread hope.